Seaman Second Class A. D. Hamilton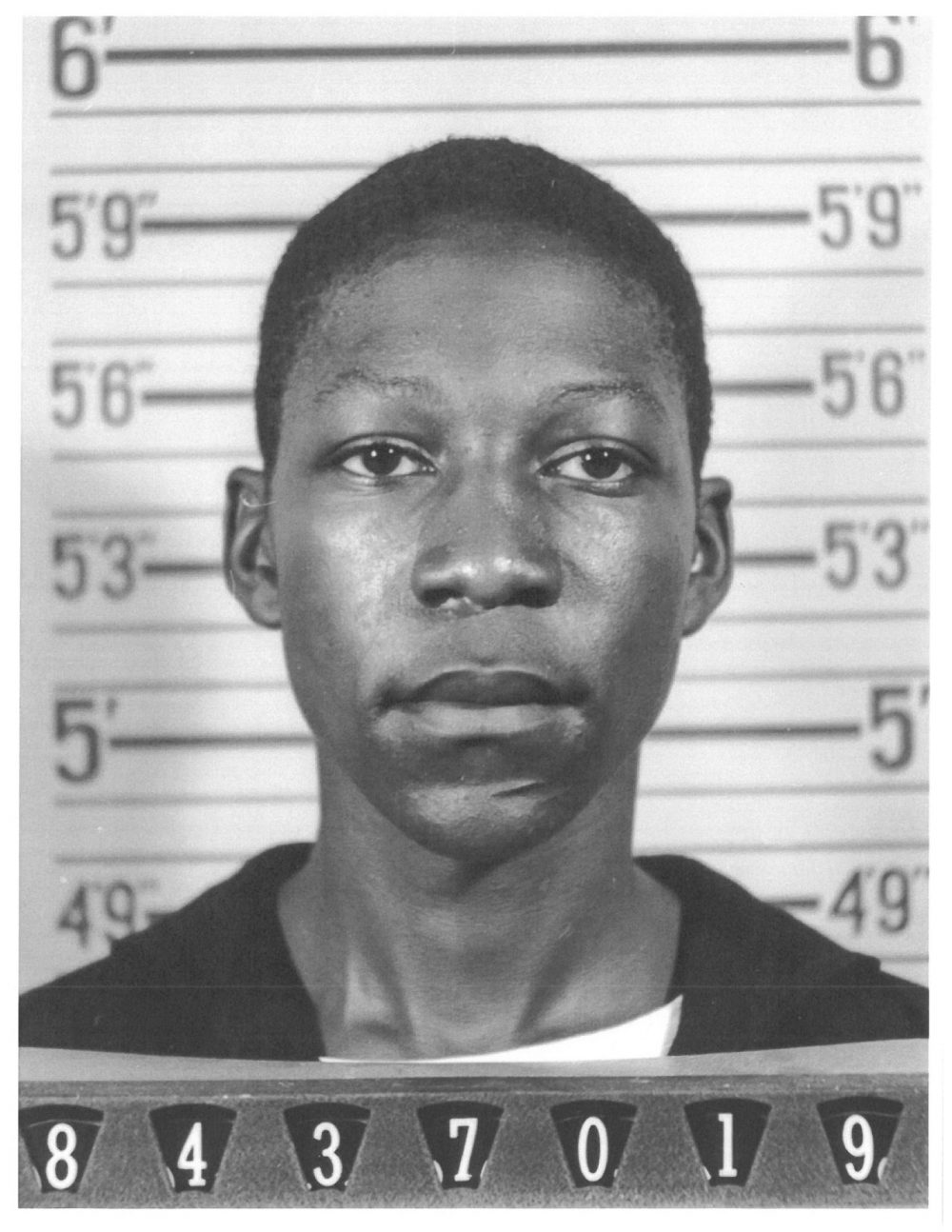 Unit:

United States Naval Reserve

Service Number:

8437019

Date of Birth:

April 26, 1925

Entered the Military:

May 20, 1943

Date of Death:

July 17, 1944

Hometown:

Starkville, Mississippi

Place of Death:

Port Chicago, California

Cemetery:

Section L, Site 8295.

Golden Gate National Cemetery
Contributed by Mr. Daniel Jocz
Downtown Magnets High School
2016-2017
Early Life
A. D. Hamilton was the second youngest of five children of Homer and Grace Hamilton. His father was a farmer, born and raised in Mississippi. Homer outlived his son by 13 years. Grace died when A. D. was young.
No historical record indicates the meaning of "A. D." Even his birthdate is a source of speculation. Military records indicate a date of birth of 1925, but the 1930 Census lists A. D.'s age as three, indicating 1927 as his year of birth. Similarly, A. D. is listed as 12 years old in the 1940 Census. Thus, it is difficult to ascertain if he was born in 1925 or 1927. He may have lied about his age to enlist in the U.S. Navy.
A. D.'s childhood was filled with many challenges. As his grandfather noted, his grandmother and mother passed away "when he was just a tot." His Official Military Personnel File indicated that his grandfather, John Parks, was "the only parent he has known," indicating that his father did not raise A. D.
A. D. grew up in the Jim Crow South. Born and raised in Starkville, Mississippi, A. D. attended a segregated school for African-American children in the Rock Hill School District. He only completed the sixth grade.

Military Experience
Joining the War Effort
Prior to joining the United States Navy, Hamilton worked as a busboy in a cafeteria, perhaps following in the footsteps of his older brother, John. On May 22, 1943, Hamilton enlisted in the U.S. Navy as an apprentice seaman at 5'9" and 152 pounds. Hamilton was transferred on May 29, 1943, to Naval Station Great Lakes (NavTraSta Great LakesS) for training. On April 26, 1944, Hamilton was transferred to Port Chicago in California.
The work done at Port Chicago was vital to the war effort. The supplies loaded at Port Chicago were intended for the Pacific Theater, specifically the fighting on Saipan in 1944. War supplies, mostly munitions, arrived by rail to Port Chicago, were unloaded onto the pier, and then onto the ships docked there.
Hamilton unloaded and loaded munitions at Port Chicago. The work was tremendously grueling. The bombs were "live" and could weigh as much as 650 pounds. The work occurred around the clock, with thousands of tons of live ammunition being placed onto ships at various locations along the dock. Sailors, including Hamilton, at Port Chicago were not taught about safe handling of torpedo warheads or massive incendiary bombs; thus the work was extremely dangerous.
The work at Port Chicago was done primarily by African-American sailors. Many were relegated to the work of loading the ships, as racism in the military at the time led to the belief that African-American service members did not exhibit the same capacity for bravery on the battlefield or the ability to follow detailed instructions as white service members. Although there were black petty officers at Port Chicago, all of the high-ranking commanding officers were white.
Tragedy Strikes
Poor training, racism, and a lack of safety regulations were not the only problems at Port Chicago. Officers often encouraged contests between different crews loading the ammunition, as speed was prioritized over safety. These circumstances set the stage for the explosion that occurred on July 17, 1944.
Over the course of four days of around-the-clock work, approximately 4,600 tons of war matériel was placed aboard the SS E. A. Bryan. In spite of this large load, the ship was only 40 percent loaded. Another ship, the SS Quinault Victory was nearby, with a cargo of fuel that released hydrocarbon gas when disturbed. The simultaneous loading of ships, the lack of proper instructions, limited to no training and safety regulations, and the mixtures of fuel vapor and explosives caused a massive explosion, today known as the Port Chicago disaster, on July 17, 1944.
The explosion could be seen for miles; ships, trains, rail, and the pier were all destroyed. The E. A. Bryan was completely vaporized, and the Quinault Victory landed upside down 500 feet away from its original location. In total, 320 people were killed. Of those 320 killed, 202 of them were African-Americans. Among them was Hamilton, though his body was not found until September 25, 1944.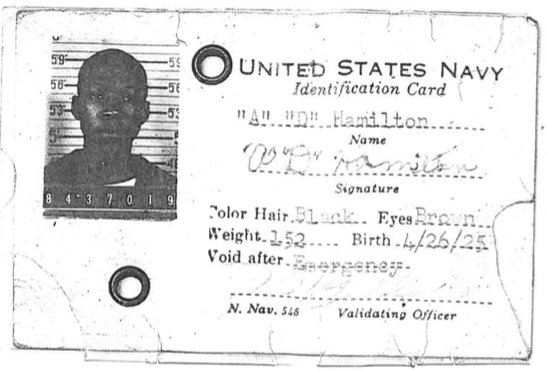 Eulogy
Hamilton's grandfather was notified that his grandson was missing on July 19, 1944. It was not until September 25, 1944, that the family received confirmation that Hamilton was killed, and his body was found. For his service, Hamilton was awarded the Victory Medal.
Upon his death, both his grandfather and his father claimed his personal belongings and pension. Ultimately, at the request of his grandfather, Homer Hamilton inherited A.D.'s belongings. Hamilton's body was buried at Golden Gate National Cemetery in California.
Originally the amount to be paid to the victim's families was to be $5,000, but it was reduced to $3,000 when a congressman from Mississippi, John Rankin, learned that the majority of the victims were black.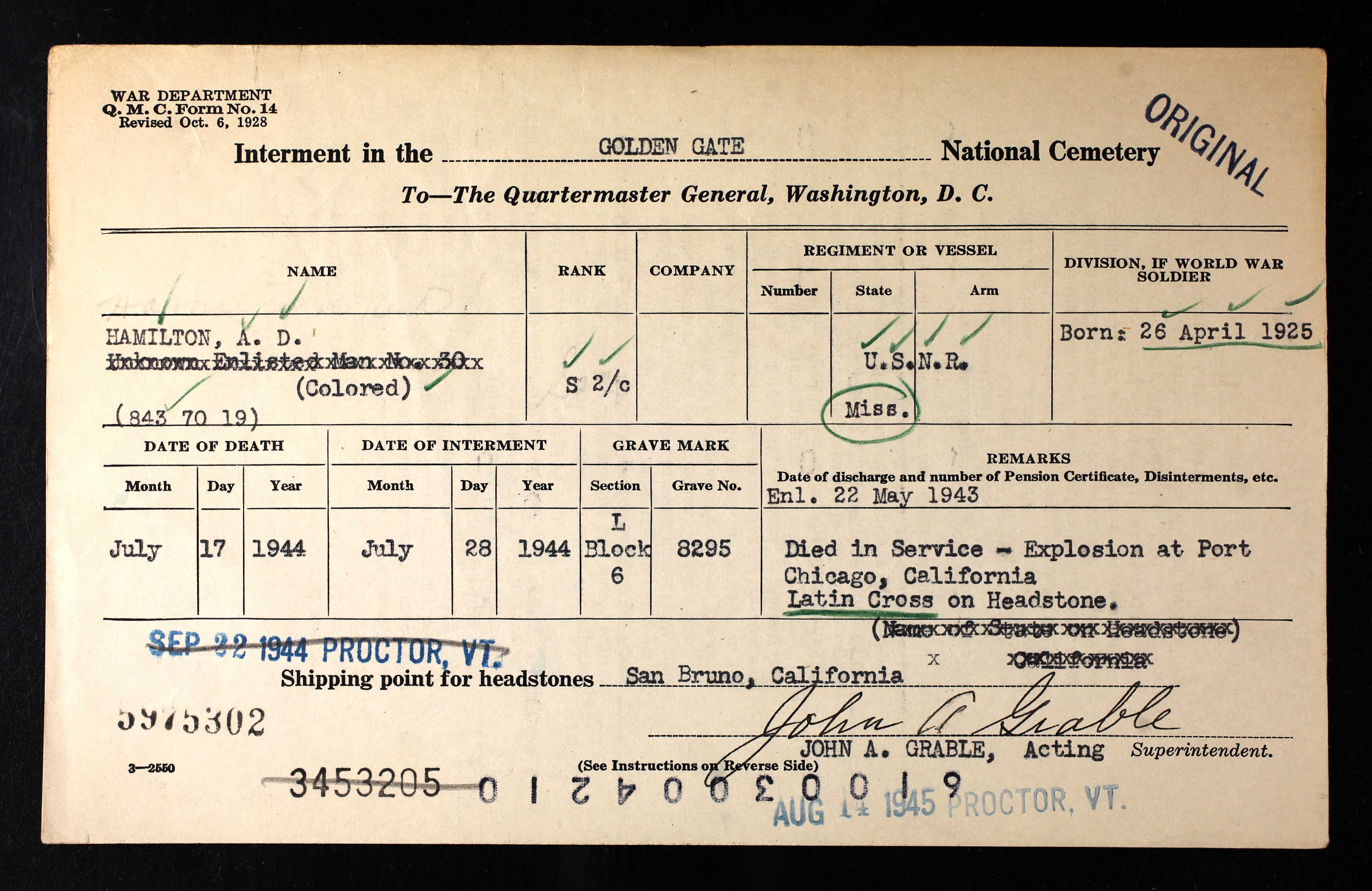 Reflection
Bibliography
A.D. Hamilton, Official Military Personnel File, Department of the Navy, Records of the Bureau of Naval Personnel, RG 24, National Archives and Records Administration – St. Louis
Allen, Robert. The Port Chicago Mutiny: The Story of the Largest Mass Mutiny Trial in U.S. Naval History. New York: Warner Books, 1989
Campbell, James. The Color of War: How One Battle Broke Japan and Another Changed America. New York: Crown Publishers, 2012.
Mississippi. Oktibbeha County. 1920 U.S. Census. Digital Images. ancestry.com.
Mississippi. Oktibbeha County. 1930 U.S. Census. Digital Images. ancestry.com.
Mississippi. Oktibbeha County. 1940 U.S. Census. Digital Images. ancestry.com.
"Photo Gallery: Port Chicago Disaster." U.S. National Park Service. Accessed August 11, 2017. www.nps.gov/media/photo/gallery.htm?id=F40E9D90-155D-4519-3E886B704FAC971D.
Sheinkin, Steve. The Port Chicago 50: Disaster, Mutiny, and the Fight for Civil Rights. New York: Roaring Brook Press, 2014.
This profile was researched and created with the Understanding Sacrifice program, sponsored by the American Battle Monuments Commission.