Sergeant Allen P. Moberly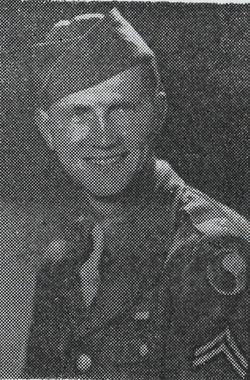 Unit:

29th Infantry Division, 116th Infantry Regiment, 3rd Infantry Battalion, Company L

Service Number:

35468273

Date of Birth:

October 14, 1918

Entered the Military:

August 13, 1942

Date of Death:

June 7, 1944

Hometown:

Richmond, Kentucky

Place of Death:

Omaha Beach, Normandy, France

Award(s):

Purple Heart

Cemetery:

Plot J, Row 19, Grave 13.

Normandy American Cemetery, Colleville-sur-Mer, France
Contributed by Brad Shoopman
Mentored by Stephanie Smith
Madison County Schools
2012-2013
Early Life
Loss
Allen's story begins at age three with the loss of his mother, Ethel. Upon her death, Allen's maternal grandparents raised him. Allen grew up in Madison County on his grandparents' dairy farm but did not stay there when he became an adult. Instead, Allen attended college with a desire to pursue a career in banking.
Happiness and Love
Allen moved to Ashland, Kentucky, and married Lola Tipton in 1941. There, Allen obtained a job with the Ashland Oil and Refining Company. Allen and Lola were devoted members of the Unity Baptist Church, where Lola's father was the pastor. The newlyweds had one year together before Allen was called for duty.
Fear
In 1942, Allen was called for active duty with the 116th Infantry Regiment of the 29th Infantry Division. He deployed to Great Britain to train for two years in preparation for D-Day.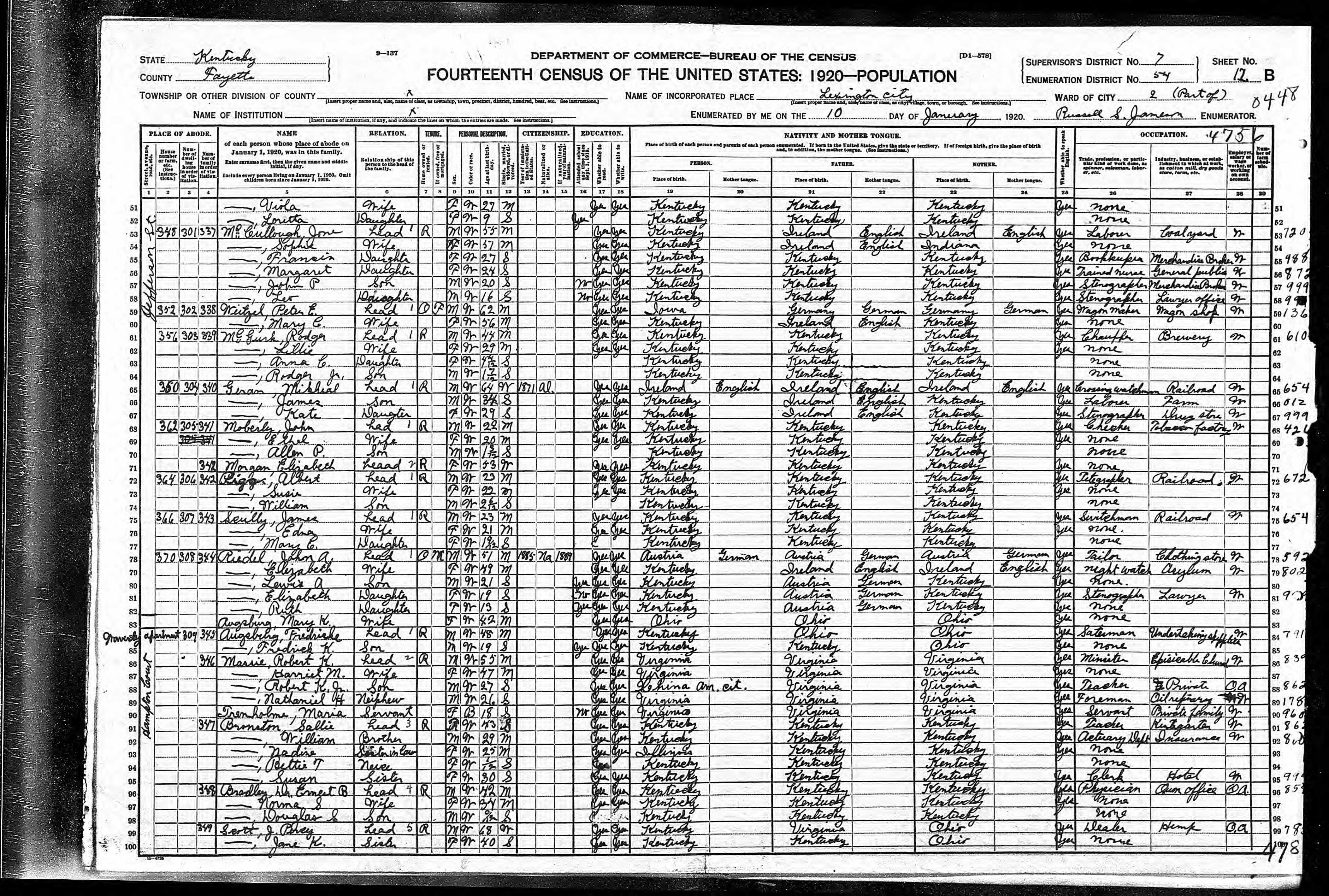 Homefront
News of the trouble in Europe came to many Kentuckians through movies. Changes in Kentucky life during World War II began with the boycotting of German goods.
In 1934, Louisville began a community to help German Jewish refugees resettle. In 1937, 30 refugees found their way to Louisville; four years later, over 400.
Construction on Bowman Field, a small airport located just south of Louisville, began in the late 1930s. Bomber squadrons and the Army Air Force's School of flight surgeons trained here. In many ways, the war was a blessing to Kentuckians, as President Franklin Roosevelt's Works Progress Administration brought many needed jobs to Kentucky. Most of these jobs were in construction, namely the expansion of Fort Knox.
During World War II, Fort Knox served as a significant war arsenal. As a result, guards were posted at bridges stretching over the Ohio River.
The government purchased farms during the war for land to build housing for service members. The government told farmers that they could buy back their land for the same price the government had following the war, but this did not happen. The land was sold for much more than was initially paid, and thus, only wealthy farmers were able to buy land. The situation became even more heated when oil was discovered under the farms; the farmers' legal action began and continues to this day.
Patriotism may have been a strong emotion in Kentucky during the war, but grief and fear were also prominent. Many families lost at least one, if not more, family members to the war. Blue stars in a front window told the number of family members serving in the military, gold ones the number of those family members who died in service to their country. Almost 7,000 Kentuckians made the ultimate sacrifice. 
Military Experience
The men of the 116th Infantry Regiment, 29th Infantry Division, landed on Omaha Beach. Vierville Draw, the westernmost of five beach exits, was the best because it was paved, making it critical to sustaining the Allied advance. On the Dog Green sector of Omaha Beach, they encountered substantial German resistance. Enemy strongpoints remained functional for many hours and hindered the Allied advance.
The plan was to attack each exit directly, with the hope of an easy capture with light casualties. The air attacks and naval bombardments were predominantly ineffective. However, elements of the 116th Infantry Regiment and 2nd and 5th Ranger Battalions, led by Brigadier General Norman D. Cota, who landed with the second wave at 7:00 a.m., eventually worked their way up the steep bluffs between the draws, and, despite heavy casualties, overcame the enemy's defenses. The Americans had a tenuous hold on the beach exit but needed the services of the 121st Engineer Battalion.
The Germans erected a 100-foot-long concrete wall across Vierville Draw's road, which crippled the Allied advance from Omaha Beach. Lieutenant Colonel Robert Ploger, the 121st Engineer Battalion commander, decided that his unit's most important task was to destroy the concrete wall, clear the rubble, and repair the road so the 29th Infantry Division could advance. At noon, he and General Cota had rounded up several bulldozers, loaded each with explosives, and transported them to the Dog Green sector.
Although enemy snipers and mortars remained active, the 116th Infantry Regiment provided covering fire, allowing 20 engineers to haul the explosives to the wall's base. At 3:00 p.m., Sergeant Dube, of Company C, triggered the explosion, and because the Germans had neglected to fortify the wall with steel rods, the wall was easily destroyed. The engineers worked quickly to clear the road of debris, and by early evening, the allies could advance. The Army awarded both the 121st Engineer Battalion and the 116th Infantry Regiment the Presidential Unit Citation.
Moberly was wounded when his unit advanced from the beach. Sergeant Allen Moberly died of wounds received on June 7, 1944. Moberly was buried in Normandy American Cemetery in Colleville-sur-Mer, France, and a memorial marker was placed in Richmond Cemetery, with his mother, Ethel.
Eulogy
He is not remembered individually but collectively, as a part of his regiment, division, battalion, war, and country. He is remembered for his valor, his sacrifices, and his fight for freedom. He had a short life, in which he experienced matrimony, loss, fear, and happiness. Because of his ultimate sacrifice, he was deprived of many of life's joys: children, a successful career, and growing old with his wife.
His name was Allen Perry Moberly. Born in Lexington, Kentucky, in 1919, he moved 30 miles south to Richmond at the age of three, after his mother's death, to be reared by his maternal grandparents on their dairy farm.
As a young adult, Allen was not content with a life of farming; he aspired to be a banker. After graduating from high school in 1938, he attended one year of college, married Lola Tipton, and began a career in banking. The couple lived in Ashland, Kentucky, when, in 1942, Allen was called for active duty with the 29th Infantry Division.
As part of the 116th Regiment, 3rd battalion, L Company, Allen's mission was much the same as other divisions: capture the beach exits crucial to the Allied advance. 125 L Company soldiers survived the D-Day landing on Omaha Beach; unfortunately, Allen was one of the company's 34 casualties.
Today, we pay tribute to Allen for his ultimate sacrifice. He respected, fought, and died for his country; now, it is our privilege to honor him for the life he gave for us. Allen and his fellow fallen soldiers have set the example for bravery and patriotism for generations of soldiers and civilians alike.
Allen, to us, you represent the many whose names and faces will be lost to time. There are no memorials or plaques here or at home to honor you, but we ensure you will never be forgotten with these words.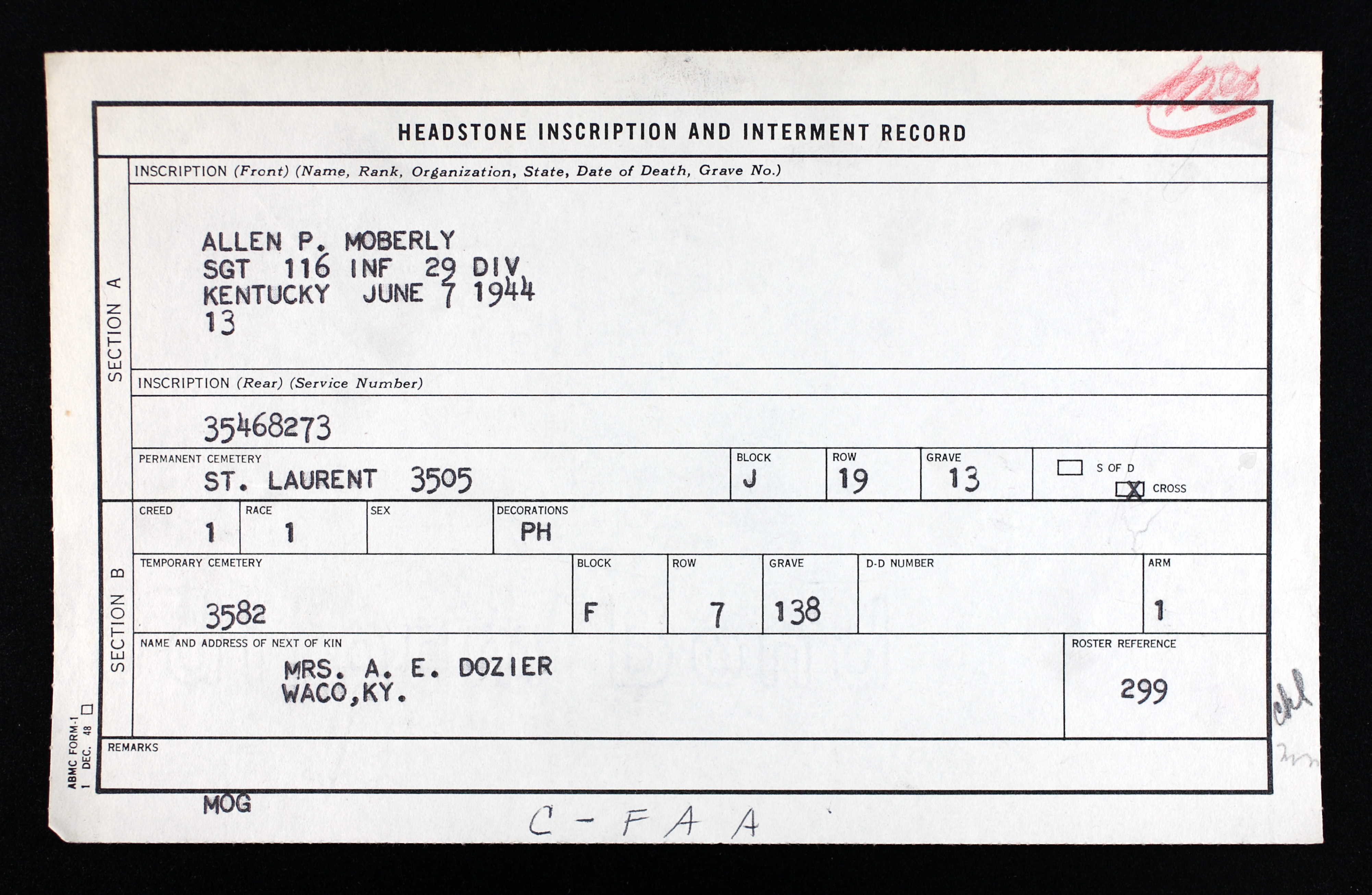 Reflection
This opportunity has profoundly changed my life and how I experience it. The Normandy: Sacrifice for Freedom program changed the way I view learning and history. Learning about other subjects, now, after having experienced the real, hands-on learning experience provided by the Normandy Institute, is going to feel bland and less interactive; learning from the primary source is how it should be done.
My research has changed my appreciation of freedom and sacrifice. The concept of sacrifice has been made more apparent, and liberty a right I hold more dear. I now understand the significance of the sacrifices made by so many men and women in all wars, especially World War II.
The day I chose Allen Perry Moberly as my soldier, I had no idea the impact he would have on my life, nor how close I would come to feel to him, nor how much I would come to respect and care for him. He will forever be encased in my memory.
I thank National History Day for providing me with this fantastic opportunity—an opportunity that I will never be able to forget.
Bibliography
Primary Sources
Allen P. Moberly. Headstone and Interment Records for U.S. Military Cemeteries on Foreign Soil. Digital Images. ancestry.com.
Allen P. Moberly. Kentucky Birth Index. ancestry.com.
Allen P. Moberly. World War II Draft Cards, Young Men, 1940-1947. Digital Images. ancestry.com.
Allen P. Moberly. World War II Army Enlistment Records, 1938-1946. ancestry.com.
Kentucky. Fayette County. 1920 U.S. Federal Census. Digital Images. ancestry.com.
Kentucky. Madison County. 1930 U.S. Federal Census. Digital Images. ancestry.com.
Kentucky. Madison County. 1940 U.S. Federal Census. Digital Images. ancestry.com.
Omaha Beach. Map. U.S. Army Center of Military History. history.army.mil/reference/Normandy/TS/COE/COE15.htm.
Secondary Sources
"Allen Perry Moberly." Find a Grave. Updated November 20, 2013. Accessed February 12, 2021. www.findagrave.com/memorial/83004034/allen-perry-moberly.
Ambrose, Stephen E. Band of Brothers. New York: Simon & Schuster, 2001.
Beck, Alfred M., et al. The Corps of Engineers: The War Against Germany. Washington, D.C.: U.S. Army Center of Military History, 1985. history.army.mil/html/books/010/10-22/CMH_Pub_10-22.pdf.
Beevor, Antony. D-Day: the Battle for Normandy. New York: Viking, 2009.
Eisenhower, Dwight D. Crusade in Europe. Garden City: Doubleday, 1948.
Kershaw, Alex. The Bedford Boys. Cambridge: Da Capo Press, 2003.
"Sgt. Allen Perry Moberly." Find a Grave. Updated August 8, 2021. Accessed February 12, 2021. www.findagrave.com/memorial/56647903/allen-perry-moberly.
Stokesbury, James L. A Short History of World War II. New York: Morrow, 1980.
Terkel, Studs. "The good war": An Oral History of World War Two. New York: Pantheon Books, 1984.
"World War II Honor List of Dead and Missing, State of Kentucky." National Archives and Records Administration. www.usgwarchives.net/ky/military/wwii/indexarmy.html.