Corporal Alva P. Hilscher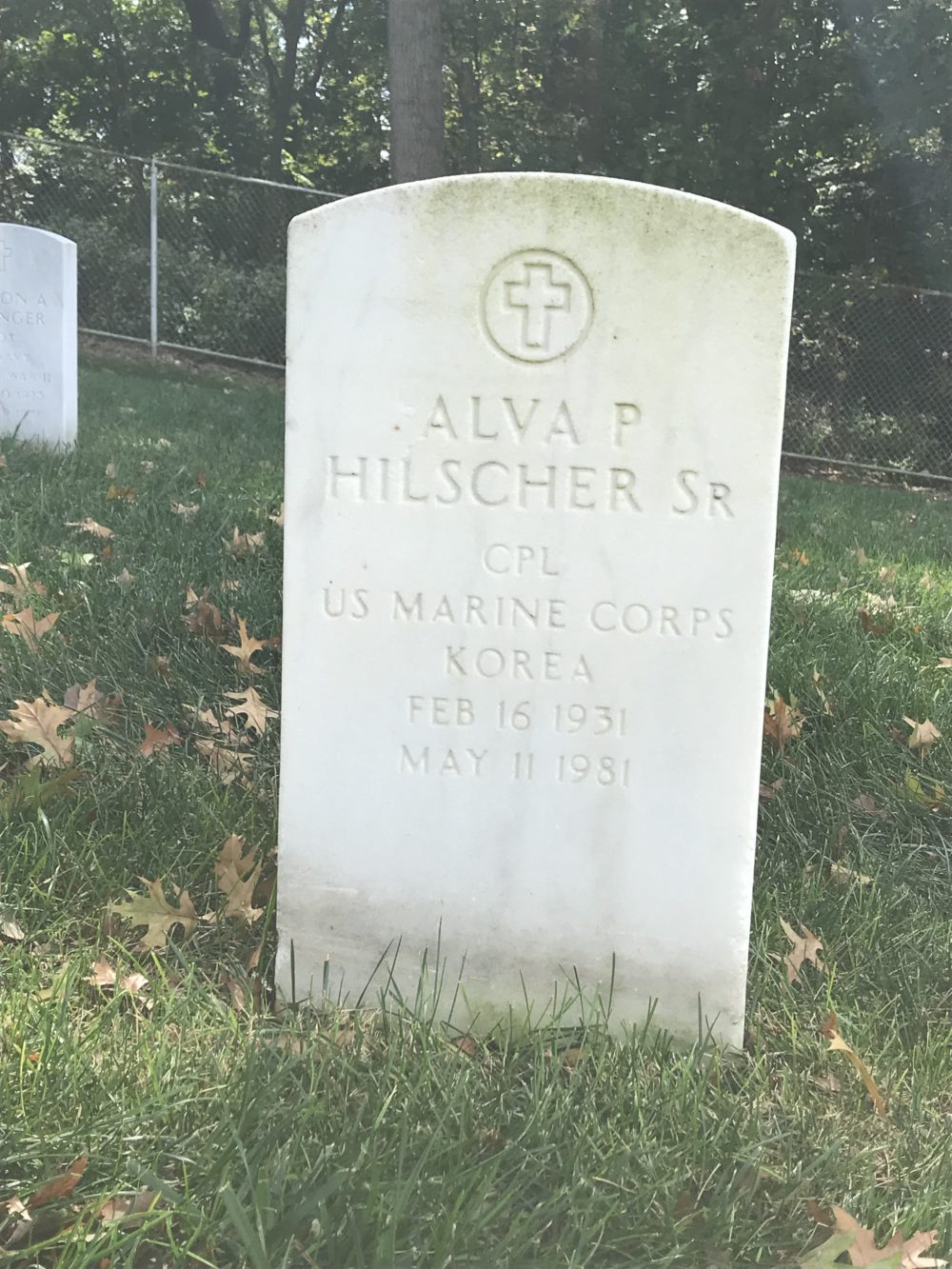 Unit:

1st Marine Division, 1st Shore Party Battalion, Company B

Date of Birth:

February 16, 1931

Entered the Military:

July 23, 1948

Date of Death:

May 11, 1981

Hometown:

Belleville, Illinois

Place of Death:

Illinois

Award(s):

Navy Occupation Service Medal, Korean Service medal with Three Stars, Presidential Unit Citation with One Star, and United Nations Service Medal

Cemetery:

Site 2555, Section I.

Jefferson Barracks National Cemetery, St. Louis County, Missouri
Contributed by Ms. Katie Hoerner and Ms. Marion Touzel
2017–2018
Before the War
On February 16, 1931, Alva Paul Hilscher was born in Leavenworth County, Kansas to Herman and Carolyn Hilscher. He had an older brother, Herman, Jr. According to the 1930 census, Herman Hilscher, Sr. worked as a carpenter at a machine manufacturing company.
Herman and Carolyn divorced at some point after Alva's brith. According to the 1940 federal census, Alva and Herman, Jr. lived with their father and his new wife, Virginia F. Hilscher. Herman, Sr. was now employed by the federal government as a carpenter at a military base (most likely at Fort Leavenworth).
At age 17, Alva petitioned to join the U.S. Marine Corps. His mother, Carolyn McCasland (she was remarried at this time) gave permission for him to enlist underage. He indicated two years experience as a farm hand as well as experience operating a donut fryer.
Military Experience
Hilscher enlisted in the U.S. Marine Corps on July 23, 1948 and arrived at Parris Island, South Carolina, on July 25. His service took him to various places, including training exercises in Puerto Rico and Cuba in February and March 1949.
As tension escalated in Korea, he sailed on the USS General H.W. Butner from San Diego to Japan, arriving on August 29, 1950 and then aboard LST Q-036 from Kobe, Japan to Korea. He arrived in Korea on September 15, 1950 with the 1st Marine Division, 1st Shore Party Battalion, Company B.
Hilscher's primary job in the Marines was to work as a Shore Party Man. He marked beaches, unloaded ships, controlled traffic, removed mines, set up communications, established dump and supply points, and engaged in reconnaissance missions. The 1st Shore Party Battalion moved cargo inland to support Marines as they advanced.
Hilscher's unit participated in the Incheon landings, the assault and seizure of Seoul, and the Wonsan-Hungnam-Chosin Campaign. He served in Korea from September 15, 1950 to September 11, 1951. He was hospitalized for part of his deployment in November and December 1950.
He returned to San Francisco on the USS Menald, sailing from Kobe, Japan, on November 25, 1951.
Veteran Experience
After returning to Belleville, Illinois in 1952, Hilscher married Patricia Rosemary Boothman. Together they had seven children, four sons and three daughters. Hilscher worked as a maintenance man for the local hospital. Alva Paul, Jr. still resides in Irvington, Illinois.
Hilscher died of cancer on May 11, 1981. His widow moved to Virginia Beach to live with their eldest daughter, Patricia, until her death on November 11, 2016.
Commemoration
Alva Paul Hilscher, Sr. was laid to rest in Jefferson Barracks National Cemetery in St. Louis County, Missouri.
Bibliography
1st Marine Division, Korea; General Administrative Files, September 1950-March 1955, Record Group 127 (Box 226); National Archives at College Park, College Park, MD.
"17 from St. Louis Area Return from Far East." St. Louis Post-Dispatch. November 26, 1951. Newspapers.com (140049696).
Alva P. Hilscher, Official Military Personnel File, Department of the Navy. U.S. Marine Corps, Record of the U.S. Marine Corps, RG 127, National Archives and Records Administration – St. Louis.
"Area Deaths: Herman Hilscher." The Leavenworth Times. July 5, 1977. Newspapers.com (18023978).
Gilbert, J. A. The USS Noble (APA-218) unloads troops and supplies at invasion of Wonson... Photograph. October 26, 1950. National Archives and Records Administration (421311). Image.
Hilscher Family Photographs. 1943-1945. Courtesy of Hilscher Family.
Hilscher, Patricia. E-mail message to author. September 24, 2018.
Kansas. Leavenworth County. 1930 U.S. Census. Digital Images. http://ancestry.com.
Kansas. Leavenworth County. 1940 U.S. Census. Digital Images. http://ancestry.com.
Rose, C. K. Invasion of Incheon, Korea. Four LST's Unload Men... Photograph. September 15, 1950. National Archives and Records Administration (470027). Image.
Rose, C. K. Six Navy LSTs beached during Wonson invasion… Photograph. October 26, 1950. National Archives and Records Administration (421389). Image.