Coxswain Amin Isbir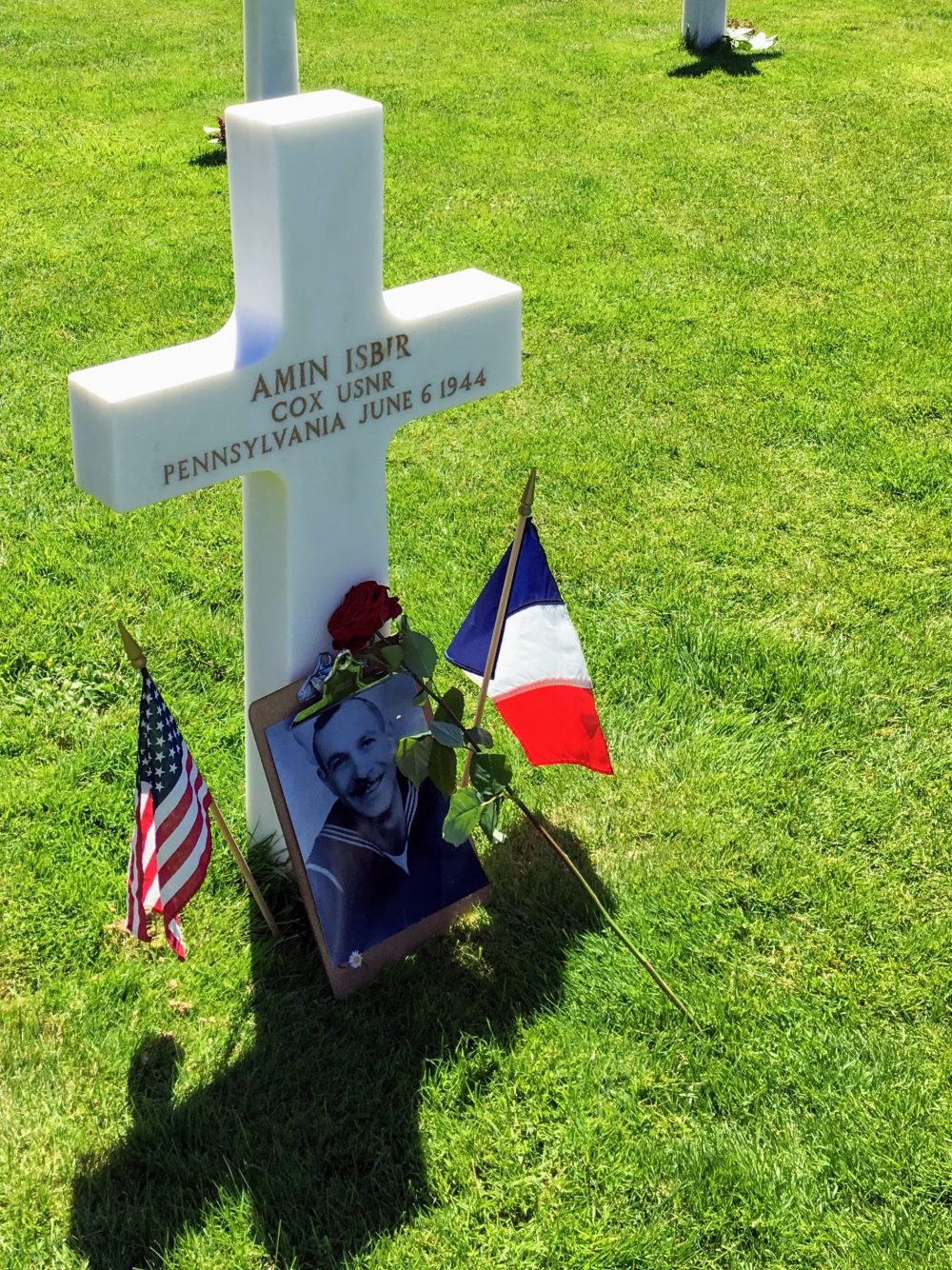 Unit:

6th Naval Beach Battalion

Service Number:

8217862

Date of Birth:

October 10, 1907

Entered the Military:

November 30, 1932

Date of Death:

June 6, 1944

Hometown:

McKeesport, Pennsylvania

Place of Death:

Omaha Beach, France

Award(s):

Purple Heart

Cemetery:

Plot G, Row 23, Grave 22.

Normandy American Cemetery, Colleville-sur-Mer, France
Contributed by Alayna Niepayver
Mentored by Mr. Josh Elders
Peters Township High School
2017-2018
Early Life
Amin Isbir's parents Mary and Michael, immigrated to Pittsburgh, Pennsylvania from Syria in 1903. Amin Isbir was born around 1907. He grew up along with his other five siblings in McKeesport, Pennsylvania.
While little is known about his childhood, his father was a steel worker and his family often had tenants in their home to make extra money. Isbir's younger sister Julia died in 1916 at the age of one. It is well known that the entire family was extremely close throughout his life.
Amin Isbir attended McKeesport High School until eleventh grade. He then started working odd jobs in the steel industry including as a fireman on barges on the rivers of Pittsburgh. He was employed as river deckhand by the Carnegie-Illinois Steel Corporation prior to his enlistment in 1933. 
Homefront
McKeesport is located at the confluence of the Monongahela and Youghiogheny Rivers, outside of Pittsburgh, a major steel town. During World War II, Pittsburgh became part of the "Arsenal of Democracy" because it produced 95 million pounds of steel during the war. The steel mills ran 24 hours a day to ensure the war effort stayed supplied.
The large number of immigrants who flocked to the city became vital to the industry. Immigrants from across Europe worked in the steel mills or the coal mines throughout the western Pennsylvania region. They developed ethnic neighborhoods in working class areas, turning the neighborhoods into small cities.
Work strikes were fairly common, as the long hours and terrible conditions affected many workers, but during the war they were seen as unpatriotic. Families also grew victory gardens, collected scrap metal and used ration books to buy meat. They sacrificed certain foods, nylons, and soap to help out the troops, while buying war bond stamps to help out their boys. Pittsburgh also provided 1.25 million troops to the war effort. The city in general was important to the war, providing steel, manufactured goods, glass, and troops.
Military Experience
Amin Isbir joined the U.S. Naval Reserve in Pittsburgh in 1933, during the Great Depression. There is no information on his experiences in the Navy before the outbreak of World War II. Isbir reenlisted in 1942 and began his training at Fort Pierce, Florida in 1943. There he started his amphibious training. This site was used specifically for troops training for the Normandy invasion. He completed his training at the Amphibious Forces School Camp Bradford in Virginia Beach. Camp Bradford was a training center for LST crews during World War II.
Isbir eventually joined the 6th Naval Beach Battalion in 1944. The battalion arrived in England two months before D-Day. Upon arrival they were joined by the 5th Engineer Special Brigade, they would all eventually land together on Omaha Beach.
Isbir was the oldest member of the battalion, at age 36. Prior to leaving England, Isbir confided in Beachmaster Joseph Vaghi that he felt "he wouldn't be coming home."The 6th Naval Beach Battalion and the 5th Engineer Special Brigade traveled to Omaha Beach on a Coast Guard operated infantry landing craft, LCI-L 88. Embedded on the LCI was reporter A.J. Liebling. He recounted that the ship's journey to the beaches of Normandy was rough, but that the coxswain would be the first man into the water to help secure its anchor.
The ship arrived at the Easy Red sector of Omaha Beach around 7:35 a.m. where it came under heavy fire. Coxswain Isbir was one of the first men off the ship and successfully helped his shipmates disembark. After making it ashore, Amin Isbir was crushed to death by a weapons carrier that was struck by a German shell and fell upon him, while helping Beachmaster Joseph Vaghi load an injured soldier onto a stretcher.
Due to continued hostilities that day, Isbir's body was not found until two days later. This caused his original date of death to be incorrectly listed as June 8, 1944 instead of June 6, 1944. Isbir's body was buried in St. Mère-Église temporary cemetery before being laid to rest permanently in Normandy American Cemetery.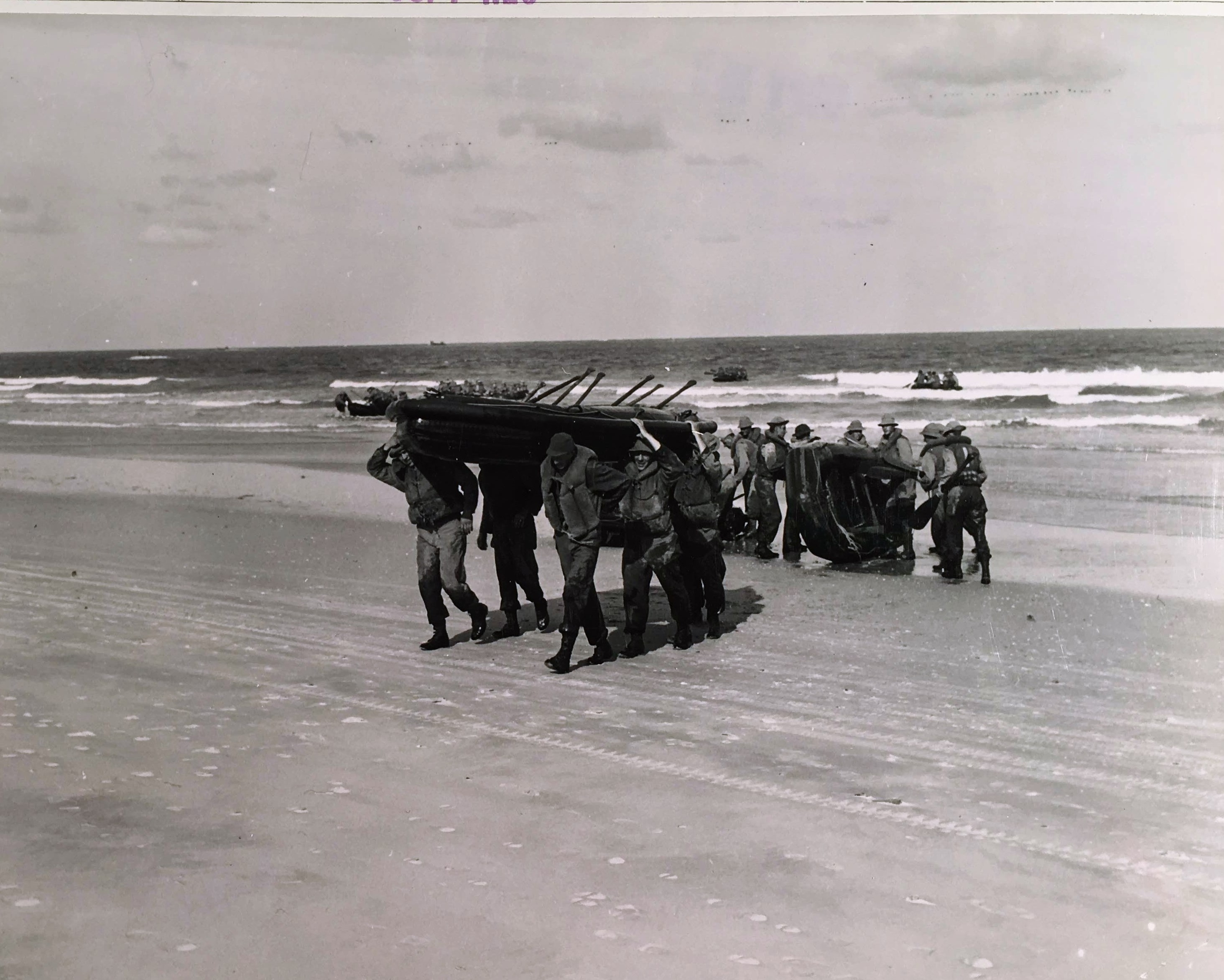 Eulogy
Sacrifice is defined as "an act of giving up something of value for the sake of something else regarded as more worthy." Coxswain Isbir truly embodies the idea of sacrifice, giving up the most valued thing in the world; life.
Life is held in the highest regard, protected at all cost by almost every aspect of society. The brave men and women who routinely put their lives on the line for the good of our nation and the world are the greatest heroes. One of these people was Coxswain Isbir.
He was a loyal American who despite being the oldest male in his family after the death of his father and leaving a large family back in McKeesport, Pennsylvania, sacrificed his life in order to save his fellow Americans. Isbir was posthumously awarded the French Croix de Guerre for bravery and the Purple Heart. A life of service to family and country was given that day on the beach, but the influence of Isbir's actions and service live on in the stories that were shared with his nieces and nephews who have in turn continued to celebrate the sacrifice of their uncle, "Uncle Meenie," as he gave his life for the freedom of others.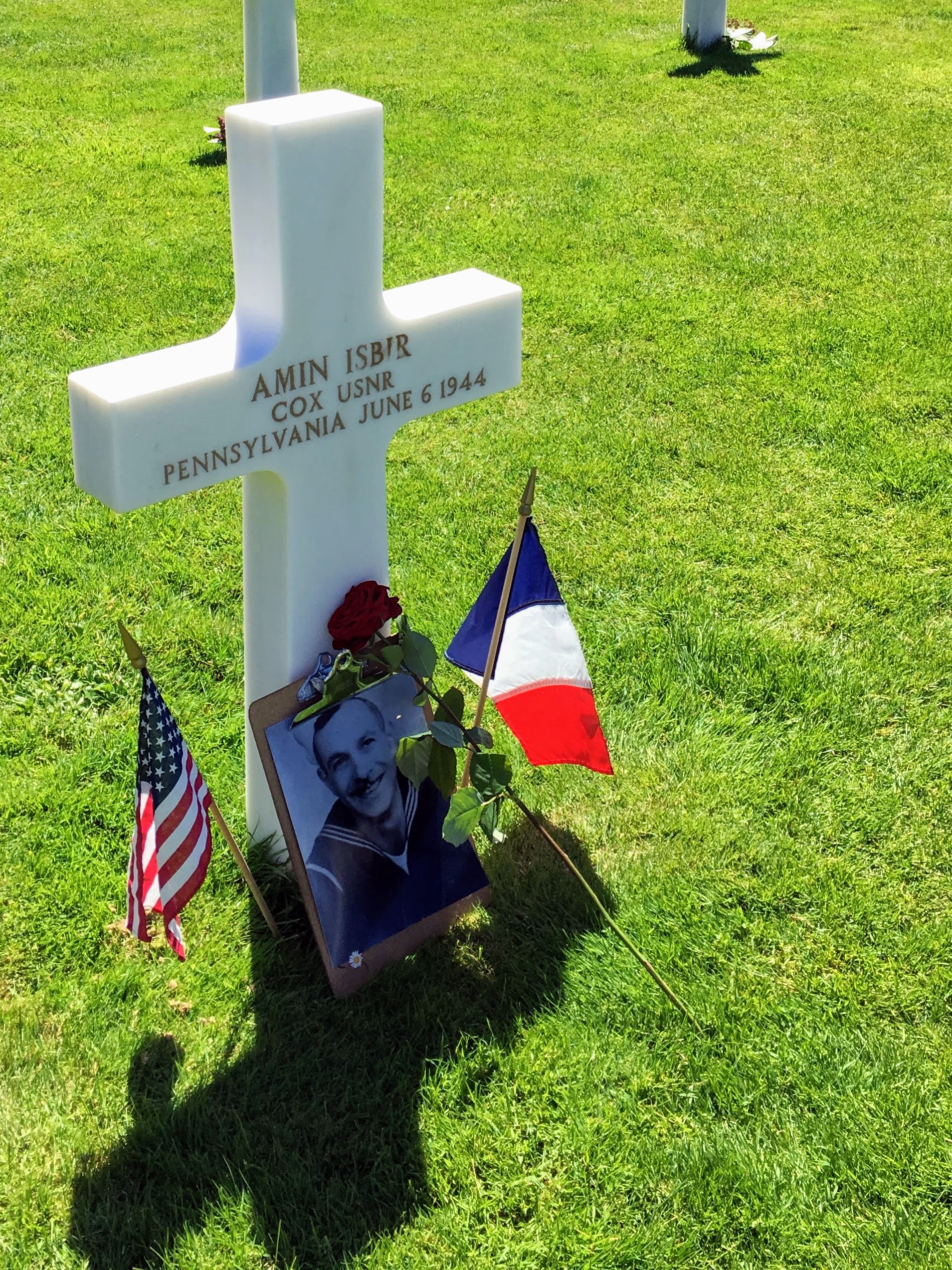 Reflection
Researching and learning about Amin Isbir's life was truly an eye-opening experience. Learning about all his sacrifices and hardships really put life into perspective. Through researching Amin Isbir, I began to see him as a friend, even a family member. Writing his eulogy was very humbling. It was very difficult to try to narrow down his life into a three to five minute eulogy, there was so much I wanted to say but could not. I felt a bond between us, and hoped that he would guide me to tell his story the way it deserved to be told.
Visiting Omaha Beach, where Amin Isbir died, was also extremely emotional for me. Being able to actually experience the beach he died on, the vastness and total openness of the beach left me speechless. I felt very connected to him in that moment, trying to imagine the beach that he saw that day. But the best thing I have ever done was sharing the eulogy at Amin Isbir's grave. Before I saw the marker, it was almost like he was still a live person, at least to me. It was a shock to touch his marker, the name and the date, realizing he had truly been gone for 74 years. Getting to see the marker his family fought so hard to replace with the proper date was amazing. It was an honor to be able to see him laid to rest properly and to tell his story. Overall, this experience changed my perspective of the true sacrifices in life and was probably the best thing I have ever done. 
Bibliography
Primary Sources
Amin Isbir, Individual Deceased Personnel File, Department of the Army.
Amin Isbir, Official Military Personnel File, Department of the Navy, Records of the Bureau of Naval Personnel, RG 24, National Archives and Records Administration – St. Louis.
Liebling, A.J. "Cross-Channel Trip: A Report from Normandy (I)." New Yorker. July 1, 1944. www.newyorker.com/magazine/1944/07/01/cross-channel-trip-i.
Liebling, A.J. "Cross-Channel Trip: A Report from Normandy (II)." New Yorker. July 18, 1944. www.newyorker.com/magazine/1944/07/08/cross-channel-trip-ii.
Liebling, A.J. "Cross-Channel Trip: A Report from Normandy (III)." New Yorker. July 15, 1944. www.newyorker.com/magazine/1944/07/15/cross-channel-trip-iii.
Training for amphibious operations….Fort Pierce, Florida. November 28, 1943. Photograph. National Archives and Records Administration (43902), College Park, MD.
U.S. Navy Beach Battalion….England. Photograph. National Archives and Records Administration (8495-3), College Park, MD.
Secondary Sources
"Amin Isbir Facts." Ancestry.com. www.ancestry.com/family-tree/person/tree/81913139/person/48447208940/facts?_phsrc=iKb11.
"The Arsenal of America: Pennsylvania During the Second World War." Stories From PA History. explorepahistory.com/story.php?storyId=1-9-19&chapter=3.
"D-Day June 6th Amin Isbir Part 1 of 2 May 20th 2009 6th Naval Beach Battalion." Video file, 4:45. Youtube. Posted by Eric Montgomery, September 21, 2009. www.youtube.com/watch?v=cdAshq7WeoQ&feature=related.
Montgomery, Eric. "Long Lost Cousins Reunite While Honoring Family Heroes of WWII The Story of Coxswain Amin Isbir." Soldiers and Sailors. Last modified 2009. www.soldiersandsailors.us/coxswain%20amin%20isbir%20june%206th%201944.htm.
Sidus Group. "Cox Amin Isbir KIA." U.S. Naval Beach Battalion. www.6thbeachbattalion.org/cox-amin-isbir.html.
Zofcin, George, ed. "U.S. Navy Records Search & Veteran Locator." Together We Served. navy.togetherweserved.com/usn/servlet/tws.webapp.WebApp?cmd=ShadowBoxProfile&type=Person&ID=594396.