Corporal Anthony (Tony) Barcott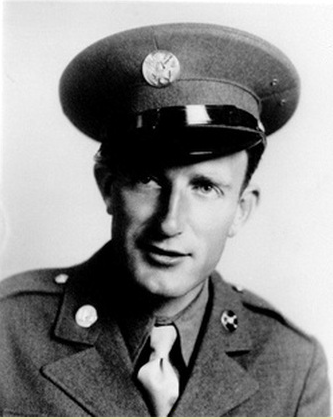 Unit:

440th Anti-Aircraft Artillery (Automatic Weapons) Battalion

Service Number:

39176375

Date of Birth:

May 21, 1910

Entered the Military:

June 1, 1942

Date of Death:

July 28, 1944

Hometown:

Everett, Washington

Place of Death:

near Saint-Lô, France

Award(s):

Purple Heart

Cemetery:

Plot G, Row 27, Grave 10.

Normandy American Cemetery, Colleville-sur-Mer, France
Contributed by Marliee Raible
Mentored by Ms. Sabrina Shaw
Stanwood High School
2010-2011
Early Life
A first-generation American, Anthony "Tony" Barcott was born in 1910 to Domina and Kuzma Barcott. His family had recently immigrated from Valuka, Austria, and lived in the Pacific Northwest region of the United States. He grew up with four siblings: Winnifred, Mary, Frank, and Augustine (Augie). Barcott attended school in Everett, but after his parents' divorce dropped out and began working for GoldFinch Industries, a glass and glazing store. He was quiet and enjoyed hunting and fishing in his spare time.
Everett, Washington – "City of Smokestacks"
By 1932, Barcott and his family settled in Everett's vibrant Slavic community. By 1937, he resided at 2719 1/2 Grand Avenue. He opened a paint and wallpaper store on Hoyt Avenue, Barcott Brothers, with his brother, Frank. When the war came to America, the store was deemed a necessary industry. The brothers decided which of them would run the store and which one would enlist with the United States military. As he was unmarried, Tony enlisted in 1941 and on his way to California for anti-aircraft training.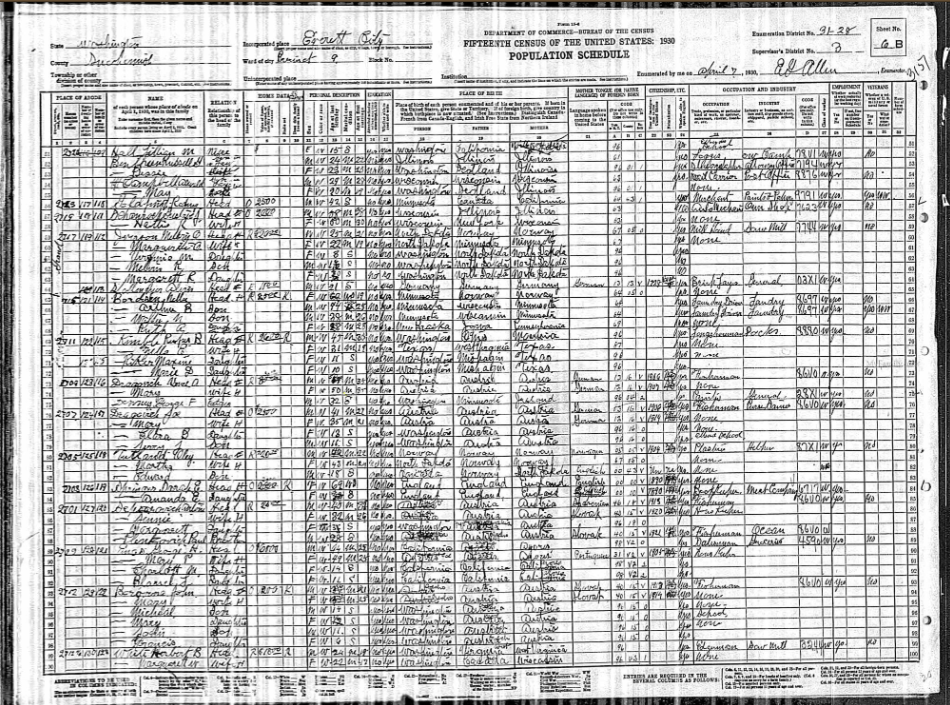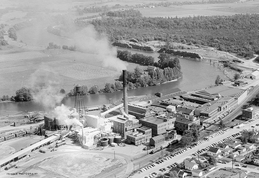 Homefront
The Northwest Prepares for War
The Snohomish County community was known for its marine industry. Everett's location on the Puget Sound, a natural deep-water harbor, provided a perfect opportunity to maintain a fishing and shipbuilding presence. Its large immigrant population provided the workforce necessary to support the war effort.
The war transformed Washington's economic future by developing a regional infrastructure that supported a post-war economy based on the numerous natural resources available in the west. The availability of cheap power provided by the federal government's Bonneville and Grand Coulee Dam projects made it possible for new facilities to sprout up throughout the state and provided irrigation to farms.
Iron, Ships, and Sheet Metal
The area was home to 88 shipyards and boatyards. Employing more than 150,000 workers, they built and repaired various vessels to support the war effort.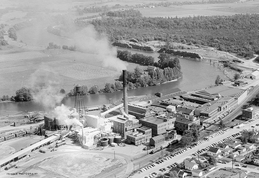 Military Experience
440th and Camp Haan
Barcott enlisted in Tacoma, Washington, and was then assigned to the 440th Anti-Aircraft Artillery (Automatic Weapons) Battalion. The 440th Anti-Aircraft Artillery (Automatic Weapons) Battalion was activated at Camp Haan, California, on July 1, 1942. The men trained at several locations, eventually coming to Camp Pickett, Virginia, and Camp Steward, Georgia, to prepare for the D-day landing.
Off to England
After two years of training in numerous camps around the United States, the 440th Anti-Aircraft Artillery (Automatic Weapons) Battalion finally received orders to begin their voyage to Europe. They set sail on the U.S.S. Dominion Monarch, a former British luxury liner converted to a troop transport for the war. In January 1944, they began their voyage to Liverpool, England, before being sent to their first station at Camp Blandford.
D-Day: The Invasion Begins
On June 6, 1944, the initial D-day invasion began in Normandy, France. The American troops invaded Omaha and Utah Beaches while British and Candian troops took Juno, Sword, and Gold Beaches.
The 440th Anti-Aircraft Artillery (Automatic Weapons) Battalion arrived in Normandy on June 12, landing on Utah Beach. By the time they arrived, the American troops stationed in the area had already claimed and organized the beach. Upon arrival, 440th Anti-Aircraft Artillery (Automatic Weapons) Battalion began their first assignment — guarding the U5 road and ammunition dumps on the beach.
Operation Cobra
Operation Cobra was a crucial battle that helped lead to the Allies' success in Europe. It began on July 25, 1944. Generals Omar Bradley and George Patton needed to take the city of Sainte-Lô. Operation Cobra's objective was to create a hole in German defenses, allowing Allied troops to break through the line.
After Allied troops achieved the breakthrough, they began to pour through the gap to take advantage of the enemy. Allied forces began to push German troops out of France following this strategic success.
On July 28, 1944, Barcott died. He was killed during Operation Cobra while defending a bridge on the Vire River.
The 440th Anti-Aircraft Artillery (Automatic Weapons) Battalion pushed forward. They served through the Battle of the Bulge.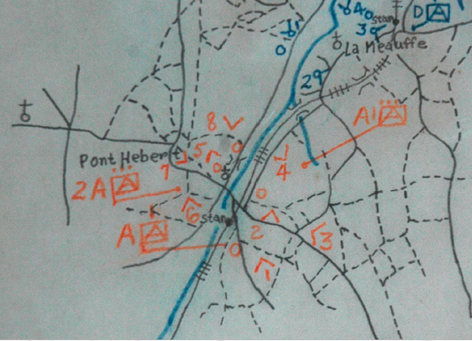 Eulogy
Lest You Forget
Lest you forget, may I say…
I am one of many buddies,
Who have journeyed so far away.
I know it's hard to say goodbye,
but it happened so fast,
So sudden, in the twinkle of an eye.
I lay on earth's carpet,
So green and soft,
The battle raged on, but I had lost.
Upon theses roads of slime and mud,
We gave our lives, not only our blood.
We hated the snow and cursed the cold,
And watched the young grow ever so old.
We wanted o much to live again,
To walk, to laugh, and smell the rain.
My helmet rests still on my head,
My rifle at my side,
We who have fallen regret to say goodbye.
The battle is now over, and peace reigns on high…
But remember we are your buddies,
Who have lived, and fought, and died!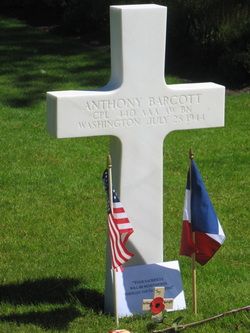 Bibliography
Primary Sources
Anthony Barcott. Birth Record, June 21, 1910. Washington, Birth Records, 1970-1935. ancestry.com.
Anthony Barcott. World War II Army Enlistment Records, 1938-1946. ancestry.com.
Anthony Barcott. WWII Draft Cards, Young Men, 1940-1947. ancestry.com.
"Barcott Bros. holiday advertisement." Everett Herald, 1941.
Barcott Family Photographs. Courtesy of Jim Barcott.
Sumner Iron Works. Photograph. Everett Public Library.
Washington. Snohomish County. 1930 U.S. Federal Census. ancestry.com.
Washington. Snohomish County. 1940 U.S. Federal Census. ancestry.com.
Secondary Sources
"Anthony Barcott." American Battle Monuments Commission. Accessed May 12, 2020. www.abmc.gov/decedent-search/barcott%3Danthony.