Private Arvid L. Setran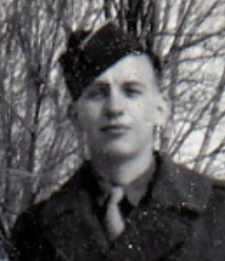 Unit:

79th Infantry Division, 315th Infantry Regiment

Service Number:

37565845

Date of Birth:

October 7, 1924

Entered the Military:

June 4, 1943

Date of Death:

July 9, 1944

Hometown:

Minneapolis, Minnesota

Place of Death:

near Montgarden, France

Award(s):

Purple Heart

Cemetery:

Plot D, Row 8, Grave 13.

Normandy American Cemetery, Colleville-sur-Mer, France
Contributed by Lacy Myrman
Mentored by Ms. Nancy Ziemer
North View IB World School
2011-2012
Early Life
Arvid Setran was born on October 7, 1924, to Anna (Grinden) and Eddie Setran, at 4048 Third Avenue South, Minneapolis, Minnesota. Setran had an older sister, Gladys, a younger brother, Norman, who passed away in 1987, and a younger sister named Grace.
She was three years older, but Gladys, Arvid, and friend Harold Grovender, who went to Washburn High School with them, were always together. They were described as the three musketeers. They regularly attended dances and 25-cent movies together. Gladys even recalled when she wanted to go to a local baseball game but did want to go alone, so Setran went with her, so she would not be lonely. Setran was always there.
He planned to follow in his father's footsteps and become an auto mechanic. He planned to attend Dunwoody Institute of Technology in Minneapolis after high school.
Setran was drafted as a result of the Selective Service Act of 1940, enacted by President Franklin D. Roosevelt. When Setran received his draft notice, there were arguments with his father at the dinner table. According to his sister, "Eddie wasn't supportive of anything any of his kids did regarding growing up: he didn't want them to get married, have children, or unavoidably serve in the military." Shortly after that, Setran enlisted in the U.S. Army on June 4, 1943.
Homefront
In Minneapolis, young men were expected to join the military after they graduated, and women at home were expected to marry soldiers. Gladys fell deeply in love with Harold Grovender, who became a soldier, and they married. However, due to her father's inability to accept that his children would eventually grow up, she had to keep her marriage private. There were many secrets in the family. Despite secrets, life was ordinary on the home front. Gladys followed Harold wherever he was stationed. She followed him to Arizona, Florida, and other places. She would pick up small jobs in each location as many other wives did.
Other commonalities on the home front were various war effort projects. The Washburn High School yearbook included photographs of aluminum and book drives and war bond sales. Even an armed service committee at the school worked on a scrapbook to honor alumni who were fighting in the war.
Because of the regularity of news about the war, Washburn High School students became more informed about international affairs. Every student was required to take world history and civics courses. These new studies changed from the recent isolationist view that the United States had only years earlier. Everywhere students went, there were reminders that the war was real.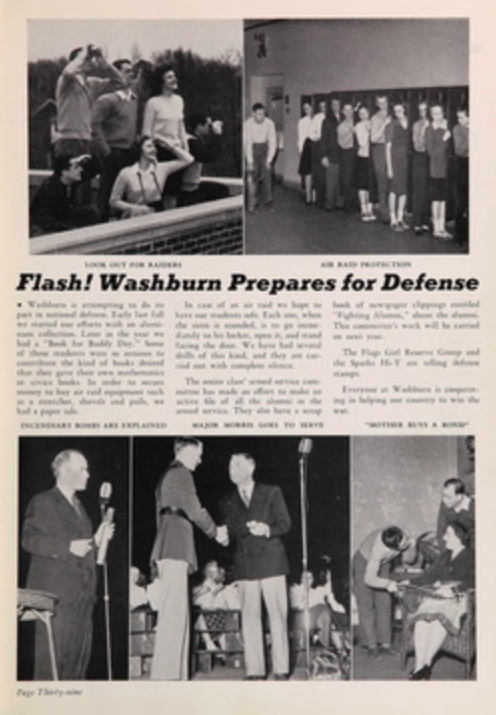 Military Experience
Setran enlisted on June 4, 1943. He completed basic training and was sent to England for further training before his ultimate mission to aid in France's liberation. He was hospitalized twice for pneumonia, but despite that, he wrote letters and drew pictures for siblings Norman and "Gracie."
Setran was a part of the 315th Infantry Regiment of the 79th Infantry Division. This division, also known as the "Cross of the Lorraine" division, was responsible for Cherbourg's capture. Cherbourg was the largest port in Normandy and a primary strategic objective because of its location near the Cotentin Peninsula.
Cherbourg's capture was vital because it was needed to transport materials for the Allies; the highest priority was to speed up their resupply. So the 79th Infantry Division captured Cherbourg after days of heavy fighting.
The 79th Infantry Division was ordered to advance towards Saint-Lô in early July. On this path, their next target was La Haye-du-Puits. This job was a bad one because the small city was heavily mined and dense with "concrete gun emplacements, pillboxes, tank traps, trenches, and barbed wire entanglements." Additionally, the hedgerow fighting was ruthless because of all the automatic weapons hidden in the brush.
On July 9, Setran's unit approached "Bloody Hill 84," a heavily defended location near Montgardon, France. Setran was killed in this advance. During the five days of fighting for La Haye-du-Puits, 1,500 soldiers lost their lives.
Eulogy
Arvid Setran was buried in Normandy American Cemetery.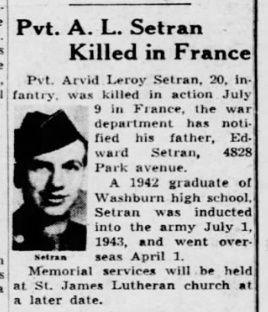 Reflection
Being involved in the Normandy: Sacrifice for Freedom, Student & Teacher Institute has been an opportunity beyond imagination. Never before have I been surrounded by so many educated professionals, so passionate about what they do just as much as I am. Every day was a new adventure and opportunity to learn something new. I took full advantage of every chance to ask questions and take notes. The Normandy Institute is a model for all other student institutes because it covered every critical area of a well-rounded understanding of a topic as large as World War II.
We began with readings and discussions weekly. Then we met for a week in Washington, D.C., to have classes, see monuments and museums, and watch films. Next was the fabulous week in Normandy, where we walked in the footsteps of soldiers who passed through the French countryside fighting and sacrificing their lives for freedom. And, to tie it all together, we had been drawing personal connections the entire time with our research of a fallen soldier.
On the final day in Normandy, we presented eulogies at our soldiers' gravesites. It was the most connected I had ever felt to a veteran before. I had always honored veterans, but it did not mean nearly as much as when I lived one veteran's story. I saw what he saw and learned about what he did. The night I wrote my eulogy, my roommate came into the room crying, and I thought that was somewhat silly. Once I got to the end of my final proofread of Arvid's eulogy, I, too, had tears. I did not understand how I could miss someone so much, especially someone I had never met. It made me think about how I would have felt if I were Arvid's sister, Gladys, his mother or father, his sweetheart, or even him. I do not think I could have had as much courage. For that, I deeply admire the young men, many still boys, who lost their lives fighting for our freedom, especially Arvid.
Bibliography
Primary Sources
Arvid L. Setran. Headstone and Interment Records for U.S. Military Cemeteries on Foreign Soil, 1942-1949. ancestry.com.
Arvid L. Setran. World War II Army Enlistment Records, 1938-1946. ancestry.com.
Arvid L. Setran. WWII Hospital Admission Card Files, 1942-1954. ancestry.com..
Arvid Leroy Setran. Minnesota, Birth Index, 1900-1934. ancestry.com.
Arvid Leroy Setran. WWII Draft Cards Young Men, 1940-1947. ancestry.com.
"City Mustang Pilot Killed Over Belgium." Star Tribune. November 26, 1944. Newspapers.com (181875472).
Grovender, Gladys. Personal interview with author. June 2012.
Grovender, Karen. Personal interview with author. May 2012.
Grovender, Suzan, Personal interview and correspondence with the author. May-August 2012.
Minnesota. Hennepin County. 1930 U.S. Federal Census. ancestry.com.
Minnesota. Hennepin County. 1940 U.S. Federal Census. ancestry.com.
"Pvt. A. L. Setran Killed in France." Star Tribune, August 9, 1944. Newspapers.com (187517012).
Setran Family Papers and Photographs. Courtesy of Suzan Grovender.
Washburn High School Yearbook. 1942.
Secondary Sources
"Arvid L. Setran." American Battle Monuments Commission. Accessed May 22, 2020. www.abmc.gov/decedent-search/setran%3Darvid.
The Cross Of Lorraine, A Combat History Of The 79th Infantry Division. Nashville: Battery Press, 1999.