Private First Class Benjamin Franklyn McKenney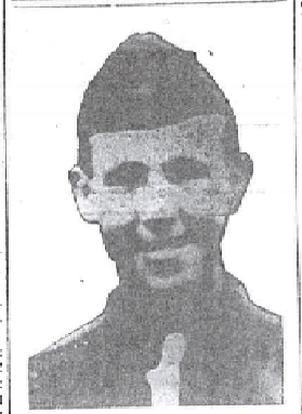 Unit:

29th Infantry Division, 116th Infantry Regiment, 2nd Battalion, Company H

Service Number:

17056995

Date of Birth:

July 12, 1921

Entered the Military:

April 8, 1944

Date of Death:

June 6, 1944

Hometown:

Concordia, Kansas

Place of Death:

Omaha Beach, Normandy, France

Award(s):

Purple Heart

Cemetery:

Plot I, Row 22, Grave 18.

Normandy American Cemetery, Colleville-sur-Mer, France
Contributed by Dawson Podlena
Mentored by Mr. Kyle Johnson
Seaman High School
2014-2015
Early Life
Benjamin Franklyn (sometimes spelled Franklin) McKenney lived in Concordia, Kansas, before the war. He lived on the end of Broadway Street, the main road that went through the town with his mother Bessie (Brooks) Dungan, his stepfather Frank Dungan, his brother Ezra McKenney, and his stepsister Anna Dungan. A.C. Mckenney, Jr., Benjamin and Ezra's father, died in combat when Benjamin was very young.
He attended the local Concordia schools from elementary to high school. He was a part of many clubs and organizations growing up, including the Concordia High School editorial staff and Boy Scouts. Benjamin was well-liked by his peers and elected class president his sophomore year. However, that busy schedule did not lead him away from the church because he attended Sunday School regularly at Wesleyan Methodist Church.
After high school, Benjamin worked at Boogart's, a local store. From there, he watched his brother, Ezra, complete an introductory flying course in San Diego, California, for the Air Corps and go to war in the Pacific. Anxious to follow his brother into war, Benjamin enlisted into the military just months before his twenty-first birthday.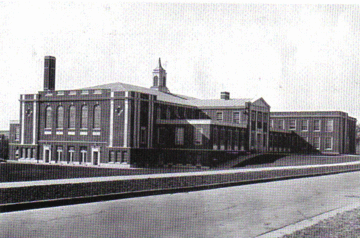 Homefront
Concordia is a small farm town in western Kansas. In the middle of the Great Plains, Concordia is surrounded by corn and wheat fields. In 1939, the town was a bit different. For one, the fields weren't as green because of the Dust Bowl that swept across the nation during the Great Depression. Despite its size, the town of Concordia still had plenty of work to be done. With the war effort, many young Americans were needed to protect and serve their country, leaving multiple jobs open for new employees. These employees included women. The McKenney household was reasonably quiet during this time, with two boys out of the house and the rest of the family working during the day. There was no rustling around the house, no arguments, no brawls, and unfortunately, no word. Before Benjamin's departure, his brother, Ezra, had gone missing in the Philippines.
Concordia housed over 4,000 German Prisoners of War (POWs) at Camp Concordia during World War II. After capturing prisoners in North Africa and Germany, the military brought German POWs to work in the U.S. There were three POW camps in Kansas, including camps at Fort Riley, Camp Phillips (near Salina, Kansas), and Camp Concordia.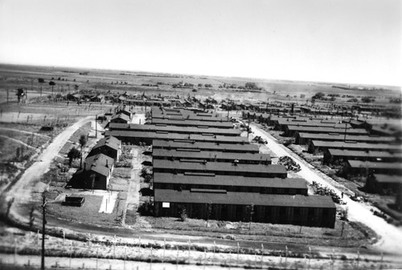 Military Experience
McKenney was 20 years old when he enlisted in the U.S. Army on April 8, 1942. At the time of his enlistment, he was single, stood 68 inches tall, weighed 139 pounds, and completed all four years of high school. After basic training in Camp Roberts, California, he left for Europe to finish training. In London, McKenney took an eight-week course in the 29th Division Radio School and received a grade of excellence.
Normandy was most likely his first time in battle. He landed 30 minutes from the start of battle (D+30) and was one of the first troops on Omaha Beach in the Dog Red sector. The 29th Infantry Division's goal was to help support the 1st Infantry Division's 16th Infantry Regiment at Omaha Beach and eventually take over the beach. McKenney's 116th Infantry Regiment was the first unit from the 29th Infantry Division to land on Omaha Beach. Their task was to take over the beach by the end of the day.
Many men were lost on Omaha Beach. Radiomen were a primary target for the Germans because they wanted to stop communication between the U.S. troops. This being said, Benjamin McKenney was surely a target, and unfortunately, he died on Normandy's beaches.
Benjamin's brother, Ezra McKenney, a second lieutenant in the 91st Bomber Squadron, 27th Bomber Group, Light, was taken prisoner by the Japanese in the Pacific Theater. He survived for more than two years. On September 7, 1944, he was a passenger on the Shinyo Maru. The ship was not marked as carrying POWs when the U.S. submarine Poddle torpedoed it. More than 650 POWs died in the sinking.
The 29th Infantry Division later went on to help the invasion of France, and ultimately the victory of the Allied Powers by assisting in the Battle of Saint-Lô and the assault on Brest from August 25 until September 18, 1944. They held a position at the Roer River from December until February 1945 and fought in the Ruhr Valley until the war in Europe ended on August 14, 1945.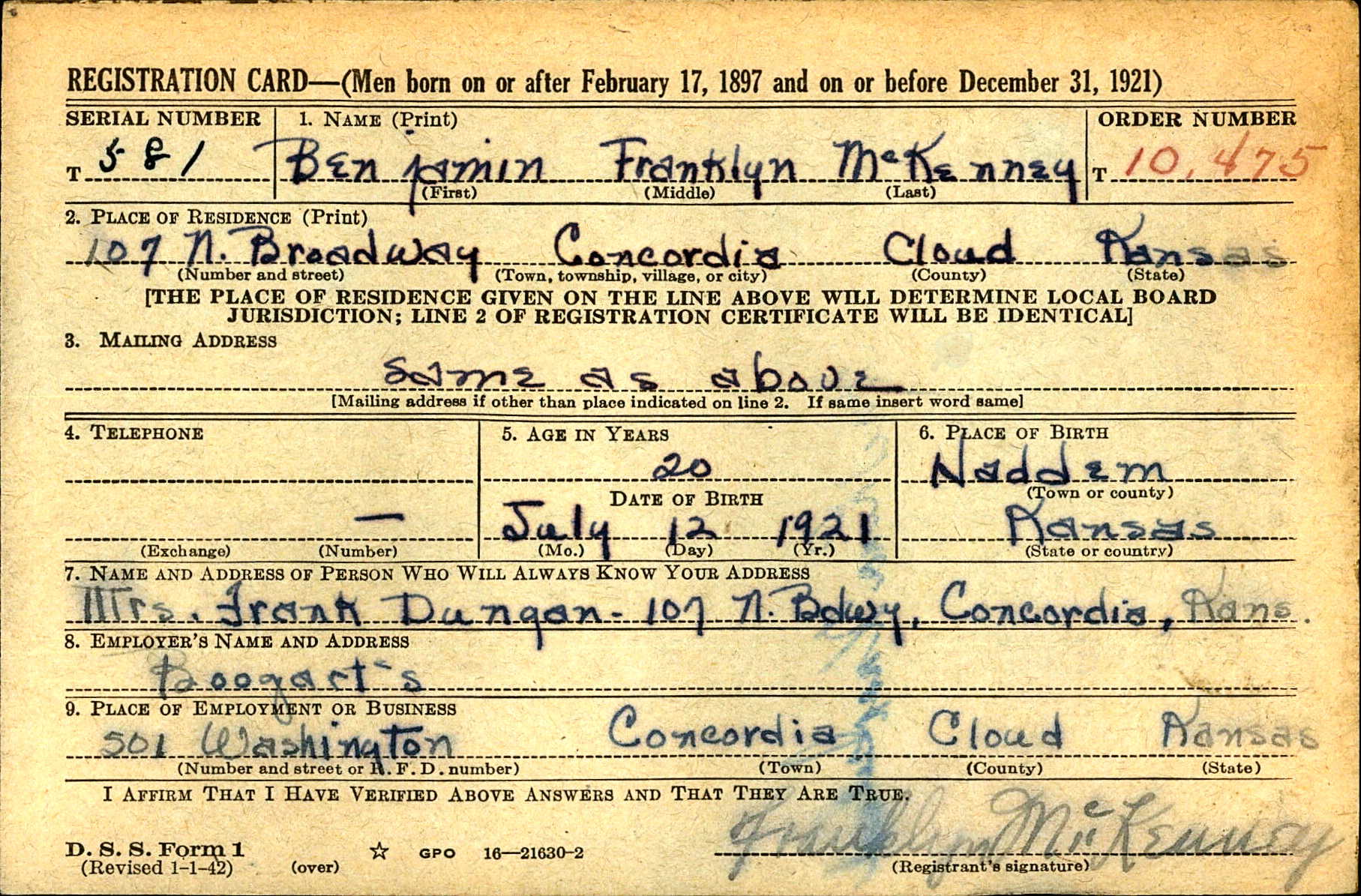 Eulogy
Splish, Splash, Splish, Splash. These were the sounds of the waves crashing against the sides of the ships on their way to Normandy. Each soldier lost in thought, thinking about what they were leaving behind and what they were fighting to protect. I can only imagine what Benjamin McKenney was thinking at that time. Maybe he was thinking about his hometown of Concordia, where he grew up. Or of his brother, Ezra, who was a prisoner of war from the Philippines at the time. There are no oceans in Kansas, so he might have been thinking of how the Atlantic and Pacific's vast waters separated him from his brother and family. Or even doubting his decision to join the Army. I do not know what he was thinking about, but I am glad that he risked his life for the well-being of America and the other many Allied countries involved in World War II, including the one that we stand upon today.
Many Americans lack the courage to do what these young men did. Being one of the first ones on the beaches required a lot of training; however, most of it was not used. What won the battles on the shores of Normandy was the number of people the Allied forces had. If one person fell, there was another one coming onto the beach to take his place. However, that one person had family, friends, and a community of people waiting for him to return. These family members and friends put false ideas into their minds, thinking, "It can't happen to my son," or "He'll be back soon." Even when they got letters saying that their son had died in battle, they still had hope that one day he would walk through the front door. So, while the men were listening to the splishes and splashes of the ocean against their ships, thinking about the past, their friends and family were listening to their radios, hoping for the soldiers to come home safely in the future. The ultimate sacrifice of war does not just impact the soldier but the family and friends as well. That is why I dedicated this eulogy not only to my fallen soldier, Benjamin McKenney but to his family and friends who went through their battle.
Splish, Splash, Splish, Splash. Song of Songs; Chapter 8, Verse 7 states, "Many waters cannot drown love." Benjamin Franklyn Mckenney's love for his family and country could not be drowned on Normandy's beaches. He gave the ultimate sacrifice in protecting his country and fighting for freedom, but his love and legacy carry on.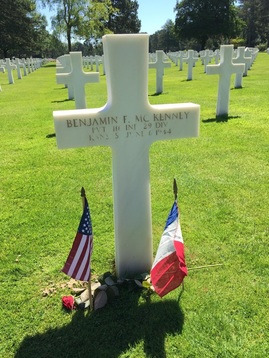 Reflection
I produced this website for Benjamin McKenney because I was involved in an institute for National History Day. This organization has created several institutes and programs for young men and women to remember and cherish past events. Luckily, my teacher, Mr. Johnson, and I were picked to be a part of the Normandy Institute. This program selects 15 student-teacher pairs to learn and study World War II and provides a trip to Normandy, France, where D-Day occurred. Before this trip, we picked a soldier from our state involved in World War II and the Normandy Invasion and started researching his life. We located information from the internet, historical centers, and even relatives if we could find some (unfortunately, my teacher and I could not). In addition to researching our soldiers, we also read and learned about World War II. Finally, in June, after six months of researching and studying, Mr. Johnson and I flew to Washington D.C. and stayed at the University of Maryland (home of the Terrapins) and met up with the other 14 pairs of students and teachers.
In Washington D.C., we visited monuments and attended lectures in preparation for our trip. I thought I knew about everything about World War II after six months of reading, but these speakers and presenters were experts and knew almost everything involving World War II. In furthering our research, we also visited the National Archives in College Park. Here we looked at documents and pictures from World War II. It was a fun experience, and the records were extremely old and fascinating. I cannot believe that they did not disintegrate from my hands as I touched them. However, the monument that stuck out the most to me was the Arlington National Cemetery. This cemetery is reserved for United States military personnel who have either died or survived the fighting and served their country. It took my breath away to see so many graves and hear some of the legacies of those buried there.
After spending a few days in Washington D.C., we finally got on a plane heading towards France. When we arrived in Paris, it was seven in the morning, and all of us had little to no sleep on the plane ride, but we started off our journey with a bang. On the first day, we visited Utah Beach and St. Mére Eglise. From there, it was a blur. We saw many historical places along the Normandy coast, including Omaha Beach, Saint-Ló, Point du Hoc, the Bayeux Tapestry, Angoville au Plain's church, and many other exciting places; each site more riveting and compelling than the last. Then on our final day in Normandy, we presented our eulogies at the Normandy American Cemetery. After researching Benjamin for the previous six months, I became attached, and I was extremely nervous reading my eulogy. However, after I finished, it was a relief because it felt like I did my job by honoring a hero whose story and background was worth commemorating. So, not only was this trip fun and exciting, but it was educational and emotional.
Bibliography
Primary Sources
Benjamin F. McKenney. Individual Deceased Personnel File. Department of the Army.
Benjamin Franklyn McKenney. World War II Army Enlistment Records, 1938-1946. ancestry.com.
Benjamin F. McKenney. World War II Draft Cards Young Men, 1940-1947. Digital Images. ancestry.com.
Camp Concordia. Photograph. c.1942-1945. POW Camp Concordia Preservation Society. Accessed March 22, 2021. powcampconcordia.org/history.php.
Chapin, Captain John C. . . . AND A FEW MARINES: Marines in the Liberation of the Philippines. Marines in World War II Commemorative Series, National Park Service. Accessed March 22, 2021. www.nps.gov/parkhistory/online_books/npswapa/extContent/usmc/pcn-190-003140-01/index.htm.
Concordia, Kansas Photograph Collection. Courtesy of Paul McDonald.
"Ezra M'Kenney Among Missing in Philippines." Concordia Blade-Empire [Concordia, Kansas], May 1942.
Franklin McKeney. 1925 Kansas State Census. Digital Images. ancestry.com.
Kansas. Cloud County. 1930 U.S. Federal Census. Digital Images. ancestry.com.
Kansas. Cloud County. 1940 U.S. Federal Census. Digital Images. ancestry.com.
"Mckenney Memorial Services." Concordia Blade-Empire [Concordia, Kansas], August 4, 1944.
Universal News. Invasion of France. Newsreel. National Archives and Records Administration (#200 UN-17-302 #1).
WWII France Invasion-Beachheads, box 1301, Omaha and Utah beach pictures. National Archives at College Park, College Park, MD.
WWII Operations Reports, 1941-48, Combat Interviews, box 19038. National Archives at College Park, College Park, MD.
Secondary Sources
"29th Division Association." Accessed March 22, 2021. 29thdivisionassociation.com/.
"Benjamin F. McKenney." American Battle Monuments Commission, Accessed March 22, 2021. www.abmc.gov/decedent-search/mckenney%3Dbenjamin.
"Ezra McKenney." American Battle Monuments Commission, Accessed March 22, 2021. www.abmc.gov/decedent-search/mckenney%3Dezra.
Gladwin, Lee A. "American POWs on Japanese Ships Take Voyage into Hell." Prologue 35, no. 5 (Winter 2003). www.archives.gov/publications/prologue/2003/winter/hell-ships-1.html.
"History of Camp Concordia." POW Camp Concordia Preservation Society. Accessed March 22, 2021. powcampconcordia.org/history.php.
Kershaw, Alex. The Bedford Boys: One American Town's Ultimate D-Day Sacrifice. Cambridge: Da Capo, 2003.
"Lieut Ezra McKenney." Find a Grave. Updated November 12, 2012. Accessed March 22, 2021. www.findagrave.com/memorial/101078216/ezra-mckenney.
Phoenix, Daniel. "The sinking of the Shinyo Maru." Little Rock Air Force Base. Updated September 15, 2010. Accessed March 22, 2021. www.littlerock.af.mil/News/Article-Display/Article/357001/the-sinking-of-the-shinyo-maru/.
"PVT. Benjamin Franklin McKenney." Find a Grave. Updated August 8, 2010. Accessed March 22, 2021. www.findagrave.com/memorial/56647591/benjamin-franklin-mckenney.
"Pvt. Benjamin Franklyn McKenney." Find a Grave. Updated November 12, 2012. Accessed March 22, 2021. www.findagrave.com/memorial/101078215/benjamin-franklyn-mckenney.
Stokesbury, James L. A Short History of World War II. New York: Morrow, 1980.
Wieviorka, Olivier. Normandy: The Landings to the Liberation of Paris. Cambridge: Harvard University Press, 2008.
Editor's Note: When McKenney entered the military, all records spell his middle name as "Franklin." However, family records and McKenney's handwritten draft card use the spelling "Franklyn." This accounts for the discrepancy in the primary sources. and the use of "Franklyn" in the profile.