Major Bernard Sherman Cluzen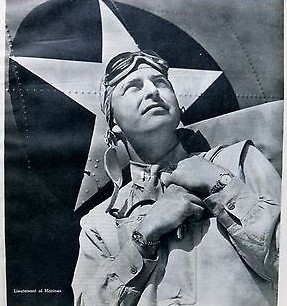 Unit:

4th Marine Base Defense Aircraft Wing

Service Number:

09034

Date of Birth:

June 16, 1917

Entered the Military:

May 1, 1941

Date of Death:

January 24, 1946

Hometown:

Lonepine, Montana

Place of Death:

near Ailinglaplap Atoll, Marshall Islands

Award(s):

Purple Heart

Cemetery:

Courts of the Missing, Court 2.

National Memorial Cemetery of the Pacific, Honolulu, Hawai'i
Contributed by Lauren Dears
Mentored by Ms. Christina Cote
Gardiner Public School
2020-2021
Early Life
Bernard Sherman Cluzen was born in the tiny, rural, mountain town of Lone Pine, Montana, situated on the Flathead Reservation boundary line. The village had a small population of 142 people in 1917.
His parents, Anna and Alfred Cluzen, both Swedish immigrants, initially settled in Minnesota. Several years later, they homesteaded in Montana, where they had 12 children. Bernard, affectionately called Barney, was the youngest, born in 1917. Cluzen's mother passed away when he was five years old, leaving his father and older sister, Goldie (age 22), to raise him. His oldest brother, John, served as a private in World War I. Cluzen had a close relationship with his brother, Robert, who was three years older. Robert joined the U.S. Navy and served in Australia during World War II.
Cluzen grew up in a tight-knit community, proud of his accomplishments. The Sanders County Independent Ledger mentioned him quite often in their news articles. On top of his many athletic achievements, newspaper articles also mentioned Cluzen's trip to Spokane for his tonsil removal. They also praised his third-place win in the local poultry contest, which earned him five dollars. He attended Lonepine High School, where he and Robert became star athletes playing both basketball and football. Bernard graduated in 1937 and continued his education first at Montana Tech College and later at Montana State College.
During his time in college, Cluzen was a starter on the Montana State football team as a guard and served in the Montana National Guard. As a summer job, he worked for the forest service.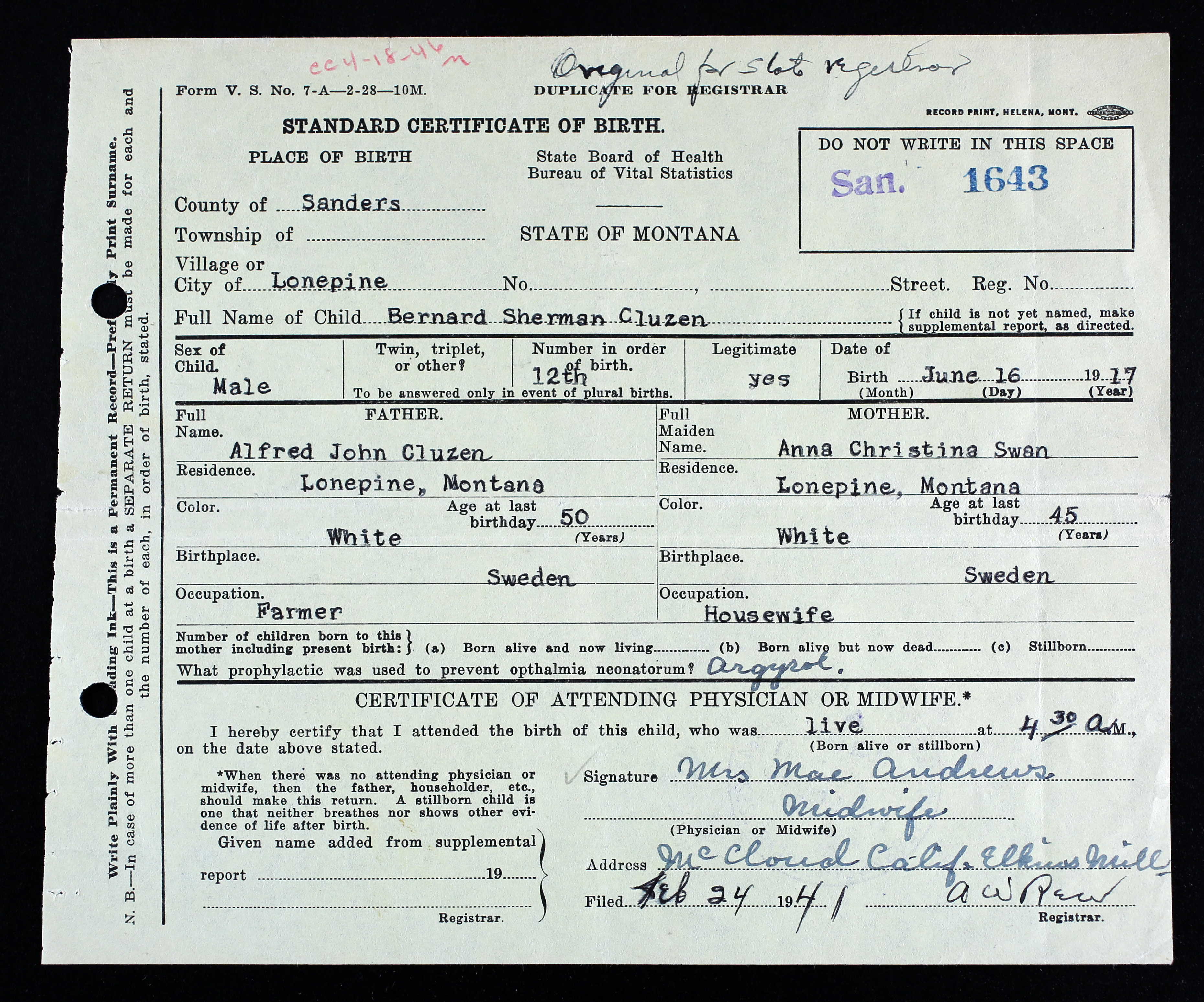 Homefront
During World War II, Montana's mining and agriculture industries were in high demand. A labor shortage developed, driven by workers moving West for more lucrative jobs, and men enlisting to fight. 57,000 Montanans served in the military, and 40,000 fought on the frontlines. These numbers equated to ten percent of the state's population. After the war, Montana lost the second-highest number of people per capita, (only New Mexico was higher). Desperate for laborers, the Montana governor recruited Japanese internees and Mexican immigrants to work in the mines and harvest crops.
U.S. Military in Montana
The U.S. military established two special forces training camps about two hours away from Cluzen's college town of Bozeman. One program, War Dog Training Center, operated out of Rimini. There, canine teams and their handlers learned how to rescue fallen pilots and soldiers in Arctic conditions. Nearby, in Helena's Fort Harrison, the celebrated First Special Service Force made up of both United States and Canadian forces, trained to fight in cold-weather conditions. Their skills and training made them a formidable force, as the Germans began to refer to them as the "Devil's Brigade." The Rocky Mountains' rugged terrain provided the perfect environment to train these special forces for northern Europe's cold winters.
Montana State University's "Golden Ghosts"
Montana colleges also faced the effects of population loss. Enrollment declined as much as 65% when the United States entered World War II. Vast numbers of young men and women participated in the war effort overseas, and at home. Sadly, many were lost in combat all over the world. Of the men who played on Cluzen's football team at Montana State College, 14 died in combat. Bozeman drew national attention when a popular radio personality, Bill Stern, called the 1941 squad "his retroactive All-American team." In honor of their sacrifice, these young men received the title of the Golden Ghosts.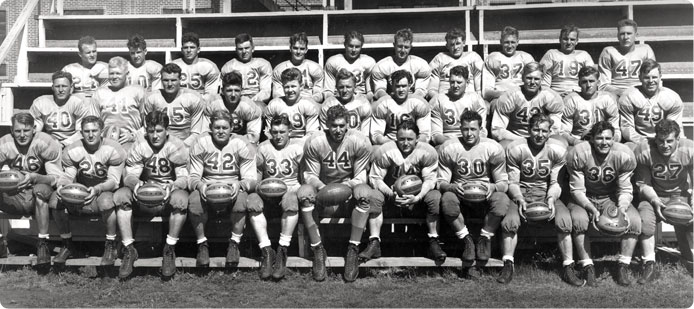 Military Experience
Pacific Theater of Operations
Cluzen joined as an aviation cadet in July 1941, made second lieutenant in October 1942, captain in May 1943, and major in July 1944. Robert Cluzen, his brother who served with the U.S. Navy's Construction Battalions (known as the Seabees), often speculated that Bernard would have been a general had he lived.
He was stationed across the country, from Key West, Florida, to Eagle Mountain, Texas, to San Diego, California, and New York, New York. He transported cargo and planes to and from other bases during this time, gaining necessary flight experience. He served in various positions, such as a gunnery officer, loading officer, welfare and athletic officer, and material officer.
He transferred to Oahu, Hawai'i, for combat pilot training in April 1944. On June 15, he served with the Marine Aircraft Group-31, Fourth Marine Base Defense Air Wing. He left Pearl Harbor for the central Pacific on the USS Makassar Strait, disembarking at Majuro, Marshall Islands. Later, he was assigned temporary aviation duty on the USS Enterprise, famous for its role in the Battle of Midway.
His Record of Service describes many strafing, bombing, and escort missions on these small but strategic islands. Cluzen flew the F4U-1 Corsair, known for speed, firepower, and dependability. Yet, Corsair had problems landing on aircraft carriers, and the Marine Corps relegated the plane to land-based duty. Fear of enemy attacks against convoys occupied Marines like Cluzen. Cluzen's role was to reduce the threat of bypassed islands.
Pacific Theater of Operations
Given the Pacific Theater's different terrain and environments—made up mainly of islands—the U.S. military had to devise new strategies to secure Allied victories. The main strategy in which Cluzen participated was island hopping, an aggressive counteroffensive strategy consisting of a series of assaults on Japanese-held islands. The U.S. also engaged in aerial bombings, which killed hundreds of Japanese soldiers and civilians and enacted blockades that kept necessary supplies from reaching the islands, resulting in starvation and disease.
The U.S. Marines' played a vital role in the Pacific Theatre. Admiral Ernest J. King, Commander of the U.S. Fleet, expressed the belief "that [the Marines] were singularly appropriate for assaults on atolls, where no extended ground operations would follow the landings. In this kind of warfare you either take an island or you do not take it." As the island-hopping campaign progressed, the Marines, particularly of the 4th Division, prevented the Japanese from resupplying and recapturing the islands. Marine pilots like Cluzen focused on any remaining Japanese strongholds.
U.S. Marines often endured miserable conditions in temporary camps on the tropical islands. Sometimes they went without supplies, food, and even water. Tropical diseases posed another threat to the men. One marine aviator described an island camp as "the best spot on God's earth to keep away from."
Battle of Taroa Island
Cluzen fought in the Battle of Taroa Island, where he and his unit bombed and strafed. The small island contained a major Japanese airfield, a valuable target. The Battle of Taroa was fought entirely by air and naval power—not a single American stepped onto its beaches.
Battle of Mille Island
The second major battle Cluzen participated in was the Battle of Mille Island. The island contained a military base staffed by 5,100 soldiers ready to fight. It showed the Japanese's persistence to resupply their forces. Mille Island experienced 97 attacks during the war.
Final Mission
Cluzen's final mission was a dive-bombing attack on an automatic weapon's position on Emidj Island in Jaluit Atoll in the Marshall Islands. Emidj had already been attacked seven times in 1944 for practice bombing missions. Cluzen served in the final battle on Emjdi Island.
Cluzen died two days after the attack on Emidj Island. Leading his squadron home, they encountered a storm. His nephew, Bobby, recounted that Cluzen did not act fast enough and went down in the storm. According to his wingman, Lieutenant Crawford, "Cluzen was in a climbing turn to the right two minutes after entering the front…he immediately fell off to the left and was last seen going down on his back." Though the Marine Corps immediately organized a search, they never recovered Cluzen's remains. He was declared Missing in Action on October 8, 1944, and after searching all the Japanese Prisoner-of-War camps, declared dead January 24, 1946.
He is memorialized on the Courts of the Missing on the Honolulu Memorial at the National Memorial Cemetery of the Pacific.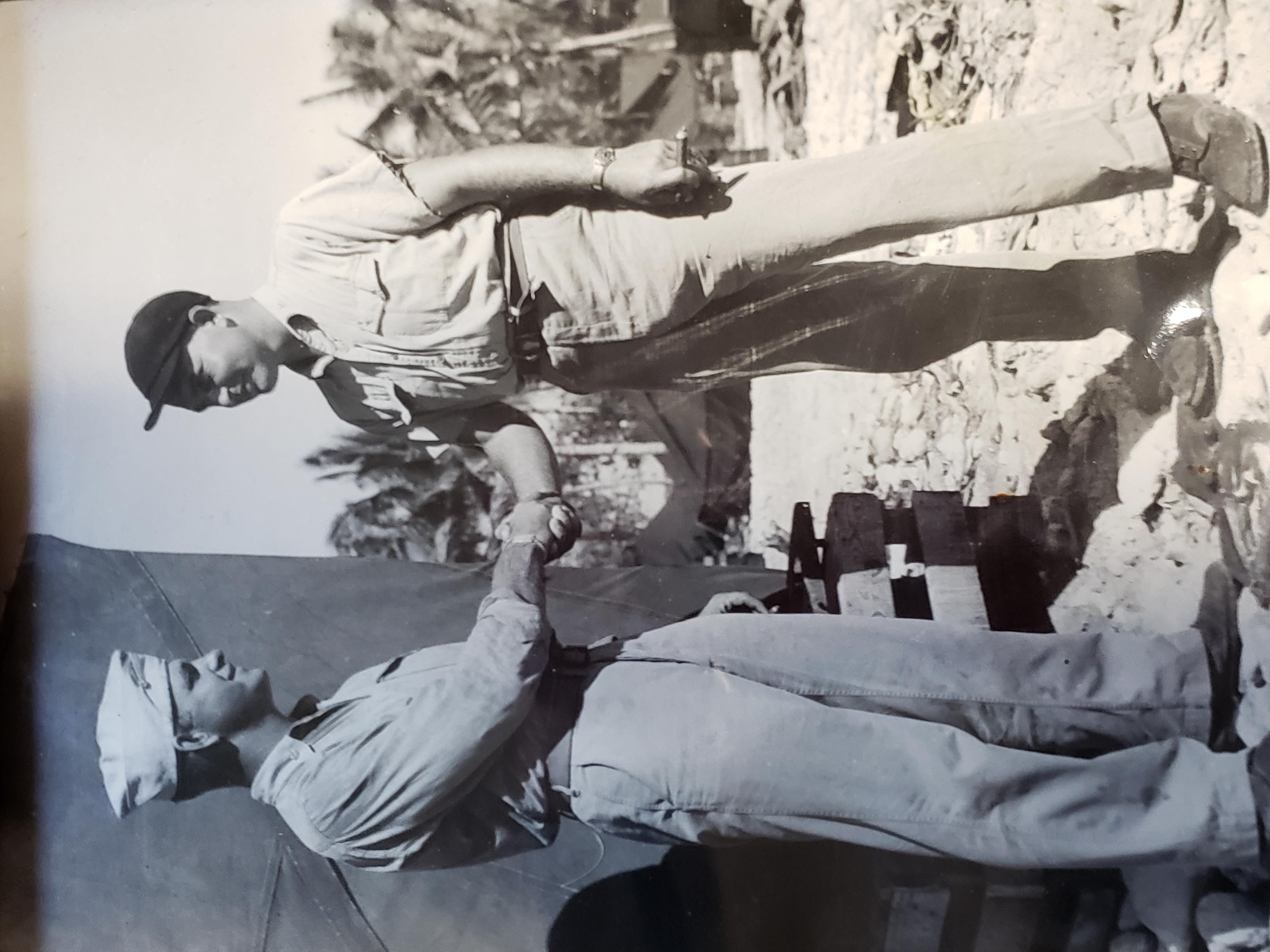 Eulogy
In a rural town called Lonepine Montana, a family of Swedish immigrants homesteaded amongst the Salish, Kootenai, and Pend d'Oreille Tribes. Bernard Sherman Cluzen was born and raised with 12 older siblings. The family knew what it meant to sacrifice for their country. Four brothers and one sister served in the United States military.
In 1941, Cluzen enlisted in the U.S. Naval Reserve as an Aviation Cadet for the Marine Corps. Before he departed to the Pacific Theater, he served as a poster child for the U.S. Marine Corps. He personified the ideal young man escaping a shut-in town to explore the world and serve his country. He appeared on the cover of The New York Times Magazine and in a military recruitment ad in The Saturday Evening Post.
After three years transporting cargo, Cluzen transferred to the Pacific Theater in 1944. As a part of the 4th Marine Base Defense Aircraft Wing, he participated in bombing and strafing missions to ensure the atolls stayed in American hands.
In July 1944, Cluzen achieved the rank of major. Four months later, Major Cluzen participated in his last battle over Emidj Island in the Jaluit Atoll. Two days later, on October 8, 1944, Major Cluzen led his squadron into a storm. He turned too sharply and went down somewhere near Ailinglaplap Atoll. The Marine Corps completed an exhaustive search, only declaring Cluzen dead after searching all the Prisoner of War camps and the island.
The Cluzen family was devastated; his father wrote a letter to the Commandant to the Marine Corps to make sure his son had not died alone. Major Cluzen met the end of his life on a landscape as open and expansive as the home he loved so much. But he died millions of miles away from the mountains and the land and family that made him who he was.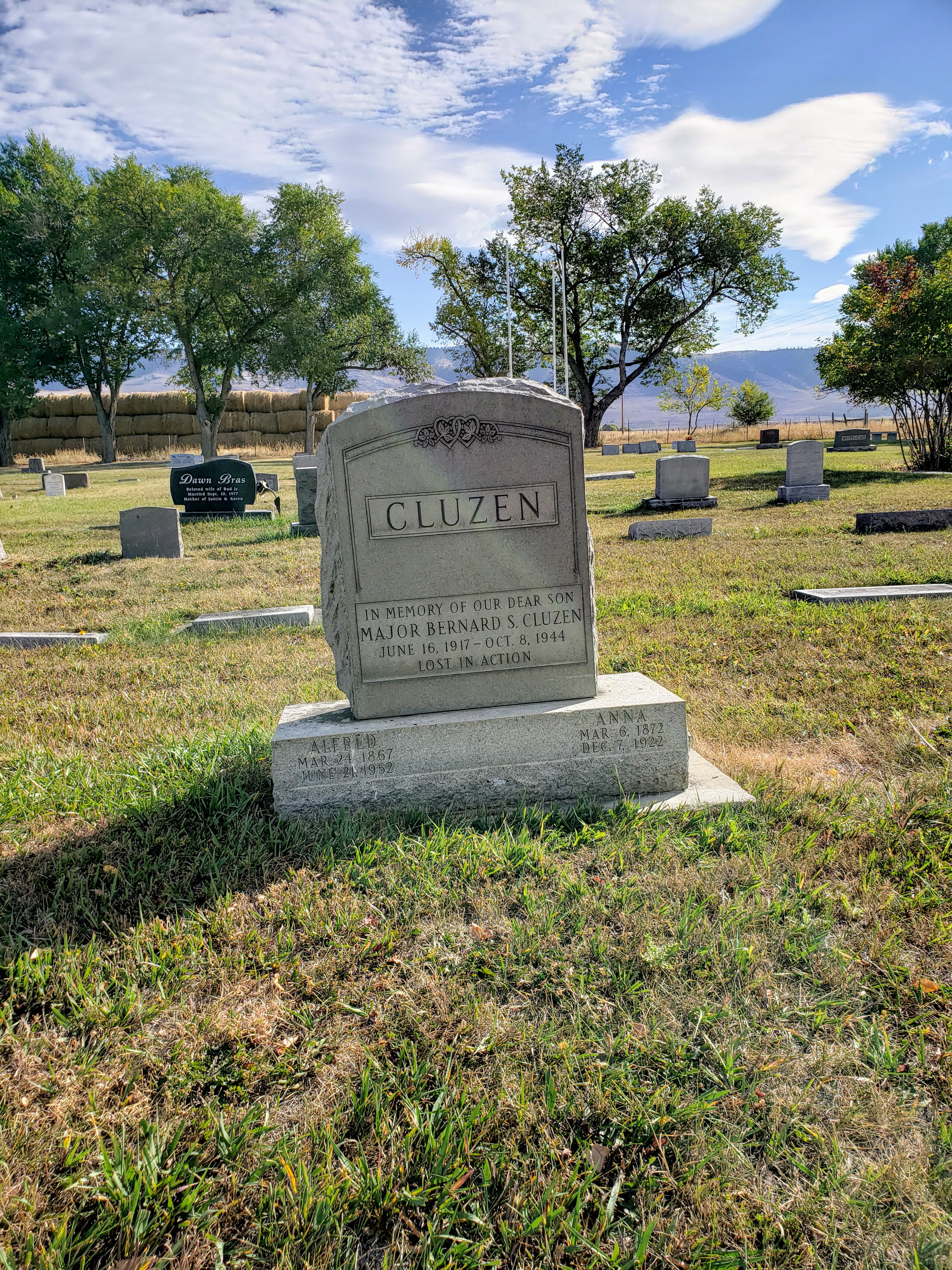 Reflection
This experience was truly life-changing. It gave me special insight into Hawaiian culture and World War II in the Pacific Theater. The experts were well-versed and passionate in their fields, and they made learning about these topics engaging. The people I met, those who lived on the island, and the other students who were on the trip, were absolutely amazing. Each of them taught me so much, from the different types of Hawaiian cuisine to how to bond with strangers, and I will forever value those lessons.
Through the research of my Silent Hero, I gained valuable skills in finding information. These I will be able to use in my academic career and possibly in my work career. I learned how to be curious, ask more questions, and perhaps more importantly, what questions to ask. I learned that nothing is isolated and that everything, even the most minute detail, has both a cause and effect. Everything fits together, sometimes in complex ways that are difficult to understand, but they fit together all the same. This will help me consider my own actions and what impact they could play on my surroundings but also help me take into consideration how things that already are in full swing came to be. I will now be able to contextualize different events and actions and put them into true perspective. This skill will help me think for myself and consider the entire picture rather than a single puzzle piece.
Perhaps the most potent thing I learned reading the letters the kamikaze pilots wrote home to their families and future children. Every story has two sides. Even the most horrible person has someone who will mourn their loss. Everyone has a story, and nothing is black and white. This will be good to remember as I go through my life and stop me from judging things and people too quickly. Perhaps my favorite lesson was how to bond and make friends with people I have never met before. Going into the program, I knew only my teacher and the brief introductions from the other students posted on Schoology. I was nervous about meeting them and worried we wouldn't get along or be uncomfortable. But all of us came together and became fast friends. From them, I learned how to listen, connect, and share in things that make us laugh or cry. Those skills will carry me throughout the rest of my life. For you can surely accomplish anything if you have people beside you cheering you on.
I gained so much from this experience. The lessons I mentioned above, of course, but there was so much more. It was a once-in-a-lifetime opportunity to change my perception of so many things forever. I am not the same person now as I was at the beginning of this program. It gave me so many opportunities and lessons. There is no doubt I will continue to use them moving forward.
Video created and provided by Pacific Historic Parks
Bibliography
Primary Sources
"Agricultural Information from Extension Service." The Dillon Examiner [Dillon, Montana], July 28, 1937. montananewspapers.org/lccn/sn85053034/1937-07-28/ed-1/seq-4/.
Bernard Cluzen, 1938-1939 football team. Photograph. 1940. Montana State University (MSU) Historical Photographs Collection, Montana State University Library. arc.lib.montana.edu/msu-photos/item/293.
Bernard S. Cluzen. Honolulu, Hawaii, National Memorial Cemetery of the Pacific (Punchbowl), 1941-2011
Bernard Sherman Cluzen. World War II Navy, Marine Corps, and Coast Guard Casualties, 1941-1945. Photograph. ancestry.com.
Bernard S. Cluzen, Official Military Personnel File, Records of the Marine Corps, National Archives and Records Administration-St Louis.
Bernard S. Cluzen. World War II Military Personnel Missing in Action or Lost at Sea, 1941-1946. ancestry.com.
Bernard S. Cluzen. Yearbook Photograph. Monantan, Montana State College. 1939. Digital images. ancestry.com.
Bernard Sherman Cluzen. Montana Birth Records, 1897-1988. Digital images. ancestry.com.
Bernard Sherman Cluzen. U.S. Navy Casualties Books, 1776-1941. Digital images. ancestry.com.
Bernard Sherman Cluzen. U.S. Navy Muster Rolls, 1941-1944. Digital images. ancestry.com.
Bernard Sherman Cluzen. World War II Draft Cards Young Men. Digital images. ancestry.com.
Cluzen Family Photographs and Artifacts. 1941-1944. Courtesy of Bobby Cluzen.
"Lonepine, Noxon and Plains Have Entries." Sanders County Independent Ledger [Thompson Falls, Montana], February 8, 1933. montananewspapers.org/lccn/sn86075282/1933-02-08/ed-1/seq-4/.
Montana. Sanders County. 1920 U.S. Census. Digital images. ancestry.com.
Montana. Sanders County. 1930 U.S. Census. Digital images. ancestry.com.
The New York Times Magazine (cover photo). October 4, 1942.
"Our Fighting Men." Flathead Courier [Polson, Montana], September 21, 1944. montananewspapers.org/lccn/sn86075296/1944-09-21/ed-1/seq-1/.
"Tuscor News." Sanders County Independent Ledger [Thompson Falls, Montana]. April 7, 1937. montananewspapers.org/lccn/sn86075282/1937-04-07/ed-1/seq-5/.
Secondary Sources
"Angels of Okinawa: The F4U Corsair." The National WWII Museum, New Orleans. Updated May 3, 2020. Accessed October 5, 2020. www.nationalww2museum.org/war/articles/wwii-aircraft-f4u-corsair.
"Aviation Personnel Fatalities in World War II." Naval History and Heritage Command. Updated September 23, 2020. Accessed September 30, 2020. www.history.navy.mil/research/library/online-reading-room/title-list-alphabetically/a/aviation-personnel-fatalities-in-world-war-ii.html.
"Battle of Kwajalein." HISTORY®. Last modified August 21, 2018. Accessed September 30, 2020. www.history.com/topics/world-war-ii/battle-of-kwajalein.
Chahley, Michael. "The World War II Legacy of Taroa Island." The Unknowns. January 20, 2017. www.nothingunknown.com/content/2016/10/7/taroa-island.
Garand, George W. and Truman R. Strobridge. History of the U.S. Marine Corps: Operations in World War II, Volume V. Washington, D.C.: U.S. Marine Corps, 1971.
Hausen, Jodi. "A War Fought on Two Battlefields." Bozeman Daily Chronicle, May 29, 2011. www.bozemandailychronicle.com/100/a-war-fought-on-two-battlefields/article_c484df58-8977-11e0-93b8-001cc4c002e0.html.
Inbody, Kristen. "Happy 125th birthday, Montana State University and University of Montana." Great Falls Tribune, February 16, 2018. www.greatfallstribune.com/story/life/my-montana/2018/02/15/montana-higher-education-history-facts/335593002/.
Lukacs, John D. "Everybody's All-Americans." Montana State University News, October 12, 2012. www.montana.edu/news/11489/everybody-s-all-americans.
Loken, Scott C. Montana during World War Two. Master's Thesis, University of Montana, 1993. scholarworks.umt.edu/etd/3005.
"Makassar Strait (CVE-91)." Naval History and Heritage Command. Updated April 27, 2016. Accessed September 30, 2020. www.history.navy.mil/research/histories/ship-histories/danfs/m/makassar-strait.html.
Malone, Michael P., Richard B. Roeder, and William L. Lang. Montana: A History of Two Centuries, Revised Edition. Seattle: University of Washington Press, 1991.
"Mili Island (Mille) Marshall Islands." Pacific Wrecks. Updated August 20, 2020. Accessed September 30, 2020. pacificwrecks.com/provinces/marshall_mili.html.
"The Pacific Strategy, 1941-1944." The National WWII Museum, New Orleans. Accessed September 30, 2020. www.nationalww2museum.org/war/articles/pacific-strategy-1941-1944.
"VMF-224 Scrap Book Roi-Namur, Marshall Islands, Squadron Notes." U.S. Marine Corps Fighting Squadron 224. Accessed December 2, 2020. vmf224cenpac.homestead.com/VMF224-RoiNamur.html.
"Vought F4U Corsair: US Freedom Pavilion, The Boeing Center." The National WWII Museum, New Orleans. Accessed September 30, 2020. www.nationalww2museum.org/visit/museum-campus/us-freedom-pavilion/warbirds/vought-f4u-corsair.