Major Bernays Kennedy Thurston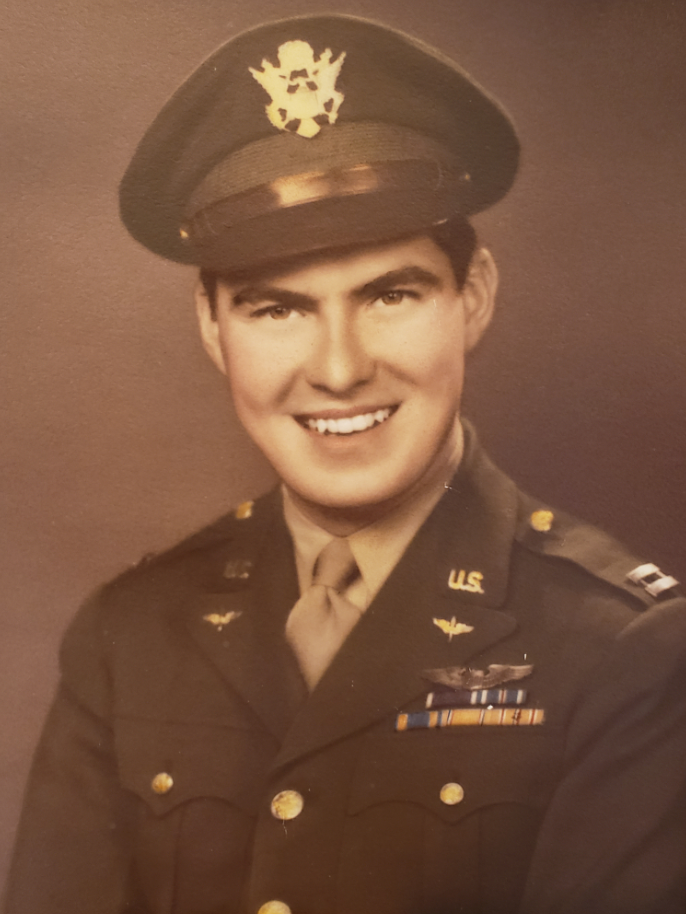 Unit:

462nd Bomber Group, Very Heavy, Headquarters Squadron

Service Number:

20542633

Date of Birth:

April 15, 1919

Entered the Military:

March 14, 1941

Date of Death:

September 15, 1945

Hometown:

Indianapolis, Indiana

Place of Death:

Kwajalein Atoll, Marshall Islands

Award(s):

Air Medal, Distinguished Flying Cross with three oak leaf clusters, Purple Heart

Cemetery:

Courts of Missing, Court 5.

National Memorial Cemetery of the Pacific, Honolulu, Hawai'i; Crown Hill Cemetery, Indianapolis, Indiana
Contributed by Henley Lynch
Mentored by Ms. Helene Achgill
North Central High School
2020-2021
Early Life
Bernays Kennedy Thurston was born on April 15, 1919, in Indianapolis, Indiana, to a prominent family with a long tradition of military service. His grandfather and father, both named Harrison, served as U.S. Navy doctors. His grandfather, Lieutenant Harrison S. Thurston, a battalion medical officer for the Indiana Naval reserves during World War I, continued to serve his country for 24 years. Thurston's father began his U.S. Navy career serving under his father. Bernays and his brother, George, continued in their father's footsteps.
Bernays had two older brothers and an older sister, but he was closest to George, who was barely two years older. The brothers enjoyed playing music together. To help pay for college, they created an act where George worked as a showman and Bernays provided the musical talent. Bernays played electric banjo and guitar with several orchestras. The two of them played for dances and performed for the Masons and other local groups.
Bernays performed banjo all through high school. One tune he played was "Nola" by Felix Arndt, a popular ragtime tune. He performed a popular ragtime tune, "Nola," by Felix Arndt, arranged for string instruments. Bernays' high school yearbook commented on his love of hunting and fishing and his musical performance for the Silver Moon Frolic. However, Bernays' family remembered him most as a jokester, often playing practical jokes on his girlfriend, sister, and other friends.
After graduating from Shortridge High School in 1936, Bernays studied business administration like George. He graduated from Butler University in 1940 and went to work for the Public Service Commission of Indiana. Bernays then followed George into the U.S. Army. Bernays enlisted in the Army in 1941 at Camp Shelby, Mississippi. George served in the Army finance department, while Bernays became a pilot in the U.S. Army Air Corps.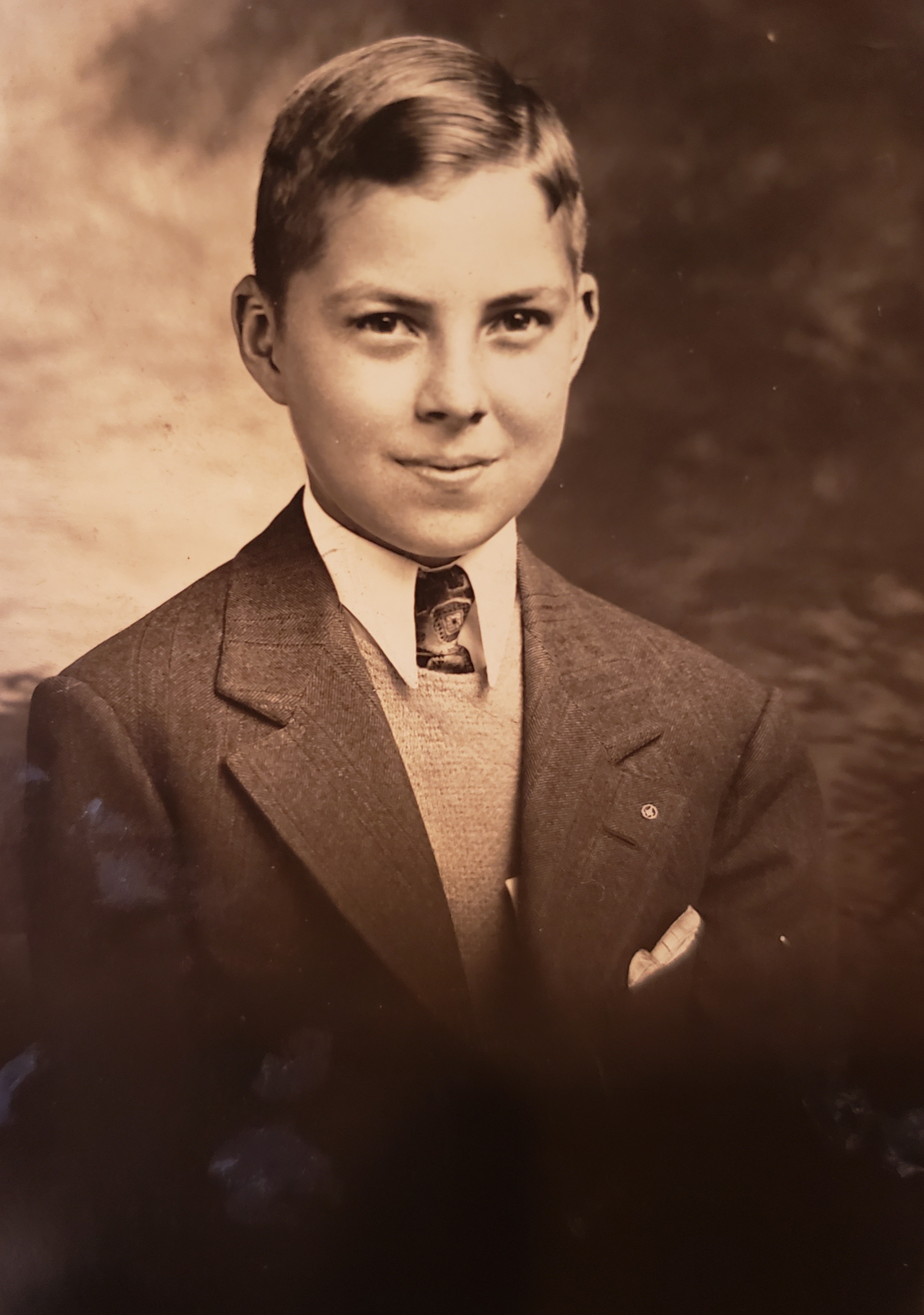 Homefront
The "Arsenal of Democracy"
The Hoosier home front reflected the emergence of the war with its military installations and ordnance plants all over Indiana. Thousands of young recruits traveled to Fort Benjamin Harrison in Indianapolis, making the fort the largest reception area in the United States.
Throughout Indiana, workers shifted their focus to jobs supporting the war effort, such as at the Crane Naval Ammunition Depot and the Jefferson Proving Ground. Ordnance works (ammunition manufacturing plants) employed many people. There were ordnance works in La Porte, Indiana (near Chicago, Illinois) and Charlestown, Indiana, (near Louisville, Kentucky). Indiana factories also manufactured parts for airplanes, armored trucks, and tent poles. These contributions led to Indiana's rank as the eighth-largest supplier of combat equipment in the country.
The Ones Left Behind
As men went to the European and Pacific Theatres to fight, the plants that provided so many jobs lost many workers. As a result, women and African Americans found employment in factories, where they experienced racial discrimination and sexism. To support women and minorities, the Indiana General Assembly passed a non-discrimination act, the 1945 Fair Employment Act, and established day-care centers for working women's children.
A severe rationing system went into effect to ensure goods were evenly distributed. One such item was gasoline. The Hoosier heritage event, the Indianapolis 500, was canceled from 1942 to 1945; thus, Hoosiers looked elsewhere for fun. Teen clubs, which provided wholesome entertainment, served to keep children from getting into "morally dubious" activities while their parents were away. Movies and their stars gained popularity, such as Indiana native Carole Lombard. Those at home did what they could to help the war effort and keep a brave face.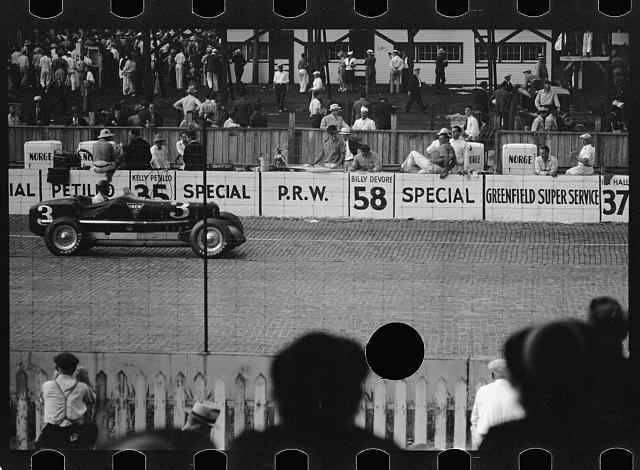 Military Experience
Assembling the Team
On July 1, 1943, the military activated the 462nd Bomber Group in Kansas. Bernays Thurston was a pilot of long-range bombers. Kansas's flat terrain made for effective combat training grounds for the pilots. However, when the 58th Bombardment Wing set out for their mission in India through Africa, they lost five aircraft and critically damaged another four. Nevertheless, the groups arrived at their bases in India in the summer of 1944. The 462nd Bomber Group arrived a few months earlier and started transporting supplies to China. While stationed in the China-Burma-India Theatre (CBI), Japanese forces attacked, and the 462nd Bomber Group launched into action.
The group's first mission took place over Bangkok, Thailand, where Japanese planes attacked local railroad manufacturing plants on June 5, 1944. The first raid destroyed five American aircraft, with no losses to Japanese aircraft. Ten days later, the Bomber Group retaliated.
The American Offensive
The attack was the first direct attack on Japan since 1942. The chosen target was the Imperial Iron and Steel Works in Yawata, Japan. From their base in China, the 462nd Bomber Group's aircraft took off at 4:30 p.m. on June 15, 1944, for a nighttime attack. Just before midnight, 47 of the 68 bombers dropped their loads, startled the Japanese, and prevented the remaining aircraft from completing their mission. Later the group learned that only one of the bombs hit its target. While this mission was not a great success, the attack set a precedent for future bombing missions. The 462nd Bomber Group remained in India for the next eight months, attacking industrial targets in Burma, China, Formosa, Indonesia, Japan, and Thailand. They returned to Yawata for a subsequent successful raid in August 1944.
In October 1944, the 462nd Bomber Group flew missions over the Solomon Islands, encountering strong Japanese resistance and challenging weather conditions. The entire sky filled with darkened clouds and air currents strong enough to rip the average plane apart. On that mission, First Lieutenant Ed Loberg piloted the B-29, and Major Bernays K. Thurston served as co-pilot. Journalist Ian Wolfert described Thurston as "an accountancy-minded, guitar-playing, blues-loving youth of 23 from Indianapolis." Wolfert wrote, "it was not only a question of fighting in weather that no pilot in his senses cares to meet, and of stunting and half-rolling and power-diving the big Fortress as if it were one of those BB-size pea shooters meant for such dogfights." This aerial battle with the Japanese and his piloting of the Superfortress aircraft in China and India earned Thurston national acclaim.
Thurston's story was included in the Congressional Record. He was decorated with multiple awards for piloting B-29s with the 462nd Bomber Group. Thurston was honored with the Distinguished Flying Cross, the Air Medal with three Oak Leaf Clusters, and a Purple Heart.
Bernays Thurston's Misfortune
The Japanese officially surrendered on September 2, 1945, but the U.S. forces' demobilization took many months. Major Thurston continued his duties. On September 4, 1945, Bernays Thurston piloted a B-29 from Kwajalein Atoll in the Marshall Islands to California, carrying several other passengers. Shortly after takeoff, the plane crashed into the ocean due to the blinding lights from the runway. All aboard the aircraft were killed.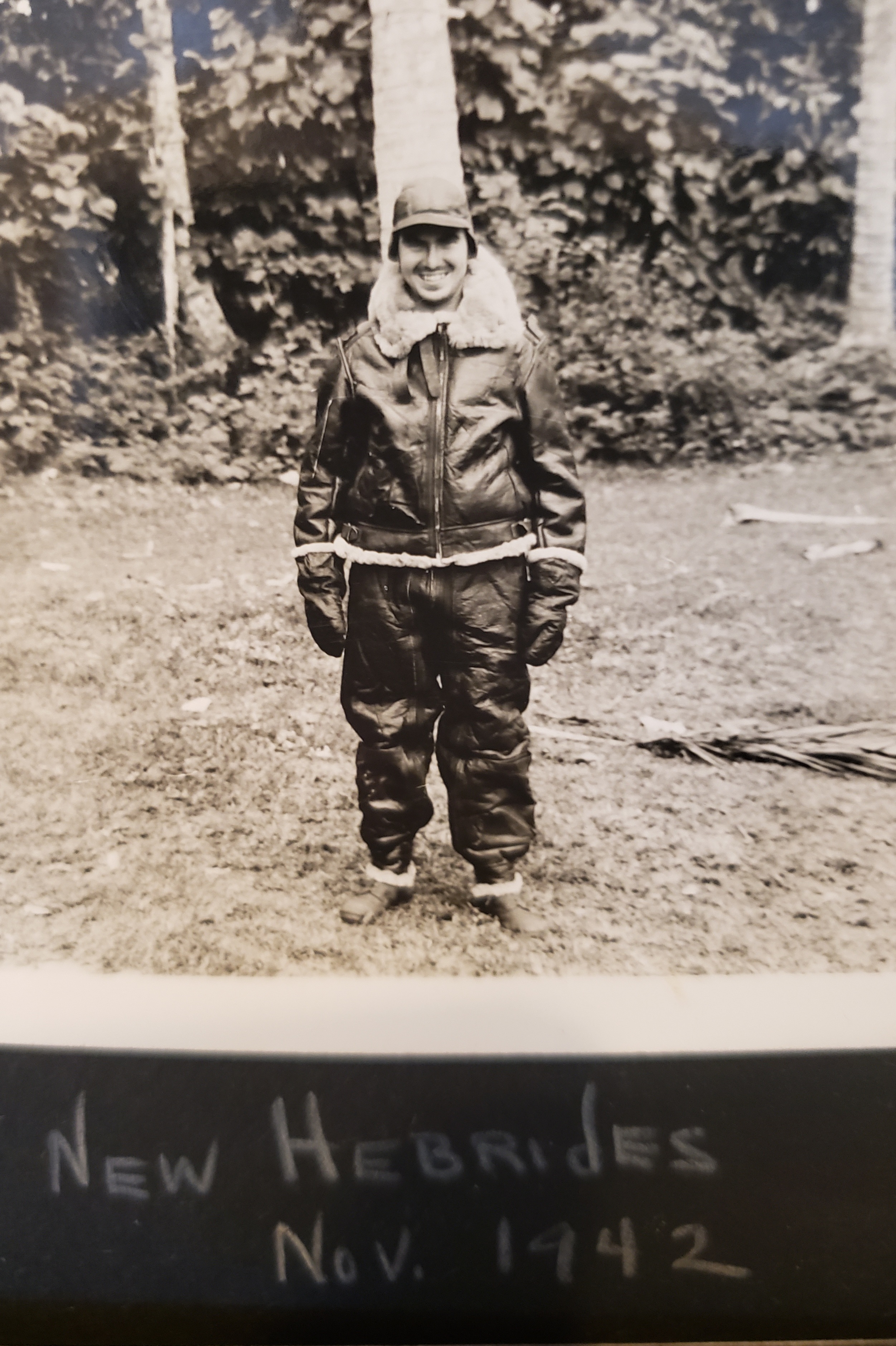 Eulogy
Major Bernays Thurston was among the thousands of men who lost their lives in the service of protecting the United States, but he is one of the more famous ones because his daring exploits were shared in Readers Digest. Congressman John Folger read his story on the floor of the House of Representatives to encourage unity saying, "Let us forget this partisan politics business and rise to the requirements of an American citizen, and remember the boys and the men who have yielded themselves will­ingly to the last measure of devotion that is necessary to protect our land and our homes." Major Thurston's devotion and skill earned him a Purple Heart, the Air Medal, and Distinguished Flying Cross with three oak leaf clusters. Unfortunately, Major Thurston did not return home.
After successfully navigating through the battles in the Pacific, Thurston was blinded by runway lights on his takeoff on a flight back to California. He crashed his plane into the ocean. Major Thurston's nephew remarked that "since he died days after the Japanese surrender ending World War II, we regard him as having absorbed all the bad luck for the family for generations. When we encounter a stroke of good luck, we often say, 'Thanks, Uncle Bernie!' "
Though his death was not in the midst of one of his heroic dogfights or on-ground combat, Major Thurston died alongside a community created through the tumult of war in the Pacific. As a member of the 462nd Bomber Group, Bernays Thurston fought heroically with his comrades in arms in the service of the United States. Even today, his family feels the sacrifice he committed and is grateful for his service. Thank you, Major Thurston, for protecting our country and giving us hope for the future.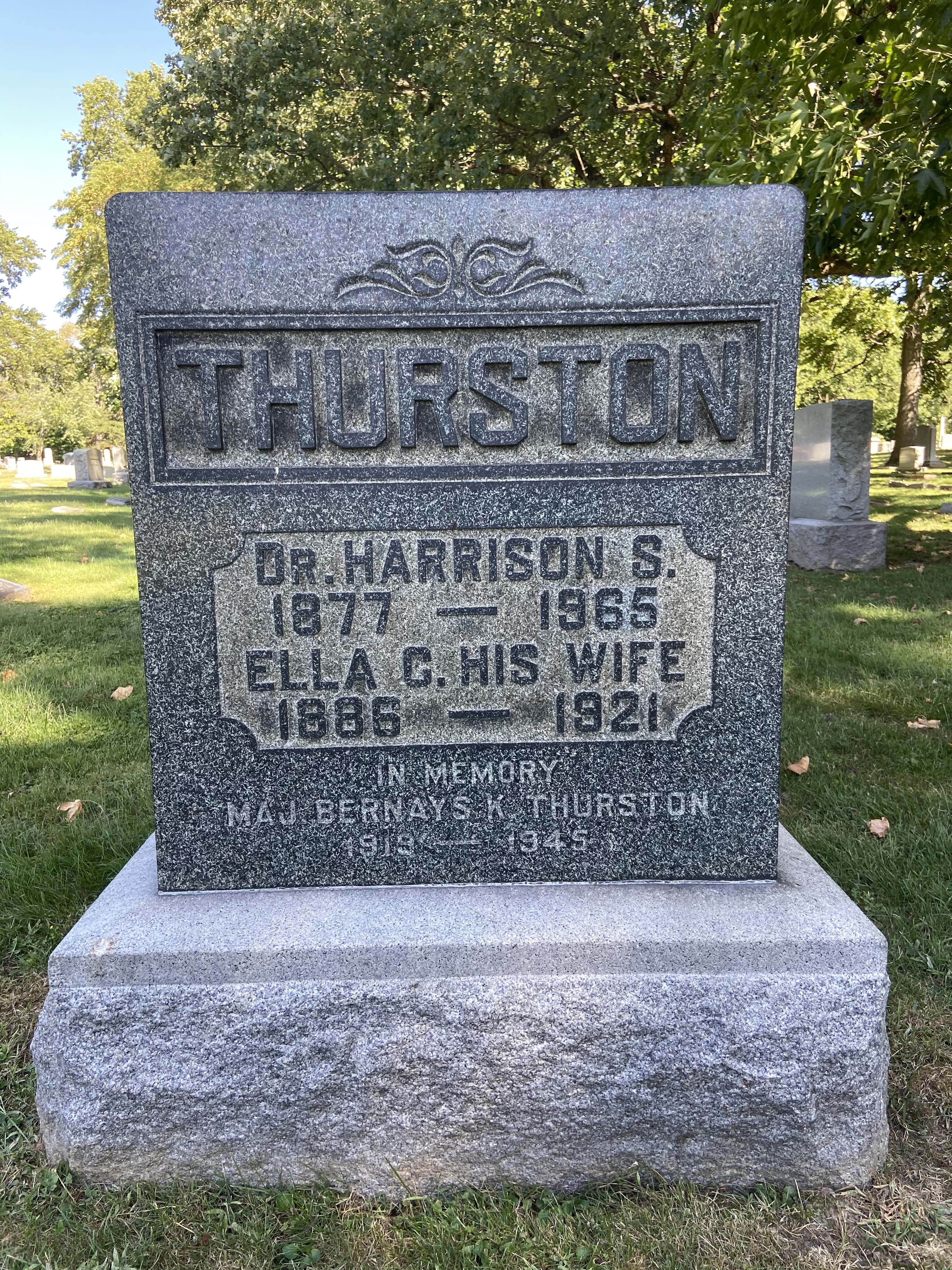 Reflection
The Sacrifice For Freedom®: World War II in the Pacific program has done me a greater service than connecting me to history: it has connected me to the world at large. Even as I researched Major Bernays Thurston, much of the feeling of community stemmed from forum posts and emails by my fellow program members. On a whim, one program member put out a call for a pen pal, which I accepted, and it still astonishes me what fast friends we made. That goes for every wonderful person I met during my week in Hawaii: a group chat was established at the first dinner we had together, and that chat has remained active weeks since.
However, to act like the only thing I did on the trip was make friends would be a falsehood. Every day was something new, from the memorials at the USS Missouri and Utah, to the hike up Makapu'u Point Lighthouse Trail for a panoramic view of Oahu, to the fascinating lectures at the Pearl Harbor Aviation Museum. One of the most meaningful experiences for me was the tour given by Ms. Jessie Higa through Hickam Field: seeing the mess hall with indents on the wall really made history come alive for me. Likewise, Mr. Charles Hinman's tour of the USS Bowfin was phenomenal. While the engine room never got to the 130-degree temperatures of which he spoke, every time I crawled through a passageway into the next room, I was completely immersed. Studying history lacks the impact when it's not done through lived experiences, so the many times throughout this trip that I learned by doing were invaluable. If generations of the future are unable to see these historic locations for themselves, I worry that the information will be lost. This concern, and my own personal desire to keep history alive, are what motivated me to apply for the program in the first place. So, to everyone involved in making this happen, I thank you.
Video created and provided by Pacific Historic Parks
Bibliography
Primary Sources
Arndt, Felix (composer and instrumentalist). "Nola." Audio recording. 1916. Library of Congress (jukebox-17089). www.loc.gov/item/jukebox-17089/.
"Bad Catalogued, Good Unremembered." The Indianapolis Star, December 4, 1933: 5. Proquest Historical Newspapers (1889984254).
Bernays K. Thurston. Headstone and Interment Records for U.S. Military Cemeteries on Foreign Soil. ancestry.com.
Bernays K. Thurston. National Memorial Cemetery of the Pacific (Punchbowl), 1941-2011. Photograph. ancestry.com.
Bernays K. Thurston. World War II and Korean Conflict Veterans Interred Overseas. ancestry.com.
Bernays K. Thurston. World War II Army Enlistment Records, 1938-1946. ancestry.com.
Bernays Kennedy Thurston. Indiana, U.S. Birth Certificates, 1907-1940. Digital Images. ancestry.com.
Bond, Frank. B-29 Superfortress of the 462nd Bomb Group… Photograph. 1945. United States Army Air Forces, Frank Bond Collection. ww2db.com/image.php?image_id=18161.
Bubley, Esther. Indianapolis, Indiana. A Greyhound bus station. Photograph. September 1943. Library of Congress (2017861985). www.loc.gov/pictures/item/2017861985/.
Bubley, Esther. Indianapolis, Indiana. A soldier and a girl saying goodbye at the Greyhound bus station. September 1943. Photograph. Library of Congress (2017861995). www.loc.gov/pictures/item/2017861995/.
Crawford, Robert (composer). "Army Air Corps March." Sheet music. 1940. Library of Congress (ihas.100010538). www.loc.gov/item/ihas.100010538/.
Folger, J. (NC). Congressional Record, U.S. House of Representatives. March 4, 1943. www.govinfo.gov/content/pkg/GPO-CRECB-1943-pt2/pdf/GPO-CRECB-1943-pt2-3.pdf.
"Hoosier Cadets Receive Wings." The Indianapolis Star, November 2, 1941: 14. Proquest Historical Newspapers (1890599856).
Indiana. Marion County. 1920 U.S. Census. Digital Images. ancestry.com.
Indiana. Marion County. 1930 U.S. Census. Digital Images. ancestry.com.
Indiana. Marion County. 1940 U.S. Census. Digital Images. ancestry.com.
"Invasions of Philippines Win Awards for Indiana Soldiers." The Indianapolis Star, February 11, 1945: 35. Proquest Historical Newspapers (1890719091).
Jones, Imogene. "Indianapolis Pilot, Whose Deeds Made History in Solomons War Visits Home." The Indianapolis Star, March 10, 1943: 1. Proquest Historical Newspapers (1890648755).
"Lieutenant Thurston Gets Flying Cross." The Indianapolis Star, July 22, 1943: 4. Proquest Historical Newspapers (1890664308).
"Major Thurston Solomon Hero Declared Dead." The Indianapolis Star, September 15, 1945. Proquest Historical Newspapers (1890726736).
Records for Bernays Kennedy Thurston; World War II Army Enlistment Records, 1938-1946 [Electronic File], Record Group 64; National Archives at College Park, College Park, MD [retrieved from the Access to Archival Databases at aad.archives.gov/aad/series-description.jsp?s=3360&cat=WR26&bc=,sl, March 18, 2020].
Rothstein, A. [Untitled photo, possibly related to: Crowds at races, Indianapolis, Indiana]. Photograph. May 1938. Library of Congress (2017723239). www.loc.gov/pictures/item/2017723239/.
Shortridge High School Annual. Yearbook. 1936. Indianapolis Public Library Digital Collections. www.digitalindy.org/digital/collection/shs/id/5259/rec/1.
"Thanksgiving Program." Shortridge Daily Echo, November 26, 1935. www.digitalindy.org/digital/collection/shs/id/38781/rec/1.
Thurston Family Photos. 1932-1942. Courtesy of the Thurston Family.
Thurston II, Bernays. Personal interview by author. March 1, 2020.
Thurston II, Bernays. Email by author. September 21, 2020.
Secondary Sources
"462nd Bombardment Group History." Military History Encyclopedia on the Web. Updated March 27, 2014. Accessed October 27, 2020.www.historyofwar.org/air/units/USAAF/462nd_Bombardment_Group.html.
"Bernays K Thurston." American Battle Monuments Commission. Accessed February 22, 2020. www.abmc.gov/decedent-search/thurston%3Dbernays.
Mitchell, Dawn. "War on the homefront: Indiana's Rosie the Riveters." The Indianapolis Star, March 28, 2019. www.indystar.com/story/news/history/retroindy/2019/03/28/she-can-do-it-when-women-went-war-indiana-history-world-war-ii-homefront-womens-history/3275126002/.
Madison, James. "Hoosiers at War: An Overview of Indiana during World War II." Indiana Historical Bureau. Updated Fall 1991. Accessed March 18, 2020. www.in.gov/history/4350.htm.
"The Solomon Islands Campaign: Guadalcanal." National WWII Museum New Orleans. Accessed December 7, 2020. www.nationalww2museum.org/war/articles/solomon-islands-campaign-guadalcanal.
"Welcome to Historic Fort Benjamin Harrison." Fort Harrison Reuse Authority. Updated 2013. Accessed November 29, 2020. fhra.org/about/History/default.aspx.
Wolfert, Ira. Battle for the Solomons. Boston: Houghton Mifflin Company, 1943. hdl.handle.net/2027/mdp.39015008916903.