Technician Fifth Grade Broadway Valentine Sims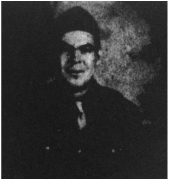 Unit:

101st Airborne Division, 502nd Parachute Infantry Regiment, 377th Parachute Field Artillery Battalion

Service Number:

14009780

Date of Birth:

November 30, 1914

Entered the Military:

September 4, 1940

Date of Death:

June 11, 1944

Hometown:

Elizabethton, Tennessee

Place of Death:

Normandy, France

Award(s):

Purple Heart

Cemetery:

Plot D, Row 4, Grave 31.

Normandy American Cemetery, Colleville-sur-Mer, France
Contributed by Scott Moore
Mentored by Mrs. Whitney Joyner
Northeast High School
2014-2015
Early Life
Life in Elizabethton, Tennessee, was like most rural towns in the 1930s. It was a small, poor farming community in East Tennessee. Broadway Sims was born there in 1916, and like most people during that time, attended a small schoolhouse and dropped out in the seventh grade to help out on the family farm. Growing up, Broadway was the middle child of five. His brother, Paul, and his sister, Frankie, were older, and his sisters Nora and Viola were younger. His father, Dan Sims, died in the late 1920s, leaving Kate Sims, his mother, to remarry later. When the war began, Broadway followed in his brother Paul's footsteps and enlisted into the U.S. Army in 1940.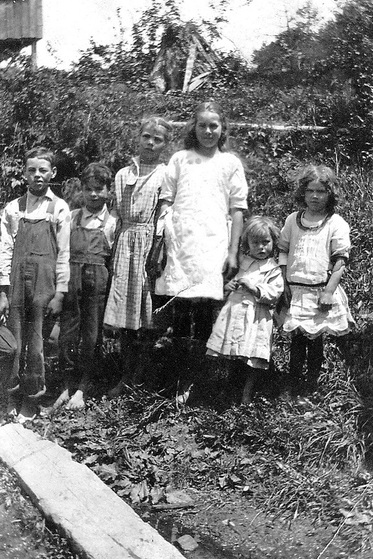 Homefront
Carter County During The War
Elizabethton, Tennessee, is often lumped into the larger Carter County area, which includes Johnson City. During the war, Carter County was small, and many who lived in the area were financially disadvantaged. Then, in the early 1920s, a German manufacturer decided to open a rayon, or synthetic silk, factory. The business named the American Bemberg Corporation (ABC) boomed and put Carter County on the map. The Bemberg Corporation became the pride and joy of the town, and it grew exponentially. Not only did it bring much-needed jobs to the small town, but it also provided a critical service to the war effort by producing the synthetic silk needed to make parachutes. Almost everyone in the town, including Broadway Sims and his family, worked in the Bemberg plant, which was later renamed the North American Rayon Corporation. It was ironic that Broadway Sims worked for one of the same companies that produced the raw materials for the parachutes he would later use in the Army as an airborne soldier.
The American Bemberg Corporation (ABC) was an avid supporter of the war effort. They put out a monthly magazine, made available to their employees, called The Watauga Spinnerette. The magazine included advertisements and publicity supporting the war, letters, and pictures of the soldiers deployed from Carter County, and much more to encourage their employees to support the Allies. The ABC encouraged everyone to buy war bonds, and they even partnered with other unions to buy a fighter plane for the U.S. Army.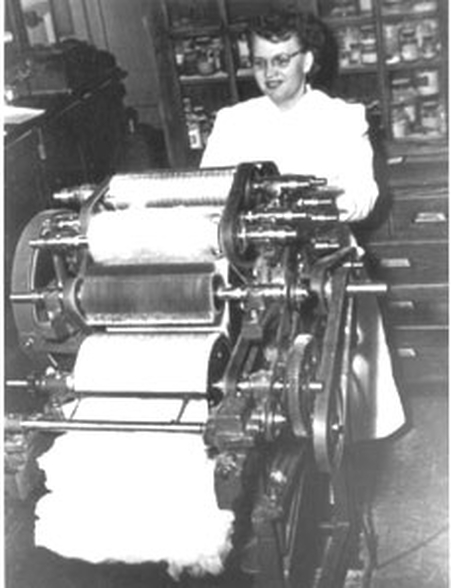 Military Experience
377th Parachute Field Artillery Battalion
During Operation Overlord, Broadway Sims was assigned to the Headquarters Battery of the 377th Parachute Field Artillery Battalion (PFAB) in the 101st Airborne Division. The 101st Airborne Division was tasked with securing multiple causeways behind Utah Beach in Normandy so that allied forces could exit off the beach.
Within the 101st Airborne Division, the 377th Parachute Field Artillery Battalion was to parachute onto Utah Beach with their twelve 75mm Pack Howitzer artillery guns, assemble them use them to bombard the German forces. Initially, the 377th Parachute Field Artillery Battalion's mission was ineffective due to the scattered drops of the troops, and they were only able to piece together one of the original 12 guns. Since most of the battalion was not being used for their original mission, they served as impromptu infantrymen and captured several pieces of German artillery. On D+2, the 377th Parachute Field Artillery Battalion acquired two 7.62 howitzers that the 327th Gilder Infantry Regiment captured. On D+4, they salvaged an American 105mm artillery gun, making the battalion four guns strong. Broadway Sims parachuted down with his battery, but sadly, he was killed on D+5 on June 11, 1944.
Unplanned Drops
During the invasion, both the 82nd and the 101st Airborne Divisions encountered many problems in the parachute drops of their men. Low visibility and bad weather conditions led to the scattered drop patterns of all airborne units into unknown territories, which led to triumphant victories, as well as unforeseen losses.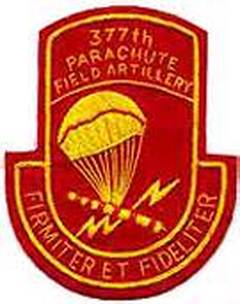 Eulogy
Soldiers surround us in our everyday life. We pass by them every day as if they are just another face in the crowd, and by doing so, forget their fundamental importance to the history of the United States and France. We never really stop to think of what a soldier is; never stop and think of the countless veterans who gave their lives in wars past, "A soldier is someone who at one point wrote a blank check, made payable to his country, for an amount up to and including, his life." That is what hundreds of thousands of everyday men did when they enlisted in the military during World War II. Regrettably, most of those men never made it home and were forgotten after losing their lives in horrendous battles that ravaged Europe. I have been fortunate enough to come across one of those forgotten men, and he has forever impacted my life.
Technician Fifth Class Broadway Valentine Sims was born in 1915 in the remote town of Elizabethton, Tennessee. From his birth, Broadway was introduced into a life of hard work and adversity. He worked odd jobs as a driver in the local area. He was soon introduced to the Bemberg plant in Carter County, where, ironically, he and his family produced synthetic rayon, which was used to make parachutes for the military. When news of the war came to town, he immediately followed in his older brother's footsteps and enlisted.
Broadway was a member of the 377th Parachute Field Artillery, of the 502nd Parachute Infantry Regiment, in the 101st Airborne Division. Knowing that he was in the 101st Airborne Division was a huge personal connection for me, as my father is currently serving in the 101st, and it has been an honor to commemorate and memorialize a fellow "Screaming Eagle."
Broadway Sims was killed in action on June 11, 1944, shortly after the Allied invasion at Normandy. With no children and no significant other, Broadway's only next of kin was his dear mother. Without any descendants, it seemed almost certain that Broadway's legacy would be lost. Still, after much research and digging, I stand here today to honor the life of one of America's bravest, most fearless servants. As I stand here, I am reminded of General George S. Patton's words, "It is foolish and wrong to mourn the men who died. Rather, we should thank God that such men lived." That is what my purpose here today is, to thank God for allowing such men as Mr. Broadway Valentine Sims to have fought for us and to have honorably given his life so that others may live. In closing, I would like to recite a short poem by an unknown author titled "Airborne All The Way," which very aptly describes the selflessness and heroism with which these outstanding soldiers valiantly and gallantly fought and died for us. And let us never forget them.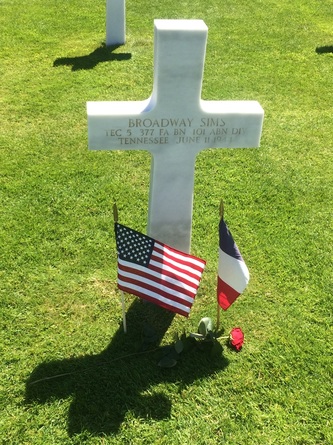 Reflection
Long before this experience began and before I was born, one of the most devastating wars that the world had ever seen was taking place. A young man from Tennessee, by the name of Broadway Valentine Sims, served and died for his country in the largest amphibious assault to ever take place, the invasion of Normandy, France. Over 65 years later, the Normandy Institute was founded to encourage youth and teachers to remember the sacrifices that those heroic, everyday men made. It was through this program that I came to know Broadway Sims on a much more personal level.
From the moment that I learned of my acceptance into this program, I began to research feverishly to uncover anything and everything that I could about Mr. Sims. I started digging for information regarding his family and his background. My teacher and I made trips to our local state archives and Broadway's hometown, hoping to uncover further details that would piece together the story of his service and his life. Piecing together the bits of information about my soldier's life was indeed an experience in itself, all leading to our trip to France. It wasn't always easy, especially since Broadway never married and never had children, but this made it even more important to honor his sacrifice.
Once in Washington D.C., I began to develop a deep appreciation and understanding of what exactly we were doing and what our soldiers had to endure during the massive invasion. It was then brought to my attention that we knew more about our soldiers than anyone else in the entire world, which impacted me heavily. It made me realize how many soldiers' stories had been forgotten and never recovered. While researching D.C., I also acquired a newfound appreciation for the historians of the world and what a challenging job they have–to preserve the world's history.
All of this was in preparation for the big trip to Normandy itself. Being there and walking in the footsteps of history was incredibly humbling. Traveling to the many historic locations within Normandy itself was also fantastic. We could see many of the places that we read about and physically walk through them and touch them. Then, the day arrived when we were able to travel to the cemetery and deliver our eulogy. This was the climax of many months of hard work. There was a culmination and a myriad of emotions within all of us once we were there. It was as if we were meeting our soldier for the first time. It was a moving moment and one that will never be forgotten, and it was worth every second of the work we put into it.
Overall, the entire trip was a once-in-a-lifetime experience that taught me innumerable lessons. I learned the Allied Powers' critical history and the pivotal role that it played in the war. I was able to gain valuable research skills that I will be able to use for the rest of my life. Also, I made friendships that will last a lifetime with other students from around the world who share the same interests and passions as I do. And lastly, but most importantly, I was able to rediscover one man's story, which had been forgotten in time. Although I could not physically meet my hero, Broadway Sims, I feel as if I did, and that is an indescribable feeling that I will forever carry with me.
Bibliography
Primary Sources
101st Airborne Division Drop Pattern. Map. National Archives and Records Administration, College Park, MD.
377th PFAB Pocket Patch. The 101st Airborne in World War II. Accessed March 26, 2021. www.ww2-airborne.us/units/377/377.html.
Broadway Sims. Headstone and Interment Records for U.S. Military Cemeteries on Foreign Soil, 1942-1949. Digital images. ancestry.com.
Broadway Sims. Photograph. The Watauga Spinnerette. Courtesy of Dawn and Jackie Peters
Broadway Sims. World War II Army Enlistment Records, 1938-1946. ancestry.com.
Broadway Sims. World War II Hospital Admission Card Files, 1942-1954. ancestry.com.
Nikazy, Eddie M. Carter County, Tennessee Death Record Abstracts (1926-1934). Bowie: Heritage, 1994.
[Paratrooper Boarding a Plane]. Photograph. National Archives and Records Administration, College Park, MD.
[Paratroopers On the Eve of the Invasion]. 1944. National Archives and Records Administration, College Park, MD.
"S/Sgt. Broadway Sims Killed in France." The Elizabethton Daily Star, July 10, 1944.
Tennessee. Carter County. 1930 U.S. Federal Census. Digital images. ancestry.com.
Tennessee. Carter County. 1940 U.S. Federal Census. Digital images. ancestry.com.
Watauga Spinnerette. 1944. Repository: Courtesy of Dawn and Jackie Peters
Watauga Spinnerette. May 1942. Repository: Courtesy of Dawn and Jackie Peters
Secondary Sources
"The 377th Parachute Field Artillery Battalion." The 101st Airborne in World War II. Accessed March 26, 2021. www.ww2-airborne.us/units/377/377.html.
"Broadway V. Sims." American Battle Monuments Commission. Accessed March 26, 2021. www.abmc.gov/decedent-search/sims%3Dbroadway.
Kozsuch, Mildred. Historical Reminiscences of Carter County, Tennessee. Johnson City: Overmountain, 1985.
Peters, Dawn. Personal interview with the author. 2015.
Peters, Jackie. Personal interview with the author. 2015.
Peters, Jackie, and Dawn Trivette Peters. Carter County. Charleston: Arcadia Pub., 2012.