Corporal Carl Wayne Alderson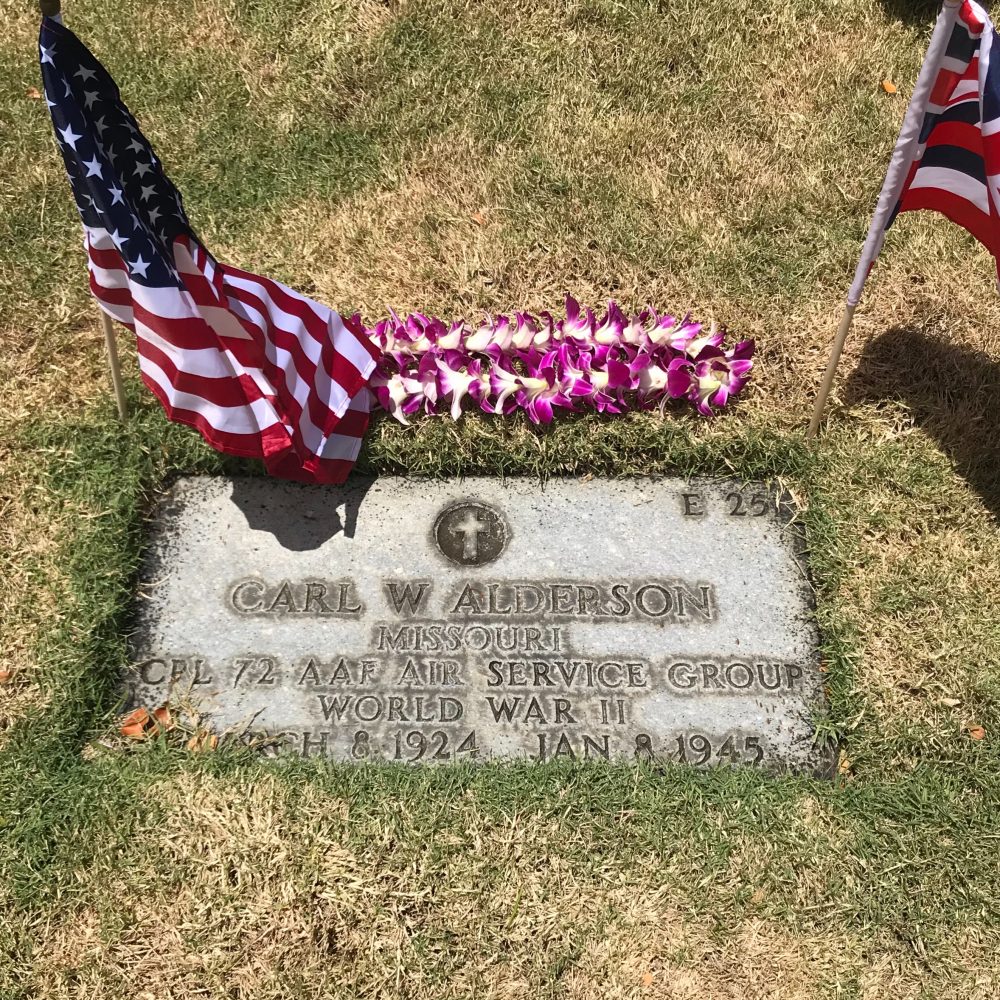 Unit:

6th Bombardment Group, 72nd Air Service Group, Headquarters and Base Service Squadron

Service Number:

37516186

Date of Birth:

March 8, 1924

Date of Death:

January 8, 1945

Hometown:

Cleveland, Missouri

Place of Death:

Tinian Island

Cemetery:

Plot E, Grave 251.

National Memorial Cemetery of the Pacific, Honolulu, Hawai'i
Contributed by Katherine Mackenzie
Mentored by Mrs. Kimberly Brownlee
Liberty North High School
2018-2019
Early Life
Carl Alderson was born on March 8, 1924 and grew up as the second youngest child of Claud and Edith Alderson. Along with his older brothers, David and Harold, and younger sister, Elta, he lived on the family farm outside Cleveland, Missouri.
By 1942, the family moved to Bogard, Missouri, where Alderson's father worked in the farming and trucking industries. As a result, Alderson moved to Overland Park, Kansas, where he registered for the draft at the age 18 in June 1942. According to his draft registration card he was just under six foot at 5'11 ¾", with blond hair and blue eyes.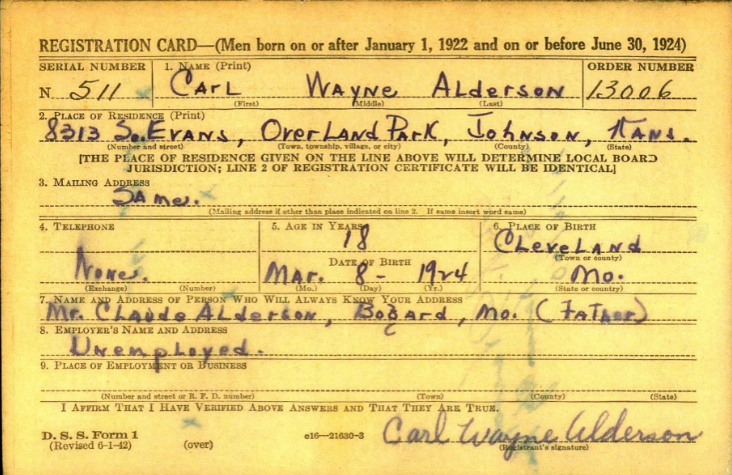 Homefront
Kansas City B-25 Factory
Even before the United States entered World War II, President Roosevelt recognized the need to start wartime production. Many aircraft manufacturing facilities already existed on the coasts, but the Midwest was ideal for new manufacturing and production sites. The geographic location of the Midwest provided an added layer of security and the economic benefits that accompanied wartime production would spread to more interior areas.
Plans began in 1940 for a B-25 manufacturing plant based in Kansas City. Although the United States government constructed the plant, an independent contractor, North American Aviation, handled daily operations. A ceremony was scheduled to commemorate the first completed aircraft on January 9, 1942. The Japanese attack on Pearl Harbor derailed this opening ceremony, but production began in earnest shortly thereafter. By the time the plant closed in August 1945, it had produced 6,608 B-25 bombers for the war effort and employed 59,337 people.
Although women made up 39% of employees in 1943, African-Americans only constituted 6% and mainly held custodial jobs. This was less than the required 10% to comply with Executive Order 8802, which prohibited racial discrimination in wartime and defense industries, thus reflecting the blatant racial discrimination that continued throughout the war.
Farm Mobilization
Just as heavy industries were mobilized, farmers across the nation were called to action when the United States entered World War II. They answered the call to meet high production quotas in the face of material and labor shortages. Despite wartime difficulties, the national farm income rose to levels unseen since 1919. In Missouri, soybeans, cattle, and hogs all went towards the war effort.
Military Experience
Training
Alderson was drafted into military service and entered the U.S. Army Air Forces. He received a promotion to the rank of corporal and served in the 6th Bombardment Group, 72nd Support Group, Headquarters and Base Service Squadron. The unit trained at Robins Field, Georgia from May 11, 1944 to June 5, 1944. They then moved to Walker Army Airfield in Kansas during the summer of 1944 and Alderson ended the year stationed on the North Field of Tinian Island in the Pacific Theatre.
North Field, Tinian Island
Tinian Island, located in the Northern Mariana Islands and positioned 1,500 miles south of Tokyo, had belonged to the Japanese since World War I. The United States recognized the strategic potential of having an American air base close to Japan for air strikes. Operation Forager began with the capture of Saipan (Phase I) and the battle for Guam (Phase II) in early June through mid-July of 1944. The Marines seized Tinian in Phase III from July 24 to 31. Navy Seabees began construction almost immediately to convert the existing Japanese base into an American air base. It soon became the largest air base in the world. Although two airstrips already existed on the North Field, they were extended and two more were constructed. Today, the Commonwealth of the Northern Mariana Islands remains a United States territory.
Alderson's unit provided maintenance for the B-29 Superfortress bombers, which began arriving in December, 1944. Runway One was completed and asphalted on January 1, 1945.
While on duty, Corporal Alderson was involved in a truck accident and received extensive injuries. He died on January 8, 1945, exactly two months shy of his twenty-first birthday. The specific events of Corporal Alderson's death remain unclear, even today.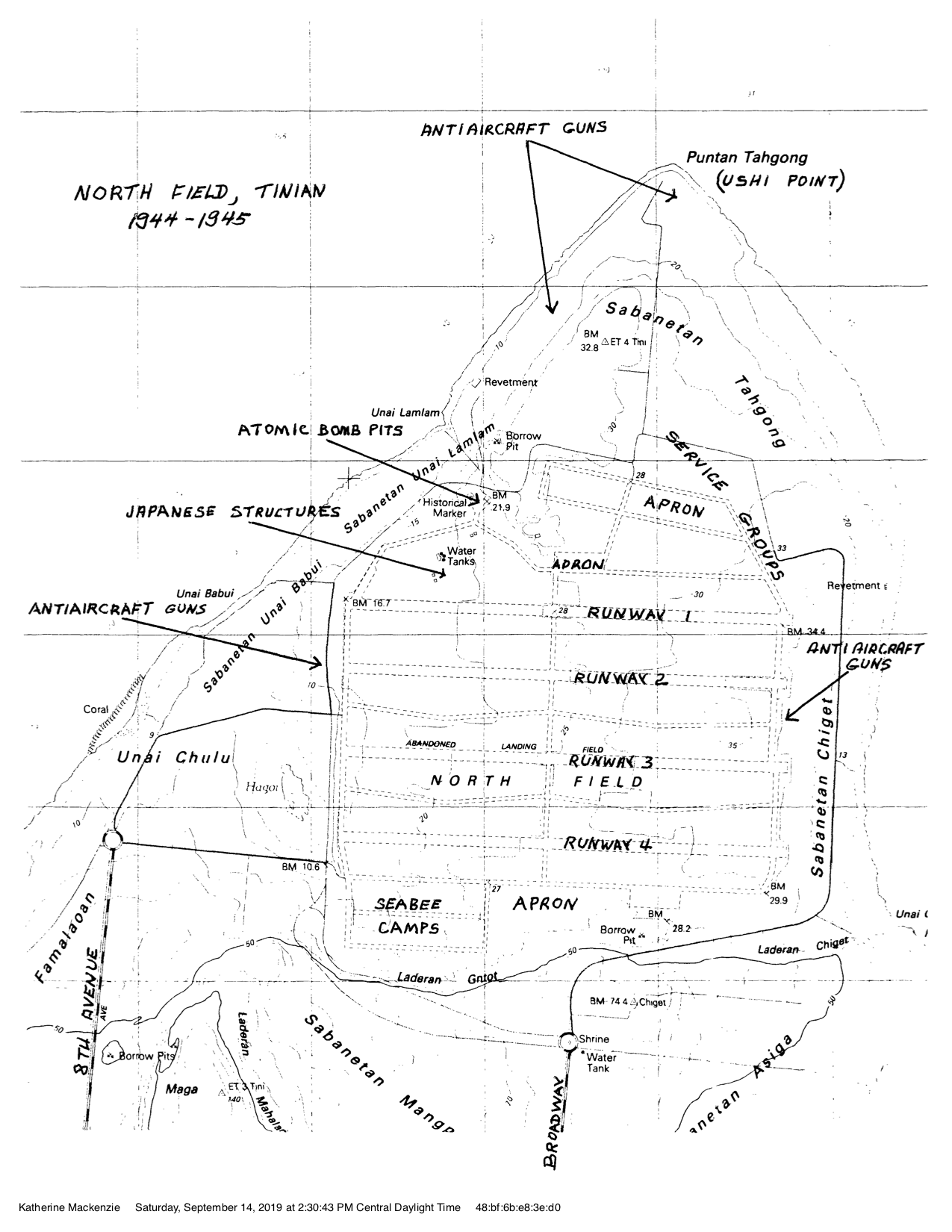 Eulogy
Alderson left behind his two parents, two older brothers, and younger sister. Elta had enlisted in the Women's Army Corps (WACs) in July 1944 and survived the war. Corporal Alderson's death greatly affected his mother and her words reflect what thousands of mothers felt around the world. In a letter to the U.S. Army requesting any information about his burial she wrote,
You know it's hard for mother's to give up their Son's & much harder, when their around the world. We don't know where they are or how their put away; please tell me everything you can, I'm so Broke up [sic].
Alderson did not die in combat or receive any medals for his sacrifice. Non-combat roles are often overlooked, but the military could not function without them. The 72nd Service Group played an instrumental role in ending World War II by providing maintenance for the B-29 Superfortress Bombers. In February 1945, just a month after he died, the B-29s began flying sorties on Japan. That same month, the United States chose Tinian as the base of operations for an atomic attack on Japan. Both planes, carrying the atomic bombs, loaded and departed from the North Field, forever changing the course of history.
Corporal Alderson, a 20-year-old farm boy from Missouri, did not live to see the Enola Gay and Bockscar take off from Tinian Island. Yet, like so many others, his death, and more importantly his life, serve as a reminder that even seemingly small sacrifices contribute to the fight for what should be in an imperfect world.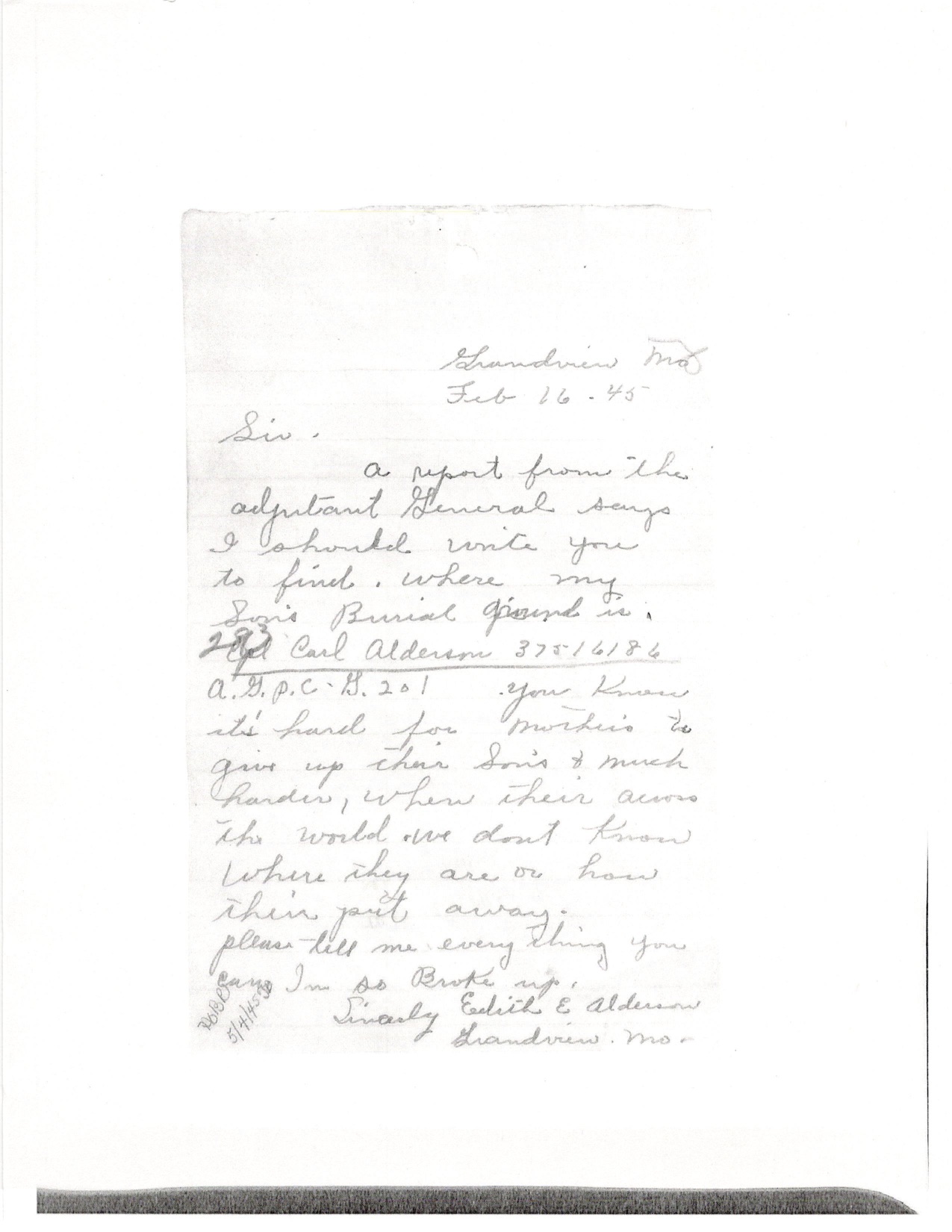 Reflection
Participating in the Sacrifice for Freedom®: World War II in the Pacific program and researching Corporal Carl W. Alderson was a life-changing experience. I met so many amazing people and I'll never forget the experiences we shared together. I realized that the past is not so distant, and it is up to us to learn from it and shape the future accordingly.
Visiting the site of the Honouliuli internment camp was especially powerful and enlightening. I had no idea that Hawaiʻi was under martial law during World War II and that leaders of the Japanese-American community were interned in such a manner. Honouliuli was unlike any historic site I had visited. There was almost nothing left at the site, just a road and a few concrete slabs. It was sobering to realize the world had forgotten what had occurred there and only a handful of people were working to change that.
Experiencing Pearl Harbor through a boat tour and spending the night on the USS Missouri completely changed my understanding of the location and attack. It's one thing to look at maps and see where all the boats were, but it's an entirely separate thing to actually see the wreckage. The harbor was so peaceful the day we visited, it was not hard to imagine the placid Sunday morning of December 7 prior to the attack.
Delivering my eulogy at the National Memorial Cemetery of the Pacific was the most impactful and moving experience of the week and will stay with me for the rest of my life. As I heard my peers deliver their eulogies for the soldier they had forged a personal connection with, I realized we were responsible for making sure these men were not forgotten. This thought stayed with me and was prevalent when I delivered my eulogy. It was surreal to actually stand at the grave of the man I'd researched for the past six months. Nobody else in that cemetery knew his story. It is likely only a few people in the world, if any, remember him personally. I choked up while memorializing his brief life and cried when I was done. Not because I was sad, but because it felt so right to honor the memory of Corporal Carl Alderson and make sure he wouldn't be forgotten. 
Bibliography
Primary Sources
Carl Alderson, Individual Deceased Personnel File, Department of the Army.
Carl W. Alderson. Interment Control Form. Digital Images. ancestry.com.
Carl W. Alderson. World War II Honor List of Dead and Missing Army and Army Air Forces Personnel, 1946. Digital Images. ancestry.com.
Carl W. Alderson. WWII Draft Registration Cards, 1940-1947. Digital Images. ancestry.com.
Elta M. Alderson. WWII Army Enlistment Records. Digital Images. fold3.com.
Kansas. Miami County. 1900 U.S. Census. Digital Images. ancestry.com.
Kansas. Miami County. 1910 U.S. Census. Digital Images. ancestry.com.
Missing Air Crew Reports of the U.S. Army Air Forces (MACR M1380), January 1945. Digital Images, fold3.com.
Missouri. Cass County. 1900 U.S. Census. Digital Images. ancestry.com.
Missouri. Cass County. 1910 U.S. Census. Digital Images. ancestry.com.
Missouri. Cass County. 1920 U.S. Census. Digital Images. ancestry.com.
Missouri. Cass County. 1930 U.S. Census. Digital Images. ancestry.com.
"Nation's Farms Provide Needed War Materials." Steele Enterprise, January 28, 1943. Newspapers.com (491453748).
"Six Million Farmers Pledge Co-operation In Nationwide Campaign for More Food." Steele Enterprise, January 28, 1943. Newspapers.com (491453748)
Secondary Sources
Flynn, Dorothy Dysart. "Missouri and the War." Missouri Historical Review 38, no. 2 (January 1944): 170-191.
Huss, Stephen F. "Milkweed, Machine Guns and Cows: Jefferson County Farmers in World War II." Missouri Historical Review 86, no. 3 (April 1992): 265-281.
Macias, Richard. "'We All Had a Cause' Kansas City's Bomber Plant, 1941-1945." Kansas History: A Journal of the Central Plains 28, no. 4 (2005-2006): 244-261.
Maurer, Maurer, ed. "6th Bombardment Group" In Air Force Combat Units of World War II, 41-42. Washington D.C.: Office of Air Force History, 1983. books.google.com/.
"NAA-KS plant located in Fairfax – Kansas City, Kansas." B-25 History Project. Accessed August 17, 2019. b-25history.org/history/fairfax.htm.
Thompson, Erwin N. Tinian Landing Beaches, Ushi Point Field, and North Field, Tinian Island. National Register of Historic Places Nomination Form. Washington, D.C.: U.S. Department of the Interior, National Park Service, 1984.