Second Lieutenant Cecil Hubert Corley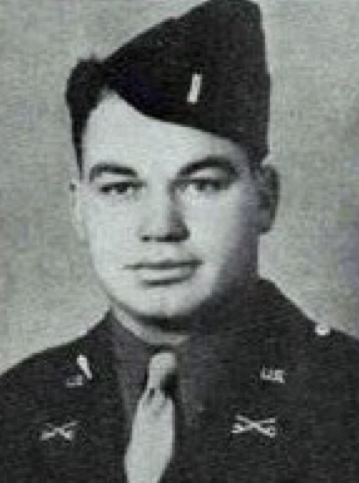 Unit:

4th Cavalry Reconnaissance Squadron, Troop B

Service Number:

O-527703

Date of Birth:

October 19, 1921

Entered the Military:

May 18, 1943

Date of Death:

June 11, 1944

Hometown:

Douglas, Arizona

Place of Death:

Gourbesville, France

Award(s):

Purple Heart

Cemetery:

Plot H, Row 15, Grave 32.

Normandy American Cemetery, Colleville-sur-Mer, France
Contributed by Aryasp Nejat
Mentored by Mrs. Stacey Trepanier
Hamilton High School & New Vistas Center for Education
2015-2016
Early Life
Born on October 19, 1921, Cecil Hubert Corley was the second son born to Alva and Amelia Corely. He had two older siblings, Dorothy and Archie, and two younger siblings, Robert and Ruth. They lived in Arizona but moved around due to Alva Corley's trucking business. By the 1930s, the family moved to Long Beach, California, but returned to Arizona by 1940. U.S. Census records in 1940 revealed that Corley completed his final year of high school in Arizona.
Yearbook records revealed that Corley was extremely active in his school community. He served as the vice president of the National Honors Society and Student Council, president of the "D" sports management club while participating in basketball, football, track, and glee club.
In addition to being an active member of his community, Corley was an outstanding student and athlete, loved dearly by his classmates and school administration. What was unique about Corley's success is that he was one of the first in his family to take advantage of his education and attend college, unlike the rest of his family, who were miners in Douglas. Records show that he attended the University of Arizona after high school.
While he was at the university, he played on the football team, leading them to victories across the nation. As a sophomore, he played the right tackle (#45), which is usually given to one of the strongest run blockers. In addition, Corley was a Founding Father and active member of the Beta Phi chapter of the Sigma Chi fraternity. He advocated for activism in the Beta Phi Educational and Historical Foundation.
His draft card revealed he was a senior R.O.T.C. student at the University of Arizona.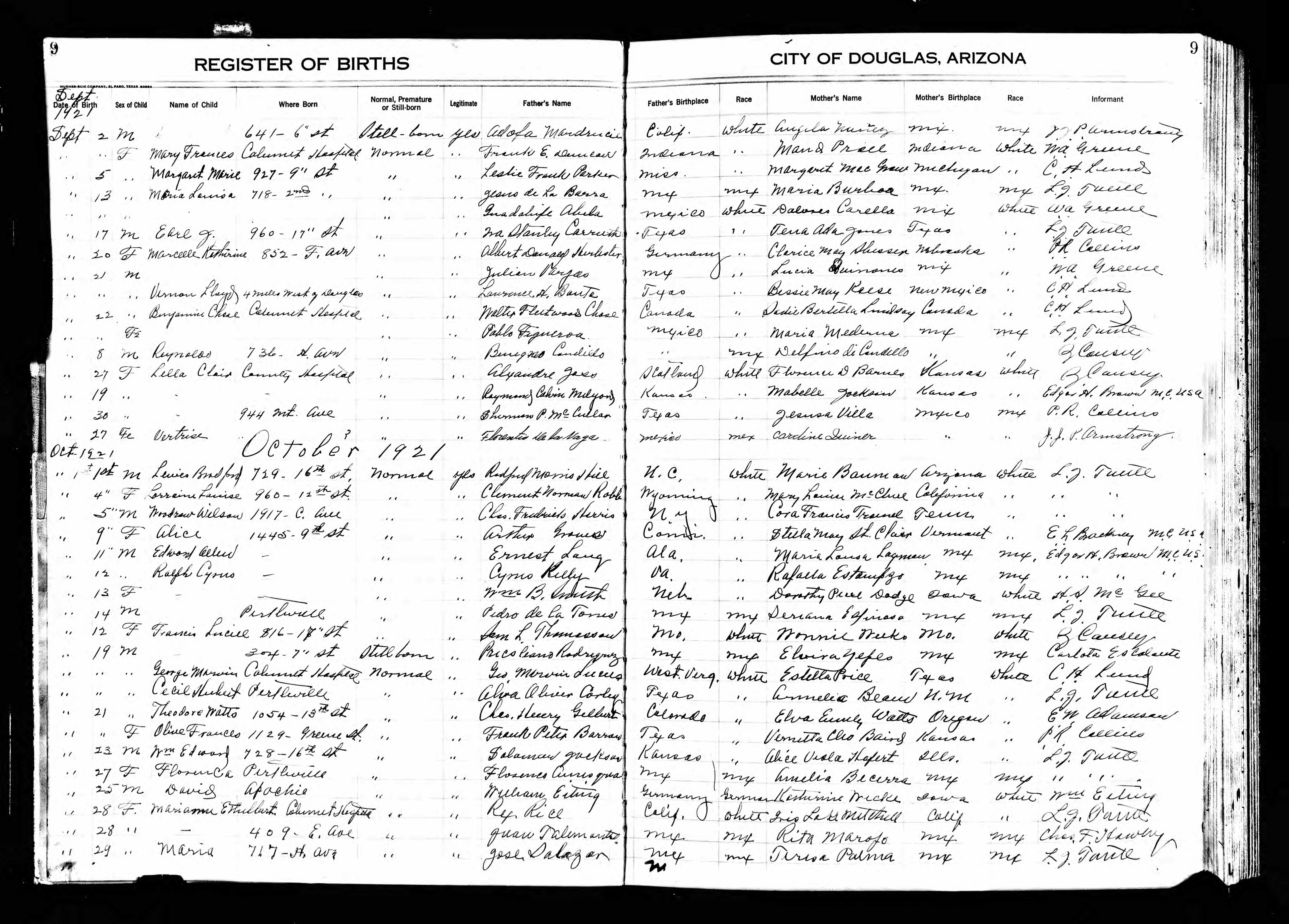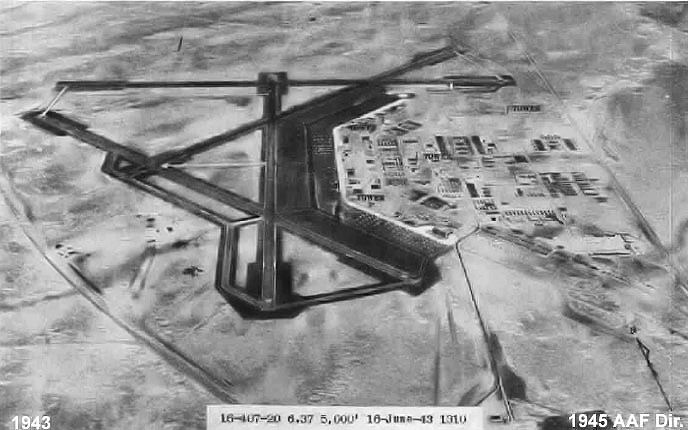 Homefront
Corley's hometown of Douglas, Arizona, was home to Douglas Army Airfield and was used by the U.S. Army Air Forces for advanced flight training. It was converted to a civilian airport after the war and is now known as Bisbee Douglas International Airport.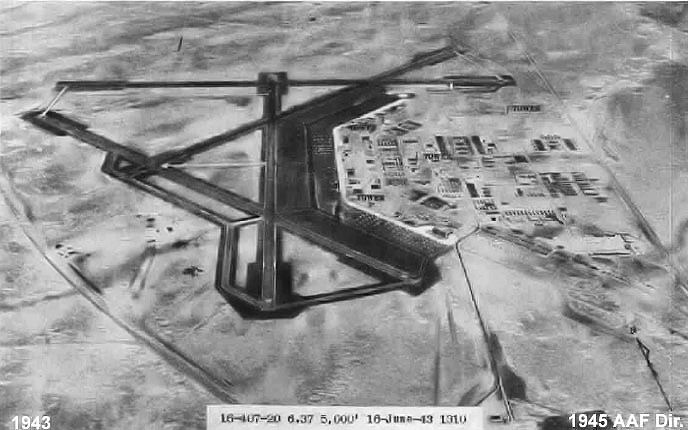 Military Experience
Second Lieutenant Corley enlisted in the U.S. Army on May 18, 1943, at 22. He was assigned to the U.S. Army's 4th Cavalry Reconnaissance Squadron, Troop B, reorganized as a Horse-Mechanized Corps Reconnaissance Regiment. As part of the 4th Cavalry, Corley and the rest of the men witnessed the mechanization of the U.S. Army's cavalry. He trained at Fort Knox, Kentucky.
This transition of the cavalry from horseback to state-of-the-art tank warfare was an intensive process that required a strict and comprehensive training process to ensure that the squadron could effectively complete their mission on the Normandy coast. The 4th Cavalry Reconnaissance Squadron was a subsection under the 4th Cavalry Group, temporarily attached to the 4th Infantry Division in June 1944. This massive group of soldiers entered the Normandy coast through Utah Beach, where they had a critical job as part of the amphibious assault on the beach.
The missions of the 4th Cavalry Reconnaissance Squadron changed quite often throughout the chaos of the war. Their tanks were supposed to be used to penetrate inland and gather intelligence about key German troop movements, but most of this would be done on foot.
As part of a mission, his squadron was sent into the Cotentin peninsula on foot instead of in tanks. Going in under the dark cover of the morning sky at 0430 "E" minus 2 hours on June 10, 1944, Second Lieutenant Corley's platoon began their mission of linking up with the 82nd Airborne Division near the town of St-Mère-Église. After four days of reconnaissance missions and fighting in the hedgerows, Corley's platoon eliminated or captured over 500 German troops. After penetrating enemy lines, the platoon was ambushed by German forces in the vicinity of a small village named Gourbesville, killing all in the platoon except for two wounded members who escaped in a Jeep.
After Second Lieutenant Corley was ambushed in the village of Gourbesville, it took nearly a month for his body to be recovered; he was listed as missing in action from June 11, 1944, to July 28, 1944. Forensic analysis indicated that Second Lieutenant Corley likely died quickly, which the family expressed relief over in their letters to the U.S. Army. Correspondence between Mr. Alva O. Corley, Second Lieutenant Corley's Father, and the U.S. Quartermaster General revealed the Corley family's attempt to learn more about their son's death, but little information was provided in return.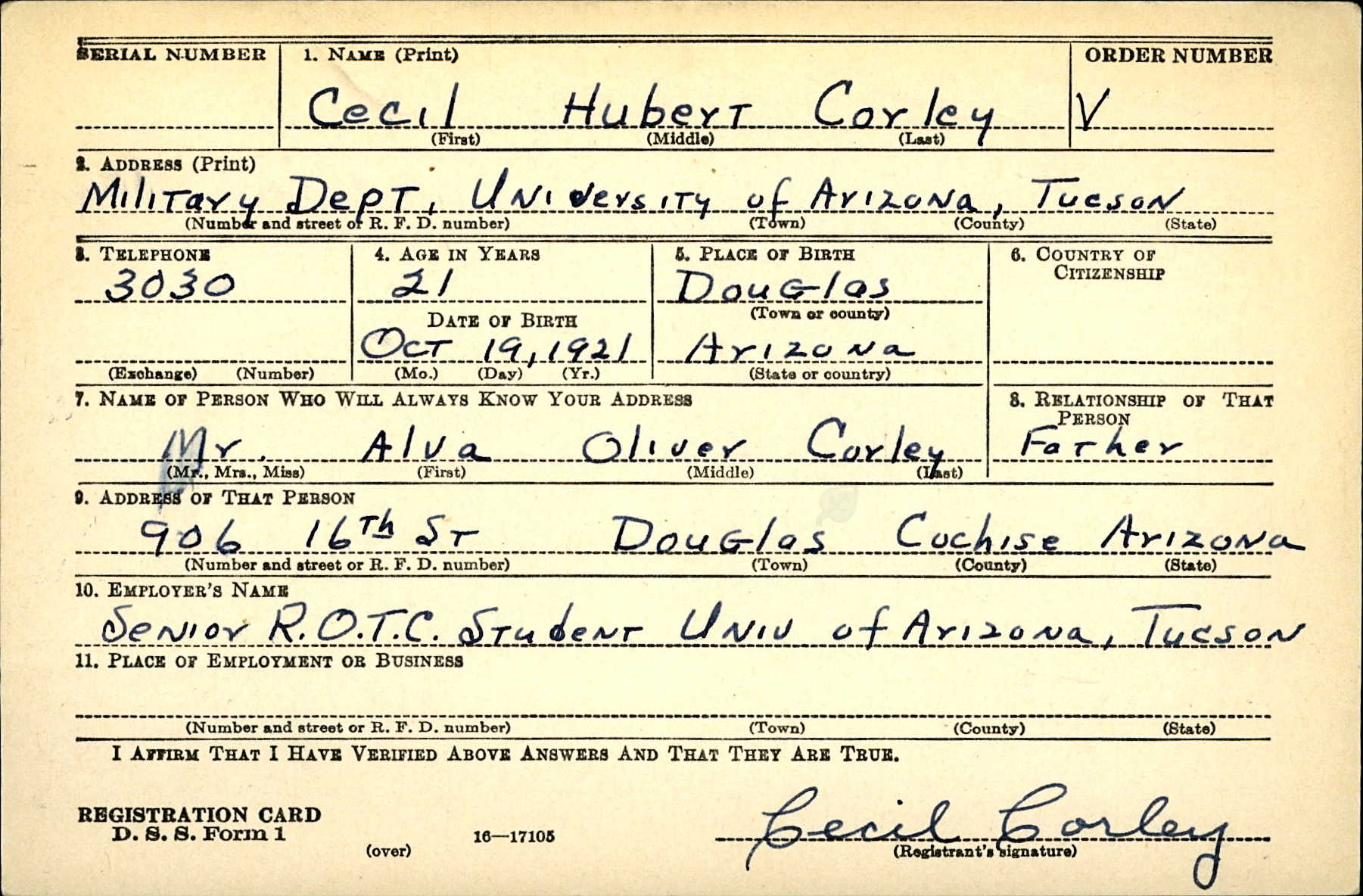 Eulogy
As the war in Europe raged on, the nation was in dire need of strong leaders to make an operation as big as the Normandy Invasion successful. Second Lieutenant Corley made the monumental decision to join the U.S. Army; this would prove to be a decision that would result in the ultimate sacrifice, changing his and his family's lives and playing a crucial part in forever altering the fate of the nation.
Due to his college education, he joined the U.S. Army as an officer. Rare for many at the time, Second Lieutenant Corley fought in the 4th Cavalry Reconnaissance Squadron of the U.S. Army. His extensive training in Fort Knox, Kentucky, in the first-ever official mechanization of the U.S. Army's cavalry made him have a unique position, expected of a man of his caliber.
As part of the 4th Cavalry Reconnaissance Squadron, his unit often performed reconnaissance missions, assessing and tracking the movement of German troops throughout France and Germany. While on a routine mission, the unit was ambushed by German soldiers. Corley was killed in the act.
Second Lieutenant Corley—the world lost a hero that day. You were instrumental in the success of the Normandy Invasion. Your accomplishments were representative of the powerful spirit that drove the Allies to victory in the war. For years, your story lay hidden, buried six feet beneath the very Earth you fought on, lost in the unseen records of your life. But I knew that I could not let your story die. I have to tell your story not just today but for years to come. Your life, experiences, and part in leading your men to help save your country will not be forgotten. Not only did you have an influence in your community at home during your early years in life, but your excellent leadership in a military setting serves as an inspiration to young men like me. Your legacy is remembered today, and your story will eternally reverberate in our communities, in our minds, and our hearts.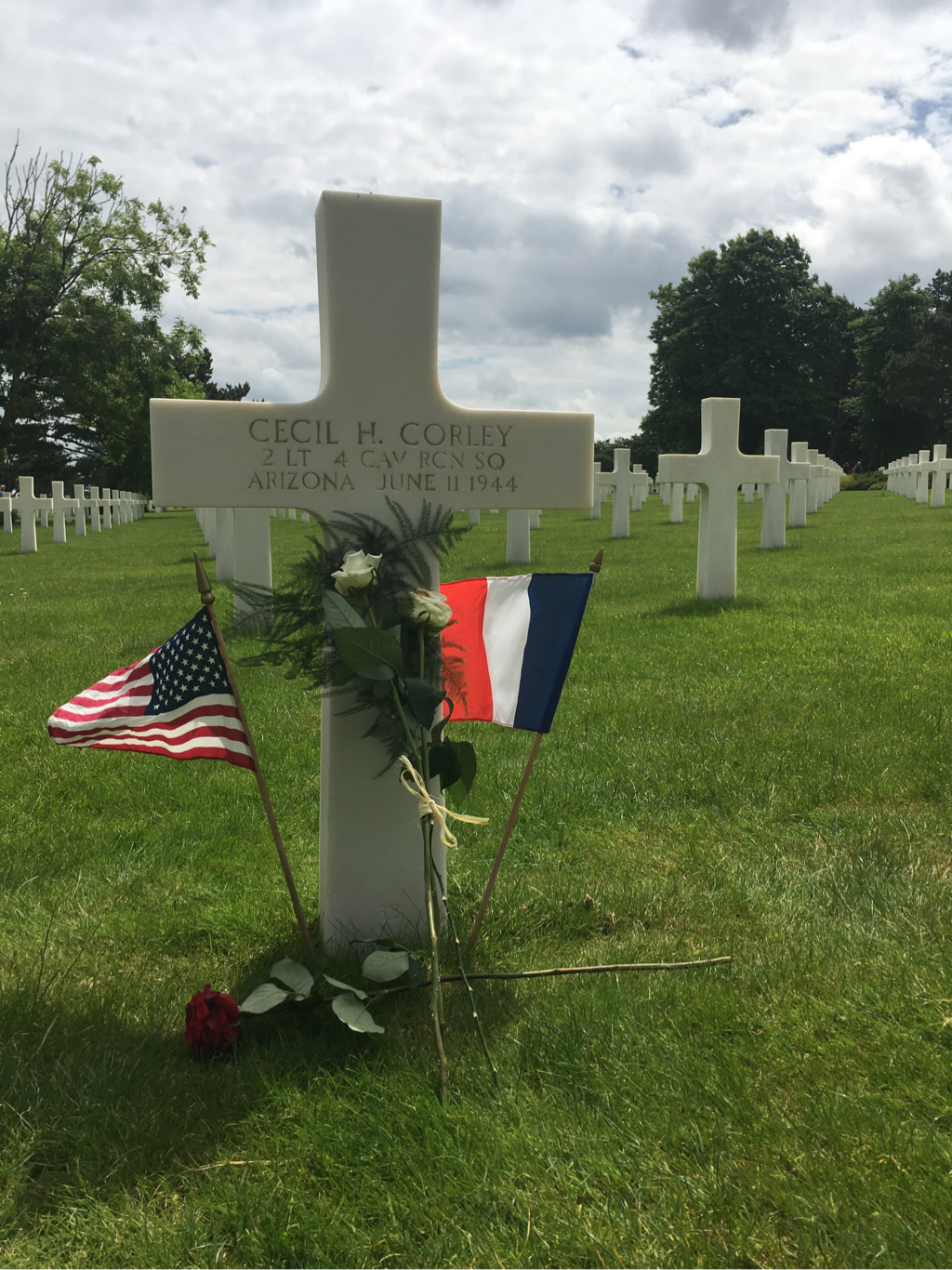 Reflection
Learning about the war while simultaneously learning about a small part of that war's life allowed me to have a new perspective on the sacrifices made by soldiers and our country. Being able to stand on the very ground where history was forever changed was very powerful, and I will never forget the experiences of looking out from the cliffs at the ocean, picturing droves of young men diving into an unknown world, fighting for their country.
Starting with the research portion in Washington, D.C., we had the opportunity to hear lectures from experts on Normandy history on the war's military and sociopolitical aspects. Seeing the sacrifices and the purpose behind why these brave men and women made those sacrifices immortalized in the stone of various U.S. monuments and honorary sites drove home the true spirit of patriotism and service before self.
Finalizing the experience by walking on the same soil in France that so many men died on to protect their country and the world's prosperity was the next step in my journey. The beauty of the landscape and towns contrasted sharply with the graveness of the subject matter at hand, but this juxtaposition was what made the trip even more memorable and impactful.
Bibliography
Primary Sources
Arizona. Cochise County. 1930 U.S. Census. Digital Images. ancestry.com.
Arizona. County Birth Records, 1881-1948. Digital images. ancestry.com.
California. Long Beach Township. 1930 U.S. Census. Digital Images. ancestry.com.
Douglas Army Airfield June 1943. Photograph. U.S. Army Air Forces. 1943. Wikimedia Commons. commons.wikimedia.org/wiki/Category:Douglas_Army_Airfield_(Arizona)#/media/File:Douglas_Army_Airfield_June_1943.jpg.
Douglas High School Yearbook. 1938.
Cecil H. Corley. Headstone and Interment Records for U.S. Military Cemeteries on Foreign Soil, 1942-1949. ancestry.com.
Cecil H. Corley, Individual Deceased Personnel File, Department of the Army.
Cecil H. Corley, Official Military Personnel File, Department of the Navy, Records of the Bureau of Naval Personnel, RG 24, National Archives and Records Administration – St. Louis.
Cecil Corley, Tackle. Yearbook Photograph. University of Arizona. 1942. Digital images. ancestry.com.
Cecil Corley — RT. Yearbook Photograph. University of Arizona. 1941. Digital images. ancestry.com.
Cecil Hubert Corley. World War II Draft Cards Young Men. Digital images. ancestry.com.
Secondary Sources
"History of the 4th U.S. Cavalry Regiment," U.S. Army Fort Huachuca. Accessed April 22, 2021. home.army.mil/huachuca/index.php/units-tenants/b-troop/history-4th-us-cavalry-regiment.