Staff Sergeant Charles Henry Crossley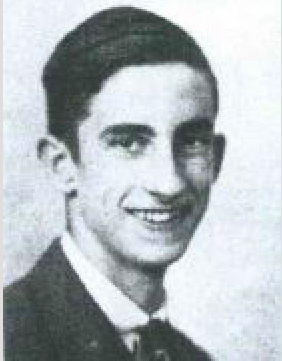 Unit:

836th Bombardment Squadron, 487th Bombardment Group (Heavy)

Service Number:

33462202

Date of Birth:

April 20, 1923

Entered the Military:

November 24, 1942

Date of Death:

June 23, 1944

Hometown:

Danville, Pennsylvania

Place of Death:

Liège, Belgium

Award(s):

Air Medal with Oak Leaf Cluster

Cemetery:

Plot B, Row 42, Grave 34.

Ardennes American Cemetery, Neupré, Belgium
Contributed by Mr. Brian Weaver
Central Bucks High School West
2014-2015
Early Life
Typical Farm Boy
Charles Crossley represented a typical American farm boy in central Pennsylvania during the 1930s. His father, Harvey, owned a farm in rural Danville, a small plot surrounded by woods in the hilly countryside around Bloomsburg. He later worked for the state's Department of Transportation. Harvey's wife, Meta, attended to the family's six children. Born on April 20, 1923, Charles, their fourth child, attended Bloomsburg High School and graduated in 1941.
By the time he graduated he was a sturdy young man, his 5 foot, 10-inch frame topped by brown hair. His hazel eyes saw a perfect 20/20, a helpful trait when he would go hunting with his 20-gauge shotgun. His friends called him by his nickname, "Bing," or just "Crossley." Crossley had a natural gift for working on engines. He loved tinkering with cars, trucks, and motorcycles. That may be why in his high school yearbook his classmates predicted that in ten years he would be an Army aviator, a prophecy that would soon come true.
After graduation, he worked as a truck driver for the Mausdale Quarry Company, just down the road from his house. For nearly two years, until January 1943, he transported cinders around the area while earning $20 each week (significantly more than the $55 per month he would make in the service). He maintained his truck, doing everything from changing axles to installing fuel pumps to overhauling the motor.
In his spare time he fixed cars and rode motorcycles. He attended night class at Bloomsburg's State College Extension Course, in which he focused on the fundamentals of engineering. This intimate knowledge of vehicles and engines would serve him well – Crossley was drafted on November 24, 1942, and he landed in the United States Army Air Forces (USAAF).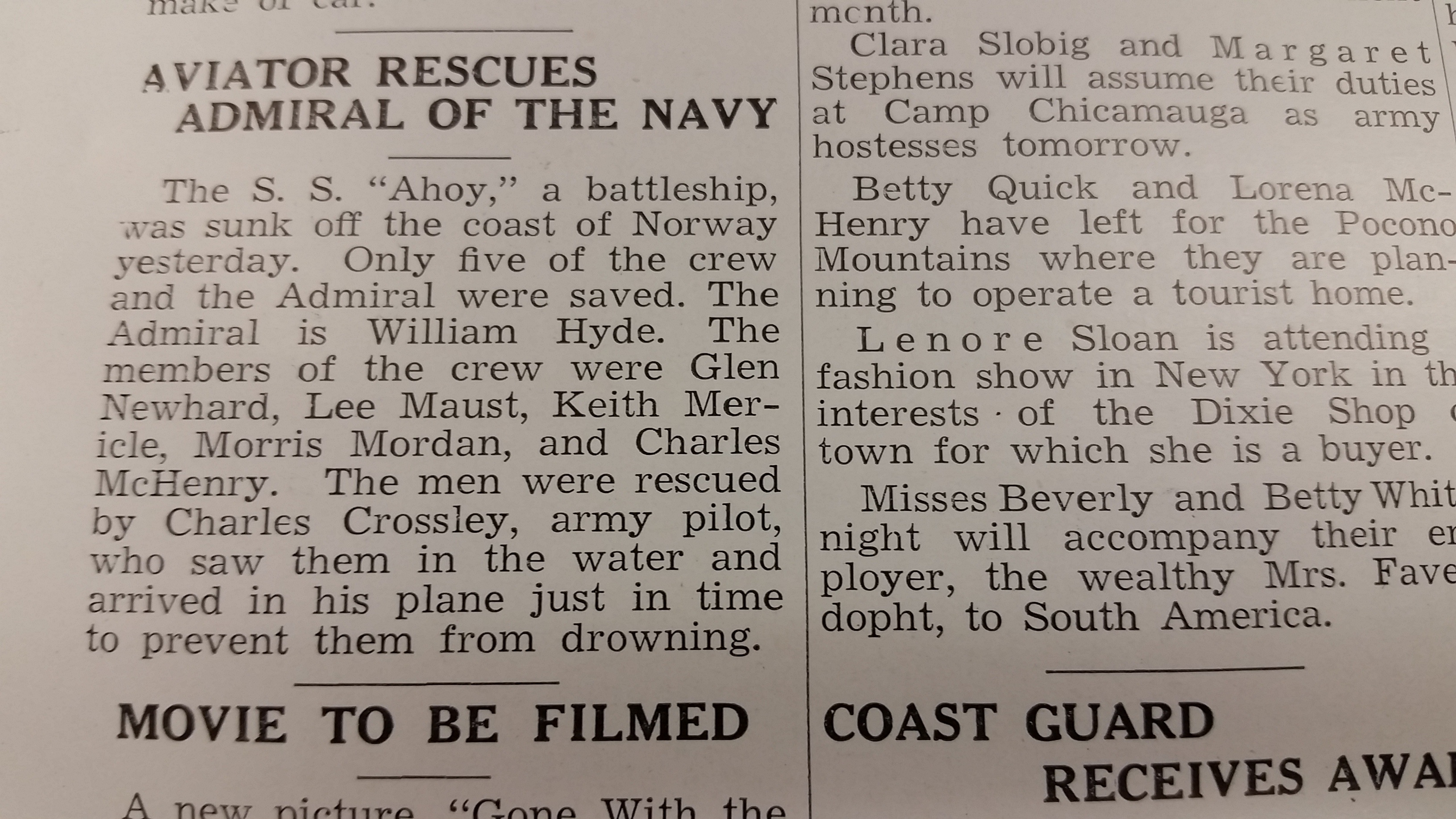 Military Experience
The Road to Lavenham
Like most boys from the hills of central Pennsylvania, Crossley probably would not have traveled to many different states. Yet after his induction in New Cumberland, Pennsylvania, on February 1, 1943, he began a training circuit that would take him around the country in preparation for a war across the ocean. He finished basic training in Miami, Florida, on March 15 and then proceeded to Army Air Forces Flight Gunnery School in Fort Myers, Florida. In his five months in Fort Myers he improved his overall rating as a soldier from "satisfactory" to "excellent."
Ultimately, Crossley's background in automobile engines led to a recommendation for a mechanic's position. From June 18 to October 20, 1943, he trained at Fort Sheppard, Texas, on the myriad of subjects necessary to keep a B-24 aloft, among them tools, structures, hydraulic systems, engines, and electrical systems. Crossley consistently was rated as "very satisfactory" in these areas. Not surprisingly, his highest marks came in engines training, and the Army categorized him as an Air Mechanic/Gunner. The course of his training took him to Salt Lake City in late October and to Arizona in December. His only respite in that training period was a two-week furlough in early November. On New Year's Day 1944, Crossley and his crew joined the 487th Bomb Group (Heavy) in Alamogordo, New Mexico. By the end of February, all of the 487th's planes had arrived in Alamogordo. The "Gentlemen from Hell," as the 487th referred to themselves, were ready to confront the Nazi regime.
In March, the crew moved toward combat. Crossley's crew flew first to Kansas to stage for deployment. From the United States they flew south to Trinidad, then Brazil, and then across the ocean to Senegal. After one more stop in Marrakech in French Morocco, they finally proceeded to their wartime home at Station 137, Lavenham, Suffolk, England in mid-April 1944. In just over a year, the Pennsylvania truck driver had gone all over the country and walked on three continents.
He never returned to Danville.
Taking Flight
Beginning in May 1944, the 836th Squadron saw consistent action over the European continent as the USAAF attempted to reduce Hitler's Fortress Europe. Crossley and his crewmates (under pilot Joseph Van Dyke) were part of the first mission the 487th flew, a raid over Liège, Belgium on May 7. From May 23 through May 30, Crossley flew five missions in eight days, attacking German positions in Belgium, France, and Germany during that span. His performance earned him a promotion to Staff Sergeant (S/Sgt) on June 1.
June brought many runs in support of the Allied efforts in Operation Overlord, the invasion of France. Crossley flew three missions in four days from June 4 to June 7, including a support mission on D-Day. After a week off, the crew flew back into action over France again, attacking strategic military sites. Their targets ranged from airfields to V-1 rocket launch sites. The V-1 attacks held a special meaning for the crew, as these Buzz Bombs "passed in the immediate vicinity of the base with ominous regularity." But the missions were taking their toll. Both after-action reports and the unit history make reference to the fact that, by late June, the airmen were exhausted.
Juvincourt
On June 23, 1944, the Van Dyke crew signed their loading list, boarded their B-24, and lumbered down the runway into the afternoon sky. Crossley, the assistant engineer, occupied his usual place as top turret gunner. Their target for the evening was Juvincourt, France, an airfield from which the Germans launched reconnaissance flights against the Allies. This was one of the busiest airfields in occupied France for the Germans, and they had worked hard to expand the installation since capturing it in June 1940. It was the fourteenth time Charles Crossley and his crewmates would attack Nazi Germany. It would also be the last.
The crew dropped their payload on target, but their exit route through Belgium encountered unexpectedly intense anti-aircraft fire. At 8:41 p.m., near the Belgian city of Liège, Crossley's plane took a direct hit from an anti-aircraft shell and exploded. Bernard Thomas Nolan, an airman on another plane in the formation, saw the shell detonate directly in the bomb bay.
"There was a huge burst of orange flame, and the left and right wing sections folded slowly over the fireball," he wrote. "All I saw of the fuselage was the tail turret falling away. I inferred that its gunner was still in his seat. It occurred in an instant." All airmen who saw the explosion agreed that there were no survivors from the Van Dyke plane. Though many aircraft were damaged, all except the Van Dyke plane returned safely. Reports from other pilots confirmed the loss and certain fate of Crossley and his comrades.
Following an initial telegram on July 6 indicating that Charles was listed as Missing in Action (MIA), the Crossleys received a letter on July 13 confirming that their son had been shot down. In this letter, the Adjutant General, Major General J. A. Ulio, apologized for the lack of hard information and promised that "at any time additional information is received, it will be transmitted to you without delay." He also promised to be in touch within three months even if no new information had been discovered.
A subsequent letter of August 5 assured the family "a continuing search by land, sea, and air is being made to discover the whereabouts of our missing personnel. As our armies advance over enemy occupied territory, special troops are assigned to this task, and all agencies of the government in every country are constantly sending in details which aid us in bringing additional information to you." However, this letter indicated that Charles' plane had sustained anti-aircraft damage and gone down outside Brussels. It also listed the time of the attack. There remained little doubt as to his fate.
Final word came when the Secretary of War received a telegram from the German government on August 17 via the International Red Cross confirming that Crossley and his crewmates had been recovered from the wreckage of their plane. Meta and Harvey Crossley received the confirmation of their son's death via telegram on September 1, 1944.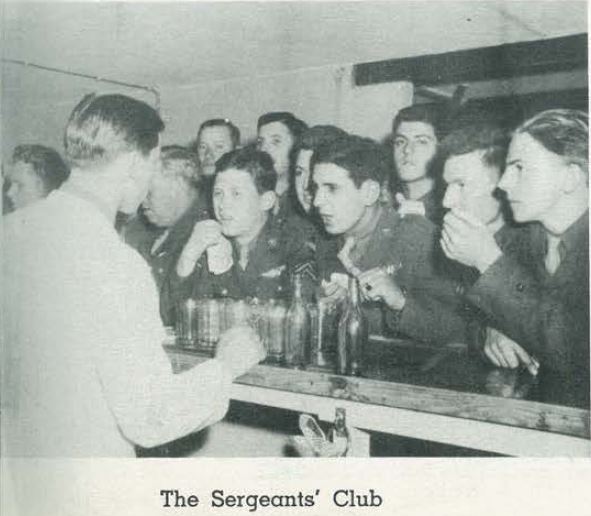 Eulogy
Posthumously, Crossley would receive an Air Medal with one Oak Leaf cluster for,
"Exceptionally meritorious achievement, while participating in heavy bombardment missions over enemy occupied Continental Europe. The courage, coolness and skill displayed by this Enlisted Man upon these occasions reflect great credit upon himself and the Armed Forces of the United States."
He was recommended for his first medal on June 4, 1944, and his second on June 19. He also received a Purple Heart for his final mission. Sadly, he never saw these awards. The Department of the Army sent them home to Meta Crossley in Bloomsburg.
Charles Crossley's body was initially interred in the English Memorial Cemetery in Brussels, Belgium. Given the choice of where to lay Charles Crossley to permanent rest, the Crossleys decided on an American military cemetery overseas.
Charles H. Crossley rests today in the Ardennes American Cemetery in Belgium.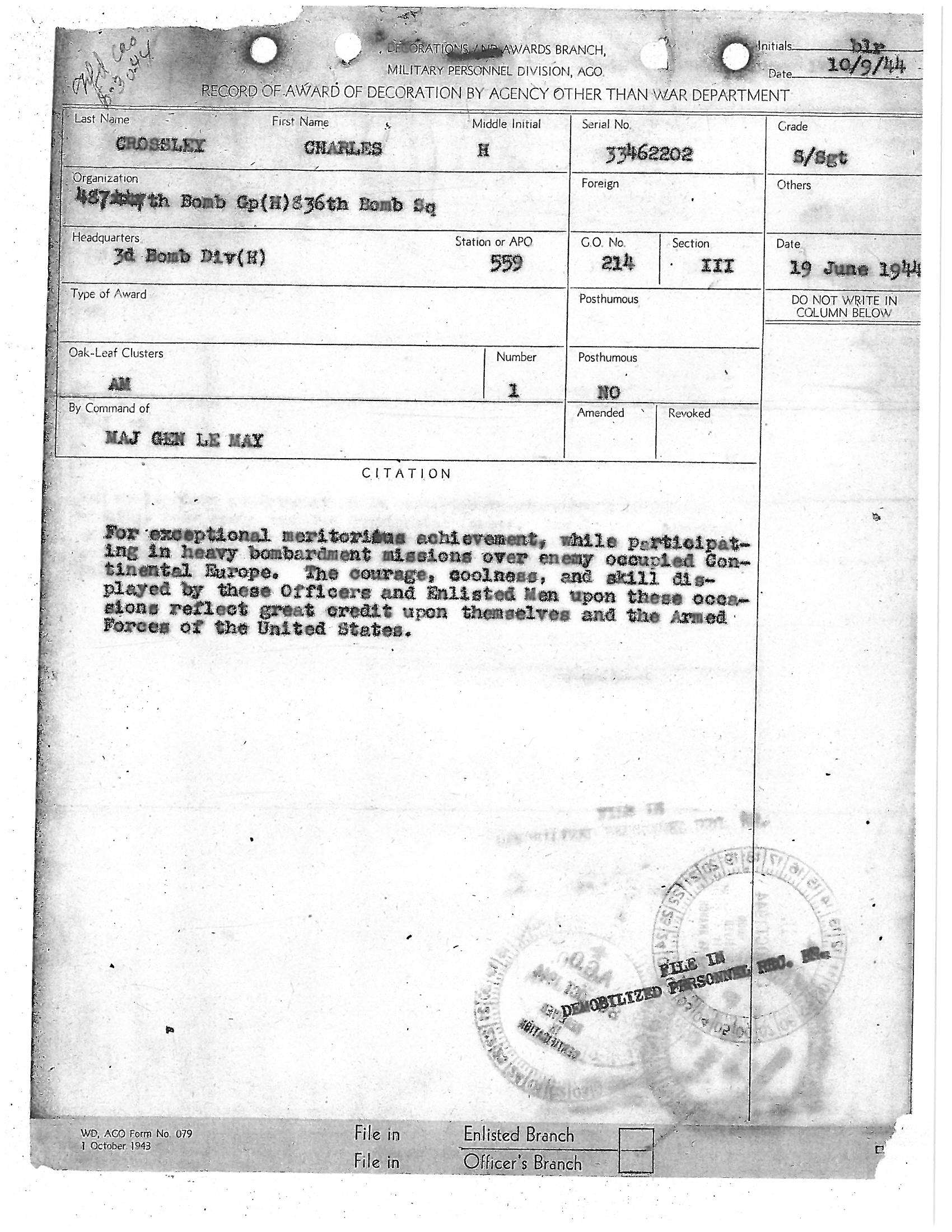 Reflection
Bibliography
487th Bomb Group; Records of the Army Air Forces, World War II Combat Operations Report 1941-1946, Record Group 18 (Box 2964); National Archives at College Park, College Park, MD.
Books, Bob. "Eighth Air Force Historical Society." Eighth Air Force Historical Society. Last modified 2015. Accessed December 4, 2014. www.8thafhs.org/index.php.
"Charles Crossley." American Battle Monuments Commission. Accessed November 4, 2014. www.abmc.gov/search-abmc-burials-and-memorializations/detail/WWII_6518#.VcIPOflViko.
Charles Crossley, Individual Deceased Personnel File, Department of the Army.
Charles Crossley, Official Military Personnel File, Department of the Army, RG 319, National Archives and Records Administration – St. Louis.
Erskine, Tim and Lee Hauenstein. "487th Bomb Group (H) Association." 487th Bomb Group Association. Last updated 2014. Accessed November 15, 2014. www.487thbg.org/.
Nolan, Bernard Thomas. Isaiah's Eagles Rising: A Generation of Airmen. Philadelphia: Xlibris, 2002.
Records of Luftgaukommandos: Downed Allied Aircraft Report, 1943-1945; Department of Defense, Department of the Army, Adjutant General's Office / Administrative Services Division, Departmental Records Branch, Captured Records Session, Record Group 0242 (Box 259); National Archives at College Park, College Park, MD.
Records for Charles Crossley; World War II Army Enlistment Records, 1938-1946 [Electronic File], Record Group 64; National Archives at College Park, College Park, MD [retrieved from the Access to Archival Databases at aad.archives.gov/aad/series-description.jsp?s=3360&cat=WR26&bc=,sl, December 1, 2014].
United States Army Air Forces. "The History of the 487th Bombardment Group, 22 September 1943 to 7 November 1945″ (1946). World War Regimental Histories. Book 130. Accessed December 26, 2014. digicom.bpl.lib.me.us/ww_reg_his/130.
United States Army Air Forces. "U.S. Strategic Bombing Survey – European War." WWII Archives Foundation. Last modified 2011. Accessed January 3, 2015. www.wwiiarchives.net/servlet/action/documents/usa/103/0. 
This profile was researched and created with the Understanding Sacrifice program, sponsored by the American Battle Monuments Commission.