Private Claude Eugene Doty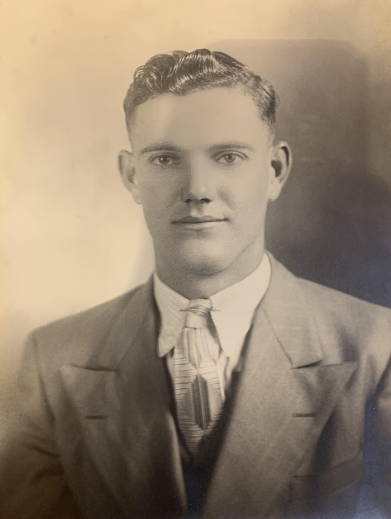 Unit:

116th Infantry Regiment, 29th Infantry Division, Company C

Service Number:

35901621

Date of Birth:

October 21, 1919

Entered the Military:

January 20, 1944

Date of Death:

November 20, 1944

Hometown:

Greenwood, Indiana

Place of Death:

northeast of Aachen, Germany

Award(s):

Purple Heart

Cemetery:

Plot C, Row 19, Grave 13.

Netherlands American Cemetery, Margraten, Netherlands
Contributed by Chloee Robison
Mentored by Mrs. Emily Lewellen
Brown County High School
2019-2020
Early Life
On October 21, 1919, Claude Eugene Doty was born in Johnson County, Indiana. He was the second eldest of 15 children, four of whom did not survive past the age of one. Alongside his parents, Grover and Ruth Doty, as well as five brothers and five sisters, Doty grew up in Greenwood, Indiana, a city of fewer than 2,000 inhabitants. Claude's father, a World War I veteran, worked construction jobs.
Doty attended Center Grove Schools, where he played basketball from the seventh through ninth grades. He earned an award for sportsmanship in the eighth grade. In 1940, Doty completed his sophomore year of high school, but chose not to continue his education.
Prior to entering World War II, Doty worked for Richard Ellis of Noblitts and Sparks Industries in Greenwood. The company had multiple plants across Indiana and manufactured a variety of materials such as exhaust pipes, mufflers, radios, outdoor furniture, small home appliances, and televisions.
Claude Doty married Mary Louise York in 1941. Two years later, they had a son, Donald Eugene Doty.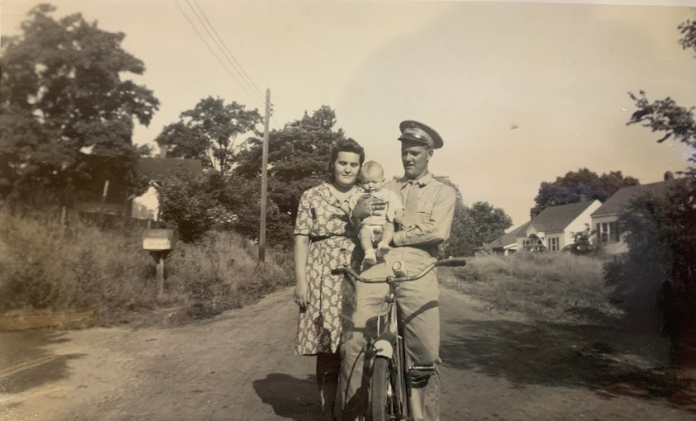 Homefront
After the bombing of Pearl Harbor in 1941, many Hoosier companies shifted their focus to the production of military equipment. Indiana became the eighth largest producer of combat equipment supply in the nation. Eli Lilly and Company, a pharmaceutical company, began manufacturing merthiolate, a mercury-based antiseptic, and processing blood plasma for the American Red Cross. South Bend, Indiana automobile manufacturer Studebaker built trucks nicknamed "Deuce and a Half" that had a two-and-a-half ton carrying capacity. Many other large industries shared their production lines for the benefit of the war effort.
Prior to Doty's enlistment, Noblitts and Sparks Industries had already shifted its production line to wartime manufacturing. The industry's 11 factories produced everything from radio equipment to bombs and anti-tank mine parts.
Two Noblitts factories in Greenwood and Franklin employed 369 women by 1943, replacing the male workforce now on the front lines. The Franklin factory established a daycare for the children of working mothers, encouraging more women to find jobs within the company. Camp Atterbury, a training base established in Indiana in 1941, employed women as well. Under their Female Automotive Training Program, women learned how to repair vehicles for military use.
As businesses and farms dealt with worker shortages, they took on large tasks to meet the needs of soldiers and citizens. In 1942, Hoosier farmers grew enough tomatoes to fill five million cases. Townspeople formed committees to convert available land into farms and victory gardens, allowing families to provide for themselves while the rationing system was in effect.
The rationing system took a toll on Hoosier families, but programs such as Nutrition Schools, held in public buildings, helped homemakers adjust to the requirements of the system. In Franklin, one such program was held at the Artcraft Theater. A 1943 newspaper advertisement for the program encouraged homemakers to bring their friends and neighbors for an instructional three-day workshop, featuring lectures on topics such as "how to prepare nutritionally balanced meals" and "how you can help win the WAR in your own kitchen."
Newspapers also printed air raid instructions, encouraged the purchase of war bonds, and notified residents of timed blackout drills. Advertisements for the Boy Scouts' waste paper collection program and vehicle inspection notices appeared alongside anti-Nazi propaganda.
Nearly 340,000 Hoosier men went off to fight. Sadly, over 10,000 did not make it back alive. Those left at home pulled together to survive the difficult circumstances of war, and the sacrifices made by civilians and soldiers, such as Private Doty, left a lasting impact on Hoosiers.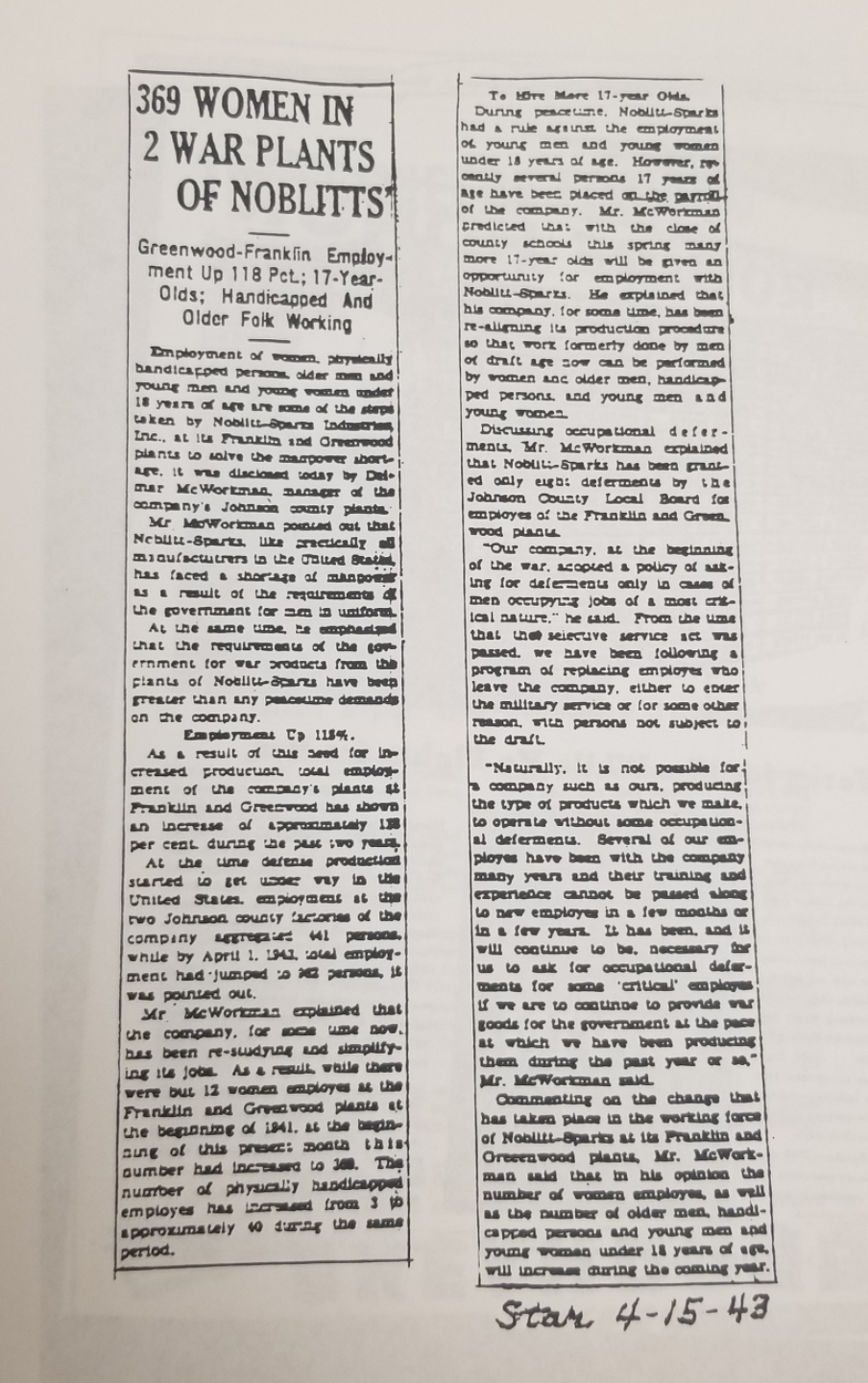 Military Experience
On his draft card, Claude Doty is described as standing six feet tall, weighing 170 pounds, and having gray eyes, brown hair, and a light complexion. Drafted in 1944, Doty entered the U.S. Army to serve his country, leaving behind his wife and one-year-old son. From January 31 to March 27, 1941 he trained at Camp Blanding in Starke, Florida. As an infantry replacement training center, Camp Blanding brought together men from the 1st, 29th, 30th, 31st, 36th, 43rd, 63rd, 66th, and the 79th Infantry Divisions during the Second World War. During his training, Doty prepared for the mental and physical challenges he would face in war-torn Europe.
While on furlough, Doty spent time with his family. A souvenir photo from 1944 depicted Doty on a trip to Silver Springs, Florida, taking a brief break from his military duties. Two months later, in August 1944, Doty received official word of his transfer overseas. He awaited his turn to join the war effort, spending several weeks in a replacement depot.
Men staying in replacement depots were often referred to as the "orphans of the Army." While many men on the front lines built strong relationships with their comrades during training and active combat, those serving as replacements did not have the same opportunity to bond with others. Doty, like many soldiers in the depot, was likely lonely and bored. Evidence of this is reflected in Doty's letters to his family. On September 16, 1944, he wrote home to his family, ensuring them of his well-being and asking after his son:
Dear Mother and Dad,
I haven't received any mail from home for so long that I don't think that anybody is writing to me, and I hope this letter finds you and all the rest in the best of health. I am just fine and feeling good. How is everybody at home and how is my son getting along? I wrote and asked Mary if he has started to walk yet. And how are all the boys getting along? Just fine I hope. There isn't very much I can say but I hope to see all of you soon, so be good and take good care of yourselves and I will do the same. 
From your son Claude, To my Mother and Dad
In his last letter home before his death, Doty exhibited his homesickness and growing restlessness. By the next month, he joined others of the 29th Infantry Division, 116th Infantry Regiment, fighting a ceaseless battle on the front lines. Members of his company operated 105mm cannons, large weapons that required additional manpower and sturdy trucks to reposition them throughout fighting.
These cannons directly targeted the enemy positioned on the front lines. While the cannons were meant to protect U.S. soldiers, in reality, they led to many of their deaths. Poor aim and misfires left those American soldiers fighting on the front lines, exposed to the peril of these deadly weapons. Doty spent the majority of his military career operating these weapons.
Doty joined the 29th Infantry Division while they were stationed in the town of Limburg, the southernmost point of the Netherlands. When Doty and the 29th Infantry Division arrived in early October, combat had gone stagnant in this area of the front, and soldiers quickly rotated in and out of the Netherlands. This constant rotation led many Dutch families to offer their homes to American soldiers, giving them a place to rest and recuperate. While stationed here, Doty and several other soldiers befriended the family of Mary Doomen. Doty spent his twenty-fifth birthday in Limburg with them, and the family baked him a cake made of rationed goods to celebrate.
Private Doty's experience in the war was unpleasant. Extreme winter weather led to medical conditions including trench foot, which made the war even more treacherous.
On November 19, 1944, the 116th Infantry Regiment broke through a portion of the German line. The German Heer (Army) retreated to the Roer River, and the 29th Infantry Division advanced. The next day, November 20, remained relatively calm, with little action. The Cannon Company moved to a new location and put the guns into position. Then, as the company Morning Report stated, "Enemy artillery hit in area during the afternoon causing casualties," including Doty and three other men.
Doty's family received notice of his death in December. He was buried in Margraten, Netherlands.
A memorial service was held for Private Doty on Sunday, April 8, 1945, at the Smith Valley Church in Greenwood, Indiana. His name was placed on a memorial plaque at the Greenwood Noblitts and Sparks Industries' plant. His name can also be found on a Veteran's Memorial in front of the Johnson County Courthouse in Franklin, Indiana.
Doty's family chose not to disturb his remains after the conclusion of the war, and a cross remains as his grave marker in the Netherlands American Cemetery.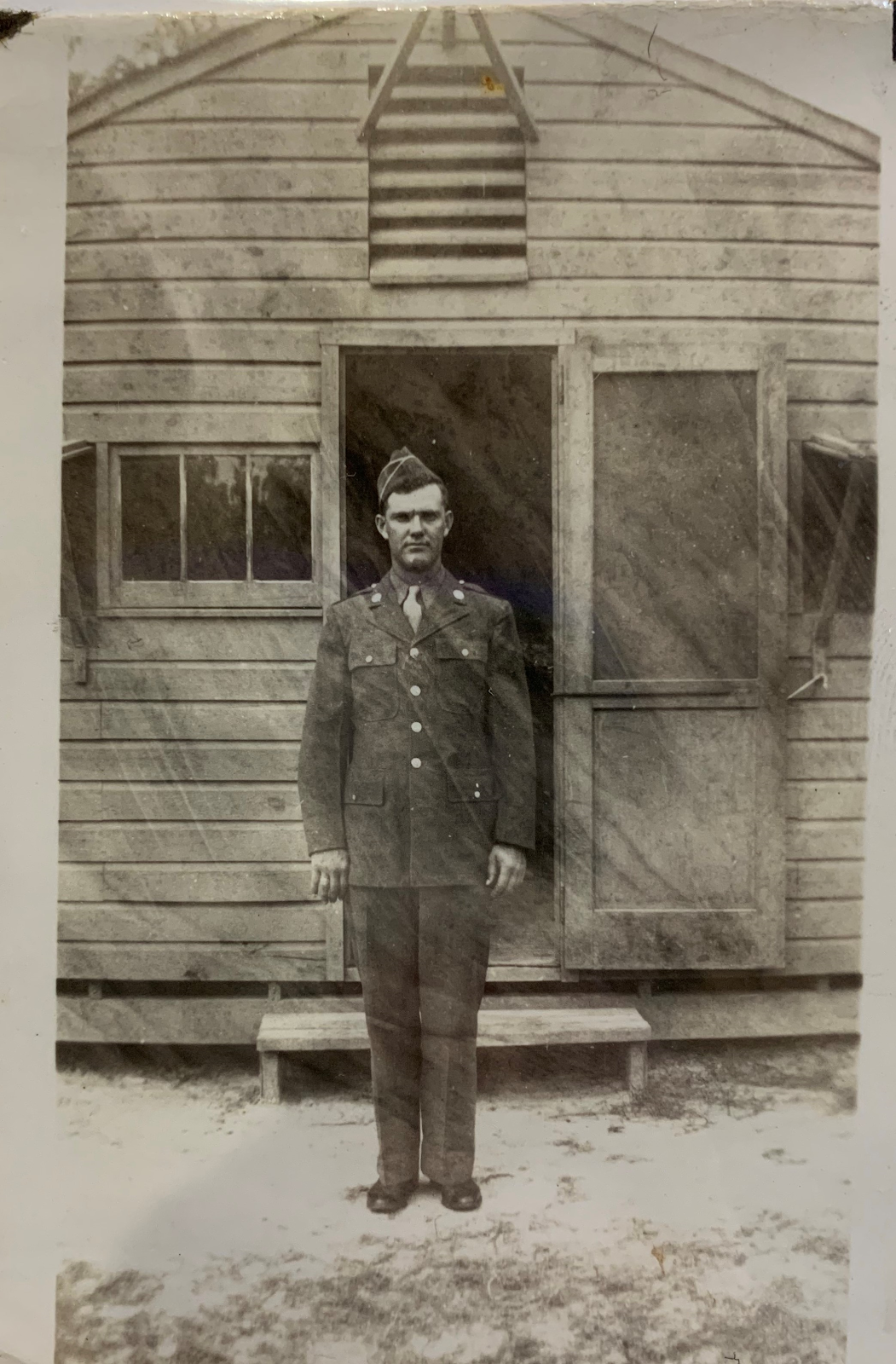 Eulogy
Claude Eugene Doty of Greenwood, Indiana was drafted by the army and sent overseas in August of 1944. He left behind his wife and newborn son. Private Doty joined those of the Cannon Company to defend soldiers on the front lines in Germany.
During his brief stay in the Netherlands, Private Doty befriended the family of Mary Doomen. While staying with her, he celebrated his twenty-fifth birthday. His last birthday was spent not surrounded by family, but by those who had come to appreciate Private Doty for his bravery and resilience.
On November 16, the 116th Infantry Regiment broke through a portion of the enemy's lines. The day of Private Claude Eugene Doty's death, rain poured out of the sky, drenching the ground as the 29th Infantry Division advanced forward. He was struck by enemy artillery on November 20, 1944.
Private Doty left behind loving parents and siblings, as well as a wife and child. His son, who was not yet a year old, inherited Private Doty's Purple Heart.
A commemorative plaque listing Noblitt and Sparks employees who died during the war was erected in Franklin, Indiana. Private Doty's wife and son were present at the plaque's unveiling.
Private Doty's presence in the war touched those whom he met. Mary Doomen, the Dutch woman who kindly lent her home to Private Doty and his friends during their stay in the Netherlands, wrote to Doty's family asking after him and was devastated to learn about his death.
Remembered for his devotion to his family and his courage during the war, the life of Private Claude Eugene Doty is not forgotten. His surviving family members continue to share Private Doty's memory, knowing that his story deserves to be cherished by any and all who hear it.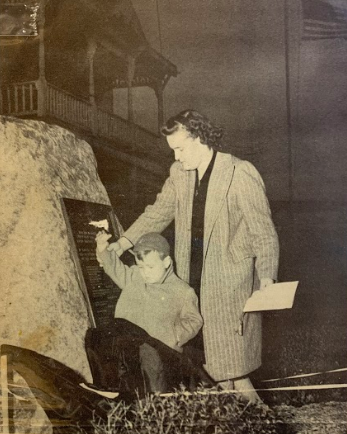 Reflection
A distinct serenity surrounded the Netherlands American Cemetery in Margraten. When those of us participating in the 2019 Operation Liberty program found the graves of our service members, we fell quiet. These were the people we had been researching for weeks, the intricacies of their lives revealed only to us. We were perhaps the only living people who knew their stories, and already we had formed a bond. There are no words to describe the weight of emotions that bore on us as we stood in front of their graves. In those moments, I felt a greater connection to my silent hero, Private Claude Doty, and I truly understood the impact of the research I had been doing up to that point.
Private Doty grew up in a town less than an hour's drive from my own. I used to compete in academic competitions at his old high school. I drove through his hometown every week, never stopping to consider the hidden lives of people like him, soldiers who were waiting for their stories to be told.
As I learned about Private Doty's life, I discovered the incredible influence this young man had on his family. Decades after his death, family members were eager to help with our research. They wanted to share their pride for Claude Doty, and through their generosity, my teacher and I were able to piece together Private Doty's story.
It was an honor to give a eulogy for Private Doty. As one of only a handful of people to ever visit his grave, I felt obligated to bring along a photo of him with his wife and child to commemorate his family's own sacrifice.
Participating in Operation Liberty gave me a profound understanding of Private Doty's final days. I completed research that was more in-depth than anything I had ever done, and by the time our trip to the Netherlands came to an end, my entire view of World War II had changed. No longer was it simply a series of events taught to me through textbooks. The war came alive through stories of brave men and women who put the freedom of others above their own safety.
I know that as I continue sharing Private Doty's story, others will be inspired by his courage, and his memory will be preserved for generations to come.
Bibliography
Primary Sources
Claude E. Doty, Individual Deceased Personnel File, Department of the Army.
Claude E. Doty, Official Military Personnel File, Department of the Army, National Archives and Records Administration.
Doty Family Photographs. 1919-2019. Courtesy of Gloria Vansickle.
Doty Family Scrapbook. 1945-2019. Courtesy of Gloria Vansickle.
"Forty-Eighth Annual Commencement Held in Center Grove Gym." The Franklin Evening Star, April 24, 1935.
Indiana. Johnson County. 1930 U.S. Federal Census. Digital Images. ancestry.com.
Indiana. Johnson County. 1940 U.S. Federal Census. Digital Images. ancestry.com.
Leonard, Sam. "Smith's Valley." The Franklin Evening Star, March 1945.
"Noblitt-Sparks." Preserving Arvin. Accessed October 22, 2019. www.preservingarvin.com/noblitt-sparks.html.
"Supreme Sacrifice, Killed in Action." The Franklin Evening Star, June 27, 1945.
Secondary Sources
Balkoski, Joseph. From Beachhead to Brittany: The 20th Infantry Division at Brest, August-September 1944. Mechanicsburg: Stackpole Books, 2009.
Balkoski, Joseph. Brittany to the Reich: The 29th Infantry Division in Germany, September-November 1944. Mechanicsburg: Stackpole Books, 2012.
Balkoski, Joseph. Personal interview by the author. October 21, 2019.
Coons, Coke. Arvin–The First Seventy Years. Columbus, Indiana: Arvin Industries, 1989.
Madison, James. "IHB: Hoosiers at War: An Overview of Indiana during World War II." Indiana State Government. Accessed November 21, 2019. www.in.gov/history/4350.htm.