Technician Fifth Class Clinton W. Butefish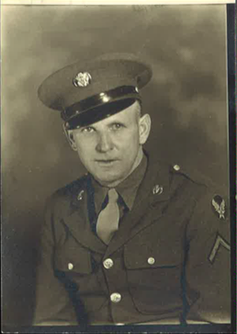 Unit:

1st Armored Division, 81st Reconnaissance Battalion

Service Number:

6865322

Date of Birth:

December 1, 1914

Entered the Military:

December 9, 1938

Date of Death:

February 14, 1943

Hometown:

Eskridge, Kansas

Place of Death:

Kasserine Pass, Tunisia

Award(s):

Silver Star, Purple Heart

Cemetery:

Plot D, Row 19, Grave 1.

North Africa American Cemetery, Carthage, Tunisia
Contributed by Mr. Kyle Johnson
Seaman Middle School
2015-2016
Early Life
Clinton W. Butefish was born on December 1, 1914, to Roy and Lena Butefish. He grew up on a family farm north of Eskridge, Kansas. His grandparents left Berlin, Germany, in the late 1800s to immigrate to Kansas. Growing up, Butefish briefly attended school in Topeka, Kansas, before returning to the family farm in Eskridge and later entering the military.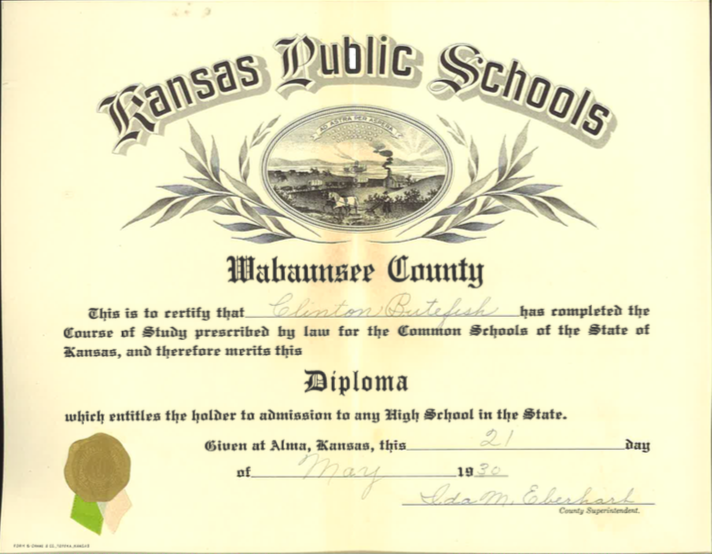 Military Experience
Butefish enlisted in the U.S. Army on December 8, 1938, during the height of the Dust Bowl in Kansas. Farming was difficult, and many young men looked for different opportunities to make a living. He was stationed at Fort Riley, Kansas, for two years and then at Fort Knox, Kentucky. As part of the newly created 1st Armored Division, Butefish received training as a radio technician.
In 1941, he was stationed in Northern Ireland. While there, he learned of his father's passing at the age of 55 from pneumonia after many years of bad health.
Butefish and the 1st Armored Division, also known as "Old Ironsides," landed in North Africa as part of Operation Torch. After landing in Oran, Algeria, the 1st Armored Division was stationed in central Tunisia to guard against an Axis counterattack. After being forced out of Egypt, German Field Marshal Erwin Rommel launched an attack on Allied defenses in Tunisia along the Atlas Mountains.
On February 14, 1943, German Panzer divisions attacked American positions held by the 1st Armored Division in Faïd Pass. Rommel hoped to push the Allies back and prevent them from launching offensives into southern Tunisia.
Butefish was killed in action near Faïd Pass in what would become the Battle of Kasserine Pass. The Eskridge Independent wrote, "According to reports nine enemy planes attacked the Kansan's company, bombing and straffing [sic]. He remained at his post operating the radio in a field vehicle until the enemy planes struck, then voluntarily manned the vehicle's machine gun until a bomb landed in the vehicle."

Eulogy
Butefish's actions at Faïd Pass earned him the Silver Star and Purple Heart. Following the Battle of Kasserine Pass, Butefish was buried in the temporary Tebessa American Cemetery in Tebessa, Algeria, as requested by his mother. On July 1, 1947, his mother received a letter informing her that his remains would be reinterred at the American cemetery in Tunis, Tunisia, later renamed the North Africa American Cemetery, near the Mediterranean Sea.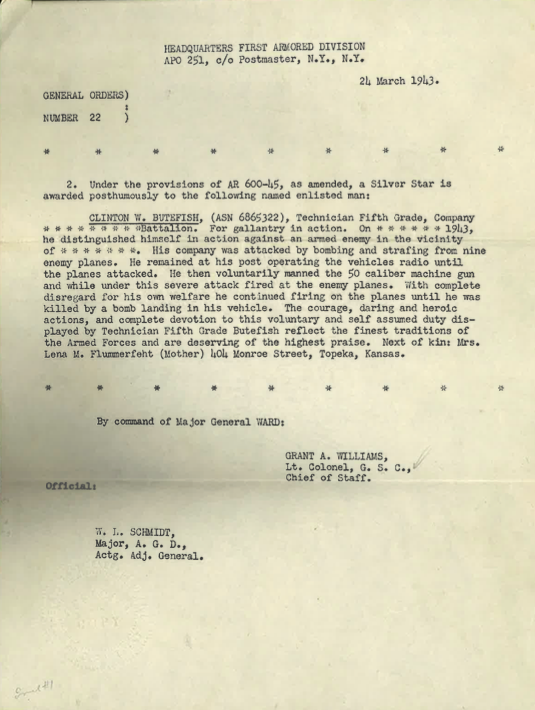 Reflection
Bibliography
"1AD History." 1st Armored Division. Accessed February 27, 2016. www.bliss.army.mil/1AD.
1st Armored Division. Records of the Adjutant General's Office, World War II Operations Report 1941-1948, Record Group 407 (Box 12040); National Archives at College Park, College Park, MD.
Anderson, L.E. Return to the Rapido: 81st Reconnaissance Battalion, 1st Armored Division. Bennington, VT: Merriam Press, 2015.
Atkinson, Rick. An Army at Dawn. New York: Henry Holt and Company, 2007.
Butefish Family History. 1864-1971. Courtesy of Cheryl White.
"Clinton W. Butefish." American Battle Monuments Commission. Accessed February 14, 2016. abmc.gov/node/391230#.VwHH4xMrLdQ.
Clinton W. Butefish, Official Military Personnel File, Department of the Army, RG 319, National Archives and Records Administration – St. Louis.
Clinton W. Butefish, Individual Deceased Personnel File, Department of the Army.
This profile was researched and created with the Understanding Sacrifice program, sponsored by the American Battle Monuments Commission.