Private First Class David George Callahan
Unit:

1st Infantry Division, 26th Infantry Regiment

Service Number:

31233273

Date of Birth:

December 7, 1920

Entered the Military:

November 16, 1942

Date of Death:

June 7, 1944

Hometown:

Boston, Massachusetts

Place of Death:

Formigny, France

Award(s):

Purple Heart

Cemetery:

Plot J, Row 5, Grave 28.

Normandy American Cemetery, Colleville-sur-Mer, France
Contributed by Kaylie O'Connell
Mentored by Ilyse Mahoney
Stoneham High School
2013-2014
Early Life
David G. Callahan was born in Boston on December 7, 1921, and was adopted by Mr. and Mrs. George E. Johnson of Stoneham, Massachusetts. Callahan graduated from Stoneham High School in 1939 and attended college for two years. From 1940 to 1941, at the age of 20, he worked primarily as a farmer. In 1943, he was employed at a rubber factory, assisting the war effort like many of his fellow patriots on the home front.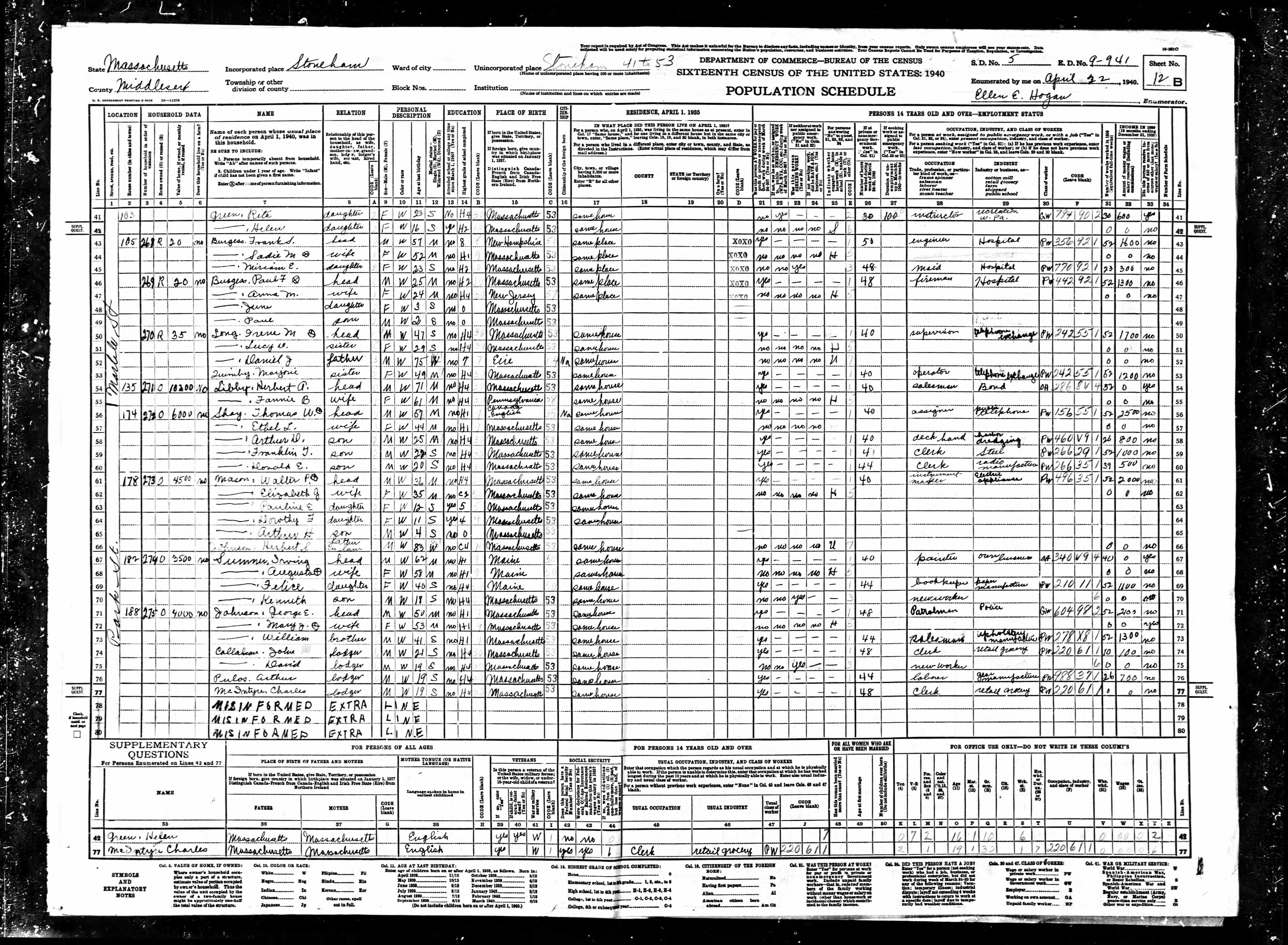 Military Experience
Callahan enlisted in the U.S. military on November 16, 1942, in Boston alongside his three brothers: Arthur Palos and Charles J. McIntyre, both adopted sons of the Johnson's, and his biological brother, John E. Callahan. While it is a tragedy to lose a child, it is also a great honor to have multiple sons readily embark on a crusade for universal liberty and democracy. Naturally, the brothers truly exemplify the American spirit and sincere dedication that propelled the Allies to eventual success. By enlisting and serving together, they forged a unique bond. This unparalleled comradeship can be only be found among the tattered, battle-hardened soldiers of war who are tirelessly fighting to maintain our ultimate freedom.
Following his entrance into service, Callahan was stationed at Camp Maxey and Camp Swift in Texas for several months before being sent overseas in March 1944. Once in Europe, he became a Private First Class and served as a machine gunner for the 26th Infantry Regiment of the 1st Infantry Division. On the night of June 6, his regiment was summoned to supplement the depleted Allied forces who had suffered devastating losses on Omaha Beach earlier that morning. The following day on June 7, despite relative calmness, enemy fire suddenly descended upon the troops. However, there were slight casualties. Callahan was one of only ten men to be killed in action during an attempt to liberate Formigny.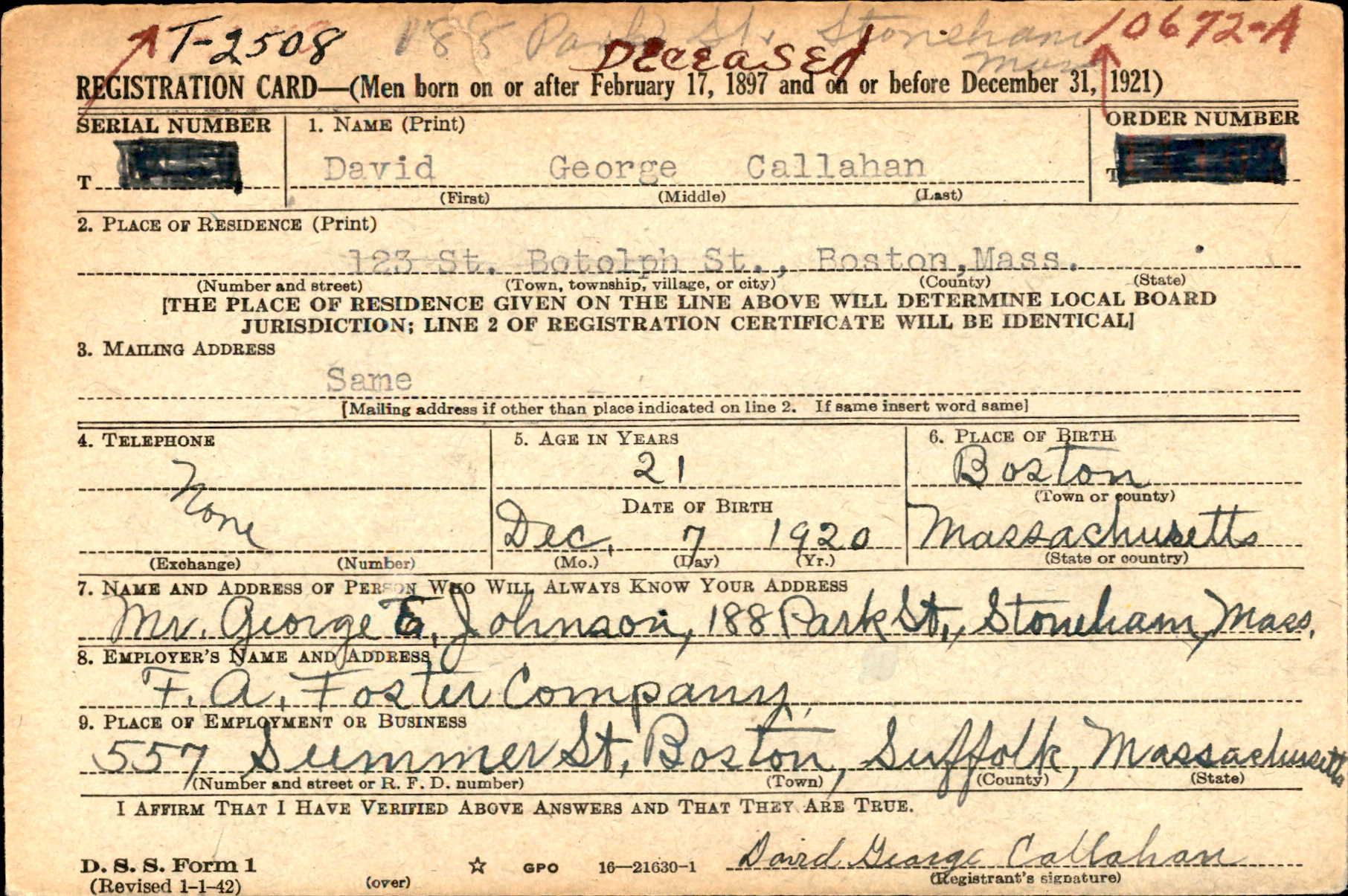 Eulogy
Renowned American writer William Faulkner once said, "Man will not merely endure. He will prevail. He is immortal, not because he alone among creatures has an inexhaustible voice, but because he has a soul, a spirit capable of compassion and sacrifice and endurance." These words ultimately embody the indelible legacy left by fallen soldiers who suffered as a result of a cruel and perpetual war. However, commemorating a fallen soldier is not merely achieved by defining their awards and terms of service. Instead, it is a privilege, an opportunity to recognize the perils they encountered, the camaraderie they solidified, and the sacrifices they made for the restoration of global peace.
Sacrifice, a concept whose meaning has essentially become diluted with its frequent association with mass destruction and warfare, should not be regarded as a mere death on the battlefield. It is the abdication of one's own life to defend a more significant cause. During the Second World War, more than 400,000 American soldiers were slain mercilessly at the hands of a brutal enemy on foreign soil. However, such a considerable loss of human life should not be interpreted as a number; these men did not willingly surrender their livelihoods on distant shores to be remembered by future generations as a statistic. Ultimately, each fallen soldier should be revered as an individual hero whose unwavering audacity allowed for the preservation of America's freedom.
Ultimately, Mr. Callahan and thousands of other men lost their lives at a young age. However, their heroism and bravery will always be imprinted on the hearts of the American people; the nation itself would not be in existence today if not for every soldier's exceptional perseverance and tenacity. Although they are no longer with us today, their memories will live on eternally, and we are forever grateful for their loyal service and selfless sacrifice.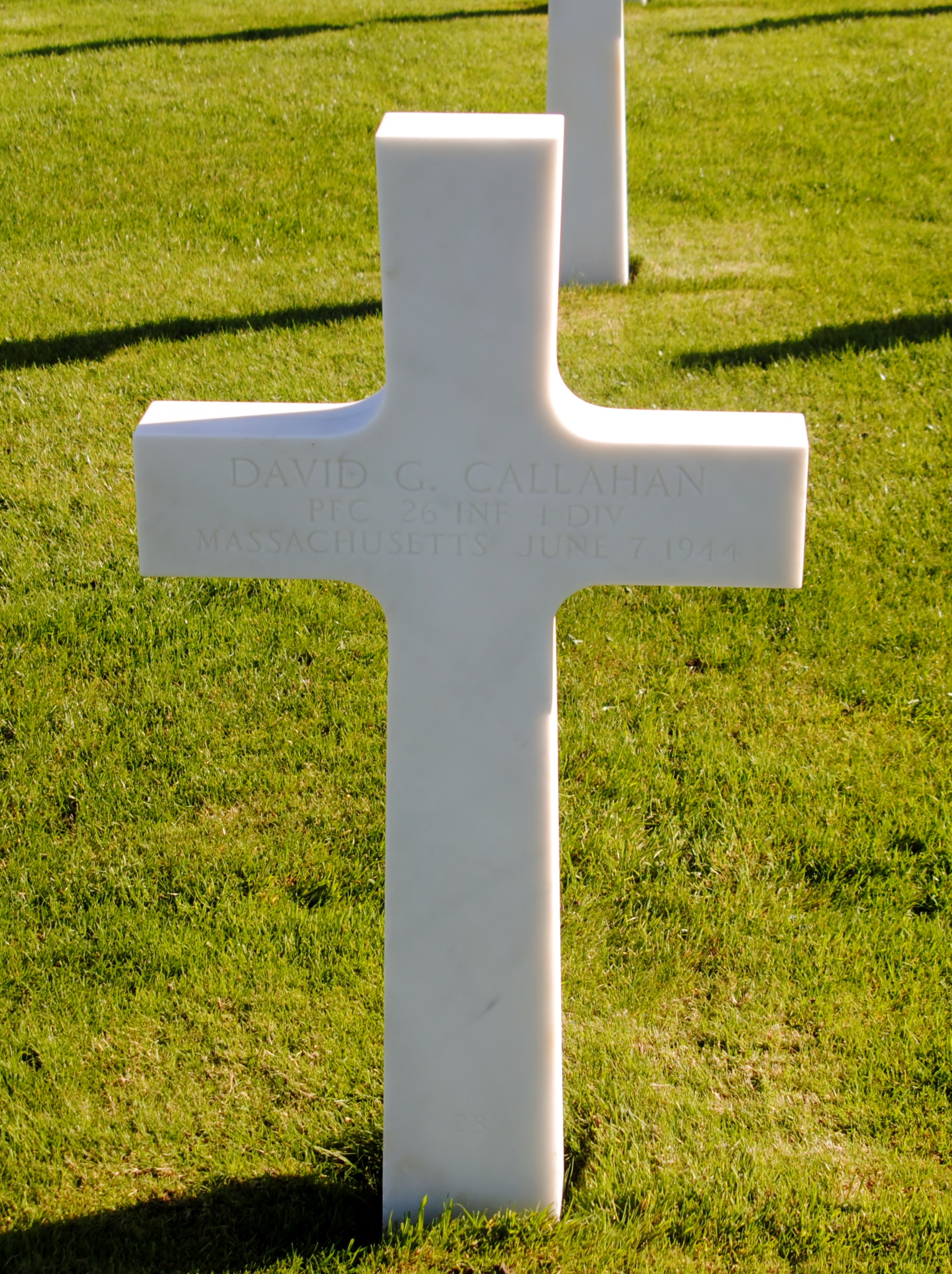 Reflection
My experience during the Normandy Institute was nothing less than life-changing. After learning about the institute from the head of the history department at my high school, I was eager to participate. I have had a perpetual interest in World War II since elementary school. However, my interest was mostly directed to Holocaust, whereas the instituted primarily focused on the military aspects. Therefore, after submitting my essay, I was ecstatic to discover that my teacher and I had been selected to take part in the program. In the months leading up to our pivotal trip to Washington and France, the numerous books that we read augmented my knowledge of the initial causes of the war and the Allies and the Axis powers' military endeavors. Studying the life of my silent hero, David G. Callahan was profoundly moving, as this young man lived in the same town and walked the same halls of the high school where I currently attend.
First, we stayed in Washington D.C. for six days at George Washington University, where we roomed with a fellow student. Each morning we attended two lectures by college professors, many of them discussing topics I had never been familiar with, including counterintelligence during the Normandy campaign and body identification after the war. Also, some of the highlights of our time in D.C. included a tour of the monuments at the National Mall, as well as a visit to the White House, where we each delivered a brief presentation on our silent hero. Furthermore, we had a teacher/student "fun night," and I had the privilege of seeing the Marine Sunset Parade at the Arlington National Summary; we also spent a day at the National Archives to do even more research on our soldier's life.
After spending a week in D.C., we embarked on a 7-hour flight to Normandy, France, to see first-hand where the D-Day assault finally unfolded on that fateful day of June 6, 1944. Here we observed countless memorials and museums dedicated to remembering the triumphs and sacrifices made during the war, including the Pegasus Bridge, the Museum of the Atlantic Wall, Pointe du Hoc, St. Mere-Eglise, the Airborne Museum, Marie Osmont's home, and finally, the British and German cemeteries. My personal favorites including visiting Utah Beach and especially Omaha Beach, for that is where my silent hero perished during the successful yet simultaneously devastating Normandy invasion. Our studies' wrap-up occurred at Normandy American Cemetery, where each student presented a eulogy commemorating his or her Silent Hero. The ceremony was somber and tear-jerking, yet a profoundly effective way to eternally perpetuate the memories of those who died to protect our nation in a time of chaos and utter destruction. After the conclusion of the eulogies, we headed for Paris, where we were given an abundance of free time to pursue the city's spectacles. I was finally able to see the Eiffel, a life-long personal dream, as well as the Arc de Triomphe, the Louvre, and the Cathedral of Notre Dame.
The Normandy Institute was an experience to which nothing can be compared. I will never forget the sites that I visited, the knowledge that I gained, the friends that I made. Most importantly, however, I will always remember the rows of graves that I witnessed at the cemeteries. The countless lives that were lost at the hands of a brutal enemy, and, of course, my Silent Hero, David Callahan, an extraordinary young man who gave up so much to ultimately save the American people.
Bibliography
Primary Sources
David G. Callahan. Photograph. fold3.com.
David G. Callahan. World War II and Korean Conflict Veterans Interred Overseas. ancestry.com.
David G. Callahan. World War II Army Enlistment Records, 1938-1946. ancestry.com.
David G. Callahan. World War II Hospital Admission Card Files, 1942-1954. fold3.com.
David George Callahan. World War II Draft Cards, Young Men, 1940-1947. Digital images. ancestry.com.
Massachusetts. Middlesex County. 1940 U.S. Federal Census. Digital images. ancestry.com.
View from the Square, Stoneham, Mass. Postcard. C.1930-1939. Joseph P. Healy Library, University of Massachusetts, Boston (UASC-0140-0044-0020-0001). openarchives.umb.edu/digital/collection/p15774coll6/id/7677/.
Secondary Sources
"The 1st Infantry Division During World War II." United States Holocaust Memorial Museum. Accessed September 6, 2014. encyclopedia.ushmm.org/content/en/article/the-1st-infantry-division.
"David G. Callahan." American Battle Monuments Commission. Accessed February 27, 2021. www.abmc.gov/decedent-search/callahan%3Ddavid.
"History of the First Infantry Division." First Division Museum at Cantigny Park. Accessed February 27, 2021. www.fdmuseum.org/about-the-1st-infantry-division/history-of-the-first-division/.
"MHC Reconnaissance Survey Town Report: Stoneham." Massachusetts Historical Commission. Accessed September 6, 2014. www.sec.state.ma.us/mhc/mhcpdf/townreports/Boston/stn.pdf.
"PFC David G. Callahan." Find a Grave. Updated August 8, 2010. Accessed February 27, 2021. www.findagrave.com/memorial/56642947/david-g-callahan.
Editor's Note: Some sources list George Callahan's birth date as December 7, 1920 while others list it as December 7, 1921.