Private Delmer Dutton Linaburg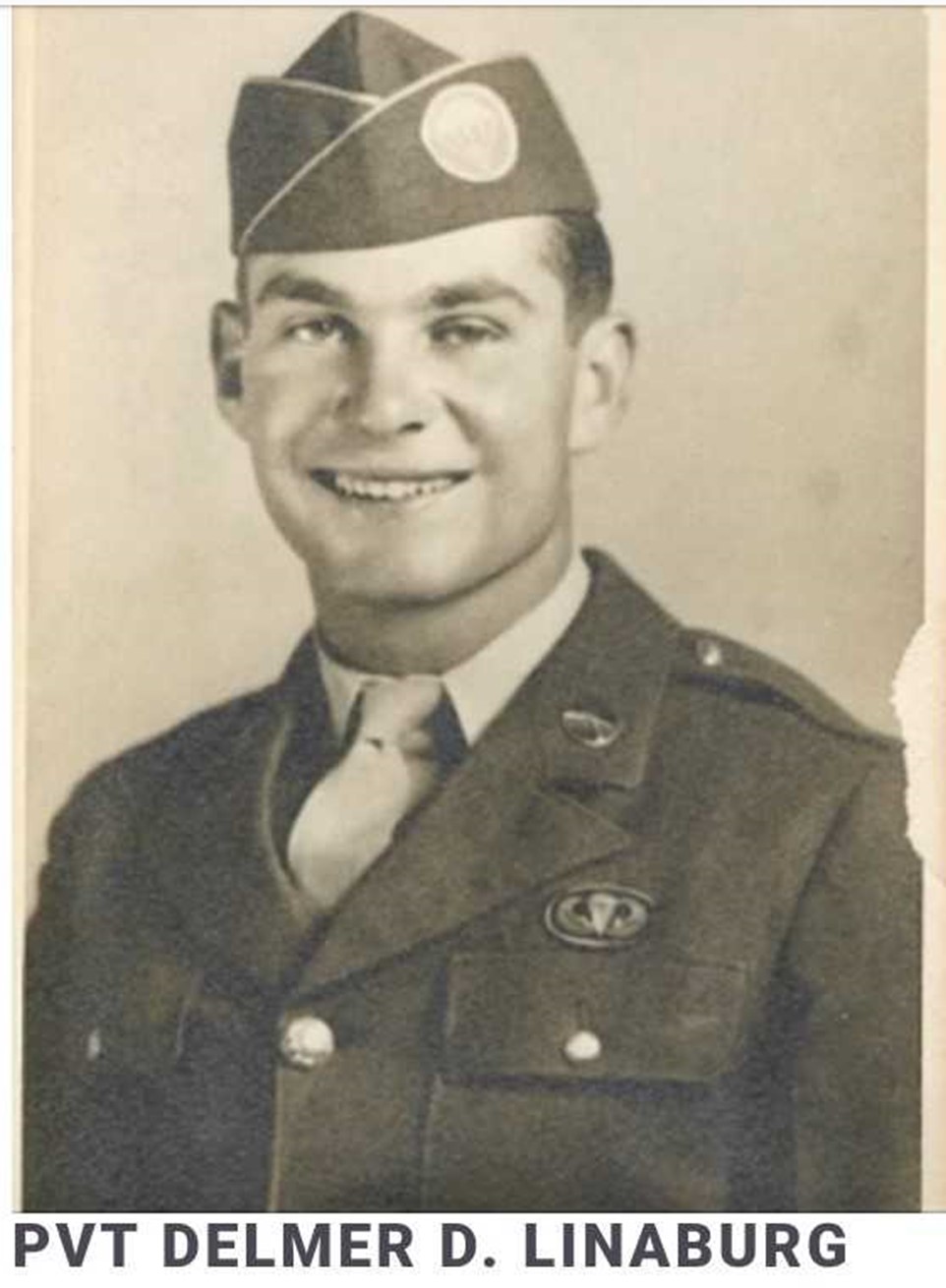 Unit:

101st Airborne Division, 502nd Parachute Infantry Regiment

Service Number:

20365286

Date of Birth:

April 6, 1923

Entered the Military:

February 3, 1941

Date of Death:

June 6, 1944

Hometown:

Winchester, Virginia

Place of Death:

St. Martin, France

Award(s):

Purple Heart

Cemetery:

Plot D, Row 20, Grave 25.

Normandy American Cemetery, Colleville-sur-Mer, France
Contributed by Haley Broga
Mentored by Mrs. Kate Corrado
Freedom High School
2017-2018
Early Life
Linaburg was born on or near April 6, 1923 to Edward and Carrie Linaburg. Delmer had four siblings named Clyde, Esther, Lela, and Douglas. Delmer's parents divorced in 1931, and he lived with his father before moving to live with his mother. His father remarried a woman named Elsie Derflinger. By 1940 Delmer Linaburg had six additional half siblings: Edith, Jessie, Helen, Freddie, Johnnie, and Edward Linaburg.
Delmer spent his childhood in two residences. He first lived in a one room house with his father and brothers, later moving to 813 South Kent Street with his mother. The house still stands, nestled closely among neighbors. Delmer attended John Handley High School until the sixth grade, when he left school to help his support his family. He worked as a cider maker in town, making an average of $19.00 a week. His family had a history of working on fruit farms, and Delmer continued that path.
Delmer was a member of a local church, and relatives described how he and his brothers went to the local grocery store with their allowance. Clyde Linaburg often looked after his younger brothers, and Delmer grew to have a very strong bond with him and his other siblings. He was also known to have a very strong sense of humor. Delmer's niece described the family's fond memories of Delmer's amusing character and humorous qualities.
Delmer Linaburg was 17 years old when he enlisted into the Virginia National Guard, and never married or had children. He did not attended college, but worked to support his family in the other ways that he could.
Homefront
Entering the War
With Winchester at war, Linaburg's hometown became a source of support for the front. World War II amplified industries across America, and Winchester was no exception.
The rural farming town produced a significant amount of fruit prior to the war. The Shenandoah Apple Blossom Festival, founded in1924 in Winchester, became a symbol of the agricultural importance of the town. The apple crop was a significant part of Winchester, and its residents were proud to have the largest apple cold storage facility in the east.
Industry
Winchester, when compared with other cities in America, produced and sold goods at an above average level. The sales per capita at the time of 1944 was $664, significantly higher than the national average of $344. They sold primarily food, along with automotive equipment, lumber, building supplies, and hardware. Two of the largest apple by-product plants in the world were also located in Linaburg's hometown. Winchester was also home to a glove factory and an automobile tire factory.
Winchester was also home to WINC, one of the most modern radio stations in the state. This impacted the town greatly. Information from the war spread quickly, and the culture of big cities had a way into rural Winchester.
The Linaburg Family
On the homefront, Linaburg's sister, Lela, worked as a waitress at York's Tourist Camp. His brother Clyde was a silk worker and a mechanic a local garage. Soon however, Clyde entered the armed forces and served in the Pacific . Articles from the Winchester Evening Star show that the names Seabright and Linaburg were prominent in the town. This could support evidence that the extended Linaburg family were active on the homefront.
Military Experience
Military History and Training
Delmer Linaburg enlisted into Company I of the Virginia National Guard 116th Infantry Regiment on February 3, 1941. He began his military training at Fort George G. Meade in Maryland. Like others, he underwent significant strength and stamina training. On March 25, 1941, Linaburg transferred to Headquarters Company of the 29th Infantry Division, but continued his training at the same location.
On September 11, 1942, Linaburg moved to Company A of the 507th Parachute Infantry Regiment. Linaburg prepared to make the jump into combat, but first he needed to learn how to land successfully. Paratroopers learned how to jump, fall, and roll onto the ground. They practiced mock jumps from large towers, and eventually made their way to jumping from a C-47 aircraft.
In his time of military training, Linaburg was promoted to sergeant at age 19. He continued to train at Fort Benning, Georgia, and was officially placed on jump status on August 17, 1942. He received an additional $50 in his pay, and became a pioneer in American aviation tactics. Linaburg's commanding officers often reported his strong moral character and excellent performance as a soldier.
In 1943, Linaburg was transferred to Company A of the 515th Parachute Infantry Regiment.
It was in February 1943 that Linaburg began to send a portion of his paycheck home to his mother. He sent $35.00 every month to support his family.
While not all details of Linaburg's military records are known, he was transferred to Company B of the 502nd Parachute Infantry Regiment between 1943 and 1944. At this time, he also left the United States to enter the European Theater. Linaburg moved to England and remained there until the invasion of France.
The Invasion
The 502nd Parachute Infantry Regiment was tasked with seizing transportation causeways three and four behind Utah Beach. The causeways were located on the eastern coast of the Cotentin Peninsula in Normandy. Due to flooding, these causeways were essential to the Allied invasion. They were the only way for troops on the beaches to enter into the French countryside. Once these causeways were captured by paratroopers, more forces could safely enter from the coast.
Paratroopers faced many risks on the day of the invasion. The airborne faced heavy fire from German troops, many planes crashed, and many paratroopers missed their drop zones. Once on the ground, heavy equipment weighed down airborne men, causing many to drown in the flooded fields. Others were caught in trees, and their tangled parachutes left them defenseless against German troops.
Linaburg exited his plane on the morning of Operation Overlord and landed in the St. Martin area of France, over 150 miles east of Utah Beach. While attempting to seize a bridge leading to enemy supplies, Linaburg was killed instantly by German machine gun fire.
Linaburg was temporarily buried in two cemeteries before being put to rest at Normandy American Cemetery. The first was in Saint-Martin-de-Varreville, then Sainte-Mère-Église. His mother made the decision to lay Linaburg to rest among his brothers in arms in France. He rests in Normandy American Cemetery among his comrades, who sacrificed their lives as he did. He was posthumously awarded the Purple Heart and the European Theater Medal.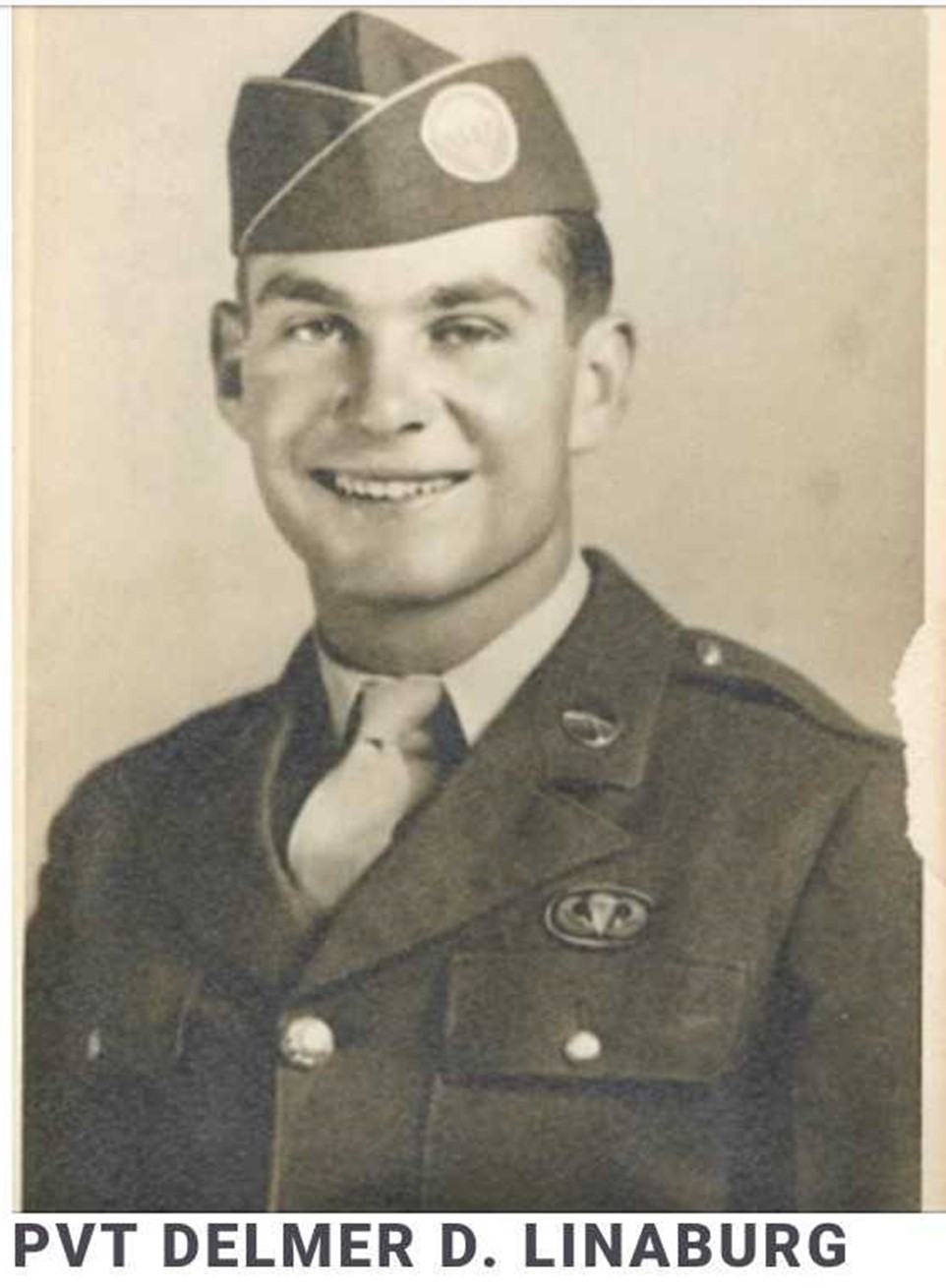 Eulogy
Separated by decades of history, we may not have known Delmer Linaburg personally, but our journey in celebrating his memory has made him family in our own way.
He grew up in a one-room house in the country with two brothers and his father. Despite the financial hardships his family faced, Linaburg approached life with passion. Linaburg was also known to have a goofy sense of humor, he poked fun at his sister in one of his letters home, and joked about other paratroopers getting into trouble at his camp.
But Linaburg was a brother and son first. He had a strong relationship with his mother in particular, who cared for and supported her sons and daughters in the small ways that she could. A week before the invasion of Normandy, Linaburg wrote to ensure that his mother Carrie knew he appreciated all of the sacrifices she made for him. Wanting to assure her, he wrote, "mother, in case anything should happen to me, I want you to know that you are the best mother in the world and I appreciate everything that you have done for me." Linaburg sacrificed his life with the intent to protect and care for his family, but now, we honor his sacrifice for all of us.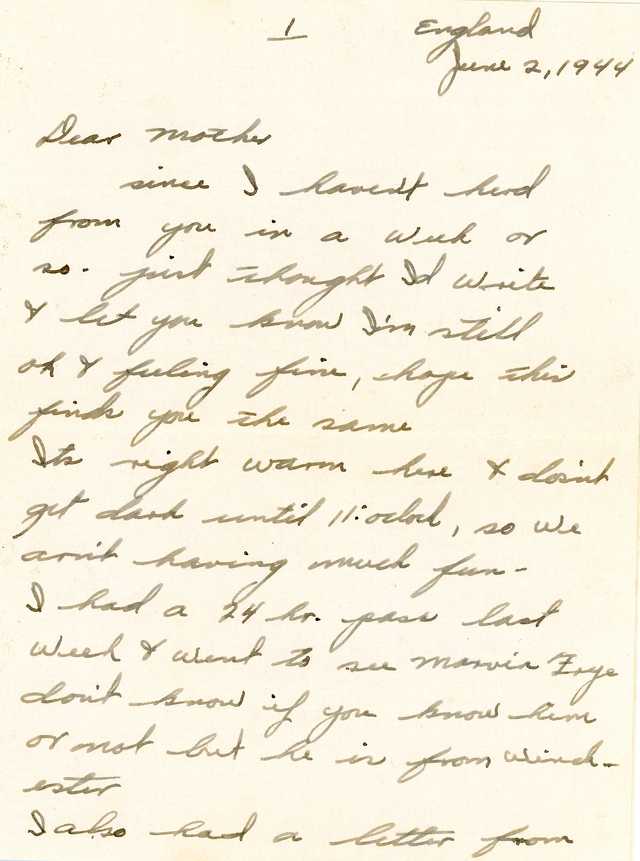 Reflection
I never thought that picking a name off of a list would lead me to where I am now. Delmer Linaburg was one among many with a rich story filled with love, hope, family, and sacrifice. It seems like by chance, we were able to find Linaburg. In fact sometimes it feels more like he picked us. His story has made me laugh and cry on numerous occasions, and even though he died 74 ago, he feels like family.
It breaks my heart to know that there are so many others like him, with a story to be told and sacrifice to be known. I am looking forward to continuing my research on Linaburg, because there's still so much left to find.
When I began my research, I had expressed interest in the military after high school, and this experience has amplified that significantly. I remember standing in the square of Sainte-Mère-Église, looking up at the monument to John Steele, a paratrooper who had been caught on the church steeple during D-Day. It helped me grow to understand the fear, the isolation, and the pain that these soldiers must have felt. But it also helped me to understand their sacrifice.
I am incredibly grateful to have the gift of those memories, standing on those grounds, and seeing history come alive. I am one of very few my age who has been fortunate enough to have these experiences, and I feel so blessed for that. I want to share what I have seen, what I have learned, and what I have become with others.
I keep thinking about my favorite day, the day I gave his eulogy and Linaburg's resting place. The clear blue sky, the warm summer sun, and a cool breeze. Linaburg's grave sits next to a beautiful rose bush, and on the other side is the ocean.
I have gained a stronger understanding of history, war, and sacrifice, and I am looking forward to carrying that with me in the future. Everyday, I am able to wake up and be grateful to open my eyes and see the sun. I never would have had such a humble and precious view on my life without Delmer. Delmer Linaburg's sacrifice will forever be remembered, because he has given me the opportunities he never had.
Bibliography
Primary Sources
Delmer D. Linaburg, Individual Deceased Personnel File, Department of the Army.
Delmer D. Linaburg, Official Military Personnel File, Department of the Army, RG 319, National Archives and Records Administration – St. Louis.
Delmer D. Linaburg. c. 1941. National Archives and Records Administration, College Park, Maryland. In Back to Normandy. Compiled by Derek Hanson. www.backtonormandy.org/component/mtree/places-and-names-to-remember/american-cemetery-and-memorial/117871-D-20-25.html.
Delmer D. Linaburg to Carrie Seabright. June 2, 1944. Courtesy of Derek Hanson.
"Numerical Telephone Directory." Winchester City Directory. Vol. 7. Winchester, Virginia: Southern Directory Publishers, 1941. 209, 224, 341 .
Paratroopers in Douglas C-47. Photograph. June 6, 1941. National Archives and Records Administration (A1564). Image.
"Preface." Winchester City Directory. Vol. 8. Winchester, Virginia: Winchester Printers and Stationers, 1944. 8-9.
Virginia. Frederick County. 1930 U.S. Census. Digital Images. ancestry.com.
Virginia. Frederick County. 1940 U.S. Census. Digital Images. ancestry.com.
Wilson, Ronald S. Douglas Linaburg Certificate of Marriage. Winchester: Corporation Court, January 7, 1945.
Secondary Sources
Corrado, Kate. Delmer D. Linaburg's Grave at Normandy American Cemetery. June 26, 2018.
"Delmer D. Linaburg." American Battle Monuments Commission. Accessed August 24, 2018. www.abmc.gov/node/410945#.W4BdNpNKib8.
Donak, Nancy. Telephone interview with Kate Corrado. April 20, 2018.
Paratroops. United States: US Office of War Information, 1943. Film. March 1, 2017. www.youtube.com/watch?v=PlJ7R3BsPxs.
"Parachute Training in Britain." WWII Today RSS, ww2today.com/19th-october-1942-parachute-training-in-britain.