Flight Officer Edmund Lamont Decker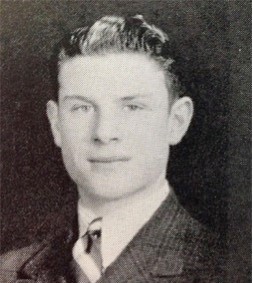 Unit:

361st Fighter Squadron, 356th Fighter Group

Service Number:

T-223119

Date of Birth:

June 7, 1920

Entered the Military:

August 17, 1943

Date of Death:

June 8, 1944

Hometown:

Kansas City, Missouri

Place of Death:

Normandy, France

Award(s):

Distinguished Flying Cross, Air Medal with 3 Oak Leaf Clusters, Purple Heart

Cemetery:

Plot D, Row 16, Grave 40.

Normandy American Cemetery, Colleville-sur-Mer, France
Contributed by Audrey Calovich
Mentored by Dr. Lisa Lauck
Notre Dame de Sion High School
2014-2015
Early Life
Growing Up in Kansas City
With its ten children, the McFerrin family moved to Kansas City's Northeast neighborhood in the early 1900s. Hazel Ann McFerrin, born on June 16, 1888, in Webster City, Iowa, was 17 years old when they arrived. Most of her siblings were carpenters, tailors, or seamstresses. Hazel worked as a bookkeeper for the Ace Company, while her older sister, Lillie Della (known as Dell), was a schoolteacher.
Sometime after 1910, Hazel met and married Edmund L. Decker. Not much is known of Mr. Decker. Together they had two children, Martha Louise Decker, born August 16, 1918, and Edmund Lamont Decker, born June 7, 1920. On August 6, 1920, Hazel Decker was admitted to Kansas City's Grace Hospital. At 1:20 a.m. on August 21, Hazel Ann Decker McFerrin died of tuberculosis meningitis. She was 32 years old. She left behind her daughter Martha, who had turned two years old, just five days earlier, and her son, Edmund, was two months old. Her sister, Dell, was listed as the informant on her death certificate. Her husband, Edmund, was nowhere to be found.
Lillie Della McFerrin lived with her mother, Martha, and a rotating roster of family members at their home on 2835 East 8th Street. The house, along with others on that block, was built in part by the McFerrin brothers. Here Aunt Dell raised the Decker children.
Edmund (known as Ed) and Martha were raised in a loving home. They were surrounded by grandparents, aunts, uncles, and cousins. Family photos show a grumpy boy with his sister and cousin and later a happy Decker on a family farm visit. He was a normal, if not mischievous, boy in the 1920s and 1930s.
From 1934 until his graduation in 1938, Edmund attended Northeast High School. During his freshman, sophomore, and junior years, he seemed to be just another face in the crowd. Sometimes he's listed with classmates. He appeared in an ROTC photo in the 1936 yearbook but spent much of his time under the radar. All of this changed during his senior year. The 1938 Noreaster yearbook is littered with tributes to Edmund Lamont Decker.
After graduation, Ed worked at Skelly Oil on the Country Club Plaza as a mail clerk for two years. He then worked at Western Auto as an Order Clerk while attending Park College. His sister married a good friend, Russell H. Cottrell.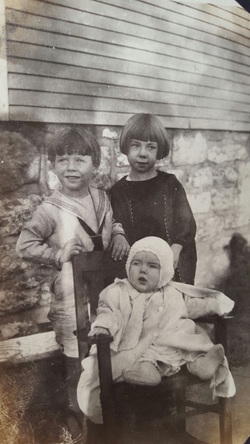 Homefront
Kansas City, Missouri, from the beginning of the twentieth century through the start of World War II, was an exciting and sometimes debaucherous place to live. Organized crime was rampant. During Prohibition, speakeasies could be found in every neighborhood. Jazz had its birth on this "Paris of the Plains." Despite its wild reputation, the average citizen was relatively poor and hard working. Kansas City was made up of dozens of neighborhoods of working poor. The Northeast neighborhoods were known for their civic pride, hard work, and ethnic diversity.
Military Experience
The Royal Canadian Air Force
In August 1941, Edmund Lamont Decker made his way from Kansas City, Missouri, to Ottawa, Ontario, to enlist in the Royal Canadian Air Force. On August 16, 1941, Decker began the process of enlisting in the Royal Canadian Air Force. Although he had no flying experience, not even as a passenger, he presented himself at the recruiting station with the intent of enlisting for Flying Duties, particularly as a pilot or an observer. His future ambition was to become a commercial pilot.
On August 18, 1941, Edmund Decker signed the Declaration Made by Man on Attestation, pledging his service to Canada and the Royal Canadian Air Force (RCAF). Interestingly, he did not take the oath of allegiance to His Majesty (the king of England). It was this oath that endangered the citizenship of Americans enlisting in the service of England and Canada. Without jeopardizing his U.S. citizenship, Edmund L. Decker enlisted in the RCAF and was posted to Brandon, Manitoba. He underwent the RCAF training program, crisscrossing Canada, to obtain all of the necessary skills to become a pilot. On January 22, 1943, he received his Pilot's Flying Badge, achieved the rank of Technical Flight Sergeant, and departed for the United Kingdom.
Once in the United Kingdom, he was sent to No. 3 Personnel Reception Centre (3 PRC) in Bournemouth, England RCAF personnel waited at 3 PRC until an opening was available that fit their requests. Now a Flight Sergeant, Decker remained until May 28 to be assigned as a pilot to the No. 17 Advanced Fighter Unit (AFU). At the same time, he also served with the No. 61 Operational Training Unit (OTU). At this time, the No. 17 AFU was based at Royal Air Force (RAF) Calveley, located in Cheshire, England. The No. 61 OTU was based west of London trained single-seat fighter pilots.
At this time, Flight Sergeant Edmund Decker decided to leave the RCAF and transfer to the United States Army Air Forces (USAAF). On August 16, 1943, Decker left the RCAF and became Flight Officer Decker of the USAAF.
United States Army Air Forces
Decker reported to the newly-formed 495th Training Group stationed in Atcham, England, to fly P-47 Thunderbolts. The P-47 Thunderbolt was the heaviest single-engine plane in existence. It was easy to fly and had a roomy cockpit, unlike the Spitfires and Hurricanes that Decker may have flown for the RCAF. He learned operational procedures before being assigned to the 8th Air Force.
On March 28, 1944, Decker reported to the 356th Fighter Group, 361st Fighter Squadron at Martlesham Heath near Ipswich, England. Martlesham Heath had initially been a Royal Air Force station, but the 8th Air Force had begun to use it for bomber escort and strafing missions over Europe.
Missions recorded on the 356th Fighter Group's Weekly Diary show many missions, occasionally referred to as "Thunder-bombing." The P-47 fighter pilots engaged in some of the war's most dangerous actions—strafing military targets on the ground. They swooped down over the target at over 400 miles per hour, ripping up the ground with machine gunfire. They were close enough to the ground to trim off the tops of trees. They were also susceptible to ground fire from the enemy. The 8th Air Force suffered the highest casualty rate in the USAAF, accounting for more than half the war's casualties. According to the History of the Mighty Eighth Air Force, "the Eighth's personnel also earned 17 Medals of Honor, 220 Distinguished Service Crosses, 850 Silver Stars, 7,000 Purple Hearts, and 46,000 Air Medals."
While Decker's name does not appear in the weekly diary with any absolute frequency until the Normandy Invasion, he most likely participated in these raids. Between March 18 and June 8, 1944, Decker flew at least 30 missions. Varying reports claim between 1½ and five kills.
D-Day and the Battle for Normandy
On June 6, 1944, Decker strafed ground targets behind enemy lines in France. Rare footage of his squadron's activity shows them engaged in dive-bombing a locomotive headed for the coast. June 7 was Decker's twenty-fourth birthday. He is credited in the weekly diary for downing a German FW-190 fighter plane. In a letter home, he boasted of this accomplishment.
On June 8, the 361st Fighter Squadron engaged in multiple missions. At 8:50 a.m., Flight Officer Edmund Decker made the ultimate sacrifice for his country. While strafing a convoy of German trucks, he was hit by ground fire. His plane went into a vertical bank, causing the engine to stall. His plane flew through electrical power lines over the road, crashed in a field, and exploded.
Paul Monfray, an 18-year-old Frenchman who was being forced to dig a trench by the Germans, saw the incident. From Monfray's perspective, Decker hit a power line, which caused him to crash. Decker's fellow pilots saw the high-speed stall and the explosion. German reports seized after the war show that the Germans shot him down. It is probable that all of these things happened, and each witness only saw part of the puzzle.
Decker's squadron mates flew over the impact site, realized he had crashed, radioed him, and receiving no reply, returned to base. Based on Monfray's account, Edmund Decker was dead, but he destroyed the truck and killed four German soldiers in his dying actions.
On June 9, 1944, Edmund L. Decker, a native son of Kansas City, was declared Missing in Action. He earned the Distinguished Flying Cross, the Purple Heart, and two oak leaf clusters were added to his Air Medal. His awards were presented to his Aunt Dell.
On June 8, 1945, Decker's status changed to Killed in Action. His body was interred in an unmarked grave in France. The U.S. Army spent five years and generated over 200 pages of documents trying to identify him. Once he was identified, the U.S. Army notified his Aunt Dell back home. She decided to have him buried in Normandy American Cemetery. She also had a memorial stone placed on his mother's grave in Mount Washington Cemetery in Kansas City.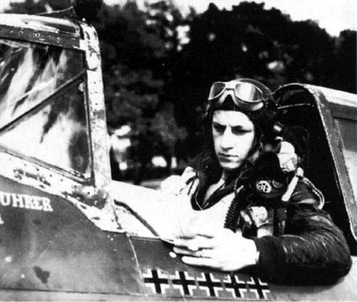 Eulogy
Today, June 30, is D-Day + 71 years and 24 days.
I am here to honor Edmund Decker. A beloved son of Kansas City's Northeast neighborhood, prankster and flirt of Northeast High School, spitfire pilot for the Royal Canadian Air Force, fearless flight officer the USAAF's 8th Air Force, a forgotten hero of the Battle of Normandy.
Edmund Lamont Decker was born June 7, 1920. His mother died when he was two months old, while his father was never in the picture. Despite this, Ed grew up surrounded by people that loved him and his sister.
In the 1938 yearbook, he looks out from his senior picture, handsome in his coat and tie, with perfect hair and a mischievous spark in his eyes. In his senior "will," he left his "ability to get into trouble" and would never be seen "wearing the same clothes twice."
Edmund made his way to Canada to join the Royal Canadian Air Force in August of 1941, risking his U.S. citizenship to fight. There are pictures of him on leave, slick and grinning—hamming it up for the camera with family friends. The RCAF uniform only added to his charm.
In August of 1943, Ed transferred to the United States Army Air Force to fly P-47 Thunderbolts.
From March until June, he flew sorties with the 356th Fighter Group, 361st Fighter Squadron. These missions he took part in, such as Operation Point Blank, would be crucial to the success of D-Day and the invasion of Normandy.
The American fighter pilot in 1944 needed a hair-trigger reflex and nerves of steel. The once dashing and flirtatious Edmund Lamont had been replaced by the stone pilot of a screaming warbird.
Commanding officer William Kepner once said, "A blooded horse will run until he drops, and a fighter pilot will fly until he kills himself or gets killed."
On June 6, 1944, Decker flew with his squadron over the French countryside. Film footage from the machine gun mount cameras conveyed the fear of a young city boy who had been dropped into a hellish warzone, his innocence replaced by brutal reality. Bursts of white flashes show the bullets ripping through the sky and toward a freight train as he dives from a tremendous height and skims low over the target.
And that is how he died. Not on June 6, but two days after, on a different strafing mission. On his second pass over a German convoy, he destroyed the target and killed four German soldiers. He was hit by enemy fire. His plane went vertical, stalled, and then exploded as it crashed through power lines and into a field. Squadron teammates radioed him, received no response, and turned back to base. He had been 24 years old for one day.
It was not easy finding Decker's history. Every time I thought I had a lead, it would end up a dead end. I visited Ed's memorial his family had placed in Mount Washington Cemetery in Kansas City since I had discovered it in January. I loved seeing this place, as the memorial itself is of high quality compared to his family's shabby ones around it, which confirms that he was loved and remembered. The last time I visited, I brought 12 white roses and an American flag for him as a send-off for Normandy. Little did I know that his cousin, who had changed her last name, making her unable to locate, visited his memorial later that day, feeling sorry that no one had honored Ed on June 6, or for his birthday on June 7. When she saw the flag and roses, she sat down and cried because she saw that someone out there still loved him. When she found out it was me who had been to see Edmund, she immediately contacted me and sent pictures that her mother, Ed's cousin, had left her.
Flight Officer E.L. Decker died on June 8, 1944, a highly decorated fighter pilot having earned the Distinguished Flying Cross, the Air Medal with three oak leaf clusters, and a Purple Heart.
Ed possessed a joy of mischief and adventure, an eye for trouble, and a love of life. He was dashing and handsome.
Flight Officer Decker was idealistic, cocky, and brave. He was a fighter pilot—a good one. He made the ultimate sacrifice for his family, his country, and all of us. Although I never knew Edmund, I walked the halls of his high school, strolled through his neighborhood, and I see his image in the old of my hometown. I feel a connection, an ache to see his face clear and split with his dashing smile. I often think of him laughing along with my wit and sarcasm. The once unknown Edmund L. Decker will now receive his very own plaque in Kansas City's Northeast High school and be known forever as a hero.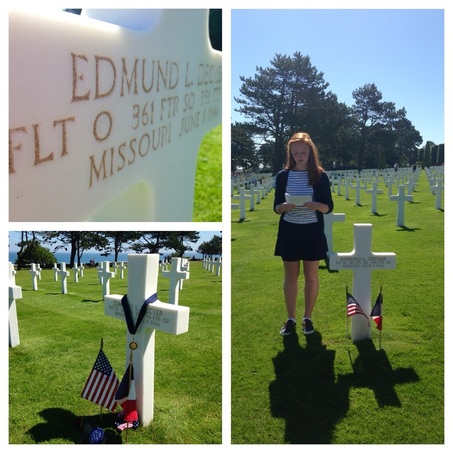 Reflection
Nearly a year ago, I wrote an essay, "The Trip of a Lifetime" as part of my application for Normandy: Sacrifice for Freedom Student & Teacher Institute. Normandy Scholars spend a semester studying World War II and D-Day in preparation for a trip to Washington, D.C. and Normandy, France. Each student chooses a "Silent Hero" to research. The U.S. serviceman must be from the student's state and buried in the Normandy American Cemetery. In December, I learned that I would be one of the 2015 Normandy Scholars.
The first night in Washington, D.C., I wasn't nervous. I have always been able to make friends in a room full of strangers. Except in this scenario, the room wasn't full of strangers. We had all been communicating for months, submitting entries on readings, opinions, and all things we were learning for the trip. It was like meeting old friends. They say that the best way to know someone is to travel with them. I now believe this from experience because, by the end, it felt like we had known each other for years. This unique connection was because we were doing something more than researching and learning. It was more profound than that–following someone from our hometowns to their ends and finalizing their legacy.
Normandy was the experience of a lifetime. The sites we saw brought the history to a surreal picture I didn't think was possible. The black and white photos from 70 years ago suddenly started to move in our imaginations as we strolled Omaha and Utah Beach. Being in Normandy, where countless died to liberate Europe, brought Decker's story to life. We viewed black and white photographs of the places we were visiting, comparing our current locations to how they looked during the German occupation and the battle. We immersed ourselves in the stories of our servicemen. The cliffs overlooking Omaha Beach are breathtakingly beautiful, as are the graves of thousands of men who were lost in the battles. Standing by Edmund Decker's grave, listening to the waves crash, while viewing the sea of white crosses, I felt very close to him—he has become a dear friend.
As we honored our Silent Heroes, it became apparent that we, this new generation, must keep history alive. The sacrifices made by these men must be recognized and honored. As former British Prime Minister Gordon Brown said at the 65th anniversary of D-day, "…in the thin light of gray dawn, more than 1,000 small craft took to a rough sea on a day that will be forever a day of bravery. On that June morning, the young of our nations stepped out on those beaches below and into history. As long as freedom lives, their deeds will never die." It has been a privilege and an honor to memorialize Northeast alum Edmund L. Decker. I have received much so more than I have given.
Bibliography
Primary Sources
Decker Family Photographs. Courtesy of Jan Justice.
[Edmund Decker in his P-47]. Photograph. Courtesy of Jan Justice.
Edmund L. Decker. Headstone and Interment Records for U.S. Military Cemeteries on Foreign Soil, 1942-1949. Digital image. ancestry.com.
Edmund L. Decker. Record of Service Airmen, Royal Canadian Air Force (Attestation Paper), Occupational History Form, Royal Canadian Air Force Parchment Certificate of Discharge, and Service Award Card. Library and Archives of Canada Gatineau.
Edmund L. Decker. World War II Army Enlistment Records, 1938-1946. Digital image. ancestry.com.
Edmund Lamont Decker. World War II Draft Cards Young Men, 1940-1947. Digital image. ancestry.com.
Edmund Lamont Decker. Photograph. Northeast High School Yearbook. 1938.
Justice, Jan. Personal interview with the author. 2015.
Kipper, Roberta. Personal interview with the author. June 2015.
Missing Air Crew Report 42-75556. National Archives and Records Administration. fold3.com.
Missouri. Jackson County. 1930 U.S. Federal Census. Digital image. ancestry.com.
Missouri. Jackson County. 1940 U.S. Federal Census. Digital image. ancestry.com.
Noreaster. Northeast High School Yearbook. 1936-1938.
Northeast High School. Photograph. Northeast High School Alumni Association. northeastvikings.org/.
Showalter, Velma. Personal interview with the author. 2015.
VIII Fighter Command Attacking Ground Targets. Film. YouTube. Accessed March 15, 2021. www.youtube.com/watch?v=U6yvWcG8DR8.
Secondary Sources
"Edmund L. Decker." American Battle Monuments Commission. Accessed March 15, 2021. www.abmc.gov/decedent-search/decker%3Dedmund.
"Edmund Lamont Decker." American Air Museum in Britain. Updated December 17, 2018. Accessed March 15, 2021. www.findagrave.com/memorial/80743037/edmund-lamont-decker.
"Edmund Lamont Decker." Find a Grave. Updated November 20, 2011. Accessed March 13, 2021. www.findagrave.com/memorial/80743037/edmund-lamont-decker.
"FltOff Edmund Lamont Decker." Find a Grave. Updated August 8, 2010. Accessed March 13, 2021. www.findagrave.com/memorial/56643860/edmund-lamont-decker.
"National Museum of the Might Eighth Air Force." Accessed March 15, 2021. www.mightyeighth.org/.