Seaman First Class Edwin Ward Frazier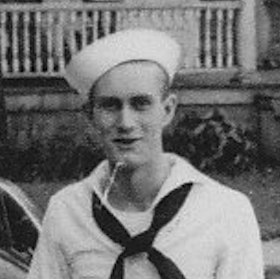 Unit:

USS Leopold

Service Number:

568159

Date of Birth:

March 27, 1925

Entered the Military:

July 17, 1942

Date of Death:

March 9, 1944

Hometown:

Toledo, Ohio

Place of Death:

Atlantic Ocean

Award(s):

Purple Heart

Cemetery:

Tablets of the Missing.

Cambridge American Cemetery and Memorial, United Kingdom
Contributed by Mr. Joe Boyle
Morrison R. Waite High School
2014-2015
Early Life
Edwin Frazier grew up on the tight-knit East Side of Toledo, Ohio – a part of the city defined by its relationship to the Maumee River. For more than a century, the East Side was home to Toledo's shipyards, dry docks, and port facilities.
From the fourth floor lunchroom of Frazier's alma mater, Morrison R. Waite High School, Frazier probably watched the ships go in and out of the Port of Toledo. In some ways, it came as little surprise that when the war called men to service, Frazier was called to be a sailor.
In his student record, his principal described Frazier as a student of flexibility and dependability. Frazier took three years of fairly typical high school courses, including industrial arts and wood shop. Frazier was active in his school and was a member of the champion Waite football teams of 1940 and 1941.
Frazier left high school to participate in a National Youth Administration camp in central Ohio to learn the basics of machining. About six months later, Frazier decided to join the U.S. Coast Guard.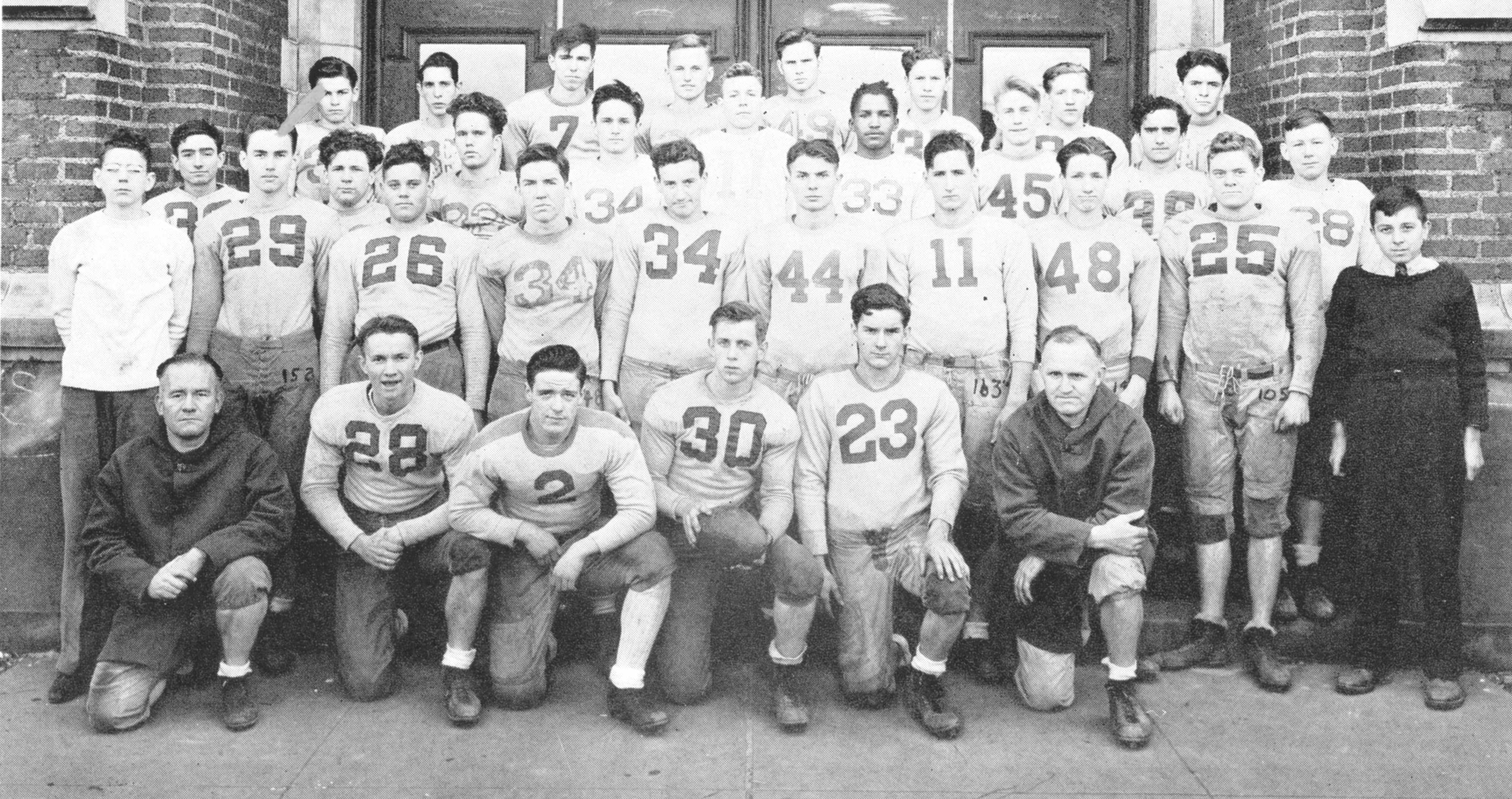 Military Experience
Frazier signed his papers to join the Coast Guard on July 9, 1942. On July 16, Frazier and other prospective sailors spent their last night as civilians eating a steak dinner at the local Elks Club and staying the night in downtown Toledo's Commodore Perry Hotel. The next day, as a naval band played patriotic songs, they took their oaths of enlistment on the steps of Toledo's Federal Building in the "greatest mass enlistment of recruits in the city's history," read a story in the Toledo Blade.
That evening, Frazier reported to the U.S. Coast Guard Station Marblehead, a lifesaving station on the south shore of Lake Erie. Now a Coast Guard apprentice seaman, Frazier learned his craft throughout the summer and fall of 1942 working with expert small boat crews. After earning promotion to Seaman Second Class, he was assigned to the Coast Guard's Buffalo, New York, base for further training. After a year of service spent on the Great Lakes, Frazier may have imagined the war might not include him.
Semper Paratus: Always Ready
The U.S. Coast Guard is best known for its life-saving stations, but the service is also responsible for maintaining aids to navigation, icebreaking, enforcing fishing laws, inspecting vessels, drug interdiction, and environmental protection. During World War II, the Coast Guard dealt with a similar wide variety of missions. The Coast Guard was still responsible for maritime safety at home, but also took on an increased role in securing America's shorelines.
Further, Coast Guardsmen took on many jobs traditionally associated with the Navy. Small landing craft used in amphibious landings were often driven by Coast Guard coxswains. Many attack transport ships were manned by entirely Coast Guard crews. And in both the Atlantic and the Pacific, a new class of ship was often turned over to the Coast Guard.
Destroyer escorts were small, quick, easy-to-build ships designed to protect slow merchant convoys from Axis submarine attacks. Coast Guard crews were assigned to a new fleet of destroyer escorts, built in 1943.
After undergoing training to crew one of these vessels, Frazier joined the initial crew of the brand-new USS Leopold on October 18, 1943.
The USS Leopold
On December 24, 1943, the Leopold set out on its first mission. The ship was one of 25 escorts with Task Force 61, a massive flotilla of 71 cargo ships bound for the Mediterranean. After escorting the convoy to the Mediterranean, the Leopold sailed back to the United States to prepare for her second convoy mission. This convoy would sail through much more dangerous waters than the first: the North Atlantic route. USS Leopold was attached to Escort Division 22, the nation's first all-Coast Guard convoy guardians.
Final Voyage
On March 1, 1944, the Leopold and her sister destroyers set out across the Atlantic with CU-16, a 27-ship convoy. The convoy included at least one troop ship, a number of fuel ships, a few general cargo ships, and a few refrigerated ships full of meat, all destined for ports around the British Isles in the lead-up to Operation Overlord.
The Leopold was the only ship in the flotilla outfitted with new High Frequency/Direction Finding equipment to hunt submarines. On March 8, the Leopold picked up the radar contact of a German sub and altered its route north toward Iceland. They played cat and mouse with the submarine as they proceeded further north and east.
Just before 8 p.m. on March 9, the Leopold and the USS Joyce picked up the submarine again and were ordered to pursue and destroy. The ship was put to general quarters, fired flares, and shot several rounds at the submerging U-255.
The German submarine fired a torpedo at the Leopold, directly hitting the middle of the ship. About 45 minutes later, the ship broke in half, and the bow floated away from the stern, with no men aboard the bow. The stern barely stayed afloat for another few hours, with about 50 men clinging to the battered hull. One by one, most were washed off into the icy waters, never to be seen again.
The USS Joyce, after chasing U-255 out of the area, circled back to rescue survivors of the wreck. The results were sobering: of the 199 officers and men who served aboard the Leopold, only 28 survivors were brought home. Among the missing and presumed dead was Edwin Frazier – just a few weeks shy of his nineteenth birthday.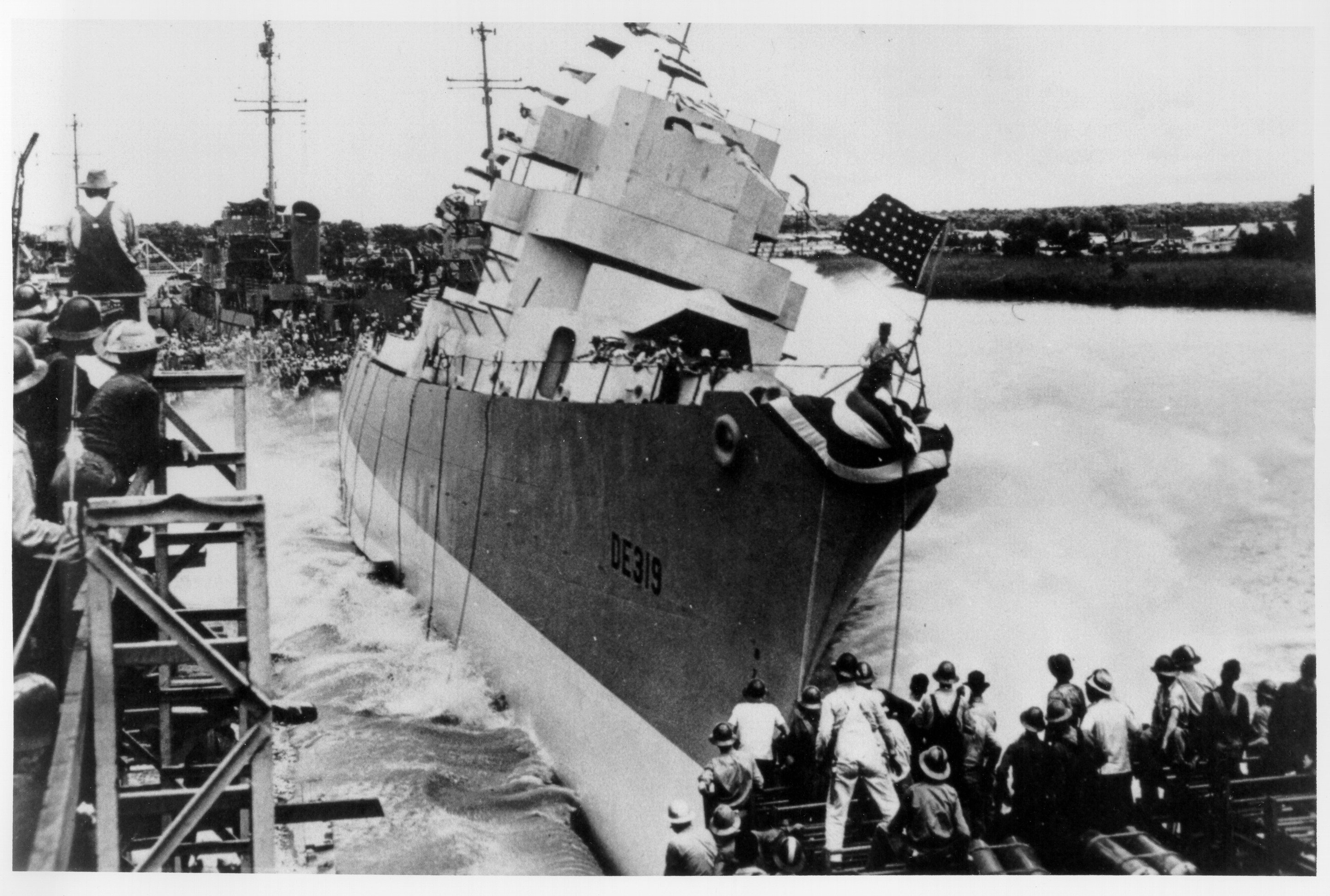 Eulogy
Like most of the other 171 men killed aboard the Leopold, Edwin Frazier's body was never found. At first, the men were declared missing in action. On October 4, 1944, however, the Coast Guard issued its official finding that the men of the Leopold had been killed in action.
Frazier, along with many other officers and enlisted men of the Leopold, is memorialized on the Tablets of the Missing at Cambridge American Cemetery, in England.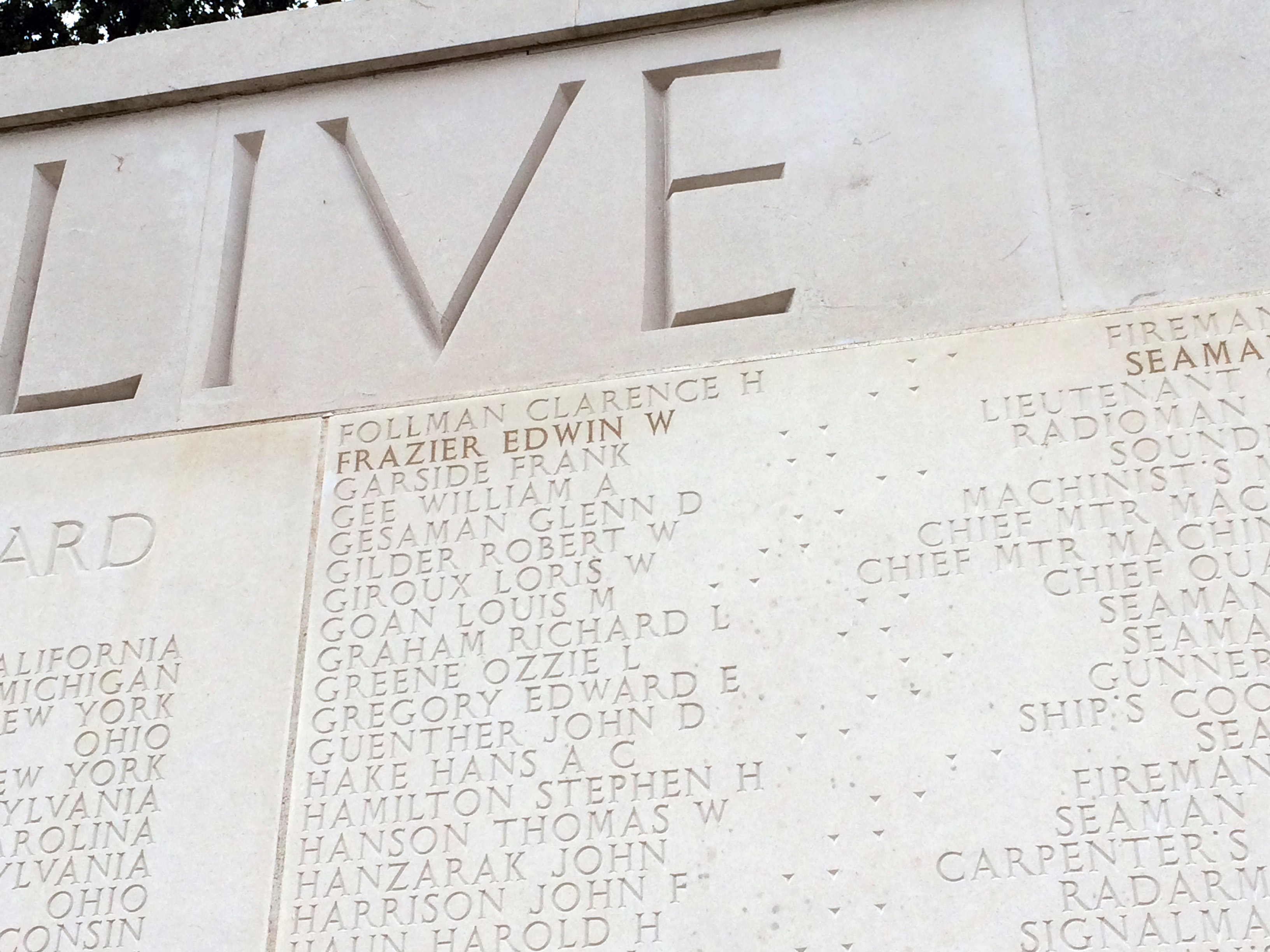 Reflection
Bibliography
United States Coast Guard, Historical Section, Public Information Division. The Coast Guard at War: Lost Cutters VIII. Washington, D.C.: U.S. Coast Guard, July 1, 1947. www.uscg.mil/history/WW2Index.asp.
"Convoy CU 16." War Sailors. Accessed December 2, 2014. www.warsailors.com/convoys/cu16.html.
Edwin W. Frazier, Official Military Personnel File, Department of the U.S. Coast Guard, RG 26, National Archives and Records Administration – St. Louis.
Emily Frazier Marriage License. Lucas County (Ohio) Clerk of Courts. Accessed January 5, 2015. www.ancestry.com.
Edwin Frazier, Individual Deceased Personnel File, Department of the Army.
Edwin W. Frazier Pupil Personnel File. Morrison R. Waite High School, Toledo, Ohio.
Frazier, Greg. Telephone interview by the author. January 15, 2015.
Johnson, Arthur. Reflections of Collingwood Harris, Radarman Second Class, United States Coast Guard Reserve. October 18, 1984. Accessed January 5, 2015. www.uscg.mil/history/WEBORALHISTORY/collingwood_harris_wwii_oral_history.asp.
Kenner, W.W. USS LEOPOLD (DE-319); torpedoing of, 9 March, 1944. April 1944. Accessed January 5, 2015. www.fold3.com.
Ohio. Local County. 1940 U.S. census. Digital images. ancestry.com.
Purple and Gold. Yearbook of Morrison R. Waite High School, Toledo, Ohio. 1940.
Purple and Gold. Yearbook of Morrison R. Waite High School, Toledo, Ohio. 1941.
Purple and Gold. Yearbook of Morrison R. Waite High School, Toledo, Ohio. 1942.
Records of the Office of the Chief of Naval Operations; World War II Action and Operational Reports, Record Group 38 (Box 100); National Archives at College Park, College Park, MD.
Ships, Stations, Units, and Incidents Casualty Information; Records of the Bureau of Naval Personnel, Record Group 24 (Box 49); National Archives at College Park, College Park, MD.
Tenth Fleet Convoy & Routing Files; Record Group 38 (Box 16); National Archives at College Park, College Park, MD.
Toledo Blade. "Edwin W. Frazier Dies In Sinking." April 5, 1944.
"USS LEOPOLD (DE-319)". U.S. Coast Guard Webcutters. Last modified November 17, 2014. Accessed December 2, 2014. www.uscg.mil/history/webcutters/Leopold.asp.
Wilcox, Robert. USS LEOPOLD, Torpedoing of. April 1944. www.fold3.com.
World War II Young American Patriots – Ohio, 1941-1945. Richmond: National Publishing Co., 1946.
This profile was researched and created with the Understanding Sacrifice program, sponsored by the American Battle Monuments Commission.