Staff Sergeant Emile W. Tanguay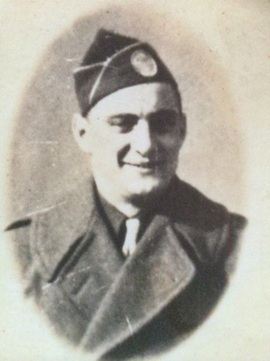 Unit:

101st Airborne Division, 502nd Parachute Infantry Regiment

Service Number:

20111150

Date of Birth:

March 26, 1919

Entered the Military:

January 16, 1941

Date of Death:

June 7, 1944

Hometown:

Fitchburg, Massachusetts

Place of Death:

near Carenton, France

Award(s):

Purple Heart

Cemetery:

Plot C, Row 10, Grave 13.

Normandy American Cemetery, Colleville-sur-Mer, France
Contributed by Se Yeon "Melissa" Kim
Mentored by Daegu International School
Ms. Sharon Gillette
2013-2014
Early Life
Growing up in Fitchburg
Emile Tanguay was born in 1919 to Canadian immigrants, Wilfred and Azeline Tanguay. His Catholic, French-speaking family lived on St. Joseph Avenue in the French Canadian section (Cleghorn) of Fitchburg, Massachusetts. Emile's father, Wilfred Tanguay, worked in a paper mill, while his mother, Azeline Tanguay, earned money as a spinner in a yarn mill. Tanguay had an older sister, Olive, and two younger siblings, Robert and Rita.
He attended St. Joseph's Parish Grammar School and went on to Fitchburg High School. As a youth, Tanguay played the bugle in the Guy Fontgallant Guard, he played second base for the Fitchburg Rangers, and he managed the St. Joseph's Club baseball team. He was later employed as a finisher by Arden Mills of the American Woolen Company.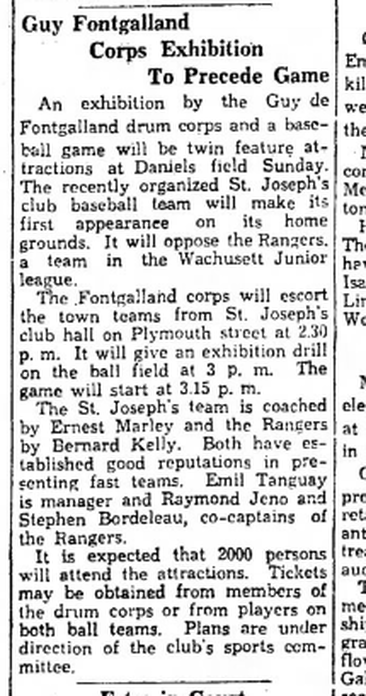 Homefront
The War Effort in Fitchburg
Because of its proximity to the Nashua River, Fitchburg became a center of manufacturing and an important producer of paper, fabrics, and yarn during the 1800s and 1900s. During World War II, the factories in Fitchburg produced felt blankets for the troops. They ultimately sent 160,000 blankets overseas. The Fitchburg Paper Company donated about 1,275 pounds of felt to the war effort. More than 250 of the 500 factories based in Worcester County contributed to the war effort.
On February 9, 1943, Simonds Saw and Steel Company was recognized by the U.S. military "for achievement in war production" for producing light armor plating in large quantities.
Military Experience
Having enlisted in the National Guard in January 1941, Tanguay received his basic training at Camp Edwards in Cape Cod, Massachusetts. In April 1942, Tanguay and six other young men from Fitchburg were selected, along with 23 enlisted men from the 181st infantry, to travel to Fort Benning, Georgia. There, the men trained with the paratroopers. One of these men was Tanguay's best friend and baseball teammate, Sinai Bordeleau.
From there, his training continued at Fort Bragg, North Carolina. While in North Carolina, Tanguay met Lelia Barbee of Lenwood, North Carolina. They married on March 6, 1943 in York, North Carolina. Tanguay came home on furlough for five days to visit with his parents in August 1943. This marked Tanguay's last visit with his family. Then he returned to Fort Bragg, where he remained for a month before leaving for England.
Before D-Day
Tanguay and his fellow paratroopers spent nine months in Europe participating in additional intensive training with the 101st Airborne Division, or the Screaming Eagles, to prepare for the Normandy Invasion. On June 5, 1944, Tanguay wrote a letter to his 18-year-old brother Robert, who was a member of the U.S. Navy stationed on Long Island, New York.
In a letter, to his brother Robert, he wrote:
Hello Bob,Have received your most welcome letter this afternoon and also the wonderful package that you send me for the candy is very good…you should have seen the fellas gather round when I open(ed) it…(W)e do have a pretty good softball team…we have lost two games last week but we can't win them all…I am very glad that you are still able to get home every three weeks for I bet that makes Mother very happy…I am glad that you are having some pretty nice weather down your way, so far here it isn't so bad…I see you're still working in the mess hall. I guess there could be a lot worse job than that…I see that you are starting to get around with the girls now..be careful…some of them are just no good kid…I will be closing for now. Goodbye and take care of yourself, Emile
Parachute Landing on D-Day
At dawn on June 6, 1944, three hours before the main beach landings at Normandy, at H-hour, Tanguay and his fellow members of the 101st Airborne Division began their role in the D-Day invasion. Unfortunately, his group, like others under heavy enemy fire, landed off target. Tanguay survived the landing.
The next day on the way to Carenton, at Dead Man's Corner, Staff Sergeant Emile Tanguay became one of the 16,000 silent heroes of Normandy. As American troops moved through the village of Carenton, Sinai Bordeleau, the young man who grew up with Tanguay, saw his best friend, get "hit with a phosphorus shell" and die.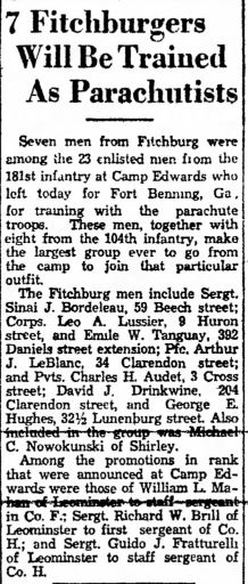 Eulogy
On Saturday evening, June 24, 1944, Emile's parents Wilfred and Azeline Tanguay, received word from the U.S. Army that their son became "the first Fitchburg serviceman to be killed during the invasion battle" in France on June 7, 1944.
Sadly, just one year later, they learned that their youngest son, Seaman First Class Robert Tanguay, died fighting on an island in the Pacific. Mrs. Azeline Tanguay became a Gold Star mother.
In a newspaper article, written fifty years after D-Day, Emile's best friend, Sinai Bordeleau, remarked, "I never wanted to visit Normandy, because of what happened to Emile." However, he, like other members of the greatest generation, did come to the Normandy American Cemetery and he paid his respects to his dear friend.
At the funeral mass held on July 3, 1944, at St. Joseph's Church in Fitchburg, Massachusetts, Emile Tanguay was honored for falling "bravely on the battlefield" and for sacrificing "the best years of his life for the service of his country," for which he was awarded the Purple Heart.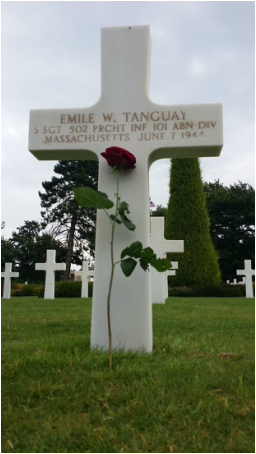 Reflection
The Normandy: Sacrifice for Freedom Student and Teacher Institute was an amazing experience for me.
I realized that learning from books is absolutely different from seeing the sights themselves. There is no doubt that absorbing information through books before visiting places in person is necessary, even imperative. However, if one takes the further step of visiting the landmarks, such as going to Pegasus Bridge and Utah Beach, where one can almost feel the presence of the families who laid wreaths there for their loved ones, one feels as if one were part of the invasion and the experience becomes much more personal and real.
When we went to Saint-Lô, for example, I was shocked at the fact that I could almost see the destruction of the town and the renovation of the town that occurred subsequently. Specifically, the Notre-Dame Church consisted of two original sides of the building, connected by the part in the middle that was destroyed during the air bombings. The entire city was built on and around those ramparts, which can be seen today.It has inspired me to go to a Korean Memorial, where my ancestors are honored, their names and feats forever remembered by countless generations.
After the program, I realized the true impact this program has had on my life, indeed it was a turning point that made me appreciative toward all the sacrifices that I came to see and feel during my research on my silent hero, Emile Tanguay. Before the Institute, never did I think of the sacrifices that the soldiers made so deeply with serious and sincere thought. Never have I felt that history was so personal, that each person who was involved in certain events in history, especially in a war, whether a private or a captain, had a unique story to tell. Never have I valued and realized the true beauty of preserving and keeping the memories of these people alive.
Throughout my research, I learned that Emile Tanguay was just a normal boy who enjoyed playing baseball and bugle, went to church, and joined the National Guard. I sincerely felt I had a special and personal connection to him. From him, I learned the true and deep meaning of appreciation and gratitude. From him, the Normandy Invasion was no longer a simple military operation; now, it became a symbol of the sacrifice made by soldiers to achieve peace, including Emile Tanguay.
Bibliography
Primary Sources
"7 Fitchburgers Will Be Trained As Parachutists." Fitchburg Sentinel. April 18, 1942.
Bernier, Bill. Email message to Sharon Gillette. April 2, 2014.
Bordeleau, Guy. E-Mail message to Sharon Gillette. February 28, 2014.
Brousseau, Sleve. Email message to Sharon Gillette. March 3, 2014.
Buron, George. Email message to Sharon Gillette. March 1, 2014.
Tanguay Family Photographs. 1941. Courtesy of Jane LeBlanc.
"Emil W. Tanguay." Fitchburg Sentinel. July 3, 1944.
"Fitchburg Soldier Killed in France." Worcester Telegram and Gazette. June 25, 1944.
A French Triclour floats over a street in Carentan, the first French…. Photograph. June 1944. Imperial War Museum (EA 26383). www.iwm.org.uk/collections/item/object/205195375.
Kievra, Robert. Email message to Sharon Gillette. February 18, 2014.
LeBlanc, Jane. Email message to Sharon Gillette. February 15, 2014.
Massachusetts. Worcester County. 1940 Census. Digital Images. Ancestry.com.
"Paratrooper found Fight at Hell's Corner, Carenton." Norwich Sunday Bulletin. June 5, 1994.
"Service Men's News." Fitchburg Sentinel. February 10, 1943.
"Tanguay-Barbee." Fitchburg Sentinel. March 23, 1943.
Tanguay, John. Email message to Sharon Gillette. 12 February 2014.
"Wachusett Juniors Adopt A New League Schedule And Plan Opening Contest." Fitchburg Sentinel. May 29, 1937.
Secondary Sources
"Emile Tanguay." American Battle Monuments Commission. Accessed May 9, 2020. www.abmc.gov/decedent-search/tanguay%3Demile.
Stokesbury, James L. A Short History of World War II. New York: Harper, 1980.
Wieviorka, Olivier. Normandy: The Landings to the Liberation of Paris. Cambridge: Harvard University, 2008.