Private First Class Ernest Allen Tanksley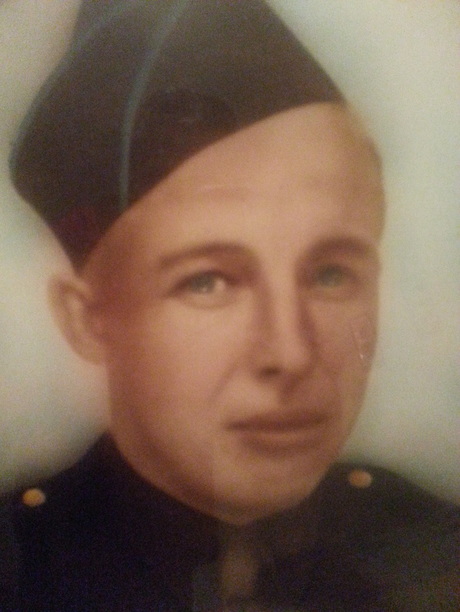 Unit:

90th Infantry Division, 357th Infantry Regiment, 1st Battalion, Company D

Service Number:

38283119

Date of Birth:

March 5, 1920

Entered the Military:

October 20, 1942

Date of Death:

July 5, 1944

Hometown:

McLennan County, Texas

Place of Death:

near Le Plessis-Lastelle, France

Award(s):

Purple Heart

Cemetery:

Plot D, Row 25, Grave 36.

Normandy American Cemetery, Colleville-sur-Mer, France
Contributed by Isaac Romer
Mentored by Dr. Greg Borchardt
Lorena High School
2015-2016
Early Life
Ernest Allen "Buck" Tanksley was born on May 5, 1920, in Chatsworth, Murray County, Georgia, to Allen Tanksley and Ora Spivey. Ernest was the third sibling of five. He had two older brothers, Harold and Buford, a younger brother, John, and a baby sister, Mary Aline.
Ernest's father, Allen, died of typhoid fever in Chatsworth on October 25, 1925, leaving Ora alone to raise four sons and a daughter. In the late 1920s, the family moved from Georgia to McLennan County, Texas. In Texas, they lived with Ora's parents, William Alexander and Mary Elizabeth McClure Spivey, who were cotton farmers near present-day Lorena. While cotton and subsistence farming helped the family survive through the Great Depression, Tanksley decided to leave school after sixth grade to provide for his family. He got a job shoveling cement for the National Youth Administration, and his work ethic helped his family survive through trying economic times.
In the early 1940s, Tanksley's mother remarried Vivian Gertrude Allen, who lived in Falls County, Texas. Vivian's younger brother, Alvin, had a daughter, Birdie Mae. Ernest met his stepfather's niece, and they married on January 15, 1942. On March 15, 1945, Tanksley's stepfather, Vivian, died from pulmonary tuberculosis.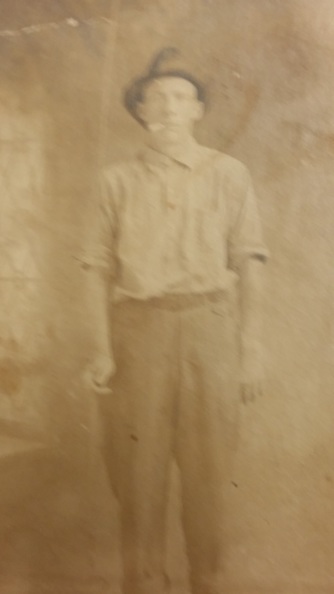 Homefront
World War II had both positive and negative effects on Central Texas. The citizens of Waco, Texas, bought war bonds, led metal drives, and contributed to the American Red Cross to help the war effort. Wacoans also participated in scheduled blackouts to prepare for the threat of bombings, improved training programs in local hospitals to train more war nurses, and even volunteered for service. Waco High School went from 2,162 students to 1,545 (a loss of 617 young men) in only one year due to military enlistments. The Army also built an Army Air Forces base in Central Texas that began operations during May of 1942. The Army Air Corps base was called "Blackland" Army Air Field after the dark soil in Waco, Texas. The training of hundreds of pilots is perhaps the most significant contribution Waco made to the war effort. Today, Blackland serves as Waco's Regional Airport.
With all the economic activity surrounding the war, World War II helped Waco recover from the Great Depression. McLennan County saw a 365% increase in industrialization during the war. However, Baylor University suffered due to lagging enrollment. More men went off to serve or take lucrative industry jobs rather than head to college at this time. The university closed its law school, canceled homecoming, dropped out of the Southwest Conference Football League, deactivated the student band, and left construction to the student union building unfinished. However, there was a silver lining; Baylor was one of 131 colleges and universities that took part in the V-12 Navy College Training Program, which helped Baylor survive the years of decreased enrollment. As the town developed, people came to Waco for jobs, leading to a population increase of 28,724 residents.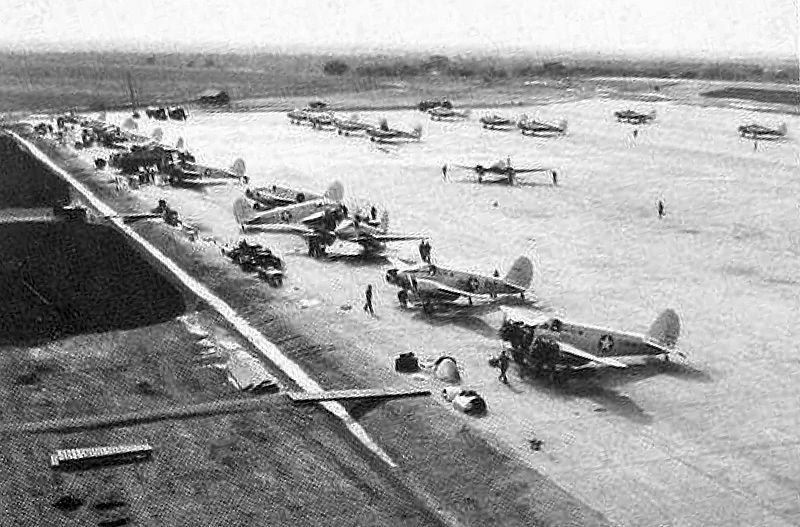 Military Experience
Ernest Tanksley was drafted into the United States Army in October 1942. He was assigned to the 357th Infantry Regiment, 90th Infantry Division, and immediately reported for training at Camp Barkeley near Abilene, Texas. Back home in Waco, his wife, Birdie Mae, gave birth to their daughter, Mary Jane, on July 6. During the next few months, Tanksley traveled from California to New York for training. He and the rest of the 90th Division set sail for England by March of 1944.
Tanksley's company handled heavy artillery, both mortars and heavy machine guns. Soldiers initially formed the 90th Infantry Division from Texas and Oklahoma but later included soldiers from all over the United States. Known as the "Tough 'Ombres," the 357th Infantry Regiment waited in reserve for the initial attack on Utah Beach, arriving on D-Day +2, but they were instrumental in pushing into central France once the beach was secured. After landing, the regiment headed southwest through Normandy.
In July 1944, they were ordered to secure a small, advantageous German outpost in Beaucoudray near Le Plessis-Lastelle, France. Based on division reports and his approximate time of death, Tanksley was killed in this approach on Beaucoudray, fatally struck by a bullet to the chest. He died on the battlefield in one of the most intense engagements in the Normandy Campaign.
After Tanksley's death, he was awarded the Purple Heart. His family also received a letter from President Franklin Delano Roosevelt to honor his sacrifice. Birdie Mae struggled to cope with her husband's death. As Mary Jane put it, "My mother was married by 15, a mother by 16, and a widow by 17." Birdie agreed with her mother-in-law that his body should remain in France. Today Ernest's memory lives on through his family: his daughter Mary Jane, his two granddaughters, four great-grandchildren, and seven great-great-grandchildren. Mary Jane's family currently resides in Oregon, but various nieces, nephews, and extended family of the Tanksleys still live in Central Texas.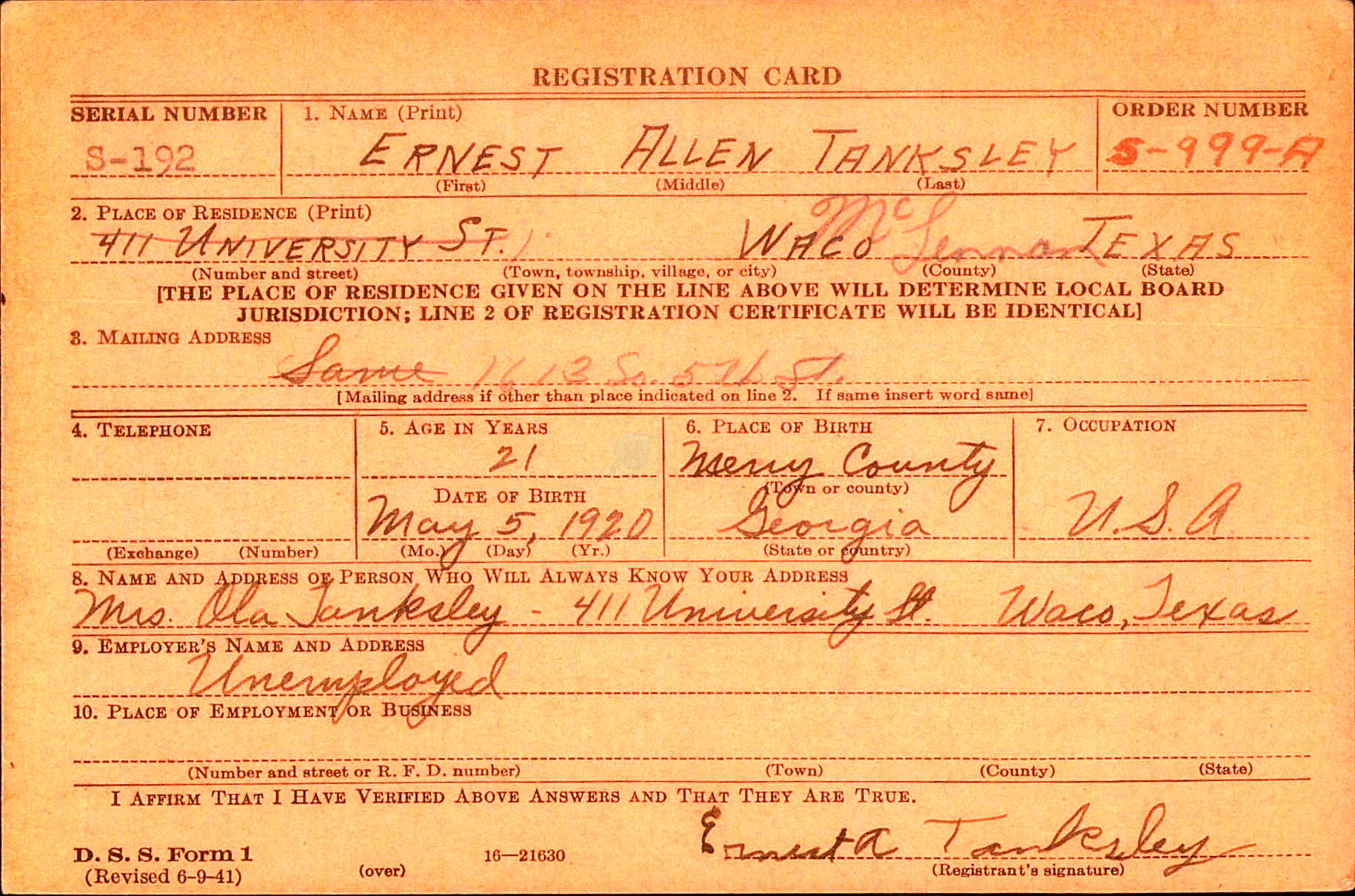 Eulogy
Private First Class Ernest Allen Tanksley was a survivor. That might sound strange considering we are standing. Private Tanksley's memory survived beyond his death with his wife, Birdie Mae, and his daughter, Mary Jane Tanksley, along with his siblings and their families. He has four grandchildren, six great-grandchildren, and a step-grandchild. His death had a significant impact on his family, especially Birdie, who waited by the door for years after his death, expecting him to walk through and come home.
Over time, Birdie Mae learned to live with her loss and moved to Oregon with her daughter. However, she never forgot about Ernest. It was vital for her to tell her family that they had someone in the family who was a hero, who sacrificed his life protecting them. We should all follow Birdie's example and remember the fallen and preserve and spread their stories. I am genuinely thankful for Private Tanksley's sacrifice, and I know that his sacrifice allows me to be free.
We all have a responsibility to make sure that all of these Silent Heroes' legacy survive long into the future. Their sacrifice ensured that freedom and democracy survived its greatest threat. The shot that ended Private Tanksley's life may have done its intended job at the time, but we cannot let that bullet silence him. He was taken too soon, but that does not mean his legacy should die as well. Private Tanksley's story will not end with his death because his memory continues to survive. Private Tanksley sacrificed everything for his country, and my biggest wish is for him to know that we do not take that fact for granted. For these many reasons, Private First Class Ernest Allen Tanksley was a survivor.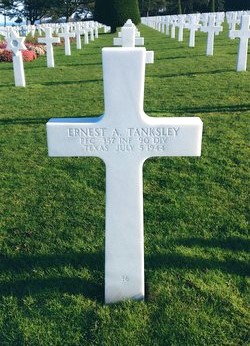 Reflection
The opportunity I had to go to France not only to research World War II but to learn about sacrifice through the story of someone that I would have never known or remembered was life-changing. Sacrifice is a complicated subject to understand correctly, but there is something special about standing on the beaches or walking into the Normandy American Cemetery that makes you think. We will never know what every soldier's sacrifice meant to them, and that's a sad thought. However, having this opportunity to dig deeper into an individual's story has been very beneficial to my knowledge of World War II and my understanding of sacrifice's intensity and meaning.
Private Tanksley likely never thought that someday a boy from his hometown would make a website honoring him. He made the sacrifice of leaving his family for bigger reasons. Although I have felt a connection with him through my research, I will likely never know the names and stories of all of the soldiers whose graves I walked by in Normandy who sacrificed so much for me. That is the magnitude of sacrifice: the thousands of heroes' untold stories.
This institute allowed me to gain that personal connection that so many people lack, and I will be forever grateful for this experience I have gained.
Bibliography
Primary Sources
Allen Tanksley. Golding Family Photographs. Courtesy of Stella Golding.
Birdie Mae Tanksley. Tanksley Family Photographs. Courtesy of Mary Jane Tanksley.
Blackland Army Airfield… Photograph. 1943. U.S. Army Air Forces. en.wikipedia.org/wiki/File:Blackland_Army_Airfield_Aircraft_Parking_Ramp.jpg.
Ernest Tanksley. Tanksley Family Photographs. Courtesy of Mary Jane Tanksley.
Ernest A. Tanksley. Headstone and Interment Records for U.S. Military Cemeteries on Foreign Soil, 1942-1949. ancestry.com.
Ernest A. Tanksley. World War II Army Enlistment Records, 1938-1946. ancestry.com.
Ernest Allen Tanksley. World War II Draft Cards Young Men, 1940-1947. Digital images. ancestry.com.
Golding, Stella. Interview with the author. February 23, 2016.
Normandy Invasion, June 1944. June 6, 1944. Naval History and Heritage Command (111-SC-190062). www.history.navy.mil/content/history/nhhc/our-collections/photography/wars-and-events/world-war-ii/d-day/SC-190062.html.
"Pfc Tankersley Killed." Waco News Tribune-Herald, August 13, 1944.
Tanksley, Mary Jane. Telephone interview with author. March 3, 2016.
Tanksley, Mary Jane. Interview with Dr. Greg Borchardt. July 23, 2016.
Texas. McLennan County. 1930 U.S. Federal Census. Digital images. ancestry.com.
Texas. McLennan County. 1940 U.S. Federal Census. Digital images. ancestry.com.
Vivian G. Allen. Texas Death Certificates, 1903-1982. Digital images. ancestry.com.
Secondary Sources
"357th Infantry Company D." The 90th Division Association. Modified 2013. Accessed March 24, 2021. www.90thdivisionassoc.org/History/Yardlongs/RegTroops/357Dco.html.
"Ernest Allen Tanksley." Find a Grave. Updated August 4, 2010. Accessed March 24, 2021. www.findagrave.com/memorial/55877696/ernest-allen-tanksley.
"Mont Castre – Hill 122 (Manche)." D-Day Overlord. Accessed March 24, 2021. www.dday-overlord.com/en/battle-of-normandy/cities/mont-castre.
Roeder, George Von. Regimental History of the 357th Infantry. Weiden: Ferdinand Nickl Buchdruckerei, 1946.
Wallace, Patricia Ward. Waco: A Sesquicentennial History. Virginia Beach: Donning, 1999.