Private Eugene Jesse Appleby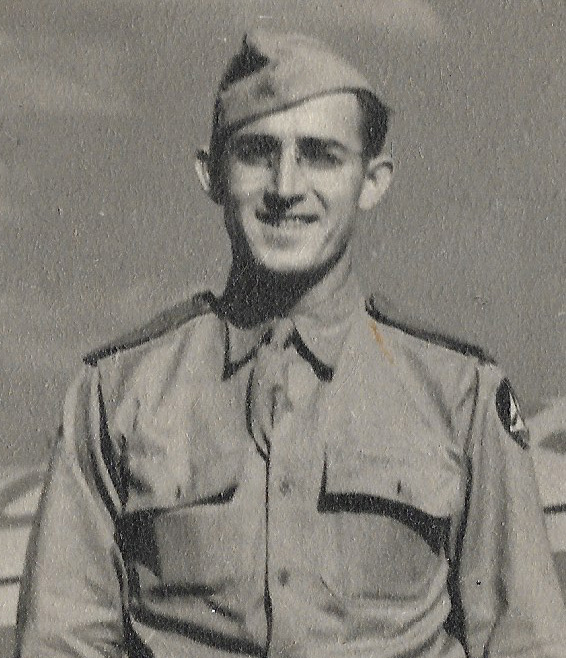 Unit:

508th Parachute Infantry Regiment, 82nd Airborne Division, Company A

Service Number:

35295352

Date of Birth:

September 1, 1914

Entered the Military:

November 1, 1943

Date of Death:

September 18, 1945

Hometown:

Columbus, Ohio

Place of Death:

Nijmegen, Netherlands

Award(s):

Bronze Star, Purple Heart

Cemetery:

Tablets of the Missing.

Netherlands American Cemetery, Margraten, Netherlands
Contributed by Madison Ellcessor
Mentored by Mrs. Mary Bezbatchenko
Licking Heights High School
2019-2020
Early Life
Private Eugene (Gene) J. Appleby was born on September 1, 1914, in Coshocton, Ohio to Mark and Elizabeth Appleby. The Applebys were both born in Pennsylvania and married in 1911. Louise, Appleby's younger sister, died at the age of six from pneumonia.
A year into their marriage the couple moved to Ohio, where Mark managed a glove factory, working there from 1912 to 1923. Afterwards, Mark moved to Indiana and became the superintendent of the U.S. Glove Company. Mark and Elizabeth ultimately divorced after moving to Indiana, leaving behind Eugene, his two younger sisters, and the sad memories of their daughter, Louise, whose remains the family then relocated to Columbus. Marriage records revealed Mark Appleby later remarried and lived in Toledo, Ohio. However, he continued face hardships in his life, committing suicide in 1940.
While living with his mother and two sisters, Eugene Appleby attended North High School in Columbus, where he participated in football, basketball, track, and swimming. Additionally, Appleby played piano, read sheet music, and joined multiple clubs. Following high school, Appleby attended The Ohio State University as an economics major. However, school records revealed he dropped out after his freshman year.
Afterwards, Appleby took on two different jobs, as an expeditor for Ranco Incorporated in Columbus and a sales clerk in a department store in Columbus for three years. At some point before enlisting, Appleby spent at least a year at the Price Flying Club, racking up 25 dual hours, and 77 solo hours. He even flew cross country and obtained a student pilot certificate.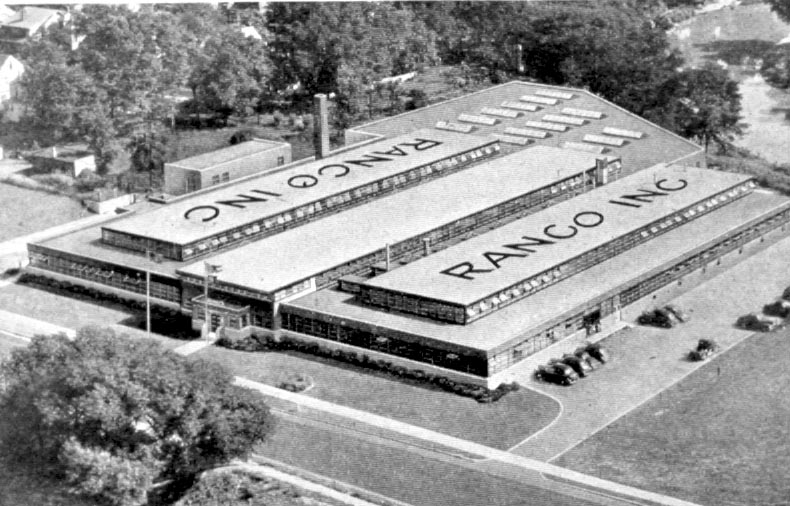 Homefront
At the time the war erupted in the United States, Appleby lived in Columbus, Ohio. As a strong industrial production state, Ohio quickly switched to wartime industrial production, helping to manufacture transportation vehicles. In 1941, the U.S. military established Air Force Plant 85 just six miles outside of Columbus. It employed 24,000 people and produced 3,500 naval aircrafts through a government contract with Curtiss-Wright Corporation. The company leased 83 acres of Port Columbus territory to use in manufacturing aircrafts in October 1940. In 1941 and 1942, the U.S. government assumed operation of the airport, creating the Naval Air Facility.
The Battelle Memorial Institute in Columbus aided the war effort by funding applications for scientific research in order to improve armor for tanks and military vehicles and for use in the Manhattan Project. The Ohio Branch of the Council of National Defense advised Ohio governor James Cox to mobilize the state for the war effort. For example, the Ohio Industrial Committee advised how to place workers into jobs that aided in wartime production.
People living in Ohio at the time often volunteered for the American Red Cross chapters across the state, donating blood and putting together "going away" packages for soldiers. An American Red Cross scrapbook detailed the hardworking attitude of Ohioans, speaking to their "unwavering devotion to duty" and ability to rise to the challenge, despite the "shifting tides of world events."
Ohioans also contributed to the war effort in numerous ways. Citizens participated in scrap drives, grew victory gardens, and adhered to rations and blackout regulations. The victory gardens often helped supplement their diet, as Americans grappled with wartime food shortages and rationing.
Military Experience
Eugene Appleby enlisted in the U.S. military in November 1943 at Fort Hayes in Columbus, Ohio. Soon thereafter, he began training at Camp Fannin in Texas. He moved around a bit during his training, stationed at both Fort Benning, Georgia and Fort Meade, Maryland, where he completed a demolitions course.
After much training, Appleby ended up in the 508th Parachute Infantry Regiment, also known as "Red Devils" and "Fury from the Sky." Records revealed remarks praising his character and his excellent level of efficiency. Though the 508th Parachute Infantry Regiment participated in the Normandy invasion in June 1944, Appleby did not. He had taken a leave of absence, or a furlough, and did not ship out until two months later in August 1944.
In September 1944, Eugene Appleby departed from Langor Field, England to participate in Operation Market Garden. The operation hinged on securing a bridgehead across the Rhine River and required the combined efforts of armor and airborne forces. The airborne regiments' job was to capture five bridges ahead of the armored force. On September 17, 1944, Appleby and his regiment were tasked with landing at Drop Zone "T", north of Groesbeek, Netherlands, to capture the Nijmegen Bridge across the Waal River, ahead of the infantry. The regiment withstood major enemy fire, and they ultimately captured 483 German prisoners of war. While they lost men, none of the "Red Devils" were captured by the enemy.
Appleby did not live to see the end of Operation Market Garden. Almost immediately upon landing, he was believed to have been struck by enemy fire. The records of the actual circumstances surrounding his death are somewhat vague. However, testimony by two of his company members support the idea that Appleby died just after landing in Drop Zone T.
Sargent Lawrence E. Larson reported that he saw Appleby hit in the head and fall to the ground. He recalled walking within ten yards of him, and Appleby's face was covered in blood. Private Eugene Garletts reported the same experience, noting Applebly's bloody and torn face before departing to complete the mission.
After Appleby's death, the enemy "retook [the] area in which [Appleby's] casualty occurred," possibly the reason that his body was not found until much later. In fact, after the battle cleared, Appleby's mother was sent a letter in September 1944 that declared her son missing in action (MIA), and presumed dead. Mrs. Appleby later received a letter from the War Department, giving their greatest sympathies for the loss of her son. The letter read that "nothing the War Department can do or say will in any sense repair the loss of your loved son. He has gone, however, in honor and godly company of patriots."
Appleby's name was added to the Tablets of the Missing in the Netherlands American Cemetery. He was posthumously awarded a Bronze Star for bravery and a Purple Heart.
More than 70 years later, the Royal Netherlands Army Recovery and Identification Unit (RIU) received word that human remains had been found at the Groenendaal Farm in September 2011. The RUI transferred the remains to the Joint POW/MIA Accounting Command, (now DPAA,) for identification. Scientists at DPAA analyzed the DNA of the remains and gathered a list of possible MIA candidates. Appleby's name appeared at the top of the list.
By matching the DNA of the remains to living relatives, his niece and cousin, the DPAA confirmed the remains belonged to Private Eugene Appleby. He had finally been found. Appleby's family chose to have his remains returned to Ohio. He was given a proper military funeral and was buried next to his mother and sister, at South Lawn Cemetery in Coshocton, Ohio, in June 2017. Appleby's name remains on the Tablets of the Missing in the Netherlands American Cemetery, though a rosette marks his status as found.
Eulogy
Private Eugene "Gene" J. Appleby was born on September 1, 1914 in Coshocton, Ohio to Mark and Elizabeth Appleby. Appleby moved around during his early life due to his father's career. Appleby experienced sorrow and loss in his life even before the war began, suffering the death of his sister, Louise, to pneumonia in 1933, his parents' divorce, and the death of his father in 1940.
Appleby enlisted in the military in November 1943. On September 17, 1944, Private Appleby and the rest of the 508th Parachute Infantry Regiment joined in the airborne assault of Operation Market Garden. It is known that Private Appleby successfully jumped and landed at the marked drop zone as planned for the operation. However, as the regiment gathered their equipment bundles, members of the regiment recalled witnessing Appleby being struck by enemy fire and falling to the ground.
Private Appleby's body was not found, and the U.S. Army declared him missing in action. His name was added to the Tablets of the Missing in the Netherlands American Cemetery. In 1945, his mother received a letter noting that her son was presumed dead.
In September 2011, Appleby's remains were discovered and identified. The U.S. Army transported Appleby home for the first time in 73 years on June 20, 2017. Private Appleby was given a memorial service open to the public. He was then laid to rest in South Lawn Cemetery in Coshocton County next to his mother and sister. The Columbus Dispatch reported that "a crowd of strangers moved closer to surround the family, all there to honor a man they had never met because he had pulled on a uniform, defended a nation, and laid down his life for the cause."
Welcome home, and rest easy, Private Appleby.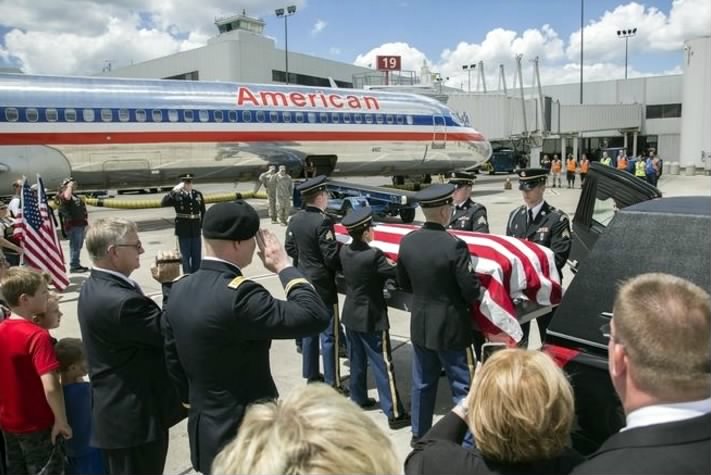 Reflection
The 2019 Operation Liberty program through National History Day and Liberation Route Europe entailed less than a week of adventure, but a lifetime of memories and experiences. By far, the most haunting and impactful parts of the trips were the visits to the German Cemetery and the Netherlands American Cemetery in Margraten.
The German Cemetery can most definitely be described as "haunting" with the heavy silence that permeates the air and the rows upon rows upon rows of graves — graves that house men and women and children separated from their homeland, some graves of men led astray, some of cruel men that will go down in infamy as heartless. Walking among the graves brought to life the reality of the war — many of the German soldiers were merely children of 15 or 16, fighting for a cause because they were simply told that was what was right. Reading the names and seeing how old these soldiers were when they died brought to light the knowledge that the "big, bad" German soldiers that fought in the war were but a few, and most of the men were simply children serving their country as they had been ordered to do.
Netherlands American Cemetery hit close to home. Just walking past the graves and seeing the state in which the soldier had resided before his death made it so personal. These men were buried on foreign soil, departed from their families, dying from fighting for the lives of others, while giving up their own. However, the wonderful care and keeping of the cemetery did well to remind us that the local residents are thankful, and that our men are safe in their hands. In fact, the grave adoption program touched my heart greatly, as every adopter cared for their grave as if that man had been a member of their own family. And that is all we could ask for them.
This trip was unforgettable and did well to remind me of all that I have, because of these men and many more who fought and gave their lives to ensure that I have freedoms and a great life. Perspective is what it is all about, and this trip allowed my perspective to shift and change.
Bibliography
Primary Sources
Gene J. Appleby, Official Military Personnel File, Department of the Army, RG 319, National Archives and Records Administration – St. Louis.
Gene Appleby, Individual Deceased Personnel File, Department of the Army.
Indiana. Grant County. 1930 U.S. Census. Digital Images. ancestry.com.
Mark Applebly. Marriage Records. Pennsylvania Marriages. Digital Images. ancestry.com.
Mark Applebly. Marriage Records. Ohio Marriages. Digital Images. ancestry.com.
"North High School Senior Memory Book, Polaris, 1933." Columbus Yearbook Collection. Columbus Public Library. digital-collections.columbuslibrary.org/digital/collection/yearbook/id/19870/rec/2.
Ohio. Coshocton County. 1920 U.S. Census. Digital Images. ancestry.com.
Ohio. Franklin County. 1940 U.S. Census. Digital Images. ancestry.com.
"Appleby Accepts Position at Marion, Ind. Firm." The Tribune, October 12, 1918. basic.newspapers.com/image/321145973/?terms=mark%2Bappleby.
"Louise Appleby Pneumonia Victim." The Tribune, August 17, 1923. basic.newspapers.com/image/322715064/?terms=mark%2Bappleby.
World War II compensation fund, pensions, and discharges [microform], 1948-1963. State Archives Series 4495 Roll GR8788. Ohio History Connection, Columbus, OH.
Zachariah, Holly. "Private finally home, 73 years after his death in the Netherlands." Columbus Dispatch, June 22, 2017. www.dispatch.com/news/20170622/private-finally-home-73-years-after-his-death-in-netherlands.
Secondary Sources
"508th Parachute Infantry Regiment." Accessed October 29, 2019. www.508pir.org/.
"Columbus Regional Airport Authority History." Accessed December 18, 2010. columbusairports.com/storage/staging/20171211172828-columbus-regional-airport-authority-history.pdf.
"Gene Appleby." American Battle Monuments Commission. Accessed October 10, 2010. www.abmc.gov/node/382779.
"Overview of Ohio, 1940-1950." Accessed December 18, 2019. www.ohiohistory.org/OHC/media/OHC-Media/Documents/rp-17-3.pdf.
"The 82nd Airborne: The 508th Parachute Infantry Unit." Accessed October 29, 2019. www.ww2-airborne.us/units/508/508.html.