First Lieutenant Felix Philip Schlamberg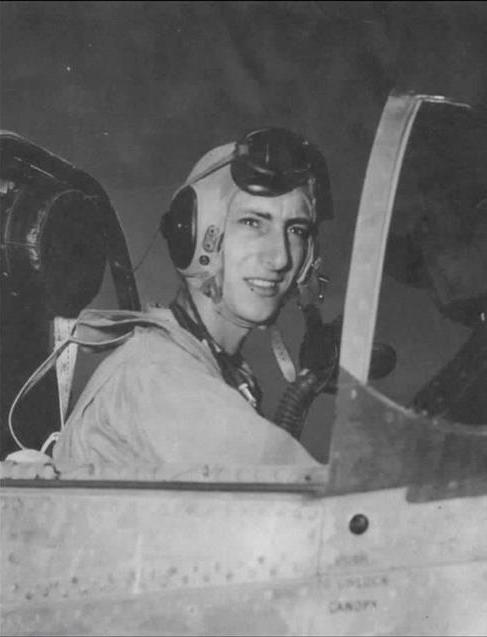 Unit:

78th Fighter Squadron, 15th Fighter Group

Service Number:

0-826781

Date of Birth:

November 30, 1923

Entered the Military:

December 15, 1942

Date of Death:

August 14, 1945

Hometown:

Brooklyn, New York

Award(s):

Air Medal with 2 Oak Leaf Clusters, Purple Heart

Cemetery:

Courts of the Missing, Court 7.

National Memorial Cemetery of the Pacific, Honolulu, Hawai'i
Contributed by Mr. Scott Johnson
Battle Ground Academy
2016-2017
Early Life
Felix Philip Schlamberg was born around 1924 to Sol (Shiome) and Mollie Schlamberg and into a large Jewish family that included his seven siblings: Sally, Yetta, Jacob, Rose, Sydney, Meyer, and Lottie. His family resided in Brooklyn during the 1920s and 1930s. Felix (known as Philip) and his siblings grew up poor. His father left when he was young, forcing his mother to raise all eight children alone. The entire family lived in a small, one-bedroom apartment.
Schlamberg, who his brothers and sisters called "Phelly," was known as a lovable pest. He and Meyer were inseparable, doing almost everything together. They knew how to have fun, but they also knew the meaning of hard work. In 1938, Schlamberg attended Abraham Lincoln High School in Brooklyn.
According to his family, Schlamberg scored in the 99th/100th percentile on his Regents exams while at Abraham Lincoln High School, extending a family tradition of being at or near the top of the class. In 1942, Schlamberg enlisted in the U.S. Army, like many of his classmates.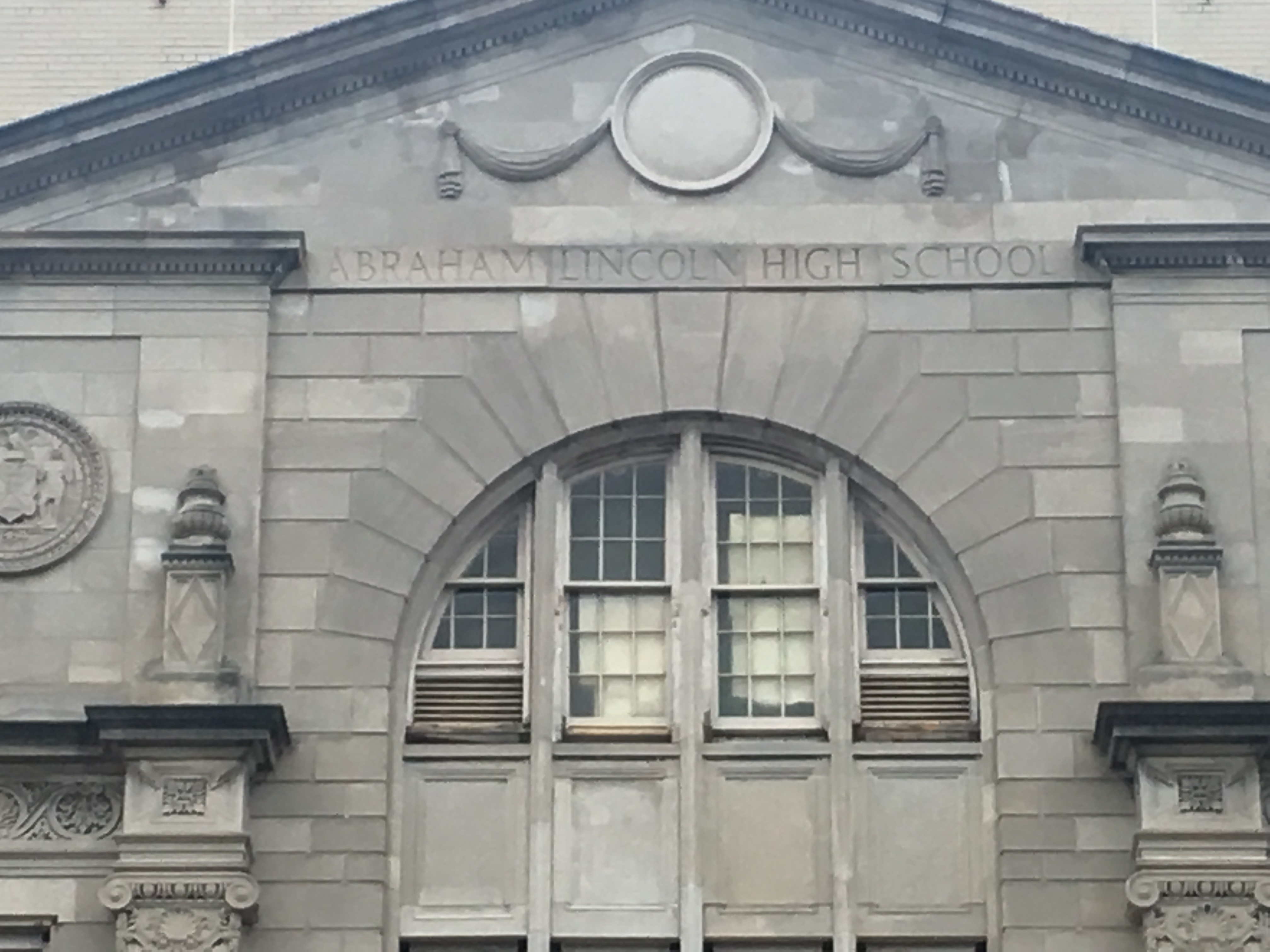 Military Experience
Schlamberg entered the U.S. Army Air Corps. His nickname among his fellow soldiers was "Einstein" because of his obvious intelligence. He often entertained his comrades with his harmonica and his guitar when they had some leisure time.
In July 1945, Schlamberg was a "shavetail" or a newly commissioned Second Lieutenant. During a firebombing raid over Osaka, Japan, the leader of his squadron of P-51 Mustang fighters saw some stormy weather and recalled the squadron back to base. When the squadron returned, Schlamberg was not there. Fellow pilots began to worry. In a story published in the Brooklyn Daily Eagle, one remarked, "I knew Schlamby would be licked in a storm. He is always doing things wrong."
Schlamberg returned shortly thereafter. He told his fellow pilots, "I went over the target!" He explained, "When I saw the stormfront, I tacked on to a 29's wing and stuck there. Darned if I was going to let him shake me." He reported continuing his mission to protect B-29 bombers as they dropped their payloads over Osaka.
He asked his squadron commander, "Say colonel, when we reached that stormfront, did you order us to return to base? I thought I heard something like that, but I wasn't sure." The commanding officer replied, "You Brooklyn boys are always overrunning second."
Schlamberg was promoted to First Lieutenant two weeks later. The storm he was ordered to avoid led to the loss of 27 fighter planes who did not turn back in time.
By August 1945, Schlamberg and his fellow pilots in the 15th Fighter Squadron based on Iwo Jima were looking forward to the end of the war. The atomic bombs were dropped on Hiroshima and Nagasaki, and everyone expected the Japanese to surrender. However, on August 13, Schlamberg was ordered to head to the pilots' briefing room. There Schlamberg and his fellow pilots were ordered to suit up the following day to escort a group of B-29s for another bombing run over Japanese cities.
According to his commanding officer, Captain Jerry Yellin, Schlamberg began to feel uneasy. He leaned over to Captain Yellin and said, "If I go, Captain, I'm not coming back." Yellin looked at him and said, "What are you talking about?" and Schlamberg answered, "It's this feeling I have."
Yellin approached his commanding officer regarding Schlamberg's premonition. The commanding officer told Yellin that if Schlamberg would agree to go see the flight surgeon, Doc Lewis, he could free him from duty on the upcoming mission. Yellin went back and told Schlamberg the good news, but Schlamberg refused to let another pilot take his place and bravely said, "No, I'm going to go."
The next morning before they took off, Yellin told Schlamberg, "Just stay on my wing. We've got Dumbos in the air." To make Schlamberg feel better he also mentioned that all along the 700-mile flight path there were American bombers and ships that would relay the codeword "Ohio" to their squadron if the war was over.
By the time the squadron had reached Japanese airspace, they had not heard the codeword "Ohio." Yellin told his men to drop their external fuel tanks and head in to strafe Japanese targets on the ground. Schlamberg followed Yellin's orders and successfully executed his strafing mission.
Once the squadron's fuel tanks hit 90 gallons they could break off and head back home. As he hit the 90 gallon mark, Yellin gave the order to return home. Yellin looked over and saw Schlamberg on his wing and gave him the thumbs up sign. Schlamberg returned the thumbs up sign, and they headed into the clouds. When Yellin emerged out of the cloud bank, Schlamberg and his plane were missing.
Schlamberg did not respond to radio calls, and his plane was nowhere to be found. Lacking fuel for a protracted search, Yellin and the other pilots returned to Iwo Jima, hoping that Schlamberg had simply become lost in the clouds. When they returned, the war had been over for three hours. Schlamberg never returned.
Schlamberg's fate is unknown. He may have gotten lost in the clouds, suffered a mechanical failure, or been shot down. Schlamberg's status was initially declared "Missing in Action." This was later changed to "Killed in Action," making him the one of the last members of the American military to be killed in World War II.
Eulogy
Because his plane and his body were never found, First Lieutenant Felix Philip Schlamberg is memorialized in the Courts of the Missing, Court 7 at the Honolulu Memorial and on a plaque that still hangs on the wall of Abraham Lincoln High School, honoring those high school students who died in the service of their country.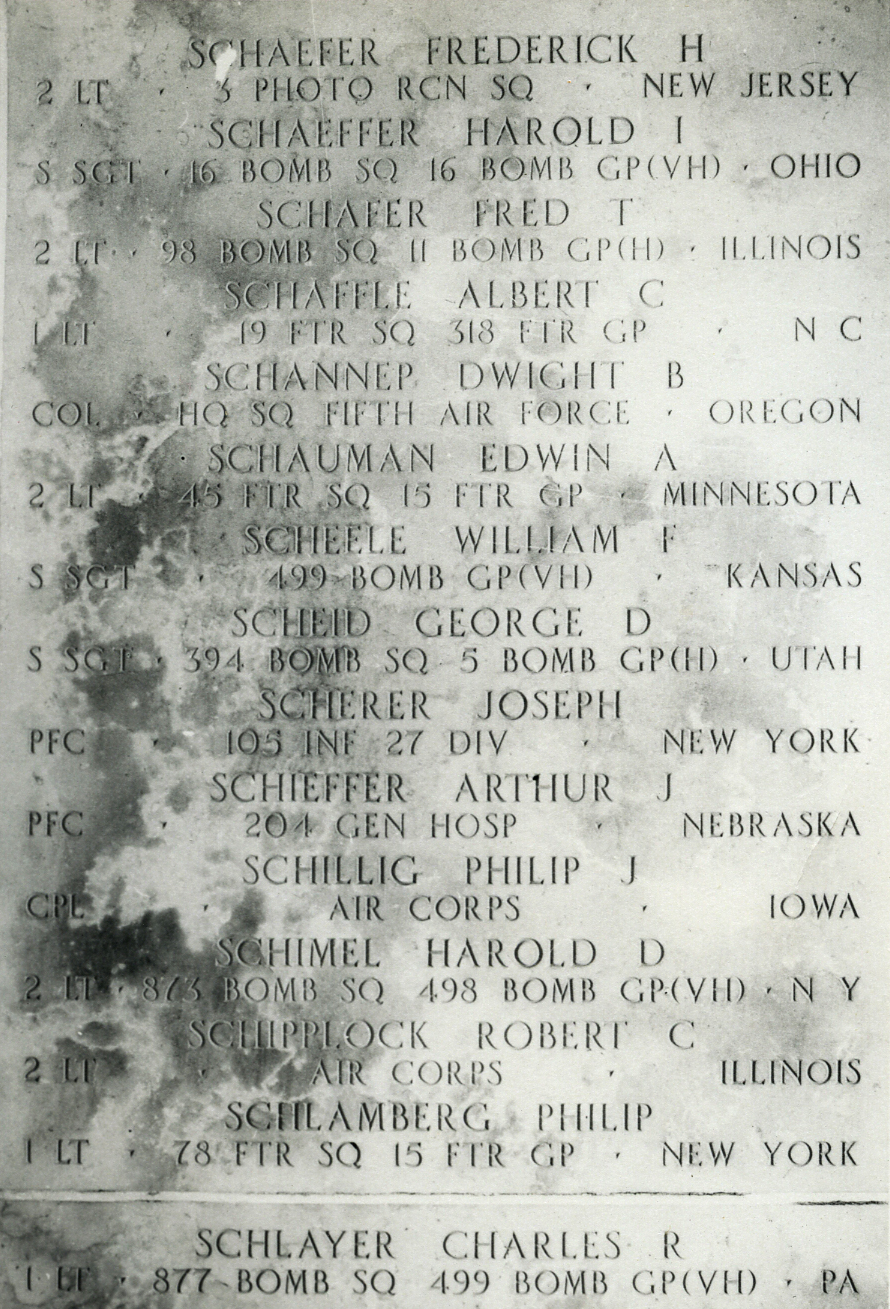 Reflection
Bibliography
15th Fighter Group; World War II Combat Operations Report 1941-1946, Records of the Army Air Forces, Record Group 18 (Box 17034); National Archives at College Park, College Park, MD.
Brown, Don. The Last Fighter Pilot: The True Story of the Final Combat Mission of World War II. Washington D.C.: Regnery History Publishing, 2017
Hammel, Eric. Aces at War: The American Aces Speak. Pacifica: Pacifica Military History, 2007.
"Couldn't Keep Down Guy From Brooklyn." Brooklyn Daily Eagle, July 29, 1945. Newspapers.com. bklyn.newspapers.com/image/52687774/?terms=schlamberg.
Gadoua, Renee K. "The Suffrage Message." Syracuse New Times, August 21, 2013. Newspapers Source Plus (90149360).
Johansson, Vanessa. Email Interview by the author. November 29, 2016.
Missing Air Crew Report; Office of the Quartermaster General, Memorial Division, Identification Branch, 1942-1947, MACR 14870; National Archives at College Park, College Park, MD.
P-51D 44-63382 "Annabelle" of the 78th Ftr Sq, 15th FG was involved in a landing accident 4 July 1945 with LT Philip Schlamberg at the controls… Photograph. April 16, 1945. National Archives and Records Administration (A 42131). Image.
"Philip Schlamberg." American Battle Monuments Commission. Accessed December 16, 2016.
www.abmc.gov/node/527475#.WN3QIGjQeUk.
Photograph Collection of Philip Schlamberg. 1944-1945. Courtesy of the Spirit of '45 Organization.
Records for Philip Schlamberg; World War II Army Enlistment Records, 1938-1946 [Electronic File], Record Group 64; National Archives at College Park, College Park, MD [retrieved from the Access to Archival Databases at aad.archives.gov/aad/series-description.jsp?s=3360&cat=WR26&bc=,sl, November 9, 2016].
Sloan, Melanie. Email interview by the author. November 29, 2016.
Yellin, Jerome. Personal Interview. November 5, 2016.
Yellin, Jerome. "Experiencing War: Interview with Jerome Yellin [5/3/2014]." The Veterans History Project at the Library of Congress. Last modified May 3, 2014. Accessed December 26, 2016. memory.loc.gov/diglib/vhp/story/loc.natlib.afc2001001.95409/transcript?ID=mv0001.
This profile was researched and created with the Understanding Sacrifice program, sponsored by the American Battle Monuments Commission.