First Lieutenant John Michael Sherry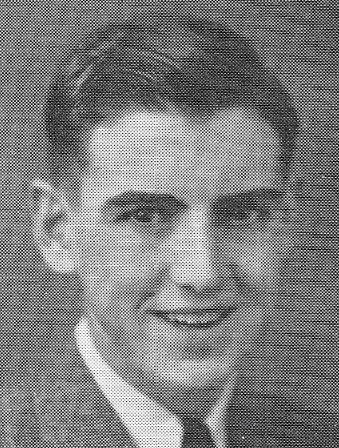 Unit:

907th Glider Field Artillery Battalion, 101st Airborne Infantry Division

Service Number:

O-1180334

Date of Birth:

August 12, 1920

Entered the Military:

August 27, 1942

Date of Death:

September 24, 1944

Hometown:

Toledo, Ohio

Place of Death:

Eerde, Netherlands

Award(s):

Purple Heart, Air Medal

Cemetery:

Plot J, Row 17, Grave 4.

Netherlands American Cemetery, Margraten, Netherlands
Contributed by Tommy Williams
Mentored by Mr. Joe Boyle
Morrison R. Waite High School
2019-2020
Early Life
Family
John Sherry was born in Toledo, Ohio, on August 12, 1920. Growing up, he was known by his family as "Jack." He lived just a few blocks from the Maumee River, at 441 Potter Street, with his father, Michael, mother, Ellen, sister, Helen, and older brother, Gerald. His father worked as a master mechanic at a coal loading dock a few blocks away, while his mother stayed home to raise the family.
Schooling
As a freshman, Sherry attended Central Catholic High School, just across the river, for the 1934-1935 school year. For the next three years, Sherry studied at Morrison R. Waite High School.
Sherry was a good student, and was active in his school community. He enjoyed various extracurricular activities, including art club, the Forum literary club, and tennis. In his senior yearbook, his classmates recognized him with a quote next to his picture: "Ace Salesman."
After his high school graduation, he pursued his talent for business, enrolling at DeSales College, a small Catholic institution in downtown Toledo. Sherry graduated in 1942 with a business degree.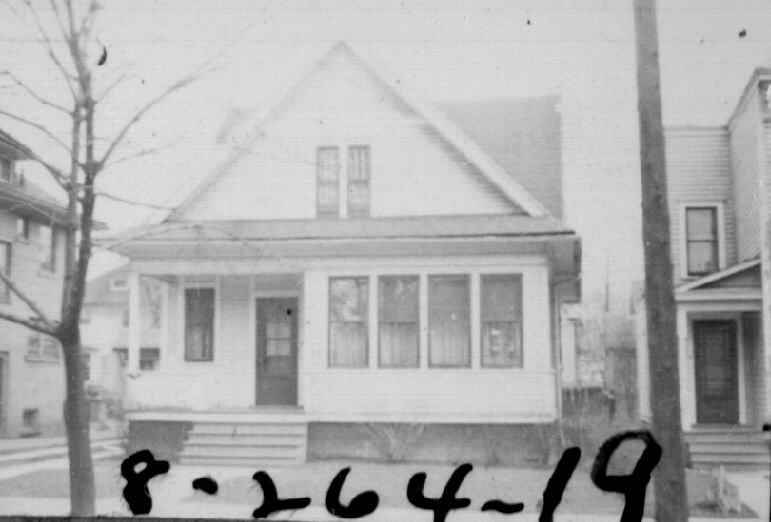 Homefront
Toledo as an Industrial City
Located at the west end of Lake Erie, the city of Toledo served as a major industrial and shipping center during the twentieth century. While a concentration of glass manufacturers gave Toledo the nickname of the "Glass City," it was really the automobile industry that drove its economy.
In 1909, John North Willys, a New York businessman, began producing cars in Toledo. By 1915, Overland Automobile Company was the second-largest automotive maker in the United States, behind the Ford Motor Company. This drew automotive parts companies to Toledo, like Champion Spark Plug and Spicer Manufacturing, employing thousands. By 1916, one-third of all wage earners in Toledo worked in the car industry, and 20 percent of the entire city worked for Willys-Overland.
When the Great Depression (1929-1939) hit, people stopped buying cars, negatively affecting Toledo's automotive-driven economy. By New Year's Day 1930, 18,000 Toledoans were out of work. Increased homelessness became a problem, leading to one of the largest Hoovervilles, located under the Anthony Wayne bridge, just five blocks from John Sherry's home.
Arsenal of Democracy
After World War II began in Europe, the United States decided to provide weapons to the Allies. Toledo's factories began producing war-related materials. In November 1940, Willys-Overland won a competition to produce a new scout vehicle for the U.S. Army. Coined as the Jeep, Willys-Overland produced hundreds of thousands of the vehicles after the United States' entrance into the war. The company opened more factories around the city as it earned more war contracts to build artillery shells, machine gun parts, and shell hoists for the U.S. Navy. Other Toledo factories made cockpit glass for fighter planes, nose cones for B-29s, military ships, and aircraft propellers.
Military Experience
John Sherry's military career began when he enlisted on August 27, 1942. Shortly after his enlistment he married his high school sweetheart, Mary Ellen King. Later in 1942, Sherry attended Officer Candidate School at Fort Riley, Kansas. After graduation, he was placed in the 907th Glider Field Artillery Battalion as part of the 101st Airborne Division.
Sherry and his unit sailed to Europe and were stationed near Newbury, England. The 907th Glider Field Artillery Battalion participated in the disastrous Operation Tiger in April 1944, which served as important practice for the Normandy invasion in June 1944.
On June 7, 1944, the second day of landings, Sherry and his unit sailed toward Omaha Beach when their boat, the SS Susan B Anthony struck a mine. No injuries were reported in the incident, but the ship sank, forcing the unit to swim ashore with no weapons.
While most airborne soldiers jumped out of airplanes or landed in gliders, Sherry's job consisted of flying a small two-seat spotter plane, called a Piper L-4. His plane buzzed overhead of the enemy, locating their positions. Once they located the enemy, a spotter, who joined in on the mission, radioed the enemy's positions back to the gunners, who aimed artillery at German positions.
In September 1944, Sherry's unit deployed to the Netherlands as part of Operation Market Garden. On the morning of September 24, 1944, First Lieutenant Jack Sherry died. As he flew over the trees near the infamous "Hell's Highway" he came under fire from German small-arms.
Sam Howard, a fellow soldier, witnessed the crash, saying that the plane skimmed the treetops, and then smoke billowed up from the crash site near the village of Eerde. When they reached the site, they found both Sherry and his spotter, Lieutenant Jack Williamson, had already been killed. They were buried in a temporary cemetery near the town of Son in the Netherlands. Following the end of World War II, Sherry was reinterred at the Netherlands American Cemetery.
Sherry's death deeply affected his family. His mother never spoke of her son's service or death. Sherry's nephew, Mike Wilde, said that his grandfather died of a broken heart just a few years later.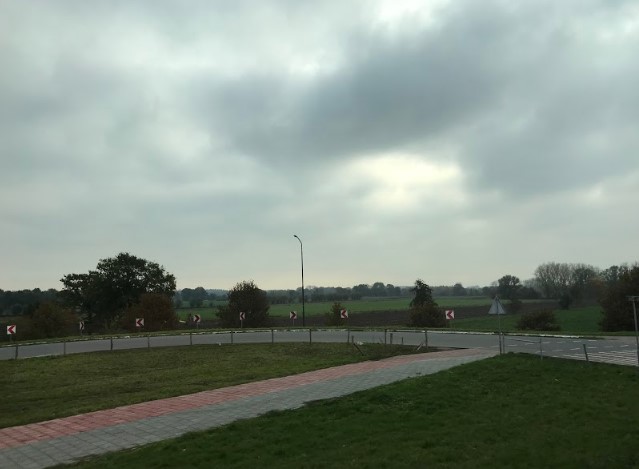 Eulogy
Jack Sherry was a typical guy from the east side of Toledo, with his dad working on the coal docks, his girlfriend a few blocks away, his church even closer, and his life revolving around the biggest building in the neighborhood, Morrison R. Waite High School.
Just months after his college graduation, Jack Sherry enlisted in the U.S. Army, got engaged to his neighborhood sweetheart, Mary Ellen King, and went off to training. Soon after, he was selected for Officer Candidate School, and graduated to be part of the 907th Glider Field Artillery Battalion.
Trained as an artillery spotter pilot, he flew a tiny, two-seat Piper L-4 plane. In the back seat his spotter observed the enemy positions and radioed to ground artillery where to fire.
In September 1944, the unit served as part of Operation Market Garden. Flying low over the infamous "Hell's Highway," Sherry and his spotter Williamson searched for evidence of the enemy's position. They came under fire from German small-arms, and the delicate Piper L-4 was damaged by the bullets, caught fire, and crashed outside the village of Eerde in the Netherlands.
What we do know is that Lieutenant Sherry's story in many ways was buried here with him. The tragic loss affected the family, who did not talk about him much after his death.
Lieutenant Sherry was an individual who had a good life to look forward to. He had a family, a loving wife, and a good education. He had the option to do whatever he wanted in life. But instead of living for himself, Jack Sherry decided to live for our freedom. He was an "ace salesman," a husband, and a son, but most importantly, First Lieutenant John M. Sherry was a hero. He gave his life to help protect the one you live now, and for that we should be forever grateful.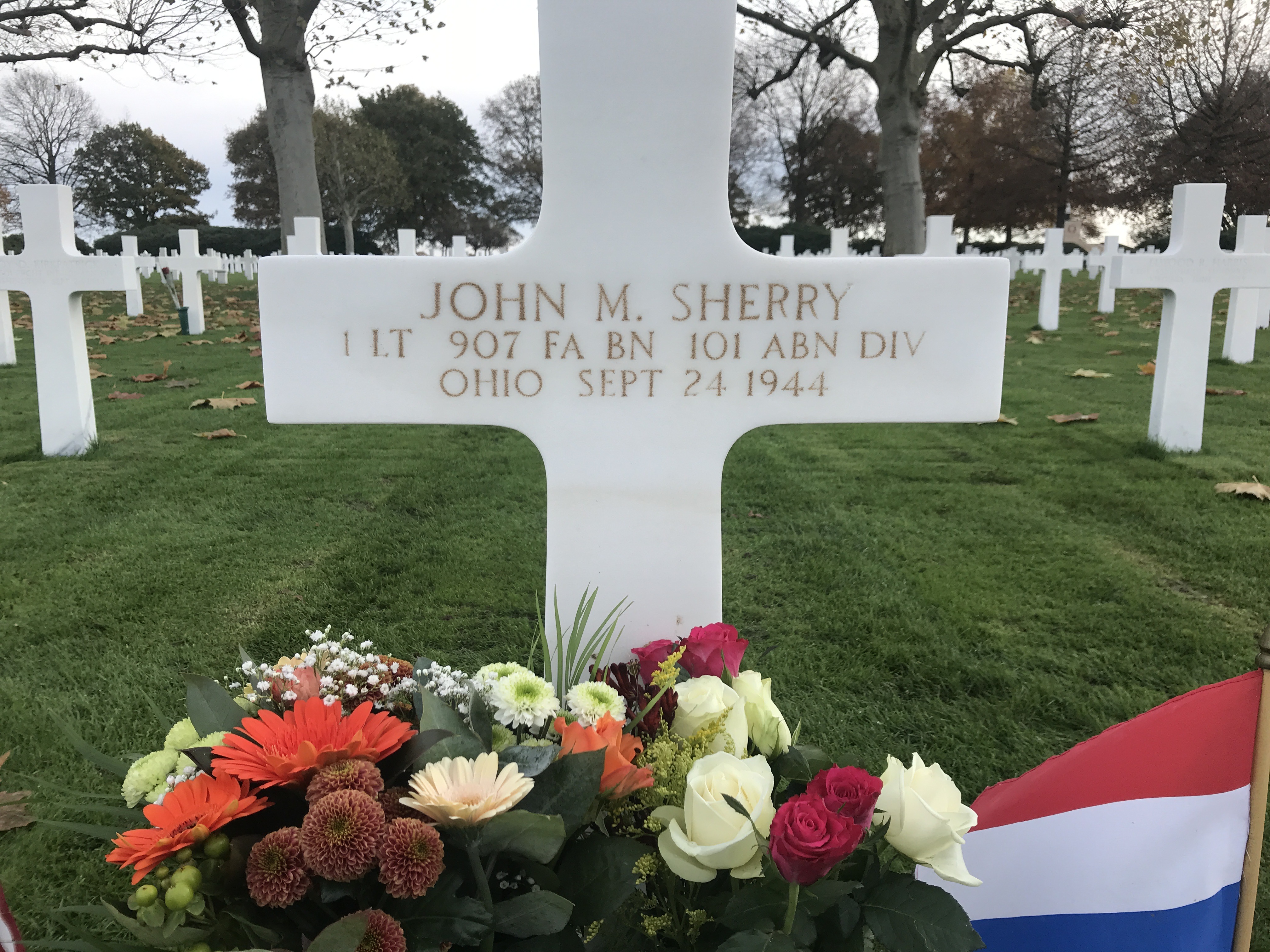 Reflection
The time I spent in the Netherlands was amazing. I have never had a class that could teach me as much as I learned there. On top of that, the Operation Liberty program gave me the chance to travel, see, learn, and do things that I could never imagine where I live.
This whole project has inspired me. While I have learned about World War II in Europe for years in school, I now have a newfound respect for the people and the history that took place there. I found it to be a lot more interesting when you are actually standing in the place where those young men have given their lives. It brings out certain emotions that I could never pull out of a text. For example, the American cemetery in Margraten was a really emotional learning experience for me. I could read all day about the number of men that sacrificed their lives and what it means to the people there, but seeing the way they talk about and respect our soldiers was touching. After being there and meeting my soldier's grave adopter, I really understand how much it means to the people of the Netherlands.
What struck me though, was the research Mr. Boyle and I put into this project. I have never researched a single person so extensively before, and being able to start with almost nothing and piece John Sherry's life together was a really fun experience. The research along with the trip helped me see a different side of history. It is not just going through text and memorizing dates anymore. I now see a big puzzle before me, just waiting to be solved and I do not think I could have done that on my own. 
Bibliography
Primary Sources
"Air Medal Awarded Posthumously," The Blade. December 12, 1944, 15.
Purple and Gold. Toledo: Waite High School, 1938, 29.
Wilde, Mike. Interview by the author, November 6, 2019.
"World War II Enlistment Records," National Archives and Records Administration. Office of Records Services – Washington, D.C. Modern Records Programs. Electronic and Special Media Records Services Division. (1998 – ) (Most Recent) Accessed online a aad.archives.gov
Secondary Sources
"The 907th Glider Field Artillery Battalion." The U.S. Airborne During World War II. Accessed October 12, 2019. www.ww2-airborne.us/units/907/907.html.
"The Experiences of Sam Howard." 101st Airborne Glider Riders. Last modified March 30, 2002. Accessed October 12, 2019. www.geocities.ws/l0lst_glider_riders/sam_horward_2.html.
George Koskimaki, Hell's Highway: A Chronicle of the 101st Airborne Division in the Holland Campaign, September–November 1944. New York: Open Road Media, 2013.
Tania Mosier Porter, Toledo Profile: A Sesquicentennial History. Toledo, Ohio: Toledo Sesquicentennial Commission, 1987.