First Sergeant Louis Patrick Levasseur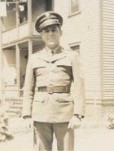 Unit:

17th Airborne Division, 513th Parachute Infantry Regiment

Service Number:

6149424

Date of Birth:

November 26, 1918

Entered the Military:

January 8, 1940

Date of Death:

March 24, 1945

Hometown:

Van Buren, Maine

Place of Death:

Wesel, Germany

Award(s):

Purple Heart

Cemetery:

Plot J, Row 14, Grave 15.

Netherlands American Cemetery, Margraten, Netherlands
Contributed by Elia O'Hara
Mentored by Mrs. Kathryn Kennedy
George Stevens Academy
2019-2020
Early Life
Louis Patrick Levasseur was born in Van Buren, Maine, to Ernest and Emily Levasseur, both Canadian immigrants. They had 13 children, and Ernest Levasseur worked as a day laborer in the lumber industry to support his family.
Levasseur attended the Sacred Heart School until the eighth grade. His family moved to Hartford County, Connecticut in 1940, and records show that on January 8 Louis enlisted in the U.S. Army for basic training in Waco, Georgia. Census records place Levasseur in Portland, Maine living with other privates in a U.S Army building sometime after his enlistment in 1940.
The Levasseur family sacrificed much during World War II. Louis had two brothers, Constantin and Norman, who also enlisted and served. His older brother, Constantin, died while fighting in Papua New Guinea on June 11, 1944 and is buried at Manila American Cemetery in the Philippines.
Levasseur's other brother, Norman, enlisted in the U.S. Army in 1942, serving in the South Pacific, where he received multiple awards including the Philippines Liberation Ribbon and the Asiatic Pacific Theatre Campaign Medal with two Bronze Service Stars. Following the deaths of his brothers, Norman was honorably discharged from the U.S. Army, and in 1950, he reenlisted and served as an interpreter in France. He later worked at the Pentagon for 20 years before retiring.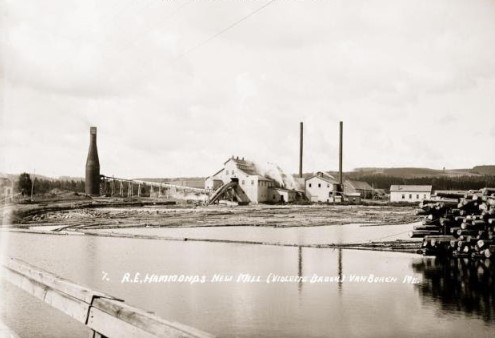 Homefront
Northern Maine: Lumber and Agriculture
Northern Maine's lumber industry helped support the economic requirements of war by supplying the wood necessary to replace goods such as steel, tin and cotton that were being used by the Army. The military also directly used wood to build ships, bridges and crates. Northern Maine housed a number of lumber mills. In Van Buren alone, there were three lumber businesses using the St. John River as a means of transportation, and the town had a booming lumber industry up until the 1950s. Farming in Maine helped by providing much needed food and resources, but also job opportunities.
Maine housed German prisoners of war (POW) in Caribou, Presque Isle, Bangor, Spencer Lake, Princeton, and Houlton. This marked the first time in U.S. history where the country interned such a large number of enemy alien soldiers. The U.S. military set up the camps in isolated locations or near military training camps. In spring 1944, the War Department chose Maine as a site of POW camps due to a demand for labor.
During World War II, Maine out produced every other state in two major export industries – paper and potatoes. However, they struggled to maintain production as they often lost laborers, who left to fight in the war or moved to other New England states where they found better jobs and wages. POWs filled this labor gap. Under the Maine's Extension Labor program, 1,645 POWs worked as contracted labor for Maine farmers. By 1943, that number increased to 4,000. In Aroostook County, Levasseur's home, federal contracts required POWs to help with the potato crops, some earning one dollar a day for their work. This food production contributed much-needed resources to the war effort.
Those on the homefront did not just do their part by producing materials for the war. To combat large food shortages Mainers, like many other American citizens, rationed food and other supplies that needed to go overseas. Mainers were allotted four gallons of gas per week, which was a struggle as many owned cars that averaged 15 miles per gallon. Local restaurants also put a meatless day on their menus.
Southern Maine
Southern and coastal Maine were also involved with the wartime efforts such as in Portland and Portsmouth shipyards, working with Bath Iron Works. Shipyards in this area were converted to war production for the construction of iron freighters, destroyers, submarines and carriers. Southern Maine contributed almost a quarter of the U.S. Navy's big ships. Due to Maine's location on the Atantic Ocean, they had a coastal patrol, keeping a lookout for Nazi submarines.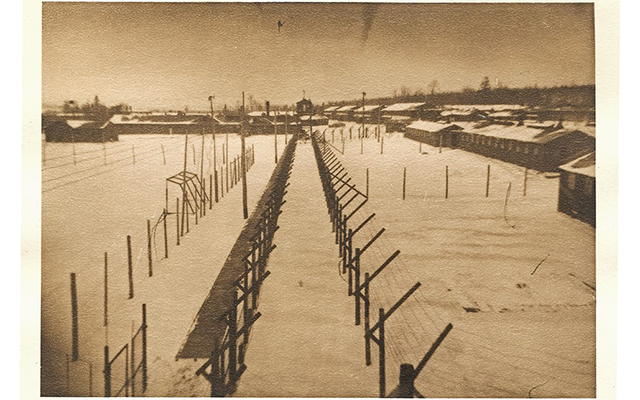 Military Experience
Enlistment
Levasseur prepared for action at Fort Benning, Georgia prior to shipping out to Europe. As a member of the 17th Airborne Division, Levasseur served under Major General William Miley. His unit activated in April 1943 and arrived in Great Britain in August 1944. The 17th Airborne Division arrived too late to participate in Operation Overlord and Operation Market Garden, however, it played a key role in the Ardennes Campaign, despite the fact that these operations did not involve a combat drop.
Learning from the mistakes of Operation Market Garden, military leaders planned Operation Plunder, a military effort to cross the Rhine River and enter Germany. Levasseur and his unit received orders to jump the night of March 24-25, 1945. This airborne assault became known as Operation Varsity, and included the combined efforts of the 17th Airborne, 13th Airborne Divisions, along with the British 6th Airborne Division.
The men in Operation Varsity were given orders to secure the Rhine River by engaging in two simultaneous airborne assaults on the eastern side of the Rhine near Wesel and Hamminkeln. This operation involved 16,000 paratroopers and several thousand aircraft. Seizing the Diersfordter Wald forest was chosen as the initial objective as it would prevent the Germans from gaining artillery positions. Seizing key roads which linked the surrounding towns and bridges allowed for the capture of the town of Hamminkeln. Once these objectives were met, the airborne divisions would then meet up with the ground forces to take on the Germans.
While the circumstances remain unclear, records revealed that Levasseur was fatally wounded by enemy fire during his jump into the battle.
Due to lack of identification, Levasseur was reported as Missing in Action (MIA). His parents waited three agonizing months before they received a Western Union telegram confirming their fears. 
Eulogy
First Sergeant Louis P. Levasseur grew up in Van Buren, Maine, a small French-Canadian farming and lumber community in northern Maine on the U.S. and Canadian border. Levasseur served as a first sergeant in the 17th Airborne Division, 513th Parachute Infantry Regiment and was awarded the Purple Heart for his ultimate sacrifice during Operation Varsity. Levasseur's family gave much during World War II, losing their two sons Constantine and Louis.
First Sergeant Louis P. Levasseur was only 26 years old when he was killed in action in the Netherlands. Learning about Levasseur has been an honor, recognizing how so many young Americans, and their families back at home served our country with incredible courage and selflessness. Sharing his story is my small way to truly honor this silent hero, First Sergeant Louis P. Levasseur.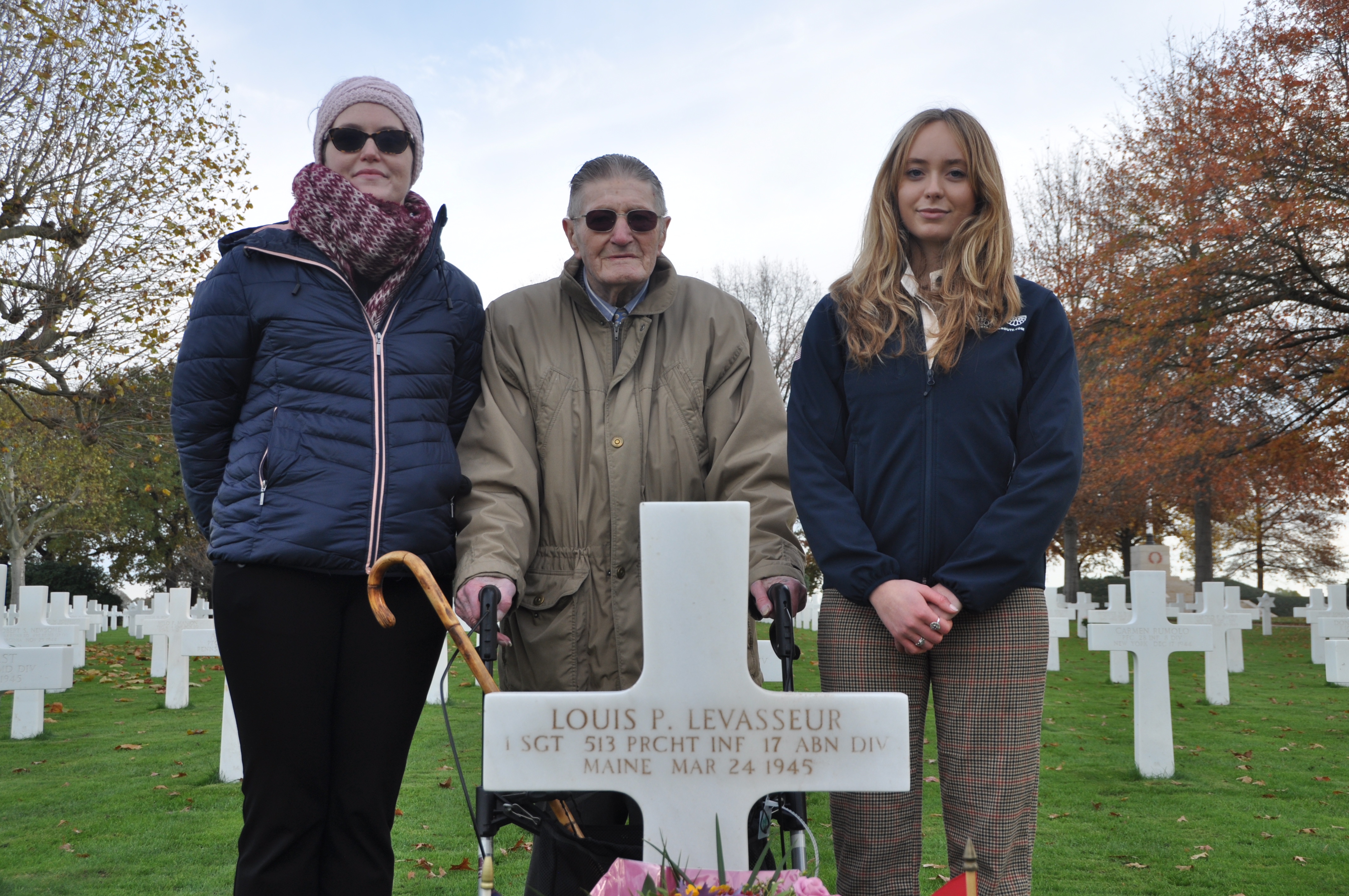 Reflection
Having the opportunity to research the life of First Sergeant Louis P. Levasseur was one of the most unforgettable experiences of my life. In only six short weeks, I learned about his ultimate sacrifice to our country and to the people of the Netherlands. My involvement in the Operation Liberty program revealed not only Levasseur's bravery, but the bravery and determination of so many men like him. I never thought I would have the chance to travel to the Netherlands, stand beside his grave, and give his eulogy.
Being able to walk the same paths as those brave men who gave their all was an experience that will always stay with me. Having a personal connection to First Sergeant Levasseur made that experience even more moving. He grew up in the town that my family has been connected to since the 1800s. My mom grew up there as well and it has always been a home base for me even after we moved away. While in the Netherlands, I could imagine how he felt being so far away from home, but because of his sacrifice I can now travel to the same places as he did feeling safe and free.
I cannot thank Louis Levasseur enough for his selflessness for the better good of the world, but I can do my best to share and remember his story. I strongly believe that if we all take a more personal look at war, we can better understand the people who gave us our freedom today.
Bibliography
Primary Sources
Louis Levasseur, Individual Deceased Personnel File, Department of the Army.
Louis Levasseur, Official Military Personnel File, Department of the Army, RG 319, National Archives and Records Administration – St. Louis.
Maine. Aroostook County. 1920 U.S. Federal Census. Digital Images. ancestry.com.
Maine. Aroostook County. 1930 U.S. Federal Census. Digital Images. ancestry.com.
Maine. Cumberland County. 1940 U.S. Federal Census. Digital Images. ancestry.com.
Secondary Sources
"1 Sgt. Louis Patrick Levasseur." Find a Grave. Accessed October 9, 2019. www.findagrave.com/memorial/56301002.
"513th Parachute Infantry Regiment." Scions of the 17th Airborne. Modified 2019. Accessed January 16, 2020. www.17thscions.org/513th-parachute-infantry-regiment.
"513th PIR History." Tribute to the 17th Airborne Division. Accessed January 16, 2020. 17th-airborne-in-the-bulge.eklablog.com/513th-pir-history-p203084.
"Emily Gervais Levasseur." Find a Grave. Accessed October 9, 2019.
www.findagrave.com/memorial/98024872/emily-levasseur.
"Louis P. Levasseur." American Battle Monuments Commission. Accessed January 16, 2020. www.abmc.gov/node/386556.
Seelinger, Matthew J.,"Operation VARSITY: The Last Airborne Deployment of World War II." The Campaign for the National Museum of the United States Army, Accessed January 16, 2020. armyhistory.org/operation-varsity-the-last-airborne-deployment-of-world-war-ii/.
"The 513th Parachute Infantry Regiment Unit Citations." The 17th Airborne: World War II. Accessed January 16, 2020. www.ww2-airborne.us/units/513/513_citations.html.