Technician Fifth Grade Frank James Bennino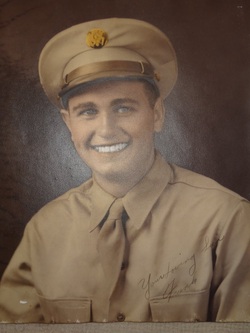 Unit:

321st Ordnance Battalion

Service Number:

31326384

Date of Birth:

December 24, 1923

Entered the Military:

March 2, 1943

Date of Death:

August 6, 1944

Hometown:

Rocky Hill, Connecticut

Place of Death:

Le Ham, France

Cemetery:

Plot F, Row 12, Grave 12.

Normandy American Cemetery, Colleville-sur-Mer, France
Contributed by Jenna Stone
Mentored by Ms. Wendy Nelson Kauffman
Metropolitan Learning Center
Early Life
Family Bonds
Frank James Bennino was born on Christmas Eve, December 24, 1923, in Rocky Hill, Connecticut, to Mary and Nunzio Bennino. He had a close bond to his older brother, Horace, and his two younger sisters, Alice and Edith. He was the more reserved sibling in the family, but his sister remembered him as thoughtful and caring. His home was lively and loving with ten people, including his grandmother, living there.
Love of Music
Growing up in his musically-oriented family, Frank Bennino showed a love for singing and dancing. He also enjoyed sports and in the winter time he ice skated on the neighborhood pond.
Working After High School
After graduating from Wethersfield High School in 1941, he worked at the Hartford Machine Screw Company as a cargo checker for exported items.
On March 2, 1943, Bennino was drafted into the U.S. Army. He followed his brother, drafted four months earlier. He was proud to serve his country just like his own father, an immigrant from Italy, who had served America in World War I.

Military Experience
Driving for a Chaplain
Bennino served as a technician in the ordnance department. But during the war he became close friends with a chaplain from Chicago named Frannie who eventually asked Frank to become his driver.
Right before the Normandy invasion Frank Bennino met with his brother Horace one more time before they sailed to Normandy with different units.
The Car Accident
On August 6, 1944, Bennino was driving the chaplain in Le Ham, France, when his jeep collided with a U.S. tank. Though the chaplain survived, Bennino was killed instantly, becoming the second Rocky Hill boy to lose his life in World War II. He never learned that the first fallen soldier from Rocky Hill, killed only six weeks earlier, was his own brother, Horace.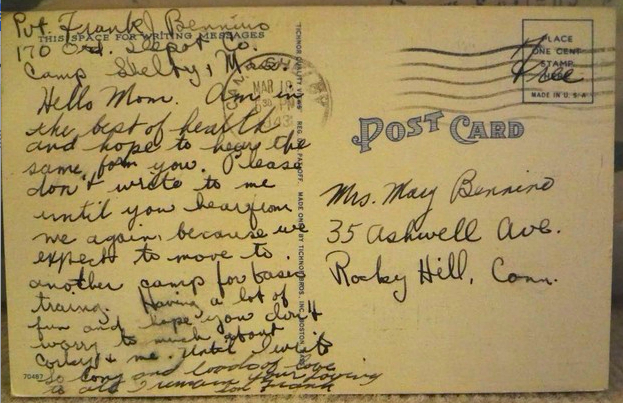 Eulogy
Frank's mother never quite recovered from the loss of both her sons. Nearly 70 years later, Frank's sister, Edith, still cried when she recalled her brothers and wondered what her family would be like if her brothers survived. Just like his sister, I wondered a lot during this project about the many what-if's.
Both Frank and Horace Bennino are buried at Normandy American Cemetery in France.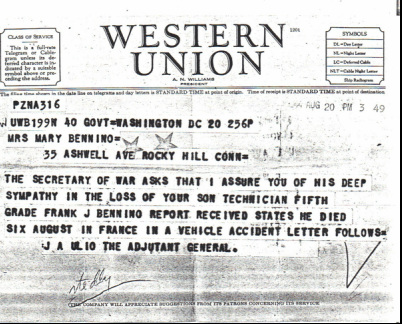 Reflection
As I sat in the kitchen with the family of the Bennino brothers I just cannot believe what a journey it has been. It all started with a list of names of soldiers from Connecticut who died in World War II. As I scrolled the last name, "Bennino" caught my eye not once, but twice. With further studying it dawned on me that these were brothers from Rocky Hill, Connecticut. It was then I knew that this was an extraordinary discovery.
I was proud to present Horace and Frank's sister, Edith, with the flags, sand, rocks, and the picture from the Normandy American Cemetery. She had never visited and now she has the soil from France where her brothers landed 68 years ago. It was a joyous occasion as well as an emotional one. I can still remember hugging her for quite some time; taking in the moment that will last with me forever.
After my journey to Normandy, France I realized that I was making history. Normandy American Cemetery listed 33 brothers who were buried; Frank and Horace were not included. As I delivered my eulogies the cemetery official asked if they were related and then noted it was not on file. I went to France to share the stories of two courageous heroes.
Bibliography
Primary Sources
Bennino Family Papers. 1941-1944. Courtesy of Edith Bennino Fontana.
"Community Loses Second Resident In World War II." The Hartford Courant, August 21, 1944. Newspapers.com (367834367).
Connecticut. Hartford County. 1940 U.S. Federal Census. ancestry.com.
Fontana, Edith Bennino. Personal interview with author. May 13, 2012.
Frank J. Bennino. Headstone and Interment Records for U.S. Military Cemeteries on Foreign Soil, 1942-1949. ancestry.com.
Frank J. Bennino, Individual Deceased Personnel File, Department of the Army.
Frank J. Bennino. Westfield High School Yearbook. U.S., School Yearbooks, 1900-1999. ancestry.com.
Frank J. Bennino. World War II Army Enlistment Records, 1938-1946. ancestry.com.
Frank J. Bennino. WWII Draft Cards, Young Men, 1940-1947. ancestry.com.
Frank J. Bennino. WWII Hospital Admission Card Files, 1942-1954. ancestry.com.
Secondary Sources
Ambrose, Stephen. Band of Brothers. New York: Simon & Schuster Paperbacks, 1992.
"Frank J. Bennino." American Battle Monuments Commission. Accessed May 18, 2020. www.abmc.gov/decedent-search/bennino%3Dfrank.
Kershaw, Alex. The Bedford Boys. Bedford: Da Capo Press, 2003.
Eisenhower, Dwight. Crusade in Europe. Baltimore: Doubleday, 1948.
Terkel, Studs. "The Good War." New York: The New Press, 1984.