First Lieutenant Gale Bernard McGowan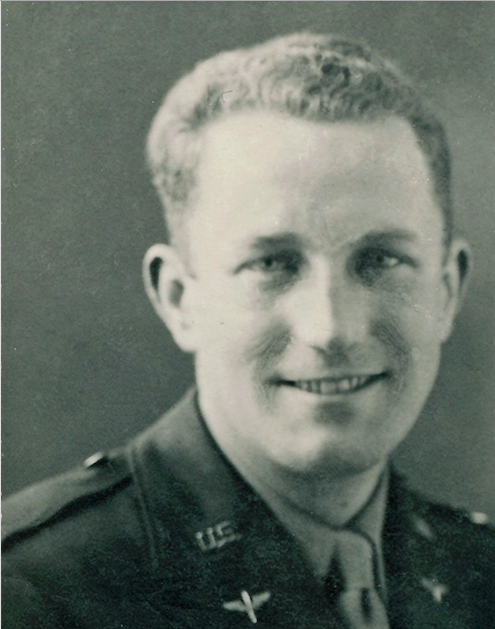 Unit:

707th Bombardment Squadron, 446th Bombardment Group (Heavy)

Service Number:

O-764405

Date of Birth:

April 19, 1918

Entered the Military:

July 31, 1942

Date of Death:

December 27, 1944

Hometown:

Leadville, Wyoming

Place of Death:

English Channel

Award(s):

Purple Heart, Air Medal with four oak leaf clusters

Cemetery:

Tablets of the Missing.

Cambridge American Cemetery Cambridge, United Kingdom
Contributed by Ms. Gayla Hammer
Lander Middle School
2014-2015
Early Life
The Early Years
Gale Bernard McGowan was born in Iowa months before the end of World War I. His father worked as a brakesman for the Chicago and Northwestern Railroad. Gale's mother, Verlie, was a housewife and a cosmetologist.
After his father succumbed to tuberculosis, Gale McGowan and his mother moved to Leadville, Colorado following his eighth grade graduation in 1932. Leadville was the home of his Aunt Garnet, who provided a support system for McGowan and his mother. In June 1936, he graduated from Leadville High School.
Life After High School Graduation
In 1938, McGowan moved to Wyoming with his mother and her second husband, George "Red" Gonterman. The Seminoe Dam was under construction on the Platte River near Sinclair, so McGowan and his stepfather worked on the construction of the dam. Although World War II began in Europe in 1939, initially it did not affect McGowan's life. He continued to work on the Seminoe Dam project. A shipyard in Portland, Oregon provided McGowan with his next job. An added bonus to moving to Portland was living near his Grandmother McGowan and various relatives.
The Building of a Family
In June 1941, McGowan married Margaret "Peggy" Ferry in Vancouver, Washington. At the time of their marriage neither McGowan nor Peggy was worried about the war in Europe. The young married couple made Portland, Oregon their new home, and in June 1942 the couple welcomed their son, Dennis Bernard McGowan. Three months later, McGowan enlisted in the Army, changing the lives of the young family.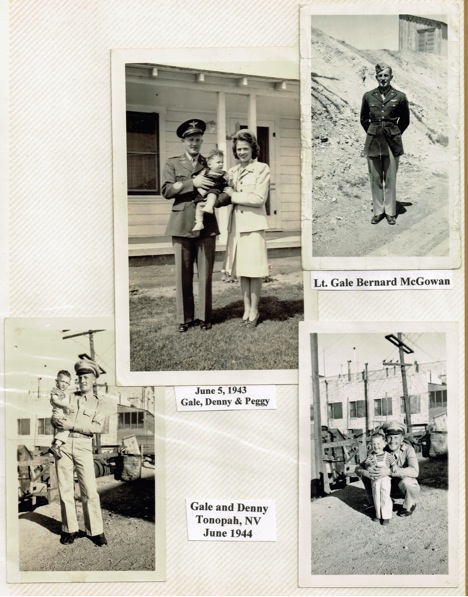 Military Experience
Becoming a Soldier
In September 1942, he began his basic training at Fort Lewis, Washington. The Armored Force Replacement Training Center in Fort Knox, Kentucky was his next stop. 18th Armored Replacement Battalion. Company C at Fort Knox was his new home and where he received his technical training.
"Learning to Fly and an Honorable Discharge"
In January 1943, McGowan began a year of combat pilot training. He trained at three locations in California: Santa Ana, Santa Maria, and Bakersfield. He received advanced training in Douglas, Arizona, which he completed on January 6, 1944. The U.S. Army discharged McGowan with an enlisted rank of Technician Fifth Class and commissioned him as a Second Lieutenant Officer in the U.S. Army Air Forces.
Second Lieutenant McGowan was transferred to Hammer Field in Fresno, California. On January 30, 1944, he was assigned to the 399th Bombardment Group, Army Air Force Base Unit at March Field. A month later, February 18, 1944, he was moved to the 470th Bombardment Group (H) B-24 Liberator Bomber Flight Training Program in Tonopah, Nevada where he joined Lieutenant Dan Bingham, Crew #329. After three months of training McGowan was sent to Hamilton Field, California in June 1944, and was assigned to the Pacific Theater. Within a month, McGowan was reassigned to the European Theater to fight the Germans in the Battle of the Atlantic.
Traveling on a Cruise Ship
At Camp Miles Standish, Massachusetts, McGowan was loaded on a ship bound for England and the European Theater of Operations on July 3, 1944. The USAT Brazil, a former cruise ship, sailed from Boston Harbor with 2,000 Army personnel and joined a convoy of Navy destroyers, battle, hospital, cargo and transport ships after two days at sea. On July 9, the ship stopped in Glasgow, Scotland. After ten days the crew headed to England. On August 3, McGowan was assigned to the 8th Air Force, 2nd Air Division, 20th Combat Wing, 707th Bombardment Squadron, 446th Bombardment Group (H) in Flixton, Suffolk, England. Base Station 125 became his new home.
"Thirty-Five Flights Until I Go Home"
On his first flight on August 8, 1944, McGowan served as the co-pilot on a B-24 named Gerty the Gremlin, on which he would serve until it was pulled from the flying rotation. On subsequent missions McGowan served as co-pilot on a Liberator B-24. On August 15, McGowan flew on his first combat mission with his new crew. The Bingham Crew included the pilot, Lieutenant Dan Bingham, Tom Egan (waist gunner), Clarence Lidke, James Cunningham, the crew's navigator, and McGowan as the co-pilot. In his journal Tom Egan wrote, "Airfield N. Germany, because everyone was rather inexperienced we couldn't find our assigned group. So we joined another group and dropped bombs with them. (Light flak)." On their missions to Germany the crew bombed oil supply stations, viaducts, marshalling yards, assembly plants and other targets to disrupt Germany's ability to supply its troops.
Co-pilots were required to complete 35 missions to be eligible to return home. From August to December 1944, McGowan successfully completed 33 missions: two over France and 31 over Germany. In an effort to reach 35 more quickly, he volunteered for extra missions so he could return home to his wife and son in Wyoming as soon as possible. However, on the morning of December 27, McGowan did not want to fly. But according to Sergeant Thomas Egan, co-pilots were in short demand, so McGowan was chosen to join the Wallace Malone Crew.
The flight was delayed due to a hydraulic problem with the B-24 #42-50491 assigned to the Malone crew. After repairs, the crew attempted to rejoin the other planes headed for Kaiserslautern, Germany. While en route, Malone reported that one of the plane's engines failed, forcing the crew to abort the mission and turn the plane toward Manston Royal Air Force (RAF) Station. A second engine lost power over the icy waters of the English Channel off the Dover Coast. Malone made the decision to ditch the plane in the cold sea. According to Lieutenant Malone, McGowan's continuous radio communications notifying the RAF Air Sea Rescue of the plane's location helped save the lives of three crew members in the English Channel. Seven, including McGowan, did not survive the English Channel.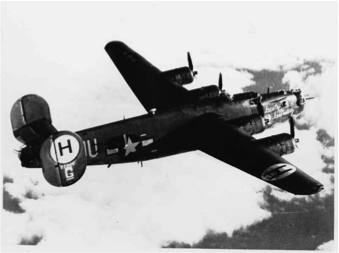 Eulogy
Mrs. Margaret T. McGowan received a Western Union telegraph dated January 13, 1945. The message explained how First Lieutenant Gale Bernard McGowan was killed in action on December 27, 1944. His body was not recovered from the English Channel. McGowan's name is inscribed on the Tablets of the Missing at the Cambridge American Cemetery in Cambridge, England.
A marker in memory of McGowan, also was placed at Fort Logan National Cemetery in Denver, Colorado.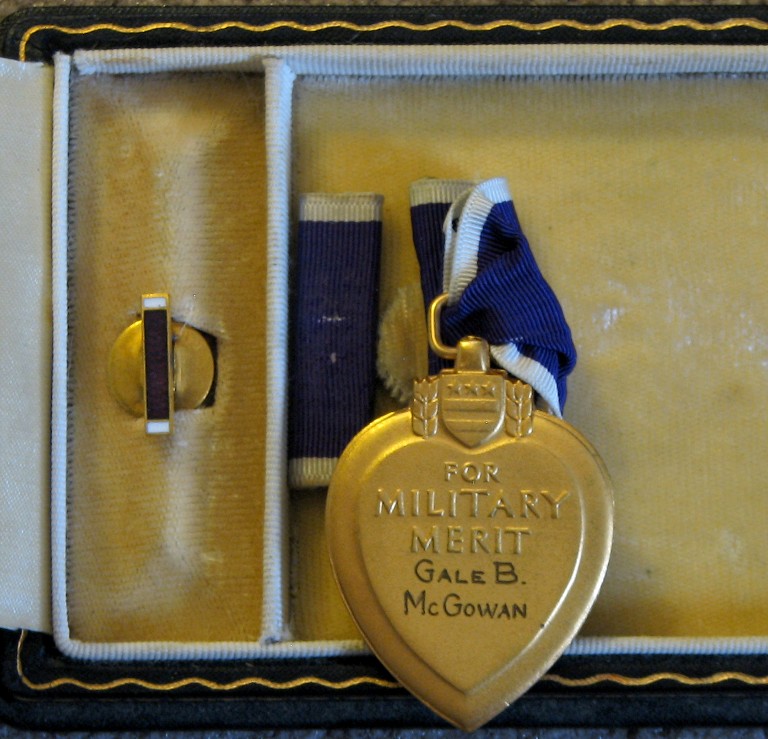 Reflection
Bibliography
446th Bomb Group; Records of the Army Air Forces, World War II Combat Operations Report 1941-1946, Record Group 18 (Box 2265); National Archives at College Park, College Park, MD.
446th Bomb Group; Records of the Army Air Forces, World War II Combat Operations Report 1941-1946, Record Group 18 (Box 2287); National Archives at College Park, College Park, MD.
446th Bomb Group; Records of the Army Air Forces, World War II Combat Operations Report 1941-1946, Record Group 18 (Box 2334); National Archives at College Park, College Park, MD.
Casper Star Tribune. "Corporal McGowan At Fort Knox, Ky." January 9, 1943.
First Lieutenant Gale McGowan. Photograph. Dec. 1944. The 446th Bomb Group.
www.446bg.com/missions/mission_photos/12_44photos.htm.
"Gale McGowan." American Battle Monuments Commission. Accessed November 5, 2014.
www.abmc.gov/search-abmc-burials-and-memorializations/detail/WWII_56061#.VcNMIPlViko.
Gale McGowan, Official Military Personnel File, Department of the Army, RG 319, National Archives and Records Administration – St. Louis.
Gale McGowan, Individual Deceased Personnel File, Department of the Army.
Hammer, Gayla. Cambridge Cemetery. July 17, 2015.
Hammer, Gayla. Tablets of the Missing. July 17, 2015.
Jansen, Harold. B-24 Gerty the Gremlin. Photograph. Norfolk and Suffolk Aviation Museum.
www.aviationmuseum.net/446BGimageshome.html.
Malone Crew Photo. Photograph. Dec. 27, 1944. The 446th Bomb Group. www.446bg.com/missions/mission_photos/12_44photos.htm.
McGowan Family Photographs. 1942-1944, 1990, 2015. Courtesy of Dennis B. McGowan.
This profile was researched and created with the Understanding Sacrifice program, sponsored by the American Battle Monuments Commission.