Chief Motor Machinist's Mate George Albert Kelly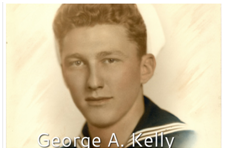 Unit:

LCI- 232

Service Number:

6344281

Date of Birth:

October 18, 1920

Entered the Military:

May 31, 1942

Date of Death:

June 6, 1944

Hometown:

Madisonville, Kentucky

Place of Death:

English Channel

Award(s):

Purple Heart

Cemetery:

Tablets of the Missing, Normandy American Cemetery.

Colleville-sur-Mer, France
Contributed by Abigail Woosley
Mentored by Gerald Morris
McLean County High School
2012-2013
Early Life
Home on Lake Street
George was born to Dan and Bessie (Barnes) Kelly, on October 18, 1920, in Madisonville, Kentucky. For the first few years of Dan and Bess's marriage, they lived in Muhlenberg County. When they expressed a desire to begin a life on their own, Bess's parents supported them by purchasing the home at 212 Lake Street, where George grew up. George had three siblings: Christine, Charles, and Mary. Unfortunately, Mary Kelly died at the age of 12 from the Spanish flu.
A Car of His Very Own
George's childhood consisted primarily of playing the trumpet, neighborhood ball, and going to his family's Methodist Church. He worked at his father's car garage, where he learned a love for mechanics. In an interview with one of George's classmates, Mr. Reynolds, we learned a great deal about his high school career. George was one of the lucky few teenagers in the 1930s to have a car of his very own. Considering that there was no such thing as public school transportation to and from school events, this made him excessively popular. Members of the band consistently offered to keep George company on his travels to various school functions.
The Trumpet Players
In George's senior year, 1939, the school band participated in a national competition and received the National Band Association's highest ranking. George was one of three trumpet players. His commitment to playing was demonstrated in his classmate's comments, who regarded him as the most accomplished trumpet player among the three.
After high school, he worked in his father's garage as a mechanic. When he signed his draft card in February 1942, he lived at the YMCA in McKeesport, Pennsylvania, and worked for Carnegie Steel in Allegheny, Pennsylvania.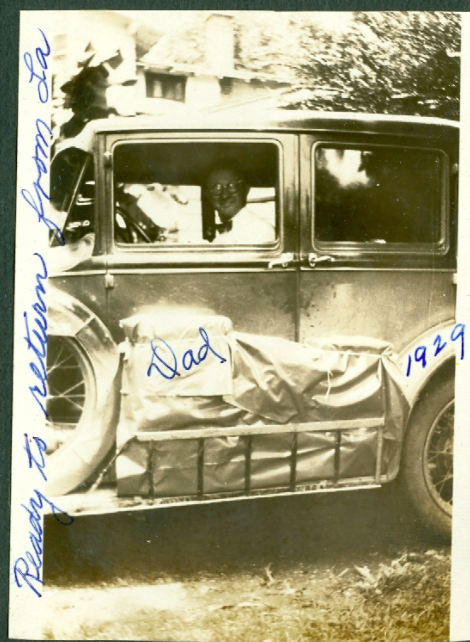 Homefront
Industry Changes
Madisonville, Kentucky, was very much like all other small towns during the war. Under a magnifying glass, the world looked like a much more wholesome, respectable place to live than today. On the whole, though, it was a much more frightening time to be alive than the present day. During this time period, agriculture was the significant employer in the region. Though tobacco is king in Kentucky during this time, farmers switched to crops needed for the war effort. Others worked in Evansville, Indiana, building LSTs and P-47's.
The War Effort
During the war, small communities were asked to sacrifice in significant ways. People were encouraged to stay off phones and keep lines open. Propaganda was released to discourage people from making some purchases as it would ultimately assist the Axis powers if industry in some areas grew. They had several rubber drives. Women saved their cooking fats and donated them to the cause. Like everywhere else, people were issued ration cards and could only purchase a fixed amount of most items. Ads were put into papers, the primary media source, encouraging people not to become disheartened at the war's length or magnitude.
A Tight-Knit Community
As a whole, the community appeared to remain very tight-knit in those trying times. War propaganda filled the local newspaper. Individuals did not question the need for their sacrifice and the public opinion, as the Madisonville Messenger relays it, was very supportive.
Military Experience
Entering the Navy and Preparation
Shortly after enlistment, Kelly reported to Chicago for training on diesel engines. He graduated and pursued advanced training. He completed a course in Class A Group 3 diesel engines.
Rising in Ranks
After finishing his training in November 1942, Kelly was transferred to Norfolk, Virginia. On January 6, 1943, he was assigned to his only ship, LCI 232 (Landing Craft Infantry). While aboard LCI 232, he steadily rose in rank from fireman first class to chief motor machinist mate on June 1, 1944, five days before D-Day.
Operations before D-Day
LCI 232 served in Operation Torch, helping to land troops in Tunisia in April 1943. He moved on to Sicily in July 1943 with Operation Husky. In September 1943, LCI 232 participated in the landings at Salerno, Italy. Then, in January 1944, in an attempt to break the German lines in Italy, Kelly's ship participated in the landings at Anzio.
June 6, 1944: D-Day
In March 1944, LCI 232 sailed to England in preparation for Operation Overlord. The Navy's role in the invasion of Normandy would be code-named Neptune. On the morning of June 6, 1944, George's ship and the other LCI's, offloaded its complement of soldiers at Utah Beach, Normandy.
On the way out to retrieve more soldiers, LCI 232 was struck by an enemy shell and hit an undersea mine, about a mile and a half off the beach. From the ship's logs of three other LCI's, the vessel sank quickly. As Chief Motor Machinist's Mate, George was in the engine room when the ship was struck. Consequently, he had no chance of survival.
His commanding officer wrote to his parents, noting:
"I fully realize the inadequacy of anything I can say to you to lighten the burden of grief and anxiety which must be yours at this time. I hope you may receive some comfort and courage in the knowledge of your son's brave devotion and splendid service. Your son was a fine sailor who was respected for his professional abilities, his conscientious performance of duty according to the highest standards of our naval traditions and his qualities of fellowship and leadership which made him a fine ship-mate. He was well liked by all the officers and men aboard the ship. I profoundly hope that you may find solace in the thought that he lies buried with honor in the sea he served so well. The memory of your son will remain a constant inspiration to all who knew him and who must now carry on the struggles to preserve the ideals for which he so devotedly gave his life. He was a credit to his home and country and you may justly be very proud."
The U.S. Navy listed him as MIA (Missing In Action) until March 30, 1945, when they declared him KIA (Killed In Action). George was posthumously awarded the World War II Victory Medal, the European-African-Middle Eastern Area Service Ribbon with five stars, the American Area Campaign Medal, and the Purple Heart.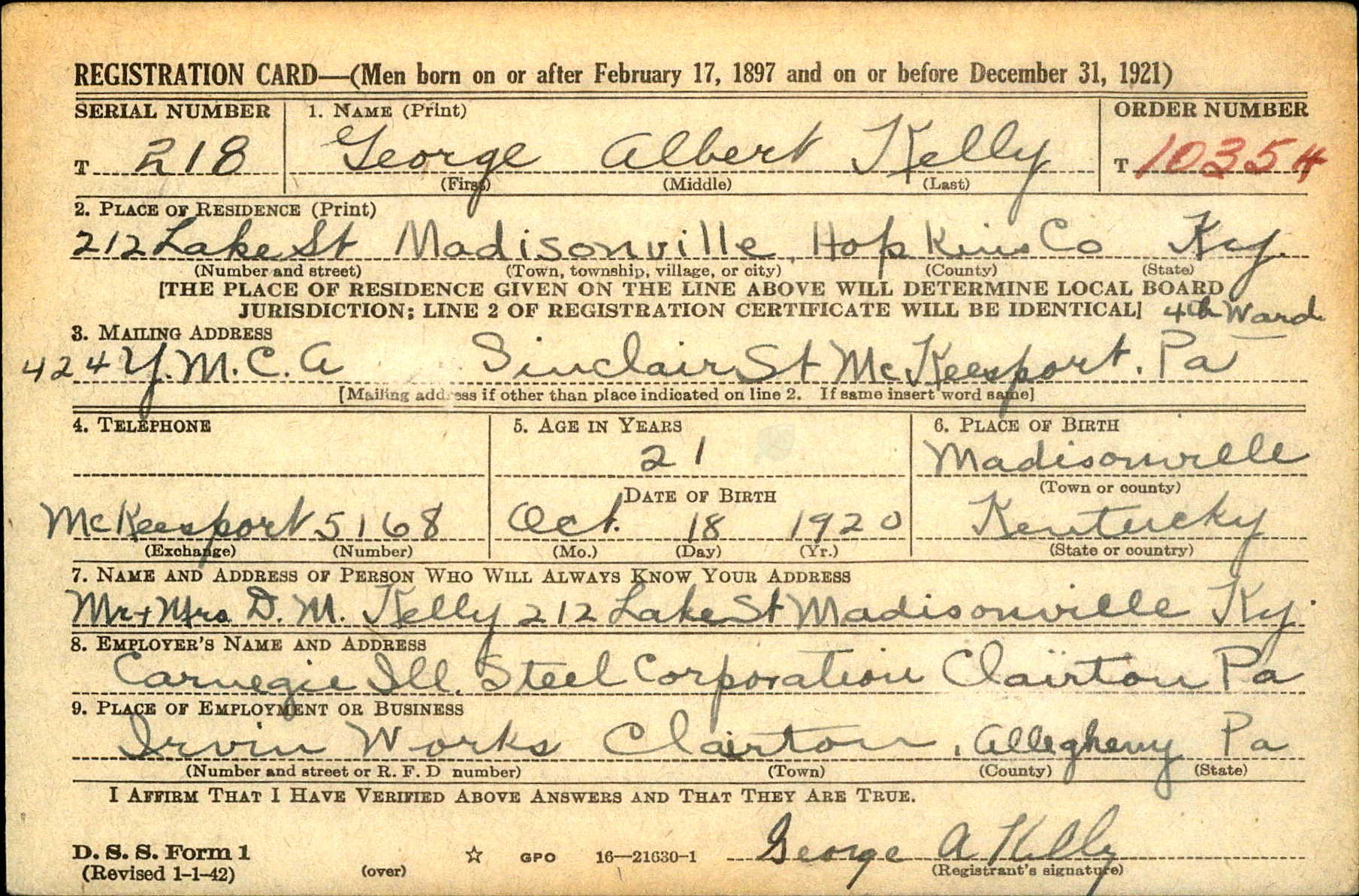 Eulogy
George Kelly and I have three main things in common: our faith in God, a love for our families, and the love of music.
He lived with his parents in Madisonville, Kentucky, on 212 Lake Street. As a child, he loved music, animals, his friends, and his family. He was very outgoing and enjoyed the time he spent at school. He also loved traveling to football games to play in the band with his friends. In his graduating year of 1938, he received an award at a band competition for outstanding performance. All the band members acknowledge George as the best trumpet player. He was a true blue band geek.
He chose the Navy so his skills as a mechanic could be put to good use. His country called, and he bravely answered. The courage shown by this man embodies the so often untapped heroic spirit within all of us. Hearing stories such as George's is how we reach that place inside ourselves and find our strength to do something great. George participated in several invasions, including landings in Sicily, Salerno, Anzio, and finally, the June 6 invasion of Normandy, where he was declared MIA.
It had been 17 months since George had been home to see his family and nine weeks since he was able to send a letter. It becomes very easy for us to let the large numbers of men who died in World War II to become only numbers and nothing more. However, today I ask that we take the time to celebrate the life of a man who lived life to the fullest while he had the opportunity—a man who went without, so we could have more—someone who gave the ultimate sacrifice.
Today, let's remember George Albert Kelly, beloved son, friend, and countryman.

Reflection
My trip and the process it took to earn the experience was a unique, life-enriching experience. The application process began last year, about this time in August. My teacher, Mr. Morris, approached me with the idea. He told me there would be a great deal of work involved, but it would end with us crossing the pond with a group of people who were just as excited about history as we were. I then said that if, for some reason, we did not apply after, he would no longer be on my list of favorite teachers! I was ecstatic. One of my favorite quotes reads:
"We act as though comfort and luxury were the chief requirements of life, when all that we need to make us really happy is something to be enthusiastic about." — Charles Kingsley
For the past year, the National History Day Normandy Institute has been my chief source of enthusiasm, and while the process has not always been easy, it has made me truly happy.
Though we began working on the application process in August of last year, we were not officially invited to participate until a few days before Christmas. It was perhaps the most extended wait I have endured thus far in my 18 years of life! Shortly after we were selected, the books came. Then a couple more. Then yet another came. Allow me to warn any potential participants, if you are interested, you must be willing to read, blog about what you read, and read a bit more still. While the preparation was taxing, I enjoyed it a great deal.
We also were required to do a project over a fallen sailor, soldier, or airman. I chose George A. Kelly, the individual to whom this website is dedicated. He grew up in Madisonville, which is roughly 40 minutes away from where I live. I drove there to complete research on several occasions, and I would have never finished my study had it not been for the help of the Hopkins County Genealogical Society.
Finally, in June, we left the ground. We spent several days at George Washington University before visiting the foreign land. There we studied several different topics on World War II and got to know each other. I could not have imagined a better group!
After staying in Washington D.C. for several days, we finally made the jump. Having the opportunity to experience a different culture at a formative age is a wonderfully unique opportunity.
Bibliography
Primary Sources
Deed to 212 Lake Street. Hopkins County Clerk of Courts.
George Kelly. Kentucky Birth Index, 1911-1999. ancestry.com.
George A. Kelly. Individual Deceased Personnel File. National Archives and Records Administration – St. Louis.
George Albert Kelly. U.S. Navy Casualty Books, 1776-1941. Digital images. ancestry.com.
George Albert Kelly. World War II Draft Cards, Young Men, 1940-1947. Digital images. ancestry.com.
Kelly Family Photographs, c. 1920-1945. Courtesy of Mary Sue Ryan.
Kentucky. Hopkins County. 1930 U.S. Federal Census. Digital images. ancestry.com.
Kentucky. Hopkins County. 1940 U.S. Federal Census. Digital images. ancestry.com.
Madisonville Messenger. 1944. Hopkins County (KY) Genealogical Society.
Ryan, Mary Sue. Personal interview with author. 2013.
[Soldiers landing from LCI 326]. Photograph. 1944. National Archives Records Administration.
Secondary Sources
"CMoMM George A Kelly." Find a Grave. Updated August 8, 2010. Accessed February 11, 2021. www.findagrave.com/memorial/112486644/george-a.-kelly.
"George A. Kelly." Find a Grave. Updated June 17, 2013. Accessed February 11, 2021. www.findagrave.com/memorial/112486644/george-a.-kelly.