Sergeant Major George Whittle Brown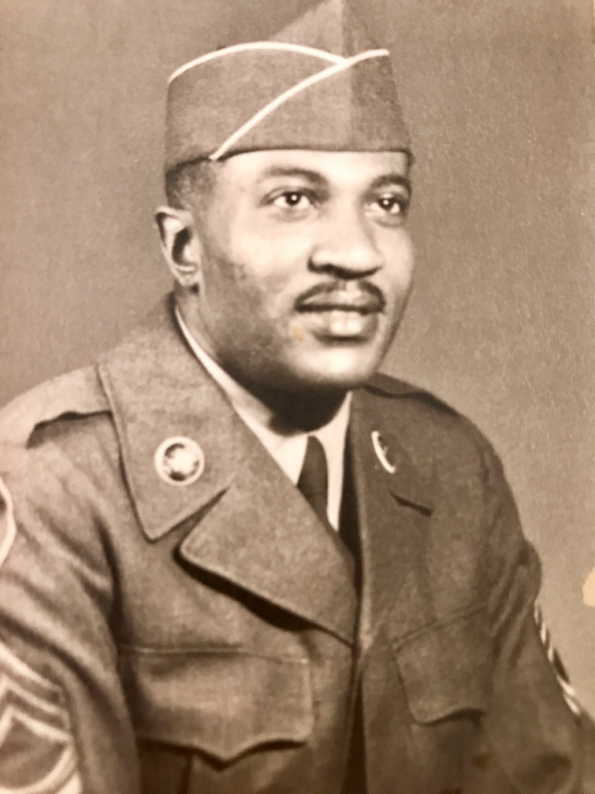 Unit:

25th Infantry Division, 77th Engineer Combat Company, Company C

Date of Birth:

June 30, 1924

Entered the Military:

May 13, 1943

Date of Death:

November 14, 2009

Hometown:

Spartanburg, South Carolina

Cemetery:

Section 2, Row O, Site 644.

Central Texas State Veterans Cemetery, Killeen, Texas
Contributed by Mr. Greg Borchardt
2017–2018
Before the War
George Whittle Brown was born June 30, 1924, in Cayce, South Carolina. He was the fourth of seven children born to Reverend James Benjamin Brown and Sallie Lorick. In 1928, Brown and his family moved to Spartanburg, South Carolina, when his father became the priest of the Episcopal Church of the Epiphany on Liberty Street.
Spartanburg was deeply segregated during his childhood, but the church was the center of a thriving black neighborhood with restaurants, shops, and services. Brown and his siblings often played on the church's playground after school. Brown served as a rector at the church and attended Carver High School in Spartanburg, graduating in 1942. Brown also graduated from Allen University in Columbia, South Carolina.
Military Experience
At age 18, during the early stages of America's involvement in World War II, Brown enlisted in the U.S. Army at Fort Jackson, South Carolina. He trained with the 1314th Engineer Corps in Claiborne, Louisiana, and ultimately served in the European theater as a tractor mechanic, demolition man, and construction foreman with a segregated regiment of the U.S. Army Corps of Engineers.
Brown and the engineer corps provided vital support for troops in their march across France and Germany. Although African Americans were often denied the chance to serve in combat roles, Brown's experience during World War II shaped the rest of his military career.
After returning to the United States, Brown was formally discharged in January 1946, but reenlisted in July 1946. He served in South Korea for one year and earned the rank of staff sergeant while working as a construction foreman.
Brown earned promotion to sergeant first class while serving with the 17th Armored Engineer Battalion in Camp Hood, Texas, from 1948 to 1949. The next year, Brown returned to Korea with the 77th Engineer Combat Company during the early stages of the Korean War.
Attached to the all-black 24th Infantry Regiment of the 25th Infantry Division, Brown's unit assisted the infantry in six Korean campaigns, including the vital seizure of the road junction at Yechon in July 1950. Brown served as a squad leader during his 14 months in combat, searching for enemy mines, constructing bridges, and assisting the infantry in combat missions when needed. The 77th Engineer Combat Company was the last segregated combat unit of the U.S. Army. It was deactivated in April 1953.
Brown married Barbara Stone in 1953 while serving in Fort Benning, Georgia. During the early Cold War, Sergeant Brown completed an extended deployment to the U.S. base in Garmisch, Germany, serving as a supply clerk and later supply sergeant. He received commendation from the commanding colonel for his outstanding supervision of the supply rooms and records. Captain Robert A. Himes commended Brown for his "professional knowledge, complete devotion to duty, outstanding soldierly qualities and continuing effort for professional achievement."
Brown and his wife moved back to the United States in February 1958, and Barbara gave birth to their daughter Valeri on May 15, 1958 in San Antonio, Texas. Brown served as the Medical Supply Sergeant at Brooke General Hospital at Fort Sam Houston for four years before returning to Germany for three more years from August 1962 to August 1965. Sergeant Brown received praise in every position he occupied.
As a non-commissioned officer (NCO), Brown and his fellow NCOs made up the backbone of the U.S. Army. Although supply officers serve behind the scenes, their organizational efforts are essential for maintaining efficiency and order within the military. As an African American soldier, Brown gained recognition and appreciation within the military that often eluded blacks in civilian society.
Brown and his family returned to Texas in August 1965 and were stationed at Fort Hood in Killeen. At age 45, Brown deployed to Vietnam as a senior supply sergeant for 11 months. Brown served with distinction in three wars over three decades. After returning to Fort Hood in 1968, Brown attained the rank of Sergeant Major and served five more years as an Administration Specialist at the largest military encampment in the United States. He retired in December 1973 after 30 years in the U.S. Army.
Veteran Experience
Brown settled in Killeen with his family and lived a long, fulfilling life as a veteran. He walked his daughter Valeri down this aisle in 1978 and welcomed the birth of his first grandson, Woodrow, two years later. His granddaughter Harriet followed four years later. He was a member of the American Legion Post 223, a life member of the Veterans of Foreign Wars Post No. 9191, as well as a volunteer at the Disabled American Veterans Charity and Armed Forces E-9 Association. He continued to live in Killeen with his wife Barbara until his death in 2009.
Commemoration
George Whittle Brown died on November 14, 2009 in a Killeen, Texas nursing home at the age of 85. He was laid to rest at the Central Texas State Veterans Cemetery in Killeen, Texas, on November 18, 2009, in a ceremony officiated by U.S. Army Reserve Chaplain Reverend George Holston. He was survived by his wife Barbara, daughter Valeri Bogucki and her husband Paul, his brother Alfred, sister Cornell, and his two grandchildren. As a veteran of three wars, he lived a life of service to his country.
Bibliography
"77th Engineering Company." 25th Infantry Division Association. Accessed August 20, 2018. www.25thida.org/units/engineers/.
"An African-American Tour of Spartanburg." Spartanburg Convention and Visitors Bureau. Last modified 2015. Accessed August 20, 2018. www.visitspartanburg.com/spartanburg-insiders/an-african-american-tour-of-spartanburg.
Brigham, Corporal Robert. Mine Detectors: Men of the 77th Combat Engineers, 25th Div, sweep the road through Inchon, Korea for mines. Fifty were discovered. February 13, 1951. National Archives and Records Administration. (111-SC-358430). Image.
Bussey, Charles M. Firefight at Yechon: Courage and Racism in the Korean War. Lincoln: University of Nebraska Press, 2002.
Carlisle, David K. "The Last Black Combat Unit of the  U.S. Army Fights Alongside the Last Black 24th Infantry Regiment: The Last and Most Important Battle of the Korean War." The American War Library. Accessed August 20, 2018. www.americanwarlibrary.com/personnel/dkc1.htm.
Conley, Linda. "End of an Era: With the Demise of Liberty Street Came the End of City's Black Business District." Spartanburg Herald-Journal, February 25, 2001. www.goupstate.com/news/20010225/end-of-an-era-with-the-demise-of-liberty-street-came-the-end-of-city39s-black-business-district.
Fabiszak, Private First Class Charles. Paying Respects: Men of the UN Forces looking over the sign on the 77th ECC Memorial Bridge in Korea. 1950. National Archives and Records Administration. (111-SC-363177). Image.
George W. Brown. Public Member Photos and Scanned Documents. Digital Images. ancestry.com.
"George Whittle Brown." National Cemetery Administration Nationwide Gravesite Locator. Accessed March 15, 2018. gravelocator.cem.va.gov/index.html.
George Whittle Brown, Official Military Personnel File, Department of the Army, National Archives and Records Administration – St. Louis.
George Whittle Brown. U.S. Department of Veterans Affairs BIRLS Death File, 1850-2010. Digital Images. ancestry.com.
"Historical Vignette 112 – African-American Engineer Troops." U.S. Army Corps of Engineers. Last modified February 2008. Accessed August 20, 2018. www.usace.army.mil/About/History/Historical-Vignettes/Women-Minorities/112-African-American-Engineer/.
"Sgt Maj George Whittle Brown." Find a Grave. Last modified October 22, 2012. Accessed May 2, 2018. www.findagrave.com/memorial/44471779/george-whittle-brown.
South Carolina. Spartanburg County. 1930 U.S. Census. Digital Images. ancestry.com.
South Carolina. Spartanburg County. 1940 U.S. Census. Digital Images. ancestry.com.