Chief Pharmacist's Mate Graham Carley Mahan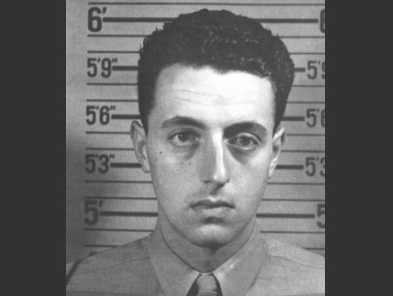 Unit:

USS LST-314

Service Number:

3821493

Date of Birth:

August 15, 1921

Entered the Military:

December 15, 1939

Date of Death:

June 9, 1944

Hometown:

Los Angeles, California

Place of Death:

English Channel, off the coast of Normandy, France

Award(s):

Purple Heart

Cemetery:

Tablets of the Missing.

Normandy American Cemetery, Colleville-sur-Mer, France
Contributed by Zobeida Chaffee-Valdes
Mentored by Ms. Olivia Macaulay
Glendale High School
2013-2014
Early Life
Graham Carly Mahan grew up in Los Angeles, California. He was born in 1921, the first child of Henry Mahan and Isabel Childs Mahan. He had two younger brothers, John and William.
When he was a small child, his father, a lawyer, and former U.S. Naval Corpsman left his family. Graham and his brothers lived with their mother and her family during the Great Depression. His mother, the only employed member in the household, worked as a secretary, providing for her parents, brother, aunt, and three young sons. She put all three of her children through high school, and her son well recognized her devotion to her family. He listed her as his prime beneficiary during his time in the U.S. Navy.
When Mahan was a young man, he worked in California's Civilian Conservation Corps in Glendora, just 23 miles north of Los Angeles. Mahan did this work while finishing high school. In 1939, at age 18, Mahan enlisted in the U.S. Naval Medical Corps. His mother signed his release before she moved her younger sons to Oregon. There she worked as a seamstress and later remarried.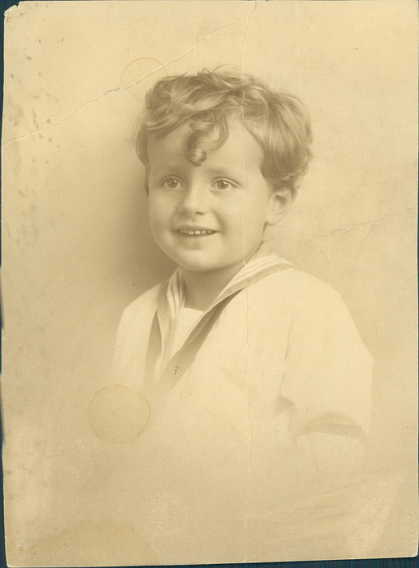 Homefront
Graham Mahan was raised in Los Angeles, California, which had undergone an extensive period of growth. By 1943, the Greater Los Angeles area had a larger population than 37 states, and one in every 40 Americans lived there. It was also responsible for 17% of America's total war production. As a coastal city, it produced ships. Its proximity to the desert meant that it also had air force bases. Of the 120,000 Japanese and Japanese Americans who were interned during the war, approximately 75 percent came from Los Angeles. Many were first relocated to the racetrack at Santa Anita and later to other internment camps farther east.
Battle of Los Angeles
Los Angeles was the site of the Battle of Los Angeles in 1942. This event was not a real battle but rather a collection of anti-aircraft guns in the Los Angeles area firing at imaginary Japanese bombers. This response was a reaction towards the general feeling of hysteria produced in the wake of Japanese submarines shelling a Santa Barbara oil facility. It lasted for about two hours, with no fatalities.
Zoot Suit Riots
Los Angeles was also a hotbed of racial tension. The Zoot Suit Riots occurred in June 1943. The riots resulted when a group of white sailors stationed in Southern California went into the Mexican American communities of Los Angeles to hunt down the "zoot suiters" (Mexican American youths wearing a very distinctive style of clothing) and assault them. This violence served as a response to another group of white sailors who stated that the zoot suiters had attacked them.
The resulting chaos lasted several days. There were no deaths, but the Los Angeles Police Department arrested about 600 Mexican Americans. In contrast, very few sailors were taken into custody. The newspapers regarded the sailors as heroes, the zoot suiters as criminals. While this conflict was primarily between service members and Mexican Americans, other minority groups were affected and targeted. On June 8, Los Angeles was declared off-limits to military personnel, and zoot suits were declared illegal.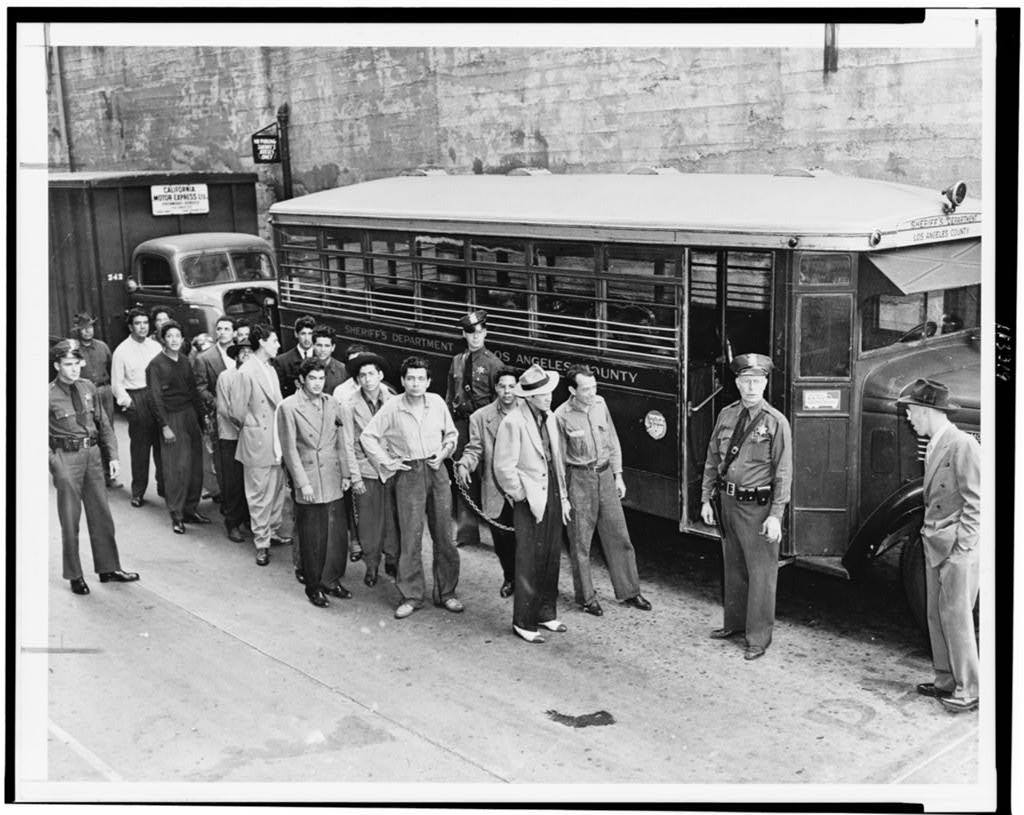 Military Experience
Military Career
Mahan spent two years completing his medical training in the Hospital Corps School in San Diego, California, before being deployed to Guadalcanal in 1941 on the USS President Hayes as part of the Headquarters Company, 1st Battalion. There, he served for several months before being sent back to California to recover from malaria. Except for his months in Guadalcanal and the time he spent deployed in Iceland, Mahan spent most of his time as part of the Second Marine Brigade of the Fleet Marine Forces in the United States, taking part in more training and working on the bases.
It was during one of these periods at home that he married his wife, Virginia Claire. She accompanied him to many of his posts, including Quantico, Virginia. However, in 1944, she had to return to their permanent home in Van Nuys, California.
In February 1944, Mahan transferred to Lido Beach, New York, where he and other medical corpsmen underwent intense training in secret as part of Foxy 29. This top-secret group of medical personnel trained to transform Landing Ship Tanks (LSTs) into floating hospitals for the invasion.
They moved to a base in England and were assigned to LST-314, which went between England and Normandy's shores, transporting men and materials while treating the wounded. However, on June 9, its second journey, the LST-314 was sunk by a German E-Boat. Many of her crew, including her commanding officer, Lieutenant Tutt, were rescued by nearby ships, but many more perished. Graham Mahan was working in the part of the ship hit by the torpedo and was later declared Missing in Action, Presumed Dead.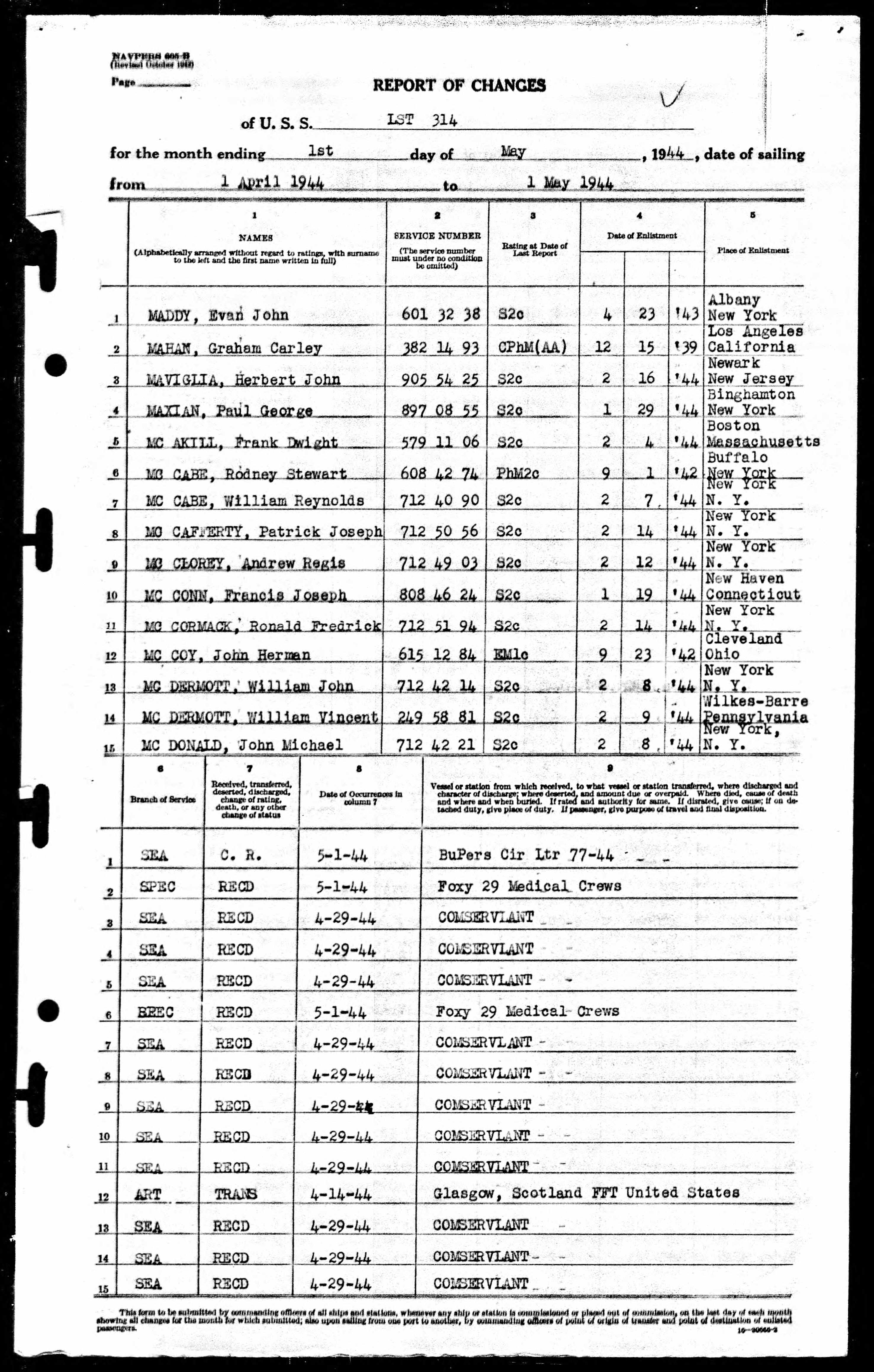 Eulogy
Non sibi sed patriae. Latin for "not for self, but country," and the United States Navy's unofficial motto.
Primum non nocere, or "First, do no harm," the core belief of every person in the medical profession, whether they have taken the Hippocratic Oath or not.
Whether he was aware of it or not, Chief Pharmacist's Mate Graham Carly Mahan lived by both of these sayings. As a sailor, he dedicated his life to serving his country. As a medical officer, he repaired the wounds war had inflicted on his comrades to the best of his ability. He was described by his commanding officers as hard-working and soft-spoken, diligent, and intelligent — someone you could depend on and a man who would always perform his duty with grace and efficiency. He demonstrated these qualities in the civilian conservation corps, where he worked as a teenager. In the Second World War, he demonstrated them in Guadalcanal and Iceland. From June 6 to June 9, 1944, he demonstrated those qualities in Normandy.
Graham Mahan did not storm the beaches of Normandy. He was stationed on the LST-314. It was his duty and the responsibility of every other medical officer on that ship to convert the landing craft into a floating hospital. He worked tirelessly to tend to the wounds of those who fought on Utah and Omaha Beaches, treating Allied soldiers and German prisoners of war alike. In doing this, he saw as much carnage as any of the soldiers fighting on the beaches. On June 9, a German E-Boat sunk LST-314 while making its second journey back to England after off-loading cargo to Normandy.
When the torpedoes hit, Chief Pharmacist's Mate Mahan was working at his station. That day, he and many of his ship-mates gave their lives so that others may survive.
His legacy was carried on by his mother, Isabella, the mother who raised three children in hard times and lost two of them to war, and Henry, the proud father who saw his oldest son carry out his legacy in the Navy. He was remembered by his younger brother, John, who raised his own family after the war, and his devoted wife, Virginia Claire, who accompanied him to his stations, from California to Virginia, and back.
Now, that legacy is carried on by myself, by my teacher, and by everyone present here today. I never met Graham Mahan, but I feel that, on some level, I do know him. He was a child that grew up in a growing city, a boy who faced the challenges of Depression, and a man who witnessed the trials of War.
He is someone who deserves to be remembered and thanked for his life of service and devotion. So on behalf of everyone here today, thank you, Graham. Your sacrifice will be remembered.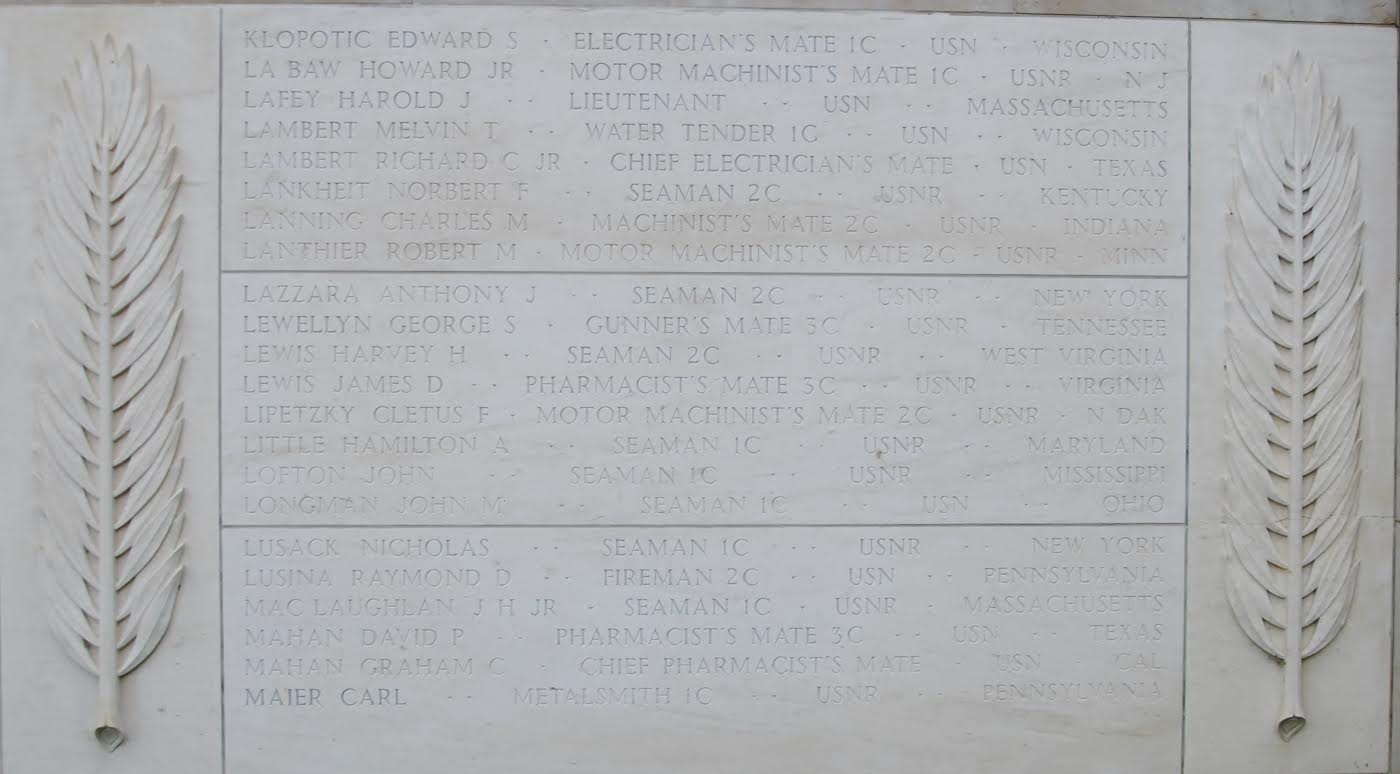 Reflection
The Normandy Institute was a compelling experience for me. One of the aspects of history that we do not touch on in our classes is the personal one; how individuals deal with the events occurring in their time and how the average person impacts. People sacrifice for their country every day, and while it may not seem significant at first glance, these sacrifices are substantial.
The Normandy Institute allowed me to study someone who made the ultimate sacrifice for his country. Graham Mahan was one of the thousands who fought and died for his country during a time of great need, and he was far from just a sailor. He was a person as well. This personhood gets lost in the textbooks and reports. In class, you read about World War II's casualties, and you are faced with a number, something cold and impersonal. Many people logically know but fail to realize that there is a name behind each number, and behind each name a person: a man, or woman, or child. And we fail to realize that all of these people have lives of their own.
Graham Mahan was not just a sailor, a medic, or a man with a rank and service number, and neither was any other man or woman who made a sacrifice for freedom. This institute finally allowed me to believe that.
I have made so many personal connections to World War Two on this trip, and I genuinely believe that I understand history in a way I never had before.
Bibliography
Primary Sources
Acme Newspictures, Inc. Zoot suiters lined up outside Los Angeles jail en route to court after feud with sailors. Photograph. 1943. Library of Congress (95504788). www.loc.gov/item/95504788/.
Atkins, Ollie. This photograph of three men sporting variations on the zoot suit… Photograph. 1946. National Archives and Records Administration, Richard Nixon Library and Museum. recordsofrights.org/records/62/zoot-suiters-on-parade.
California. Los Angeles County. 1930 U.S. Federal Census. Digital images. ancestry.com.
Graham C. Mahan. California Birth Index, 1905-1995. ancestry.com.
Graham C. Mahan. Headstone and Interment Records for U.S. Military Cemeteries on Foreign Soil, 1942-1949. ancestry.com.
Graham C. Mahan. Official Military Personnel File. Department of the Navy. National Archives and Records Administration – St. Louis.
Graham C. Mahan. U.S. Navy Casualty Books, 1776-1941. Digital images. ancestry.com.
Graham Carley Mahan. Photograph. c.1920s. Digital images. ancestry.com.
Graham Carley Mahan. World War II Navy Muster Rolls, 1938-1949. Digital images. ancestry.com.
Graham Carley Mahan. Veterans Administration Master Index File, 1917-1940. ancestry.com.
Gonyo, Bill. USS LST-314 and USS LST 374 loading supplies at Castleton, Portland, England in preparation for the Invasion of Normandy. Photograph. June 9, 1944. National Archives and Records Administration (C-745). www.navsource.org/archives/10/16/160314.htm.
Radigan, Joe. USS LST-314 and USS LST 374 loading supplies at Castleton, Portland, England in preparation for the Invasion of Normandy. Photograph. June 1944. U.S. Naval Institute. www.navsource.org/archives/10/16/160314.htm.
Secondary Sources
"Graham Carley Mahan." Find a Grave. Updated January 9, 2015. Accessed February 28, 2021. www.findagrave.com/memorial/141127272/graham-carley-mahan.
"Graham Carley Mahan." Find a Grave. Updated September 23, 2016. Accessed February 28, 2021. www.findagrave.com/memorial/170427726/graham-carley-mahan.
"Graham C. Mahan." American Battle Monuments Commission. Accessed February 28, 2021. www.abmc.gov/decedent-search/mahan%3Dgraham.
"USS LST-314."NavSource Online: Amphibious Photo Archive. Accessed February 28, 2021. www.navsource.org/archives/10/16/160314.htm.