Private Gustaf Arvid Fredrik Ekstrom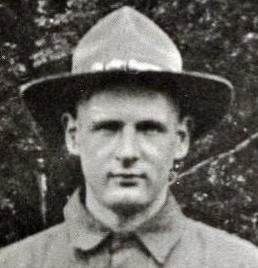 Unit:

88th Division, 350th Infantry Regiment, Company F

Date of Birth:

August 13, 1894

Entered the Military:

June 17, 1918

Date of Death:

October 12, 1918

Hometown:

Marshalltown, Iowa

Place of Death:

near Ammertzwiller, France

Cemetery:

Plot G, Row 24, Grave 2.

Meuse-Argonne American Cemetery, Romagne-sous-Montfaucon, France
Contributed by Ms. Ann Jackson
Miller Middle School
2018-2019
Early Life
Becoming an American
On August 13, 1894, Gustaf Arvid Fredrik "Fred" Ekstrom was born in Ramkvilla, Jönköping, Sweden, a small village situated by Lake Örken in the southern Swedish province of Småland. His parents, Karl Gustaf Ekstrom and Anna Hjelm, had ten children; Fredrik was the fifth. Fredrik's mother worked as a midwife and his father served as a soldier in the military.
At age 19, Ekstrom and his twin brother, Karl left their small village and boarded the S.S. California in Glasgow, Scotland to begin their journey to the United States. Upon their arrival on May 18, 1914, the brothers parted ways. Fredrik joined his uncle, Alfred Gustafson, in Marshalltown, Iowa, while his brother moved to Michigan. Ekstrom found employment as a farm hand with Mr. D. V. McLean near Lamoille, Iowa. McLean raised purebred hereford cattle and later became a state legislator. Fredrik was well-known and liked in the Lamoille community.
Military Experience
The Draft
Ekstrom registered for the draft on June 5, 1917. On his draft card, he could have claimed exemption from the draft as an alien resident. His twin brother, Karl, exercised this option on the draft card he completed in Iron River, Michigan. It is uncertain whether Ekstrom knew he had this option. In any event, the registration card was signed by Draft Registrar, D. V. McLean (Ekstrom's employer).
The Marshall County Draft Board selected five groups of men before Ekstrom was finally selected for military service. On June 17, 1918, at the Marshall County Courthouse, the U.S. Army drafted Ekstrom, along with 42 other men.
The following Monday morning, the draftees left for training at Camp Dodge in Johnston, Iowa. The weather was rainy and disagreeable. Ekstrom's uncles, aunts, and cousins living in the Marshalltown area made the trip to town to see him off. His aunts wept as they waved goodbye, and when Ekstrom saw their emotion he began to cry as well. That night, his cousin, Jennie, wrote in her diary that she felt "so sorry for him because his parents are not here and also because Carl [sic] his brother was not here to see him off."
Preparing for War
Once at Camp Dodge, Ekstrom joined other draftees from Iowa, Minnesota, the Dakotas and Illinois. The Army assigned Ekstrom to the 88th Division, 350th Infantry Regiment, Company F, Medical Detachment. Training for the draftees at Camp Dodge included physical fitness, trench warfare, gas mask proficiency, grenade use, bayonet combat, firearms marksmanship and offensive tactics. Ekstrom participated in drills for three hours each day. He also worked in the medical department, where he assisted sick soldiers in their recovery.
On July 14, 1918, Ekstrom's family drove to Camp Dodge to visit him. They saw his quarters and the hospital where he worked. Ekstrom's cousin described the day in great detail in her diary. She said Fredrik "had a very nice cot & three heavy blankets" and "his own cup, plate, knife, fork and spoon. . . made of aluminum." The family also saw the training trench. Ekstrom's cousin thought it "was certainly very peculiar. Some places it was about a foot or more above Gust's [her uncle's] head and some places it was quite shallow." She also described the family going out for dinner that evening with Ekstrom. She said that he ate "so much that it is a wonder he did not get sick."
Leaving for War 
On August 4, 1918, Ekstrom's regiment boarded a train to the east coast. They traveled through Marshalltown, Iowa, on their way to Jersey City, New Jersey. From there, the men took a ferry to Long Island City in Queens, New York. The group then boarded another train for Camp Upton, located in Suffolk County, New York. Company F spent three days at Camp Upton getting outfitted for war. On August 11, at 11:00 a.m., Company F boarded the British vessel S.S. Delta.
The U.S. Army assigned Ekstrom's company to decks C and E. The voyage to England was quite uncomfortable. The ship had poor ventilation. In addition, throughout the voyage the food served to troops was given in small quantities, which served to "add to the bad smells" of the ship.
Arrival Overseas
The S.S. Delta anchored at the mouth of the River Thames on Saturday, August 24. After disembarkation, the troops boarded a train for Romsey, England. Upon arrival at Romsey, the troops marched for a short distance in heavy rain to Camp Woodly, where they spent the evening sleeping on hard floors.
At Camp Woodly, the company practiced marching for five days in the countryside of Hampshire. They then marched eight miles with full field equipment to a camp outside of the port of Southampton. After resting just a few hours, the Company boarded the S.S. Archangel to cross the English Channel to France. The next morning, on August 31, 1918, the men arrived at Cherbourg, France.
On arrival in France, Ekstrom's division was required to turn in their supplies. The men had to hand over everything, except their blankets, because the soldiers in the Argonne drives needed the supplies. The men had little left as even the Division's means of cooking went to the front lines. The soldiers improvised with the extensive use of camp kettles and water cans. Some soldiers purchased cooking utensils from French civilians.
Travel continued in France for Ekstrom and his unit. First the company travelled by train to Semur and then marched on to the village of Courcelles. The troops were the first Americans billeted in the village. The French greeted the American soldiers with great hospitality. The village celebrated the troops' arrival with an impromptu reception and they "were given their first taste of 'Vin Rouge (red wine).'" The Company spent two weeks in Courcelles practicing extended order drills.
On September 18, Ekstrom and Company F marched thirty kilometers to Les Laumes, where they boarded a train for Héricourt. The following morning they marched to Bavilliers, where the U.S. Army issued gas masks and the troops practiced using live grenades.
March to the Front
On Saturday, October 5, Ekstrom's company began their final march to the front lines. On the first day they covered eight kilometers. The next evening the troops marched an additional 24 kilometers. The final trek lasted almost three hours. Just over 60 days after leaving Iowa, they reached the front line trenches at Balschwiller in the Alsasce region.
When the 88th Division relieved the 38th French Division on the front line, they found the French-built trenches to be "haphazard ruts and ditches," which "often caved in, shallow, unkempt, ill-drained and muddy- altogether mean." The front was approximately 19 kilometers long in this sector and no man's land ranged from one kilometer wide in some areas to less than 300 meters wide in others.
Earlier in the war, this area saw heavy fighting; the fighting came to a standstill by the time Ekrstrom and his company arrived. For the moment, both sides seemed satisfied to maintain their defensive positions. As a reminder of the early fighting, the entire sector was covered with abandoned trenches, barbed wire, and broken down strong points. When the 88th Division took over, trenches were partly filled with water and the revetments (walls) had caved in.
His Only Battle
The 38th French Division discovered that Ammertzwiller, France and other towns on the boundary of the enemy territory were not entirely held or else continuously occupied by enemy forces. Digging two short trenches across "No Man's Land" created a junction that would allow Allied forces to seize the desired section of Ammertzwiller.
On October 11, 1918, the Army ordered a working party to connect to the advance line with the first German trench at Ammertzwiller. The company moved forward under cover of darkness. French detachments were supposed to protect the American troops; however, the covering parties arrived late. The process of issuing trenching tools had barely begun when the enemy opened up an intensive bombardment. Ekstrom was killed outright in the battle, along with seven other soldiers. The Germans also wounded 18 Americans and three Frenchmen, and captured ten Allied troops.
Ekstrom was buried in a plain pine box one-quarter mile from Traubach-le-Haute, on October 14, 1918. His body was dressed in his uniform and wrapped in a blanket.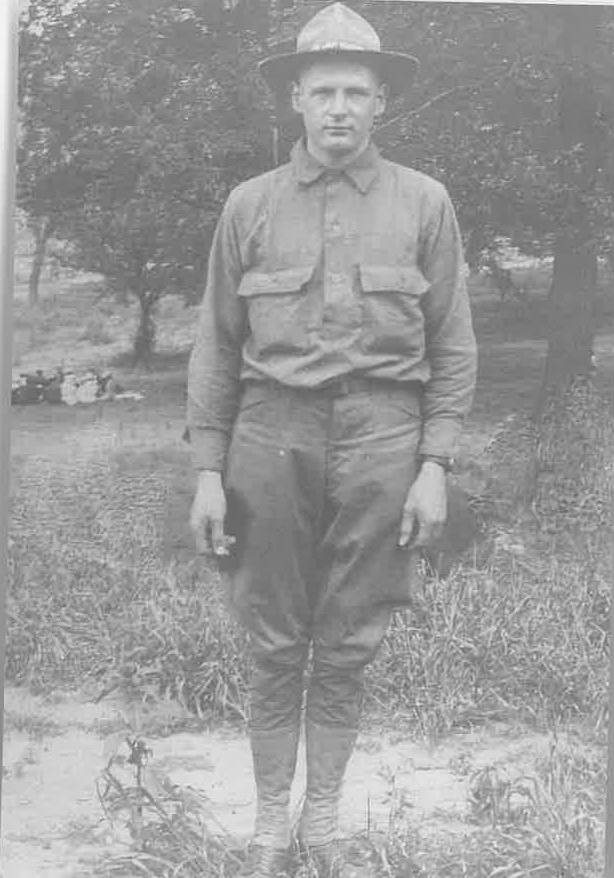 Eulogy
On Saturday, November 15, 1918, four days after the armistice, the U.S. Army sent a telegram to Ekstrom's uncle, Alfred Gustafson, of his nephew's death. Family in Iowa was devastated to hear the news. A cousin wrote in her diary, "Isn't it terrible? I can hardly believe it. I can't quit thinking about it."
In early December Gustafson received a letter from Luther Malmberry, 350th Infantry chaplain. Chaplain Malmberry relayed that Ekstrom was "very well liked… and a good soldier." Malmberry also wrote, "He died while doing his duty, and no higher tribute can be given any man than this. We buried him with his comrades, with military honors, in the beautiful American cemetery." Memorial services were held for Ekstrom in LaMoille, Iowa, on Sunday, December 8.
A Final Resting Place
The War Department contacted Ekstrom's uncle, Alfred Gustafson regarding his wishes for the placement of his nephew's remains. Gustafson advised that he did not wish for Ekstrom's body to be returned to the United States and forwarded the correspondence to Ekstrom's twin brother, Karl, who still lived in Michigan. In November 1920, Karl wrote to the Quartermaster General on behalf of his parents stating their desire to have Ekstrom's remains returned to his home in Sweden. However, just a few months later on February 24, 1921, Ekstrom's father indicated that Ekstrom's body should instead remain with his fallen comrades and be interred in France. Relatives attributed this choice to Ekstrom's father's military career.
On September 6, 1921, Ekstrom's remains were disinterred. Under the supervision of Captain O. J. Blake, the U.S. Army Graves Registration Service moved and reburied his remains at Meuse-Argonne American Cemetery on November 3, 1921. He is buried in plot G, row 24, grave 2.
Ekstrom's parents remained in Sweden until their deaths. They received $57.50 monthly from the United States Veterans Bureau, for payment on a $10,000 term life insurance policy that Ekstrom purchased in July 1918. They received this stipend from October 1918 through April 1938. The Veteran's Bureau paid a final benefit of $117.50 to the estates of Ekstrom's mother and father upon their deaths.
On May 30, 1957, six of Ekstrom's siblings made the trip from Sweden to Meuse-Argonne American Cemetery to honor and pay respect to their brother. As a tribute, at his grave they placed flowers and a Swedish flag.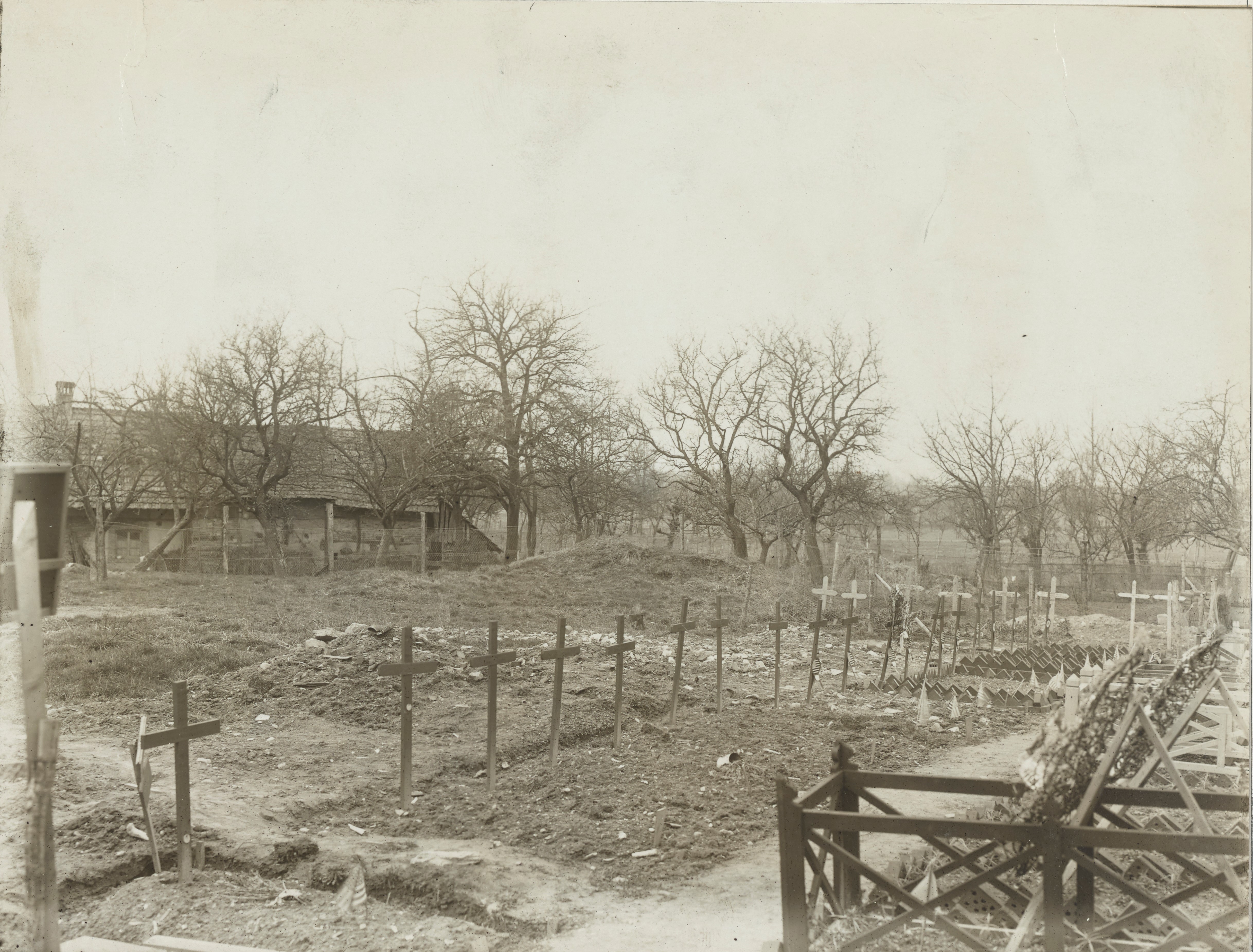 Reflection
Bibliography
88th Division; Records of Combat Divisions, 1918-1919, Records of the American Expeditionary Forces (World War I), Record Group 120 (Boxes 7-8); National Archives at College Park, College Park, MD.
88th Division graves at Traubach Le Haute. Photograph. March 14, 1919. National Archives and Records Administration (165-WW-177-A26). Image.
The 88th Division in the World War. New York: Wynkoop Hallenbeck Crawford Company, 1919. archive.org/details/88thdivisioninwo00newy.
Duncan, Walter Jack. Front Held by the 88th Division. Pencil drawing. October 1918. Smithsonian National Museum of American History (AF.25704B). americanhistory.si.edu/collections/search/object/nmah_448070.
Ekstrom Family Photographs. 1914-1957. Courtesy of Sandra Knoll.
Fiske, Proctor M. History of the Three Hundred Fiftieth Regiment of the U.S. Infantry Eighty-Eighth Division American Expeditionary Forces. Cedar Rapids: Laurence Press Company, 1919. books.google.com/books?id=284MAAAAYAAJ&dq=350th%20Infantry&pg=PP1#v=onepage&q&f=false.
Fred Ekstrom, Official Military Personnel File, Department of the Army, RG 92, National Archives and Records Administration – St. Louis.
"Fred Ekstrom." WWI, WWII, and Korean War Casualty Listings. Digital Images. ancestry.com.
"Fred G. Ekstrom." American Battle Monuments Commission. Accessed January 15, 2015. www.abmc.gov/node/337625.
"Fred G. Ekstrom" American Soldiers of World War. Digital Images. ancestry.com.
Fred Gustav Ekstrom World War I Burial Case File, Deceased Veterans Claim (XC-103,058) and VA Master Index Card, National Archives and Records Administration – St. Louis.
German front line trenches where raid of October 12, 1918 took places….Alsace. Photograph. March 18, 1919. National Archives and Records Administration (111-SC-67656-ac). Image.
"Gustav Ekstrom Passenger Record." The Statue of Liberty – Ellis Island Foundation, Inc. Accessed January 18, 2019. www.libertyellisfoundation.org/passenger-details/czoxMjoiMTAwNDYyMDUwMjAwIjs=/czo0OiJzaGlwIjs=.
"Hears Details of Nephew's Death." Evening Times-Republican, December 5, 1918. chroniclingamerica.loc.gov/lccn/sn85049554/1918-12-05/ed-1/seq-9/.
"Illinois and the Great War: April 6, 1917 to June 28, 1919." World War I Centennial Commission. Accessed January 17, 2019. www.worldwar1centennial.org/index.php/illinois-wwi-centennial-home.html.
Infantry Regiments; World War I Strength Returns, Records of the Adjutant General's Office, Record Group 407 (Boxes 101-102); National Archives at College Park, College Park, MD.
"June Quota to Leave June 24." Evening Times-Republican, June 17, 1918. chroniclingamerica.loc.gov/lccn/sn85049554/1918-06-17/ed-1/seq-1.pdf.
Jenny Johnson Noid Diary. 1917-1918. Courtesy of the Noid Family.
Knoll, Sandra. Telephone interview with the author. April 20, 2019.
"LaMoille Items." Evening Times-Republican, December 10, 1918. chroniclingamerica.loc.gov/lccn/sn85049554/1918-12-10/ed-1/seq-11/.
Larson, E. J. D. Memoirs of France and the Eighty-eighth Division: Being a Review without Official Character of the Experiences of the "Cloverleaf" Division in the Great World War from 1917 to 1919 ; with Special Histories of the 352nd Inf., 337th F.A., and 339th F.A. Minneapolis, 1920. Accessed January 16, 2019. archive.org/details/memoirsoffrancee00larsrich/page/n1.
"Memorial for Marshall County War Dead." Evening Times-Republican, May 13, 1920. chroniclingamerica.loc.gov/lccn/sn85049554/1920-05-13/ed-1/seq-8.
"PVT Frederick G. 'Fred' Ekstrom." Find A Grave. Updated August 6, 2010. Accessed January 17, 2019. www.findagrave.com/memorial/55992156/frederick-g_-ekstrom.
"Roll of Honor Fred G. Ekstrom." Evening-Times Republican, November 20, 1918. chroniclingamerica.loc.gov/lccn/sn85049554/1918-11-20/ed-1/seq-8/.
United States Committee on Public Information. Official U.S. Bulletin. November 25, 1918. 472 (2). Accessed January 17, 2019. www.worldwar1centennial.org/images/official-bulletin/pdf/18-11/2-472-november-25-1918-ww1-official-bulletin.pdf.
War Diaries (88th Division); Records of the American Expeditionary Forces (World War I), Record Group 120 (Box 2918); National Archives at College Park, College Park, MD.
Whitacre, Joseph A., and W. J. Moore. Marshall County in the World War 1917-1918. Marshalltown: Marshall Printing Company, 1919.