Private Henry William Saaga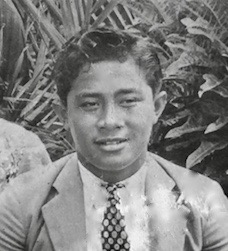 Unit:

330th Infantry Regiment, 83rd Infantry Division

Service Number:

10100148

Date of Birth:

March 1, 1926

Entered the Military:

November 30, 1941

Date of Death:

July 1, 1944

Hometown:

Honolulu, Hawaiʻi

Place of Death:

Méautis, France

Award(s):

Bronze Star, Purple Heart

Cemetery:

Tablets of the Missing.

Normandy American Cemetery, Colleville-sur-Mer, France
Contributed by Ms. Maile Chow
Mid-Pacific Institute
2014-2015
Early Life
Henry Saaga was born in Utulei, Tutuila, Samoa, the second child of Lilia Willie Saaga and Evotia Afoa. In 1931, the Saaga family emigrated from Samoa to what was then the Territory of Hawaiʻi when Henry was five years old. A large number of Samoans migrated to the Hawaiian Islands at this time, due to their conversion to the Church of Jesus Christ of Latter-Day Saints (LDS), or Mormon faith. An LDS temple was constructed in Laie, Hawaiʻi on the North Shore of the island of Oahu in 1919. Many Samoans of the LDS faith, including the Saaga family, immigrated to Hawaiʻi to be near the temple. In addition to his parents, Saaga had an older sister, Elizabeth, and four younger sisters, Marion, Matilda, Lamala, and Emaline (who died when she was a year old). A brother, Don, was born after the family moved to Hawaiʻi.
"If you challenged him, he would do it."
The Saaga family settled in the Kaimuki area in Honolulu on the island of Oahu. Saaga's parents, Evo and Willie, owned a fish market in downtown Honolulu. The family was musically gifted and performed traditional Samoan dances and Hawaiian hula. They played music and danced at various events around town. Saaga was a talented musician. According to his sister, Matilda Saaga Lolotai, "There was not an instrument he couldn't play. If you challenged Henry to do something, he would do it. He taught himself to play the piano on a dare."
Saaga attended Washington Intermediate School and later went to 'Iolani School. Though only a freshman, Saaga was a stellar athlete. He ran varsity track and was a member of the varsity football and basketball teams during his first and second years at the school. He also continued to play music and dance. Saaga was halfway through his sophomore year of high school when the Japanese attacked Pearl Harbor.
"We thought it was the end of the world."
The Saaga family had performed at Pearl Harbor on Saturday night, December 6, 1941. They went early the next morning to their fish market in downtown Honolulu. When the attack began, they heard other shopkeepers yelling and the sound of the bombs being dropped. "We thought it was the end of the world," one of his sisters recalled. Saaga climbed up on the roof of his parent's fish market and watched as the black smoke rose into the sky.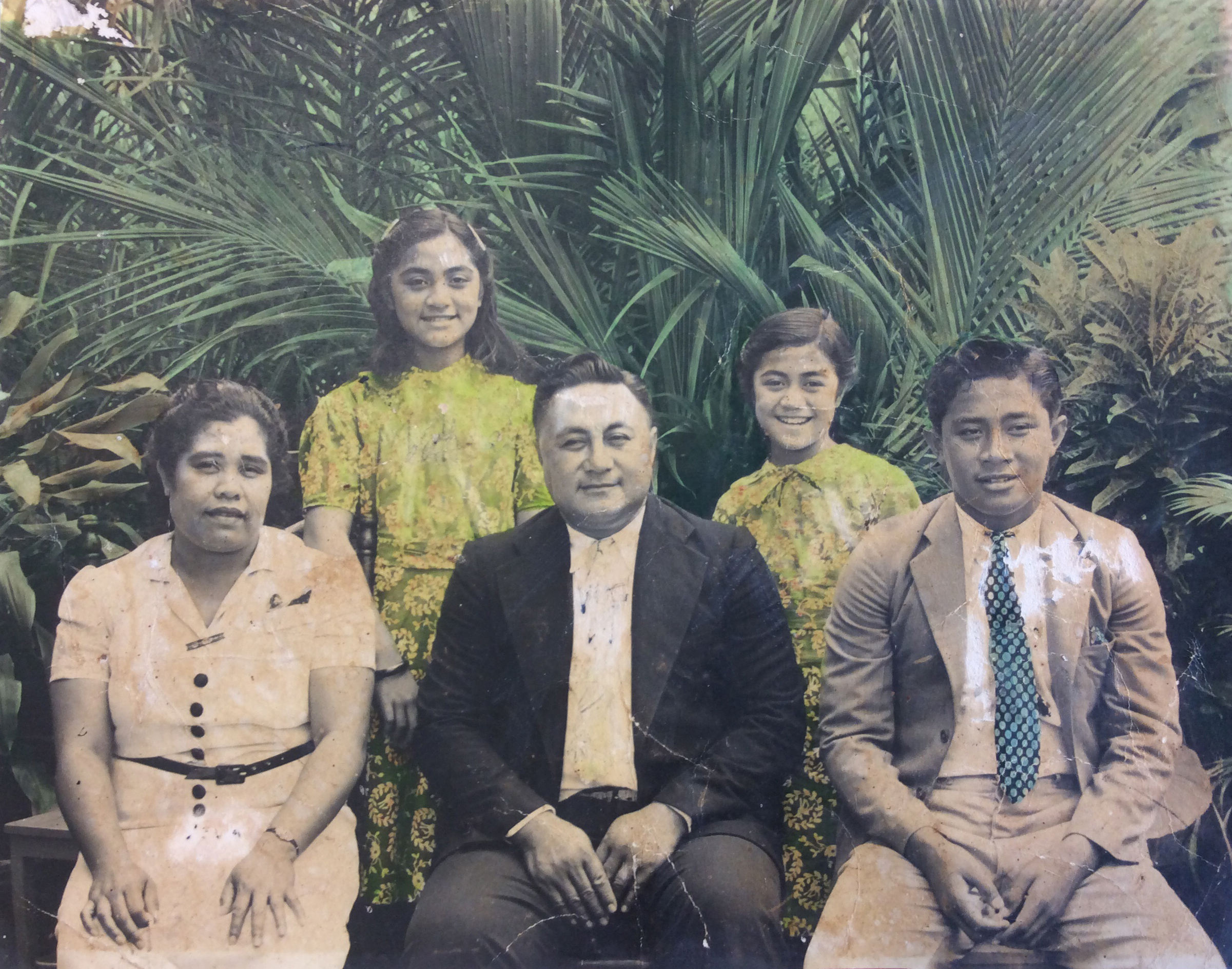 Homefront
Pearl Harbor Changed Everything
The attack on Pearl Harbor marked the official entry of the United States into World War II. In addition, it radically changed the Territory of Hawaiʻi and this change was felt strongly at 'Iolani, Saaga's school. A large majority of the faculty and staff at the school enlisted in the Army. School hours were modified, and all athletic programs were suspended. The drastically shortened yearbook from spring of 1942 lists those students who left the school to join the Hawaii Territorial Guard (HTG). Saaga was one of those students. Father Kenneth Bray, a teacher and coach at the school who founded the athletic program at 'Iolani, influenced many students who joined the HTG. Bray also left the school to join the HTG. Saaga was inspired by Bray's actions. Although only 15 years old, he "was restless and wanted to be where the action was," according to Don Saaga, his younger brother. He signed up and was stationed to the North Shore of Oahu in Kahuku. The last time his family saw him was in the spring of 1942, shortly before he was sent to basic training.
Military Experience
Basic Training
Saaga's 83rd Infantry Division, was sent to basic training at Camp Atterbury, Indiana. Atterbury was a segregated camp, and many did not know what to make of the Samoan boy from Hawaiʻi. Saaga's sister Matilda recalls that Saaga wrote home of race-based conflicts with the locals. But Saaga took it in stride, entertaining his fellow troops by singing and playing the Stars and Stripes on his ukulele. A single photo of Saaga exists from his time in training, after the division moved to Camp Breckenridge, Kentucky. In it, Saaga is shown with the bare feet befitting an island-boy, kicking a football 60 yards down the field.
Struggle in the Hedgerows
Saaga's division left the United States for foreign duty on April 6, 1944. After intensive training in England and in the northern part of Wales, the Division landed at Omaha Beach on June 18 and entered the hedgerow struggle south of Carentan, France on June 27. According to a Morning Report filed on July 1, 1944, members of Saaga's company were sent on a daylight patrol led by their company commander, Captain William P. Buhrman. The members of the patrol were all volunteers. During this time, the patrol was pinned down by enemy fire. From the Morning Report:
Pvt. Saaga…displayed extraordinary courage and bravery without respect for his own life when he vaulted an enemy occupied hedgerow to attack, alone, an enemy MG position whose fire was pinning the patrol down. As a result of his act, the patrol was able to move out and return to their own lines. When last heard of Pvt. Saaga was throwing hand grenades and firing his rifle. At this time Pvt. Saaga is still missing.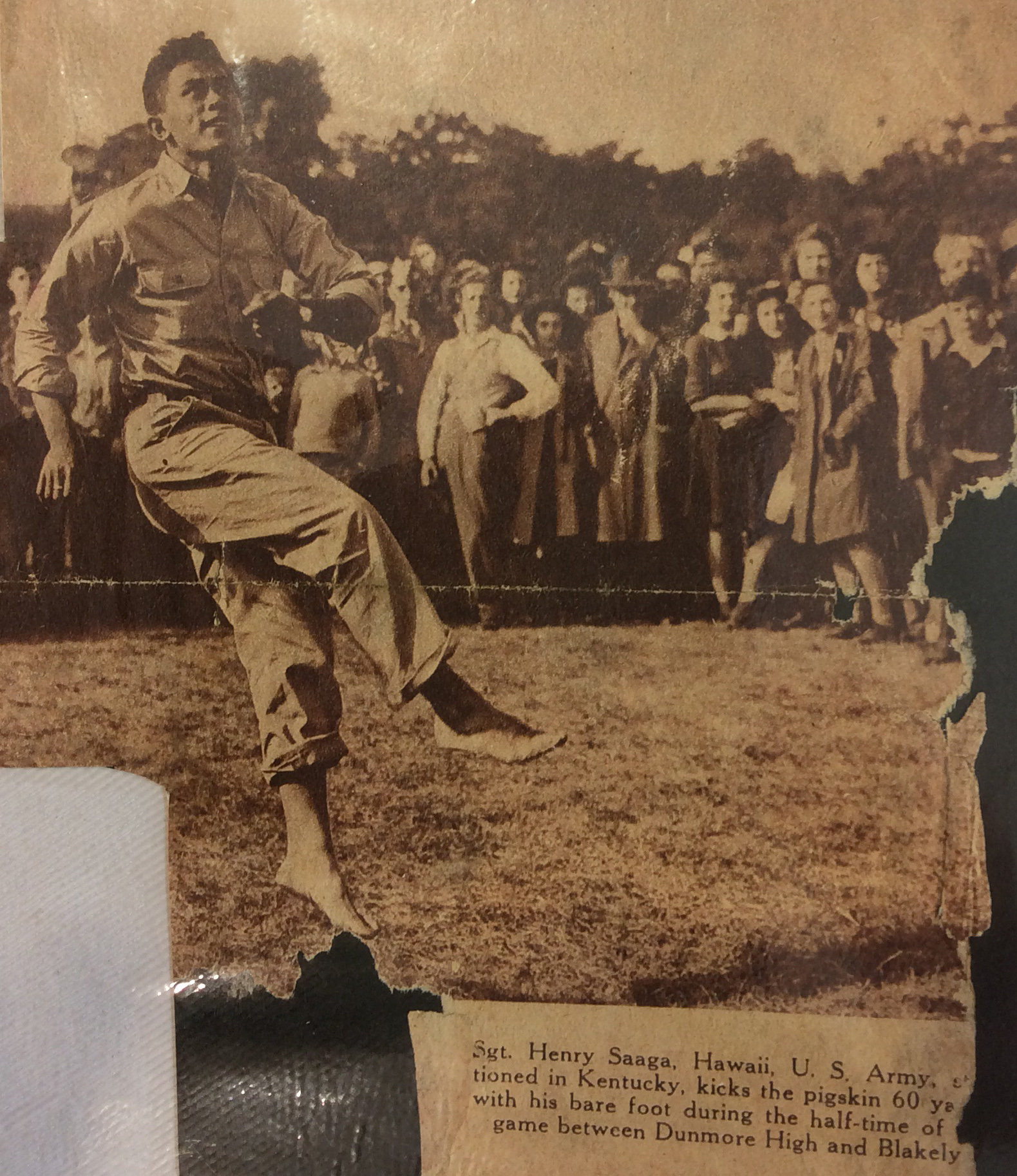 Eulogy
Despite the persistence of his father, and what seems to be a valiant effort on the part of the U.S. military, Saaga's body was never recovered. Saaga's status was changed from Missing in Action to Killed in Action one year and one day later. According to research into the location of his last patrol, his remains rest somewhere just south of Carentan near Méautis, France. Saaga is commemorated on the Tablets of the Missing at the Normandy American Cemetery in Colleville-sur-Mer, France.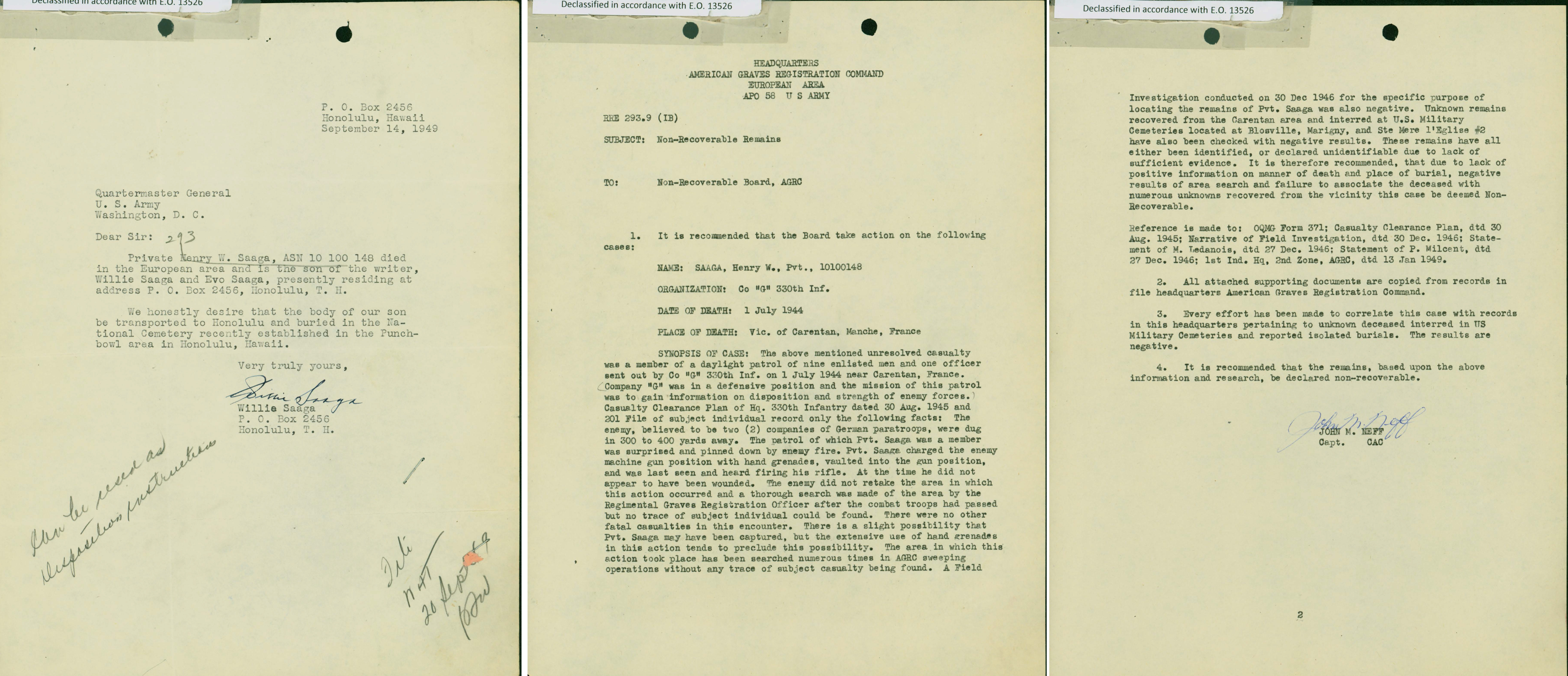 Reflection
Bibliography
"Acts of Bravery Never Recognized? Share Them Here! – MISC / UNKNOWN." U.S. Militaria Forum. Accessed February 13, 2015. www.usmilitariaforum.com/forums/index.php?/topic/194649-acts-of-bravery-never-recognized-share-them-here/.
"Free Family History and Genealogy Records." FamilySearch.org. Accessed November 8, 2014.
"Henry Saaga." American Battle Monuments Commission. Accessed October 2014. www.abmc.gov/search-abmc-burials-and-memorializations/detail/WWII_67888#.VSM.
Henry Saaga, Individual Deceased Personnel File, Department of the Army.
Ka Moolelo O Iolani. 1941. 'Iolani School Archives.
Lodieu, Didier, and Thierry Guilbert. Dying for Saint-Lô: Hedgerow Hell, July 1944. Paris: Histoire & Collections, 2007.
Registered births, American Samoa and Guam. 1920 U.S. Census. Digital Images. archive.org/stream/14thcensusofpopu2032unit#page/n565/mode/2up. 

Various 83rd Infantry Division Documents. 330th Infantry Regiment. Accessed December 10, 2014. 83rdinfdivdocs.org/units/330th-ir/.
This profile was researched and created with the Understanding Sacrifice program, sponsored by the American Battle Monuments Commission.