Technician Fourth Grade Herbert Leonard Ulrich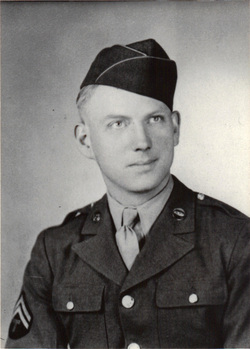 Unit:

743rd Tank Battalion

Service Number:

37158170

Date of Birth:

April 30, 1918

Entered the Military:

November 30, 1941

Date of Death:

June 6, 1944

Hometown:

Pawnee, Nebraska

Place of Death:

Omaha Beach, Normandy, France

Award(s):

Silver Star, Purple Heart

Cemetery:

Plot I, Row 13, Grave 16.

Normandy American Cemetery, Colleville-sur-Mer, France
Contributed by Shane Colby
Mentored by Lori Broady
Omaha Beach, Normandy, France
2010-2011
Early Life
Becoming a Farmer
Herbert Leonard Ulrich (known as Leonard to his family) was born on April 30, 1918, to Fred and Matilda Ulrich. The Ulrich family on their farm in the Mayberry-Steinauer area of Nebraska. He never had any wish other than to live on a farm.
As a young child, Ulrich enjoyed working on his family's farm and left school after the eighth grade to become a farmer. While working on the farm he loved to disassemble and then reassemble equipment.
Fascination with Everything Mechanical and Electrical
He took pride in what he could do, being a "man," and able to do "man's work." His hobby was a fascination with mechanical and electrical items. His family remembers his room as a "workshop with a bed in it." He literally ran to the roadside mailbox for next editions of popular magazines he subscribed to dealing with such subjects. He loved assembling those simple "cat's whisker" radios, which brought talk and music "right out of the air."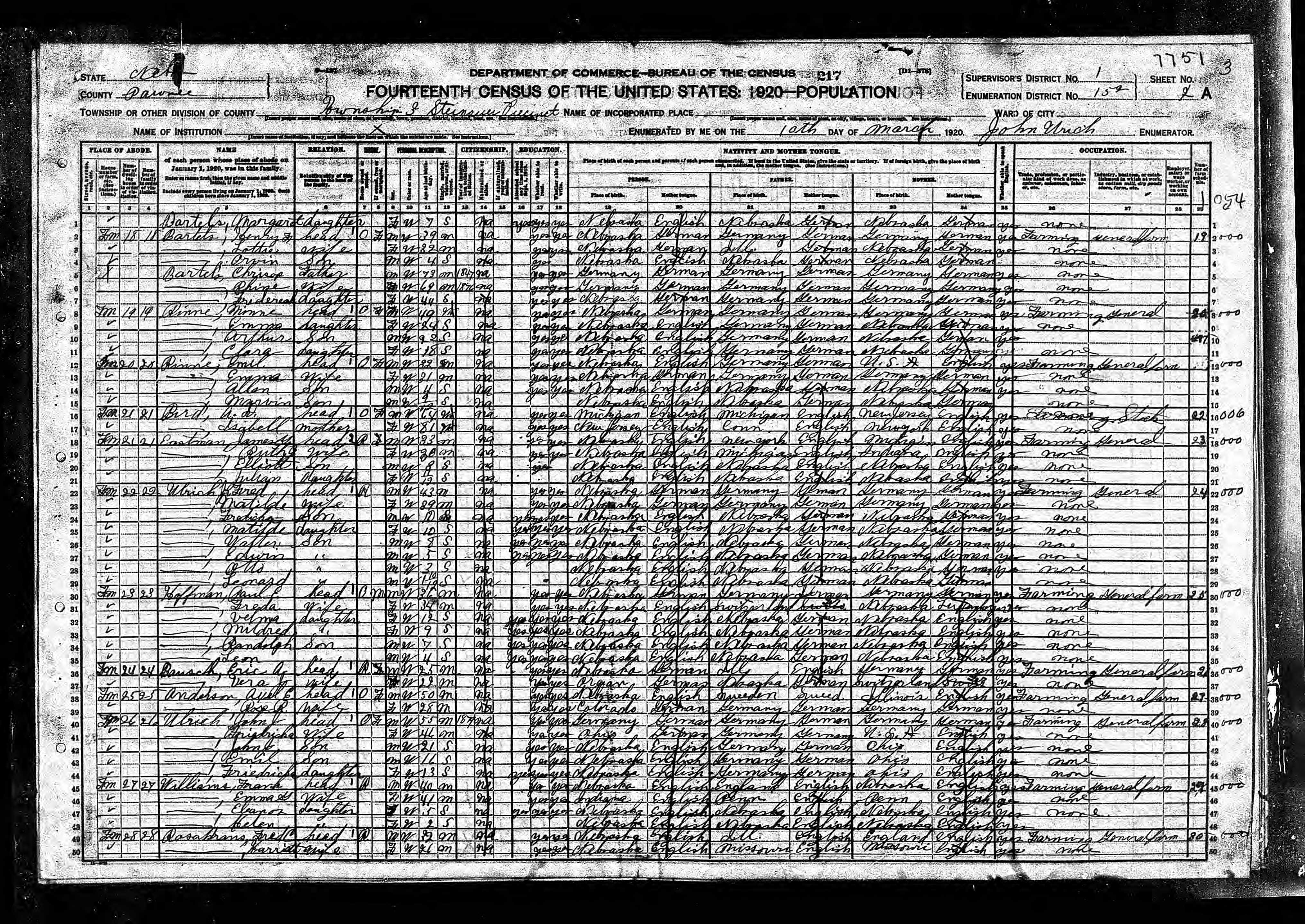 Homefront
The homefront by 1944 was more peaceful than from 1941 or 1942. With the men off to war, the women took over for the men and built many wartime materials. The Axis Powers could not compete with the industrial capacity of the United States. At one point a B-29 was being produced every seven minutes. America could produce more planes, tanks and guns than any other country, besides Russia. This industrial success was because people were buying war bonds and working in factories making war materials.
Cities across America became industrial work horses. Factories popped up everywhere after the attack on Pearl Harbor. The factories that produced cars and automotive vehicles now produced tanks and jeeps. Aircraft factories increased production capacity.
Ration Books
On the home front, here in Nebraska and all across the country, rationing became a way of life. Everyday items became harder to come by. Sugar, gasoline, coffee, meat, tires and rubber were in short supply. As a result the government issued War Ration Books and tokens so everyone could get their fair share of the items. Everyone became a "soldier" to help win the war by doing whatever he or she could to help. The family members of Leonard Herbert Ulrich said that one of their family members had to buy new shoes with ration cards.
Military Experience
Drafted to Serve
Ulrich was drafted in 1942. He was happy-go-lucky in nature, so he viewed his draft notice as more of a "lark than a fearful prospect." With a background of mechanical knowledge he served in the 743rd Tank Battalion as a radio technician.
Landing on Omaha Beach
After training in England, the 743rd Tank Battalion landed at Omaha Beach early in the morning of June 6, 1944 supporting the 29th Infantry Division, 116th Infantry Regiment. Ulrich's Landing Craft Tank (LCT) was hit and several officers, including his commanding officer were killed. Ulrich survived and waded to shore.
On June 6, 1944, Technician 4th Grade Herbert Leonard Ulrich, earned a Silver Star for bravery in action. His Silver Star citation reads:
For gallantry in action on the coast near Vierville-sur-Mer, France, June 6,1944, Technician 4th Grade Ulrich, assigned to a liaison officer operating between his unit (743rd Tank Battalion and an Infantry Regiment), was forced to wade ashore when the LCT (Landing Craft Tank) in which he was riding was hit by enemy fire from shore installations during the initial assault landing on the coast of France. He carried a radio to shore. Upon reaching the beach…Ulrich assisted the…officer establishing liaison between his unit and the Infantry Regiment. In the face of heavy concentrations of enemy rifle, machine gun, mortar and artillery fire from positions on the cliff overlooking the beach, Ulrich without means of protecting himself and with no regard for his personal safety, exposed himself to the full view of the enemy as he continued throughout a four-and-a-half hour period to assist the liaison officer in carrying out his work – until his death as a result of enemy fire. As a result of his determined efforts, numerous gun emplacements were destroyed, thus greatly aiding in the successful establishment of the beachhead and subsequently opening the exits. Such gallant action in the face of enemy fire is in keeping with the highest traditions of the Armed Forces…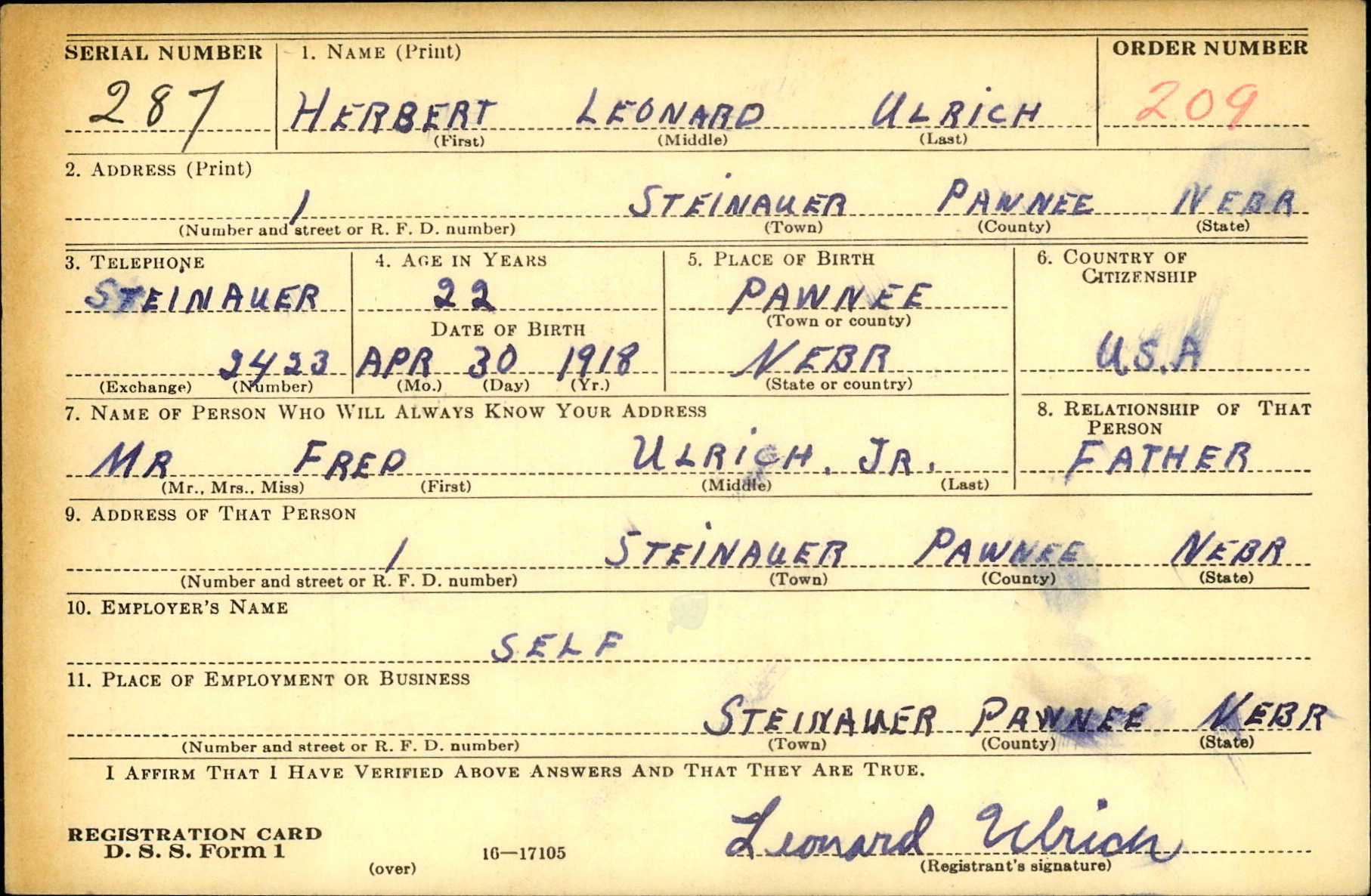 Eulogy
After the Normandy Invasion, the Ulrichs, like many American families, waited to hear from loved ones. One day his sister, Gertrude. She wrote a letter to her brother asking him to please write as everyone was worried. She took the letter to the mailbox and met the mailman. He took her letter and told her that her brother had just been declared by the War Department killed in action on D-Day.
Ulrich was laid to rest at Normandy American Cemetery in France.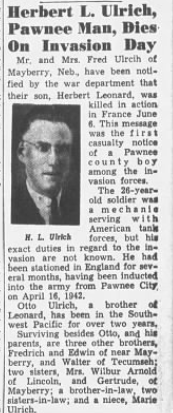 Bibliography
Primary Sources
D-Day scene on Omaha Beach… Photograph. June 6, 1944. National Archives and Records Administration (111-SC-189899).
"D-Day's First Pawnee Casualty is Reported," The Pawnee Republican, July 20, 1944.
"Herbert L. Ulrich, Pawnee Man, Dies on Invasion Day." The Lincoln Star [Lincoln, Nebraska], July 31, 1944. Newspapers.com (310576391).
Herbert Leonard Ulrich. WWII Draft Cards Young Men, 1940-1947. ancestry.com.
"Mayberry Soldier Killed in Action." The Nebraska State Journal [Lincoln, Nebraska], August 1, 1944. Newspapers.com (333084553).
Nebraska. Pawnee County. 1920 U.S. Federal Census. ancestry.com.
Nebraska. Pawnee County. 1930 U.S. Federal Census. ancestry.com.
Nebraska. Pawnee County. 1940 U.S. Federal Census. ancestry.com.
Sargeant, Robert F. Landing on the coast of France under heavy Nazi machine gun fire are these American soldiers… Photograph. June 6, 1944. National Archives and Records Administration (513173). catalog.archives.gov/id/513173.
Secondary Sources
Ambrose, Stephen. Band of Brothers. New York: Simon & Schuster, 1992.
Brook, Henry. True Stories of D-DAY. New York: Scholastic, 2006.
Eden, Paul and Soph Moeng, Eds. Aircraft Anatomy of World War II. London: Amber Books, 2007.
Eisenhower, Dwight. Crusade In Europe. Baltimore: Doubleday, 1948.
"Herbert L. Ulrich." American Battle Monuments Commission. Accessed May 13, 2020. www.abmc.gov/decedent-search/ulrich%3Dherbert.
Keegan, John. Six Armies in Normandy. New York: Penguin Books, 1982.
Kershaw, Alex. The Bedford Boys. Bedford : Da Capo Press, 2003.
Ludeke, Alexander. Weapons of World War II. Bath: Parragon, 2007.
Sommerville, Donald. World War II Day by Day. Greenwich: Brompton Books, 1989.
Swanston, Alexander and Michael Swanston. The Historical Atlas of World War II. New Jersey: Cartographical Press Ltd., 2007.
Terkel, Studs. "The Good War." New York: The New Press, 1984.