Private First Class Horace Julius Bennino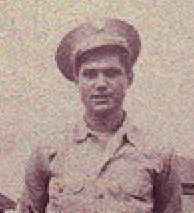 Unit:

79th Infantry Division, 315th Infantry Regiment

Service Number:

31249826

Date of Birth:

June 1, 1922

Entered the Military:

November 14, 1942

Date of Death:

June 24, 1944

Hometown:

Rocky Hill, Connecticut

Place of Death:

south of Cherbourg, France

Award(s):

Silver Star, Purple Heart

Cemetery:

Plot F, Row 13, Grave 40.

Normandy American Cemetery, Colleville-sur-Mer, France
Contributed by Jenna Stone
Mentored by Ms. Wendy Nelson Kauffman
Metropolitan Learning Center
2011-2012
Early Life
Horace Julius Bennino was born on June 1, 1922, the oldest son of Mary and Nunzio Bennino. As a child, he was known as "Corky." His elementary school principal, Mrs. Stevens, gave him the nickname "Cork" due to his shorter height. The name followed him as he grew up to be an outgoing young man.
He had a love for music and entertaining anyone who was in his presence. He grew up in a home with ten relatives, including his grandmother and three siblings, Frank, Alice, and Edith. His youngest sister, Edith, remembered her brother as "a big tease" and was happiest when he was playing the accordion.
He joined a local band, Jed Summer's Chuck Wagon Boys, which became very popular on the local radio station. The band broke up when most of the members entered military service.
Horace Bennino entered the U.S. Army on November 14, 1942. His younger brother, Frank, was drafted four months later.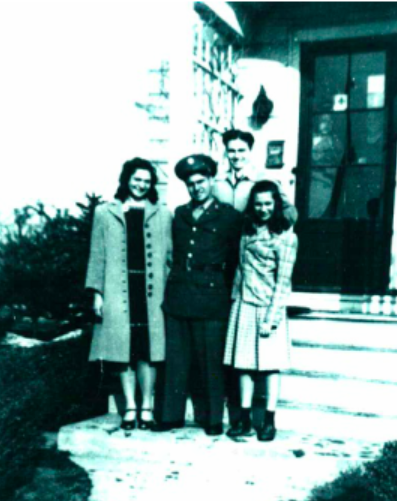 Military Experience
The Big Going-away Party
Bennino entered the U.S. Army in November 1942 at age 20. Before departing for Europe in April 1944, the Bennino family hosted a large going-away party at a place known as the Club House.
Bennino maintained close ties to his family and sent letters telling them he was well. His mother, Mary, sent weekly care packages to both of her sons filled with salami, warm socks, or homemade cookies.
79th Infantry Division in Normandy
The 79th Infantry Division trained in England and landed on Utah Beach between June 12 and 14. The 79th Infantry Division entered combat June 19, 1944 in the push to liberate the port of Cherbourg.
Bravery at Cherbourg
Bennino was wounded in his leg by an artillery shell in fighting south of Cherbourg on June 22, 1944. He fought his way through an enemy mortar barrage and delivered his message. Two days later, he died of his wounds. On June 22, 1944, Bennino received a Silver Star for his bravery in combat. A dispatch from the War Department recognized him for his "Indomitable courage and valiant determination to carry out his mission despite his wounds."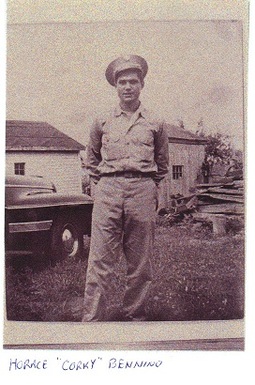 Eulogy
Horace Bennino was the first World War II soldier to die from Rocky Hill, Connecticut. The second Rocky Hill boy to fall just six weeks later was his brother, Frank. The loss devastated their mother, who even years later, dressed in mourning black.
Both Horace and Frank Bennino are buried at Normandy American Cemetery in France.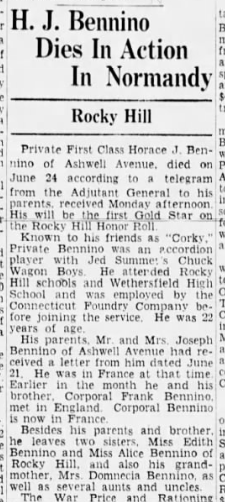 Reflection
As I sat in the kitchen with the family of the Bennino brothers I just cannot believe what a journey it has been. It all started with a list of names of soldiers from Connecticut who died in World War II. As I scrolled the last name, "Bennino" caught my eye not once, but twice. With further studying it dawned on me that these were brothers from Rocky Hill, Connecticut. It was then I knew that this was an extraordinary discovery.
I was proud to present Horace and Frank's sister, Edith, with the flags, sand, rocks, and the picture from the Normandy American Cemetery. She had never visited and now she has the soil from France where her brothers landed 68 years ago. It was a joyous occasion as well as an emotional one. I can still remember hugging her for quite some time; taking in the moment that will last with me forever.
After my journey to Normandy, France I realized that I was making history. Normandy American Cemetery listed 33 brothers who were buried; Frank and Horace were not included. As I delivered my eulogies the cemetery official asked if they were related and then noted it was not on file. I went to France to share the stories of two courageous heroes.
Bibliography
Primary Sources
Bennino Family Papers. 1941-1944. Courtesy of Edith Bennino Fontana.
Connecticut. Hartford County. 1940 U.S. Federal Census. ancestry.com.
Fontana, Edith Bennino. Personal interview with author. May 13, 2012.
"H. J. Bennino Dies In Action In Normandy." The Hartford Courant, August 1, 1944. Newspapers.com (367804331).
Horace J. Bennino, Individual Deceased Personnel File, Department of the Army.
Horace J. Bennino. U.S. War Department, Press Releases and Related Records, 1942-1945. ancestry.com.
Horace J. Bennino. World War II Army Enlistment Records, 1938-1946. ancestry.com.
Horace J. Bennino. WWII Draft Cards, Young Men, 1940-1947. ancestry.com.
Horace J. Bennino. WWII Hospital Admission Card Files, 1942-1954. ancestry.com.
Secondary Sources
Ambrose, Stephen. Band of Brothers. New York: Simon & Schuster Paperbacks, 1992.
"Horace J. Bennino." American Battle Monuments Commission. Accessed May 18, 2020. www.abmc.gov/decedent-search/bennino%3Dhorace.
Kershaw, Alex. The Bedford Boys. Bedford: Da Capo Press, 2003.
Eisenhower, Dwight. Crusade in Europe. Baltimore: Doubleday, 1948.
Terkel, Studs. "The Good War." New York: The New Press, 1984.