Hospital Corpsman Second Class James Caviness Brown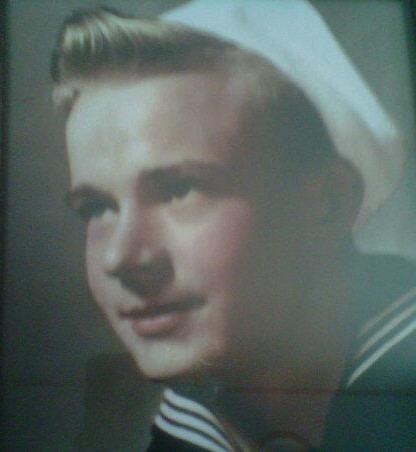 Unit:

1st Marine Division, 7th Marine Regiment, 3rd Battalion, I Company

Service Number:

2291876

Date of Birth:

May 26, 1930

Entered the Military:

November 26, 1947

Date of Death:

April 14, 1954

Hometown:

Lillington, North Carolina

Place of Death:

near Hagaru-ri, Korea

Award(s):

Purple Heart

Cemetery:

Section R, Site 35.

National Memorial Cemetery of the Pacific, Honolulu, Hawaii
Contributed by Mr. Paul Gauthier
St. Michael the Archangel Catholic School
2017-2018
Early Life
James Caviness Brown was born on May 25, 1930 to Albert and Geraldine Brown, who farmed tobacco on a small farm outside of Lillington, North Carolina. Located approximately 40 miles south of Raleigh, the small town of Lillington was the Harnett County seat.
James was the oldest of ten children and grew up enjoying baseball and fishing. He attended Boone Trail High School where, according to his principal, he was above average in academics and conduct. With few prospects in Lillington and to relieve pressure on his family, James decided to leave school in the fall of his senior year and enlist in the U.S. Navy. On November 26, 1947, the day before Thanksgiving, he and his father proceeded to the Raleigh recruiting station and James was sent off to U.S. Navy Recruit Training Center San Diego that evening.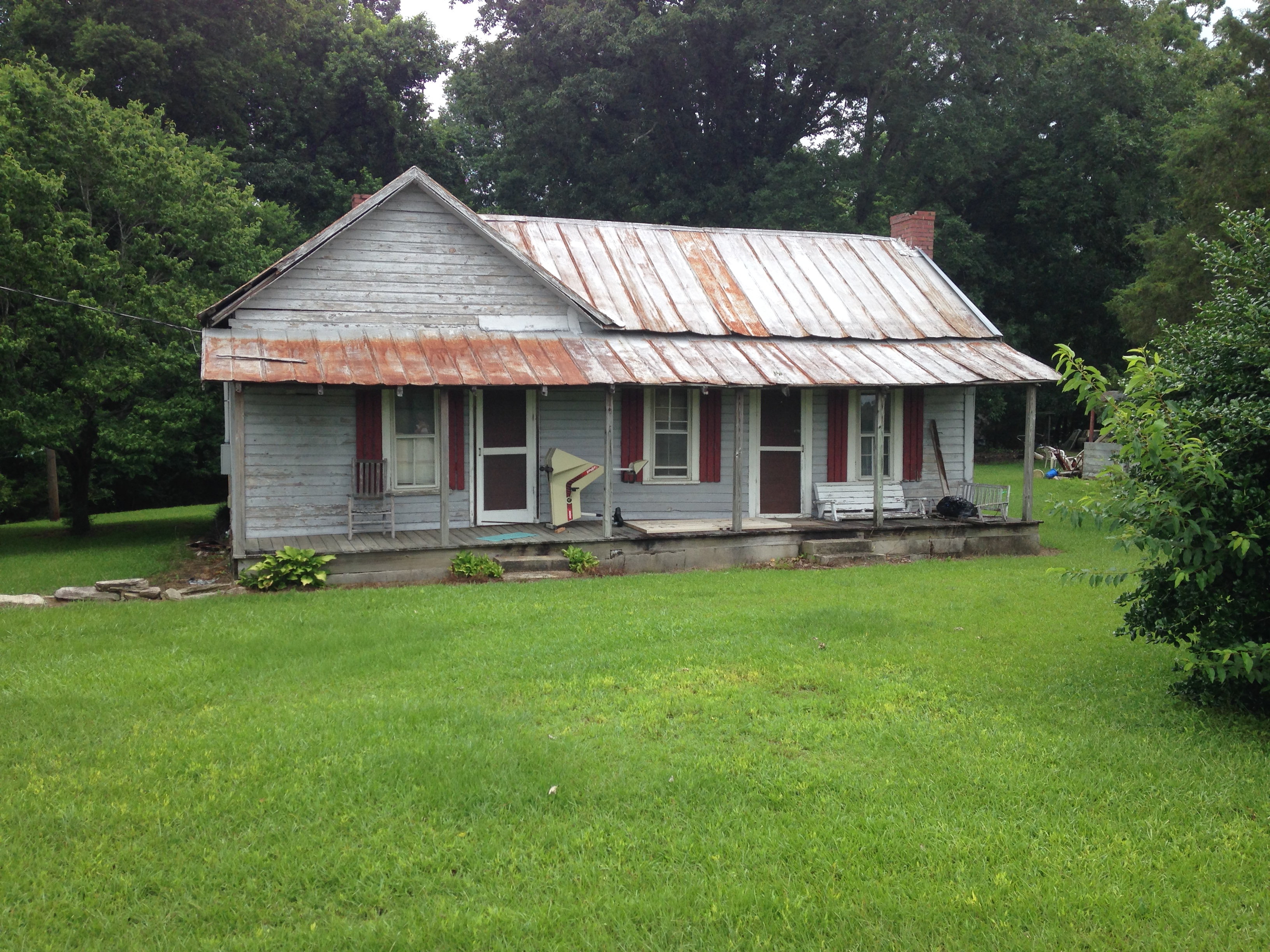 Military Experience
Stateside Assignments
Despite lacking a high school diploma, Seaman Apprentice Brown scored well enough on aptitude tests to qualify for Hospital Corpsman School and began training at the Navy Hospital Corpsman School in San Diego, California. On May 21, 1948, after completion of school, Brown was assigned to the U.S. Naval Hospital Long Beach, California. This was followed by assignments in medical administration and nursing duties at naval hospitals in Corona, Long Beach, and San Diego.
On October 22, 1949, Brown married Celia Marie Enriquez. On November 11, 1949, Brown was promoted to Hospital Corpsman Third Class. In June 1950, Brown was assigned as a medic to 1st Marine Division, 7th Marine Regiment, 3rd Battalion, I Company. By this time, Brown had a daughter, Delores (Dorothy) Lee Brown, and his wife was pregnant with their second child.
Combat in Korea
On August 27, 1950, the USS Thomas Jefferson transported Brown and the 7th Marine Regiment from California to Kobe, Japan. On September 15, 1950, Brown departed Japan onboard the USS Bayfield and landed at Inchon on September 21, just six days after the initial amphibious invasion. He continued with the Marines through to the liberation of Seoul in October.
Brown and the 1st Marine Division served in the Chosin Reservoir Campaign. The Battle of the Chosin Reservoir was one of the most decisive battles of the war. The People's Volunteer Army of the People's Republic of China amassed over 120,000 troops under Song Shilun and, on November 27, 1950, these Chinese troops launched a massive surprise attack on 30,000 United Nations troops in the mountainous terrain on either side of the Chosin Reservoir. Song Shilun was given one objective from Mao Zedong – destroy the United Nations (UN) forces. In a brutal battle in below zero temperatures, the UN forces were able to break free of the Chinese encirclement and inflict heavy casualties on the attackers.
Brown, along with the 7th Marine Regiment, covered the heroic fighting withdrawal of U.S. Marines through the mountains to the safety of Hagaru-ri. Although the road had been opened between Yudam-ni and Hagaru-ri, convoys fought through the numerous Chinese positions on the hills overlooking the road.
Strong air cover suppressed most of the Chinese forces for the rest of the march, but temperatures plummeting to 20 degrees below zero, harassing fire, raiding parties, and road blocks slowed the retreat to a crawl while inflicting numerous casualties on the Marines. As a medic, Brown provided aid to the wounded and tended to wounded Marines in his convoy. On December 4, the 3rd Battalion of the 7th Marine Regiment was one of the last units to withdraw to Hagaru-ri. Its convoy was ambushed just hours from safety. Brown was not seen again after the ambush of the convoy.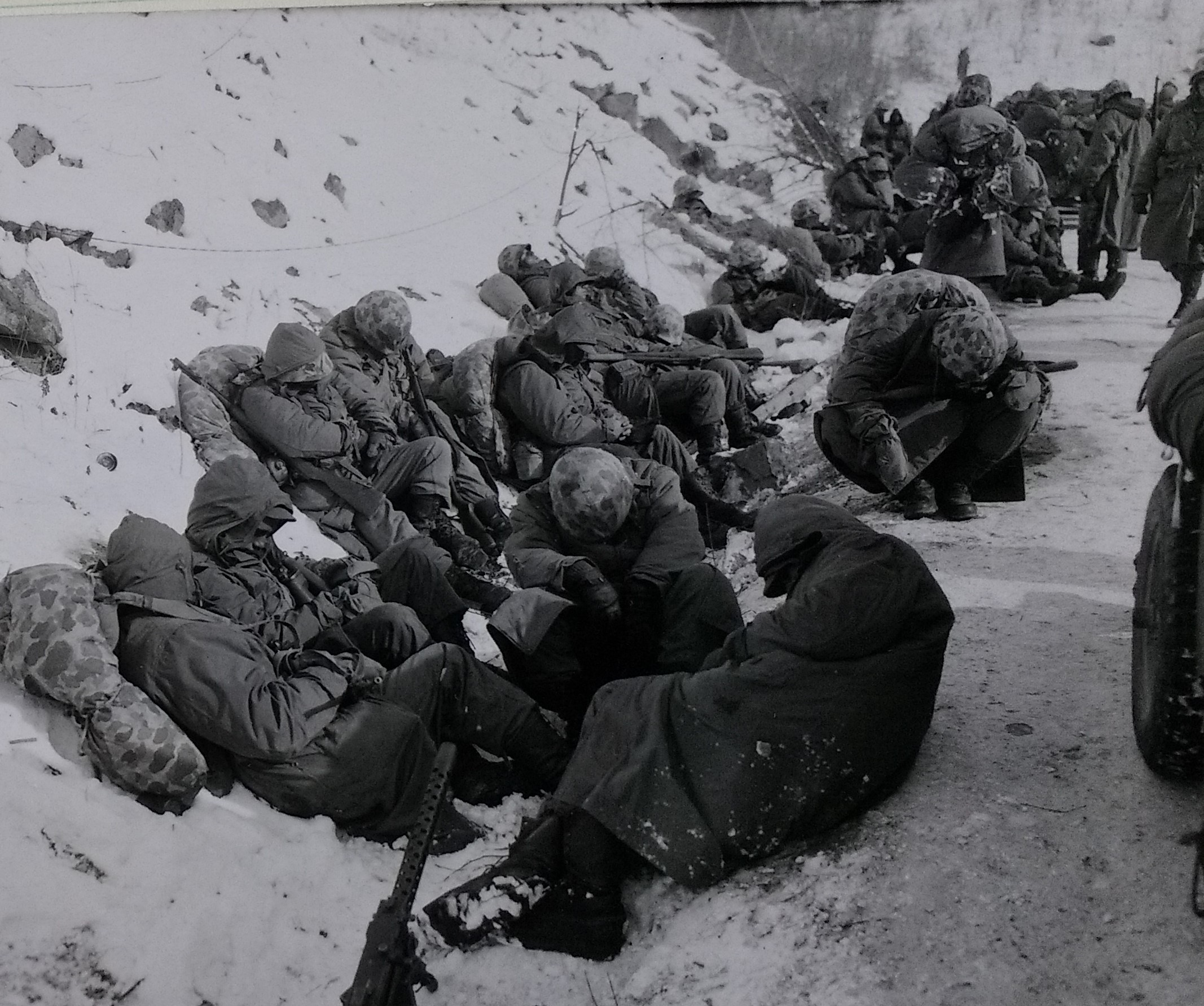 Eulogy
Brown was reported Missing in Action (MIA) on December 15, 1950 and officially declared missing on January 12, 1951. His son, James Caviness Brown, Jr., was born on March 27, 1951.
While listed as missing, Brown was promoted to Hospital Corpsman Second Class. He was declared Killed in Action (KIA) on April 14, 1954, when he was not among repatriated American prisoners of war.
In April 1955, remains of U.S. service members were returned by North Korea. Brown's remains were identified and he was interred in the National Memorial Cemetery of the Pacific in Honolulu, Hawaiʻi that August. Mrs. Celia Enriquez Brown died in Riverside, California on July 22, 1959, and was interred in Corona Sunnyslope Cemetery in Corona, California. Their children, Delores and James, Jr. were adopted and raised by Brown's parents in Lillington, North Carolina.
Reflection
Bibliography
Brown Family Photographs. 1948-1951. Courtesy of the Brown Family.
"Brown, James Caviness, HM2." Together We Served. Last modified 2015. Accessed April 5, 2018. navy.togetherweserved.com.
Hamilton, John Pat and Billy Ray Matthews. "Historic Lillington: A Tour of the town before 1950." Harnett County, NC. Last modified 2017. Accessed March 23, 2018. www.harnett.org/prev/lillington/LillingtonBook.pdf.
"James Caviness Brown: Korean War Casualty from North Carolina." HonorStates.org. Last modified April 2018. Accessed April 6, 2018.
James Caviness Brown, Official Military Personnel File, Department of the Navy, Records of the Bureau of Naval Personnel, RG 24, National Archives and Records Administration – St. Louis
Keating, Sergeant W. B. Although heavily riddled by enemy small arms and automatic weapons fire, a U.S. ambulance is still used to evacuate United Nations casualties from a Korean battlefront. Photograph. December 6-7, 1950. National Archives and Records Administration (A5461). Image.
Kerr, Sergeant F. C. Leathernecks of the Seventh Marines catch a few minutes rest during their heroic breakout from Chosin. Photograph. December 6, 1950. National Archives and Records Administration (A5436). Image.
North Carolina. Harnett County. 1940 U.S. Census. Digital Images. ancestry.com.
Malkasian, Carter. The Korean War 1950-1953. Long Island City: Osprey Publishing, 2010.
Marine Corps Activities in Korea, 1775-1958; Records of the United States Marine Corps, Record Group 127 (Box 28); National Archives at College Park, College Park, MD.
Montros, Lynn and Canzona, Nicholas. USMC Operations in Korea 1950-1953 Vol. III The Chosin Reservoir Campaign. Washington: Marine Corps Historical Library, 1957.
Russ, Martin. Breakout. New York: Fromm International, 1999.
Salmon, Dolores Brown. Telephone interview. August 1, 2018.
Smyda, E. I. Drmer, Robert C. Corpsman of Cascade, Iowa, with the 7th Marine Reg. of 1st Marine Div. in Korea pack supplies prior to moving aid station closer to front. Photograph. October 3, 1950. National Archives and Records Administration (420518). Image.
"Southland War Casualties." San Bernardino Daily Sun. January 4, 1951. Newspapers.com (49388204).
Thomas, Kim Brown. In person interview. June 13, 2018.