Major James (J.W.) Vaughan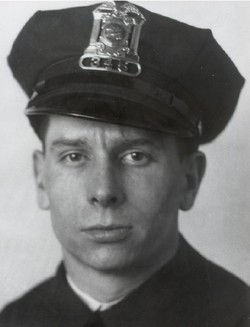 Unit:

101st Airborne Division, 502nd Parachute Infantry Regiment

Service Number:

O-319536

Date of Birth:

February 6, 1911

Entered the Military:

July 31, 1942

Date of Death:

June 6, 1944

Hometown:

Indianapolis, Indiana

Place of Death:

Sainte-Mère-Église, France

Award(s):

Purple Heart

Cemetery:

Plot C, Row 12, Grave 13.

Normandy American Cemetery, Colleville-sur-Mer, France
Contributed by Jeremiah Tate
Mentored by Mr. David Wheeler
2010-2011
Early Life
A Man's Desire to Aspire
James (J.W.) Vaughan, son of Lucy Jenkins and Walter Vaughan, was born in Campbellsburg, Kentucky on February 6, 1911. Just over a year later, Walter Vaughan died of typhoid fever on May 10, 1912.
His mother remarried Thomas S. Stuart. By 1920 the family moved to Indianapolis, Indiana, where Vaughan appeared in records as J.W. Stuart. Thomas Stuart supported the family working as a plumber. Later on, the couple had a second son, Evan, Vaughan's half brother. Vaughan's stepfather died at age 47 in 1936.
After graduating from Arsenal Technical High School in Indianapolis, Indiana, Vaughan worked in Chicago at the S. A. Healy Company, and then later for the Indiana Employment Service. According to Vaughan's former employer, Walter Williams, he was "an honest young man and industrious." In 1936, he became an Indianapolis Metropolitan Police Department trainee.
For six years, Vaughan served his community on the police force. On June 30, 1939, he married his wife, Estella May. They had a daughter, Susan, and a son, Stephan. In August 1942, Vaughan entered the U.S. Army.

Homefront
'Smith' Blood Donations
People in Indianapolis made different sacrifices for the war. Prior to the D-Day invasion, blood donation became one common way that individuals on the homefront helped the war effort. With the Normandy invasion approaching, and many soldiers in need of special medical assistance, blood plasma was used to help the lives of men wounded aboard ships and on the battlefields.
Girls Scouts Can Help Too
Even children contributed to the war effort. In May 1944, Girl Scouts in Indianapolis volunteered to help with different errands around Methodist Hospital to assist with labor shortages. The Indianapolis Star reported on May 6, 1944, "yesterday marked the first work day for the first group of Junior White Cross Guild Workers in the city." The 24 members from Girl Scout Troop No. 148 aided in sanitary administration and hospital messengers.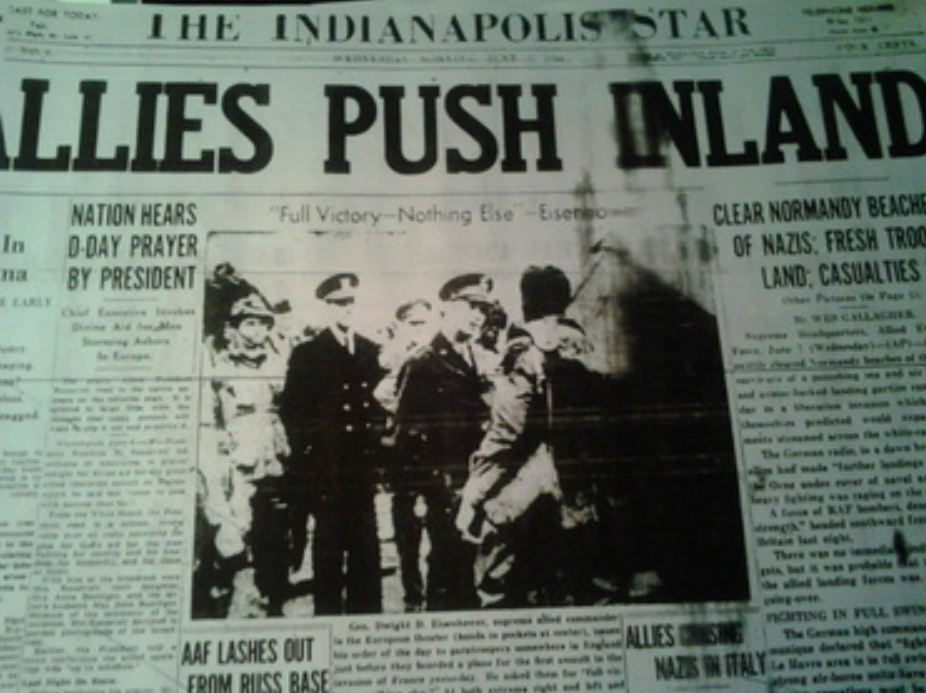 Military Experience
The Screaming Eagles
The 101st Airborne Division, also known as the Screaming Eagles, was activated for duty on August 16, 1942 at Camp Claiborne, Louisiana. The 101st Airborne Division trained for air assault operations. In the early hours of June 6, 1944, the Screaming Eagles landed into the Cotentin Peninsula. On D-Day, the 502nd Parachute Regiment had three main goals: secure the causeways leading to Utah Beach, intercept German advancement, and hold control over Utah Beach so the 4th Infantry Division could advance.
The Drop
Pilots found it very hard to fly their C-47s in formation in the dark and foggy weather conditions. Some soldiers missed their drops by miles because of unsure flight paths and the possibility of an air collision.
Sainte-Mère-Église
Vaughan landed in the town of Sainte-Mère-Église. Many paratroopers were spotted by German soldiers as they descended into the town. The Allies were defenseless against attack as they fell. Vaughan was killed on June 6, 1944.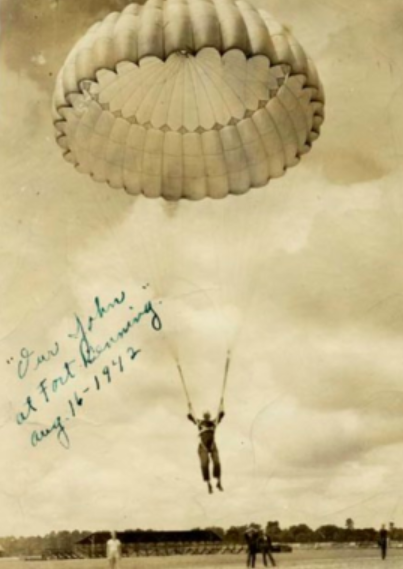 Eulogy
When Vaughan volunteered to serve for our country he made sacrifices. He made these sacrifices for his family and the country's well-being. Although his sacrifices can never be measured, I give great thanks and respect to Major J.W. Vaughan. Although serving for the 502nd Parachute Infantry must have been hard work, you stayed in the battle for the freedom of our country.
Private David Kenyon Webster spoke for J.W. Vaughan and the entire 101st Airborne Division when he said, "I am living on borrowed time. I do not think I shall live through the next jump. If I don't come back, try not to take it too hard. I wish I could persuade you to regard death as casually as we do over here. In the heat of battle you expect casualties, you expect someone to be killed and you are not surprised when a friend is machine-gunned in the face…Somebody has to get in and kill the enemy. Somebody has to be in the infantry and the paratroops."
These words are significant. They represent the dedication, the perseverance, and the sacrifice every paratrooper made on June 6, 1944. The conditions and the battle our heroes had to endure should always be remembered by every generation to come.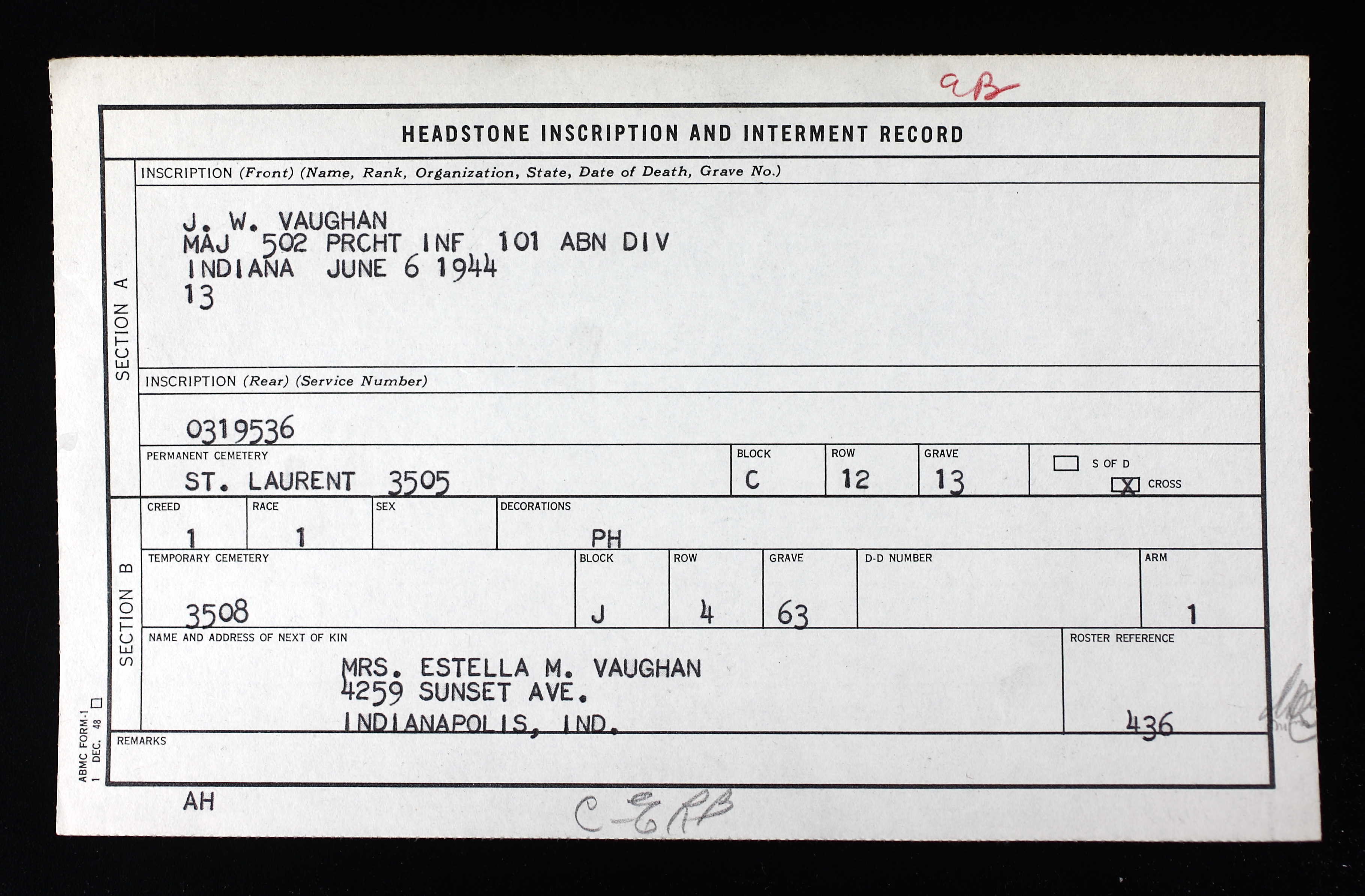 Reflection
Walking in The Footsteps of History
My trip to France with the Normandy: Sacrifice for Freedom Student & Teacher Institute was an incredible opportunity. Becoming a historian and researching J.W. Vaughan was a very interesting and emotional experience. Having the chance to express my gratitude aloud at Normandy American Cemetery in honor of a man who sacrificed so much for our country during World War II is something I will never forget. Some of the landscapes I saw and deep emotions I felt in Normandy are beyond words.
Sainte-Mère-Église was interesting as well. This was as close as I could possibly get to where J.W. Vaughan made his last supreme effort and it sent surges of thoughts and emotions into my head. I imagined what the town looked like in the foggy morning of June 6, 1944, because it was bright and sunny when I was there. I learned a great deal about my country through the Normandy Institute and I hope I get the chance to revisit the site of J.W. Vaughan's grave at Normandy American Cemetery in the future.
Bibliography
Primary Sources
"3 Killed and One Missing." The Indianapolis News, June 24, 1944. Newspapers.com (314392659).
"Allies Push Inland." The Indianapolis Star. June 7, 1944.
"Farmers fighting America's battle…." The Indianapolis Star, June 7, 1944. Newspapers.com (104914424).
"Girl Scout Troops Begin Hospital Services to Relieve Labor Shortage." The Indianapolis Star, May 6, 1944.
James W. Vaughn. Birth record, February 6, 1911. Kentucky, Birth Index, 1911-1999. ancestry.com.
"J. W. Vaughn." Headstone and Interment Records for U.S. Military Cemeteries on Foreign Soil, 1942-1949. ancestry.com.
J.W. Vaughan and Estella May. Marriage Registration, June 30, 1939. Indiana, Marriage Records, 1810-2001. ancestry.com.
J.W. Vaughn in police uniform. Photograph. Indiana State Archives.
Indiana. Marion County. 1920 U.S. Federal Census. ancestry.com.
Indiana. Marion County. 1930 U.S. Federal Census. ancestry.com.
Indiana. Marion County. 1940 U.S. Federal Census. ancestry.com.
"Maj. Vaughan Dies In French Invasion." The Indianapolis Star, June 24, 1944. Newspapers.com (104921917).
"Mayor Issues Appeal to Smiths, 3,500 Strong In City, for Blood Donations." The Indianapolis Star, May 27, 1944.
Sergeant John Cassoon of the 502nd Parachute Infantry Regiment, Company A landing a training jump at Fort Benning, Georgia. Photograph. August 16, 1942. National Archives Records Administration.
"Thomas S. Stuart." The Indianapolis Star [Indianapolis, Indiana], February 10, 1936. Newspapers.com (105397444).
Vaughan, J.W. Application For Appointment In The Police Department. 1936. Indiana State Archives.
Walter D. Vaughan. Death Certificate, May 10, 1912. Kentucky Death Records, 1852-1965. ancestry.com.
Secondary Sources
"The 502nd Parachute Infantry Regiment." The 101st Airborne, World War II. www.ww2airborne.us/units/502/502.html.
Ambrose, Stephen E. Band of Brothers. New York: Simon & Schuster, 2001.
Department of Defense. Normandy, The Airborne Invasion of Fortress Europe. Film. September 26, 1947. National Archives and Records Administration (65988). www.archive.org/details/gov.archives.arc.65988.
Devlin, Gerard M. Paratrooper! New York: St. Martin's Press, 1978.
"J. W. Vaughan." American Battle Monuments Commission. Accessed May 13, 2020. www.abmc.gov/decedent-search/vaughan%3Dj.