Private First Class Jesse J. Tibbetts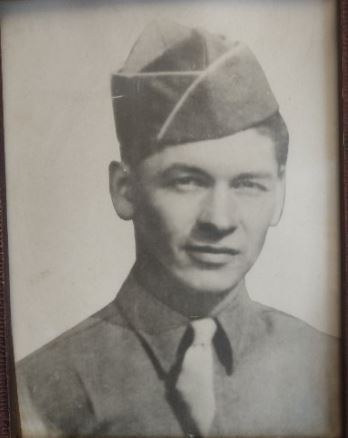 Unit:

66th Infantry Division, 262nd Infantry Regiment

Service Number:

37556124

Date of Birth:

January 16, 1923

Entered the Military:

March 20, 1943

Date of Death:

December 24, 1944

Hometown:

Ball Club, Minnesota

Place of Death:

near Cherbourg, France

Award(s):

Purple Heart

Cemetery:

Tablets of the Missing.

Normandy American Cemetery, Colleville-sur-Mer, France
Contributed by Autumn May
Mentored by Ms. Marcia Roline
Red Lake High School
2017-2018
Early Life
Jesse Tibbetts was born to Jesse and Genevieve Tibbetts in Deer River, Minnesota on January 16, 1923. He was the youngest of five siblings. The family moved throughout Minnesota while Jesse was growing up. They lived in Ball Club, Deer River, Bagley, and Hennepin.
As the baby of the family, Jesse's older siblings often spoiled him. Jesse wanted to do everything his father did and was very close to him. While living in Hennepin, Jesse not only went to school but he wanted to work as a mechanic like his father. Anywhere his dad was, Jesse was right behind him. Jesse was called "JR" so people would not get him and his father mixed up.
He was extremely physically active, participating in track and field at school, as well as basketball, boxing with Golden Gloves Boxing, and canoe racing. He also spent a lot of time outdoors hunting and fishing.
Homefront
During the 1930s and 1940s Native Americans faced discrimination from the U.S. government and American citizens. They were restricted food and Native Americans were referred as "merciless Indian savages". When people think of slavery they think of African Americans, but Natives were enslaved and transported to lands distant from their homes. Many Native Americans lived on reservations or near ancestral lands that had been reduced in size or eliminated in the decades since Minnesota became a state.
During World War II Native Americans played a big part in helping the war effort. Using the Navajo language, Native Americans from the Southwestern part of the U.S. created a code that the Japanese could not break. 
The government created Prisoner of War camps in Deer River, Minnesota, to help the logging industry after a shortage of timber workers occurred due to men leaving to serve. Throughout Minnesota the forest industry grew rapidly, increasing the building power and expanding its workforce. After a while the era of the lumber industry vanished.
During the war the Minnesota government rationed a wide variety of everyday goods, from food to bicycles. The need for rationing occurred because most food and goods made were sent overseas to help with the war effort. At the time, a lot of the younger kids had to step in and help either grow crops or work at the iron range because so many of the men were away fighting in the war. In 1942, within nine months Minnesota produced 70% of iron for "small" things such as battleships and cargo planes.
Military Experience
In the beginning of World War II, Fort Snelling became the induction point for more than 300,000 men and some women who had joined the armed forces to serve their country. They had recruited more than 800 people a day, swearing them in and sending them in for examinations and vaccinations. These men were not at Fort Snelling for long before being sent off to a different military post for their basic training. Private First Class Tibbetts was one of these men. He enlisted in the U.S. Army in Ball Club, Minnesota on March 20, 1943, with his best friend James "Jimmy" Wilson. He was listed as white by the Army, even though he had a blood quantum of ¼ Leech Lake Ojibwe.
The 66th Infantry Division was activated on April 15, 1943, in Camp Blanding, Florida. The division had three different generals throughout the time until its deactivation. After forming, the division had three months of training in the northeastern part of Florida. They were then sent to Camp Joseph Rucker, near Little Rock, Arkansas, for more training.
While Tibbetts was in Arkansas, he had married Joyce Palmer. In December 1944 his only child, Donna Tibbetts, was born. After the unit completed training at Camp Rucker, the division was sent off one last time in November 1944, to Camp Shanks, New Jersey, before being sent overseas. The unit stayed at Camp Shanks for a little more than two weeks, and on November 15, 1944, the division boarded the USS George Washington and the USS George O. Squier and left for England on December 1, 1944. Once the division arrived in England, they were billeted into small towns and to Camp Blandford on the southern coast of England.
On December 24, 1944, the division crossed the English Channel on the SS Léopoldville, and the HMS Cheshire. Tibbetts was on board the Léopoldville. Just five miles off the coast of Cherbourg, the SS Léopoldville was torpedoed by a German U- boat, killing 14 officers and 748 servicemen. One of those men was Private First Class Jesse Tibbetts. His body was never found.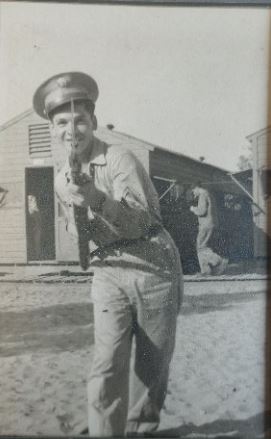 Eulogy
On January 16, 1923, you, Jesse Tibbetts, were born in Deer River, Minnesota to Jesse J. and Genevieve Tibbetts. As you grew up you lived multiple places, Ball Club, Deer River, Bagley and Hennepin, Minnesota. You were really active in many sports and activities.
You were in the 66th Infantry Division and the 262nd Infantry Regiment. Throughout your time of service you were stationed in several different places. While stationed in Arkansas, you had married Joyce Palmer and your first and only child, Donna was born.
In support of the allied operations in France, your regiment was transported across the English Channel on the SS Léopoldville. On December 24, 1944, while in route, to Cherbourg, France, this ship was torpedoed and sunk off the coast of Cherbourg. The assault knocked out a staircase, the hull filled with water, and many lives were lost immediately. In sacrificing your life, you left behind your wife, Joyce, 3-week-old infant daughter, Donna, your parents, Jesse and Genevieve, and your four siblings.
Chi-miigwetch J.R., for sacrificing your life for the life I have today. Through your example of bravery, anishinaabe mino-bimaadiziwin we are able to live a good life. Gigawabamin Ogitchidaag, it's not a goodbye, it's a see you later, Warrior.
Reflection
The Normandy: Sacrifice for Freedom®Albert H. Small Student & Teacher Institute was an eye opening experience. Being able to study someone who risked, and ultimately gave, their life for his people's future was incredibly moving, powerfully inspirational, and life changing. Being able to study in-depth many different details and aspects about World War II, the Normandy invasion, and researching Jesse Tibbetts was hard work, but helped me to get the background that I needed in order to fully immerse in the travel experience part of the institute.
The classes before going to D.C. and France gave me very good training and way more information than I have learned before. I also met some members of Jesse's family before leaving on the trip. When I found out Jesse had a daughter I was very excited, but extremely nervous. I didn't know what to think or what to say due to the fact she never met him. I am very thankful I got the chance to do this for her and help give her some closure and the honor deserved.
I was affected the most when I saw where he was on his way to when he lost his life. It was extremely powerful to be able to thank him at the Wall of the Missing. It was hard experience, but an amazing feeling to be able to give him this honor. When we got to Omaha Beach, I had 100 million different feelings. I was happy, but heartbroken being there and sitting on the shore. My hero could have walked that shoreline, but he was not able to. Seeing where his boat would have landed also had a profound effect.
Arriving at the Normandy American Cemetery, I didn't know how I would feel. I instantly broke down into tears. I feel I do not have adequate words to describe it, or I wish I was physically able to shake his hand and thank him for what he had did. I do feel like he heard me. Without this Institute and Albert H. Small I would not have been able to have undertaken this life changing experience. I now have a deep appreciation for the people I did not know who risked their lives for the one I have. That is something that can never be appreciated enough.
Bibliography
Primary Sources
Jesse J. Tibbetts, Individual Deceased Personnel File, Department of the Army.
Jesse J. Tibbetts, Official Military Personnel File, Department of the Army, RG 319, National Archives and Records Administration – St. Louis.