Private First Class John Billhimer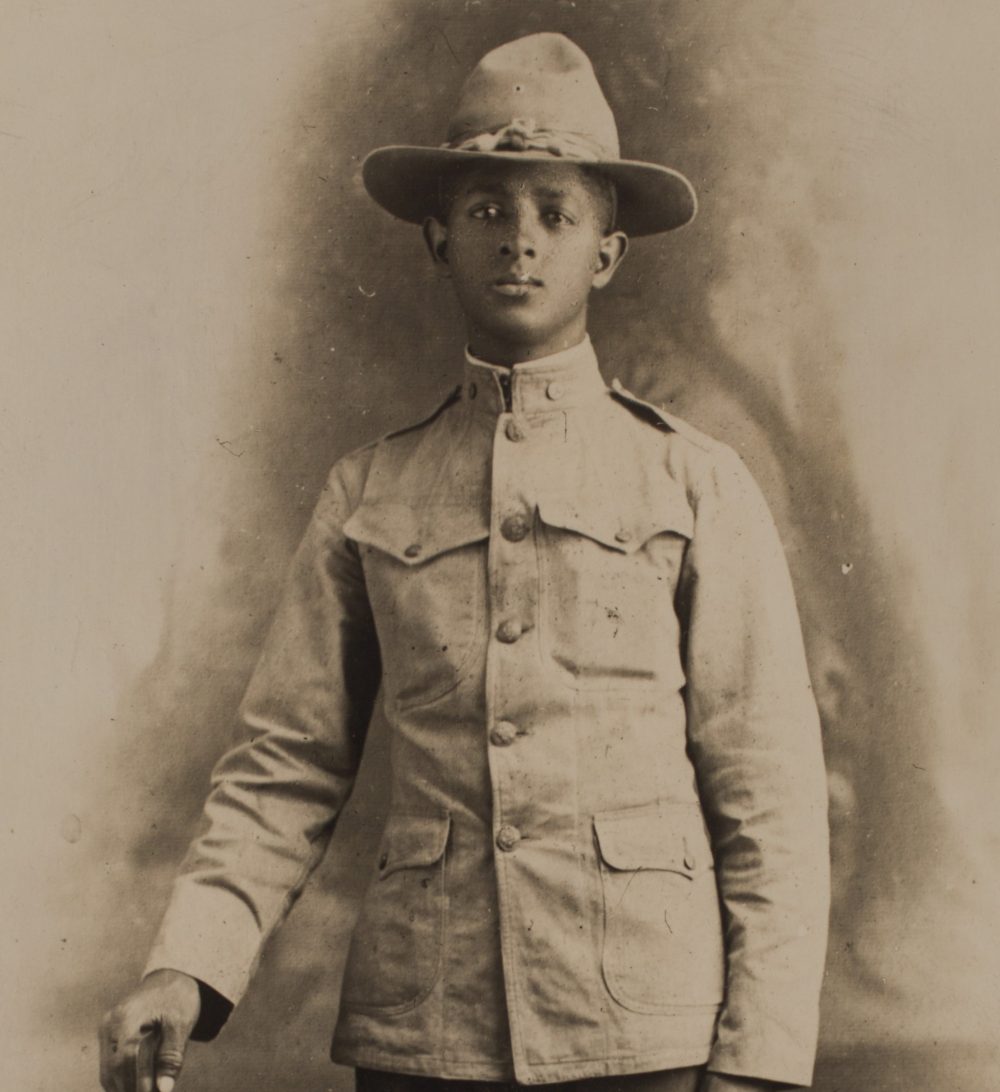 Unit:

93rd Division, 370th Infantry Regiment, Company A

Service Number:

1401591

Date of Birth:

October 12, 1893

Entered the Military:

June 1, 1917

Date of Death:

November 3, 1918

Hometown:

Chicago, Illinois

Place of Death:

Chantrud Ferme, France

Cemetery:

Plot A, Row 38, Grave 24.

Oise-Aisne American Cemetery, Seringes-et-Nesles, France
Contributed by Mrs. Meghan Thomas
Von Steuben High School
2017-2018
Early Life
Private First Class John Billhimer was born in 1893 and was mainly raised by his grandmother, Anna Billhimer, in a small town in Virginia's Shenandoah Valley. His father was Garison "Ras" Billhimer and his mother was Elizabeth "Lizza" Anderson. Both parents were young and lived temporarily with Ras' family.
John was an only child. His father died when he was young, and his mother left him with his grandmother. When he was in his teenage years, his grandmother became sick with influenza, which eventually took her life in 1915 when John was 22 years old. After her death, John moved to Chicago, most likely to live with his uncle, his father's older brother, Solomon Billhimer. Solomon is listed as John's next of kin on all military paperwork. The move allowed him to leave the segregated South.
While the older generation in John's family is listed as unable to read and write, John was literate and his father was a teacher, perhaps showing some progress in education for African Americans in the South decades after the Civil War.

Military Experience
John Billhimer enlisted in the U.S. Army in June 1917. Young African American men in Chicago, eager to prove their loyalty as Americans in an age of racism and discrimination, signed up as volunteers to fight for freedom and democracy that often did not include them and their families. Private First Class John Billhimer was one of these men.
He was a member of the U.S. Army's 93rd Division which included African American National Guard soldiers from Chicago and New York. The Chicago Division was referred to as the "Fighting Eighth" and was housed in the neighborhood of Bronzeville which had the first armory built exclusively for black soldiers. Private First Class Billhimer and his regiment sailed to France in April 1918 and were trained there between April and August of that year.
General Pershing ordered four regiments of the 93rd Division to join with the French 10th Army in the late summer of 1918. The relationship between French and American soldiers was described as "cordial" in an official report, but the same report also described extreme difficulty in communication due to a "shortage of competent interpreters." Together they launched the Oise-Aisne Offensive against the German Army that was occupying the Ailette River in mid-September. Beginning on September 17, the 93rd Division, under French command and working with with French soldiers, pushed the German Army out of the area and continued to attack while the Germans retreated. In the campaign, French and African American soldiers fought side-by-side. They struggled to communicate, but they respected each other's abilities.
After this successful advance, the division rested, built roads, cleaned themselves, and got new clothing in October. On November 3, while Company A was gathered in a kitchen in Chantrud Ferme, France, a large caliber shell hit the building, killing 34 men, including Private First Class Billhimer. In addition to those killed, another 56 people were wounded in the attack. There was no active fighting at the time so the incident may have been an accident.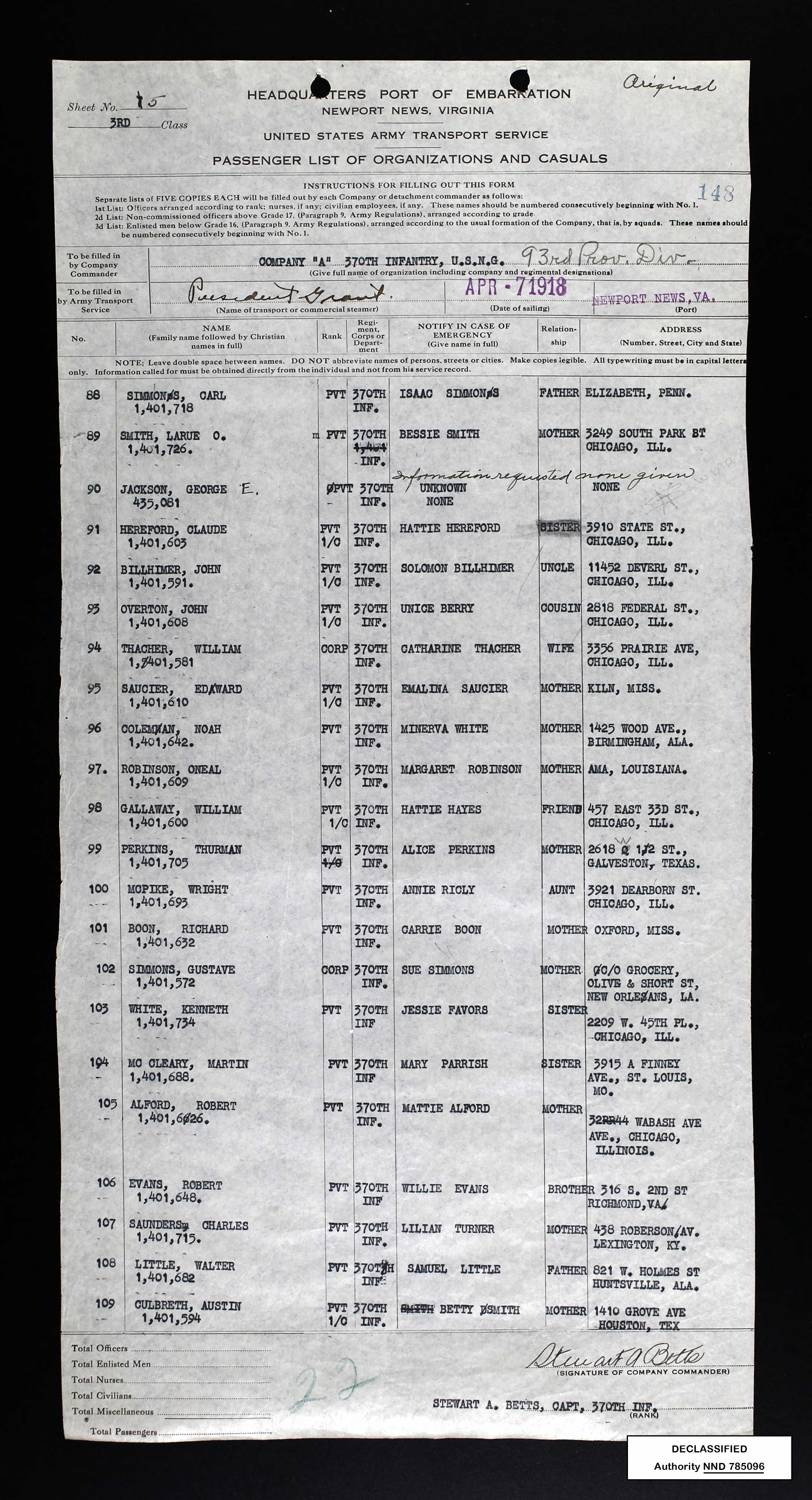 Eulogy
On February 21, 1919, the 370th Infantry Regiment, known as the "Black Devils" for their bravery in battle, returned to Chicago greeted by throngs of people. They had been awarded the Distinguished Service Medal as a unit and many had received the Croix de Guerre from the French for their brave service.
Mayor "Big Bill" Thompson spoke to the unit and said,
You have come back decorated for distinguished service on the battlefield, and for your glorious service, your devotion to the country, and your heroism in battle. I bespeak for you that justice and equality of citizenship which shall open the doors of opportunity to you and enable you and your posterity, together with all the peoples of this great land, as a living truth, to sing in a mighty chorus, 'My country tis of thee, sweet land of liberty.'
Unfortunately the returning veterans did not see this promised "justice and equality of citizenship" after the war, and Private First Class Billhimer did not live to experience the accolades and eventual gains in civil rights that these veterans witnessed.
Private First Class Billhimer may not have lived to receive medals for his brave service, but he and his family honored his sacrifice. He is buried at the Oise-Aisne Cemetery in France, and his family erected a memorial to him at the Old Athens Church Cemetery in Rockingham County, Virginia, where he lived and attended church, so his family could pay tribute to him regularly.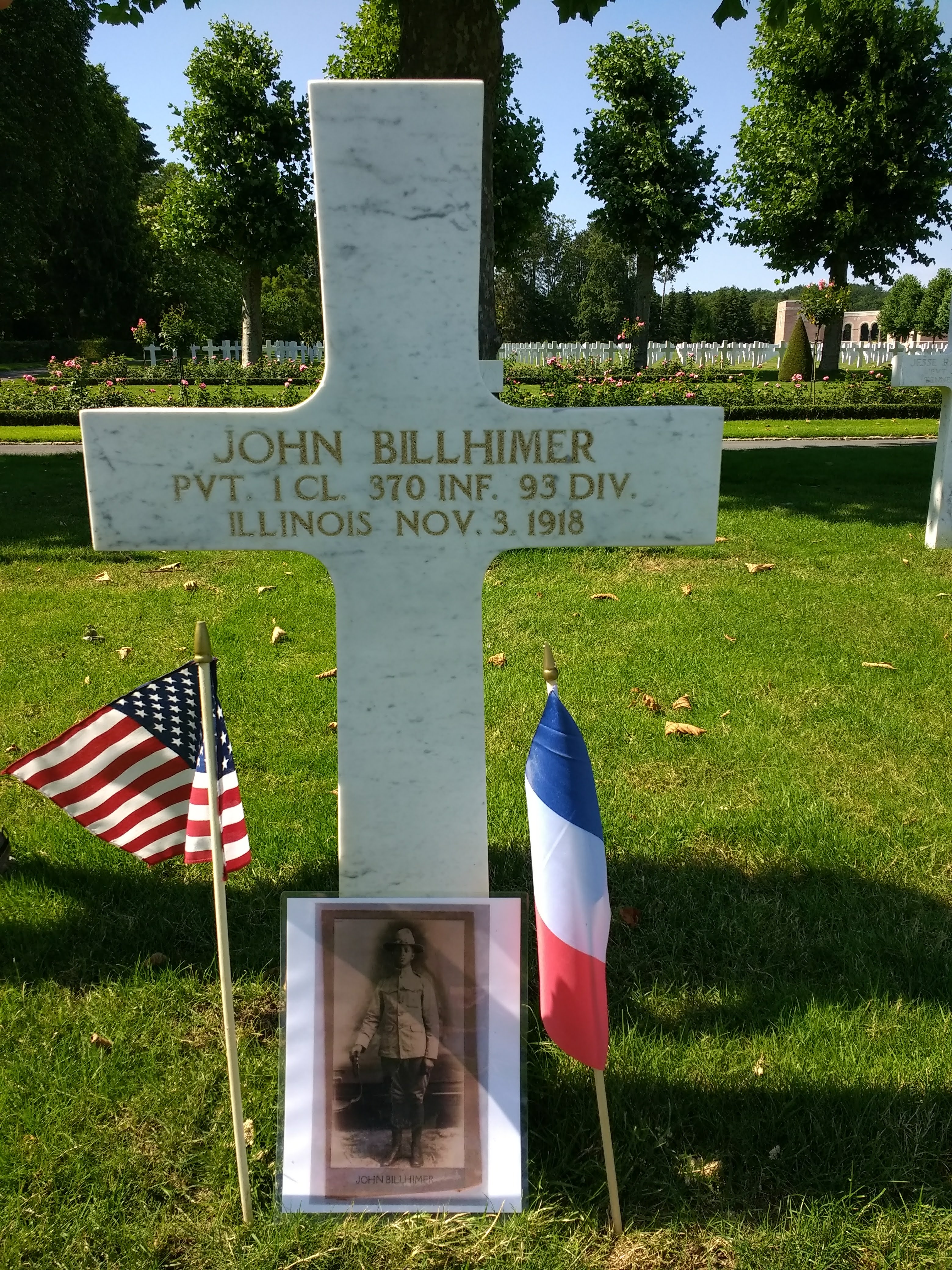 Reflection
Bibliography
93rd Division, 371st Infantry Regiment; Records of the American Expeditionary Forces (World War I), Records of Combat Divisions, 1918-1919, Record Group 120 (Boxes 2-8); National Archives at College Park, College Park, MD.
The American Advance Northwest of Verdun... Photograph. November 5, 1918. National Archives and Records Administration (25042). Image.
Butler, Robert E. "Throngs Greet 8th: 'Black Devils' are Welcomed by Multitudes Amid Thunderous Applause." The Chicago Defender, February 22, 1919.
Hautzinger, Daniel. "The Forgotten Story of Illinois's Black World War I Regiment." WTTW Chicago Public Media. Last modified November 10, 2017. Accessed June 23, 2018. interactive.wttw.com/playlist/2017/11/10/forgotten-story-illinoiss-black-world-war-i-regiment.
"John Billhimer." American Battle Monuments Commission. Accessed July 15, 2018. abmc.gov/node/341798#.W14HvNJKjIU.
John Billhimer. Birth Certificate 1944. Virginia Department of Health. ancestry.com.
John Billhimer World War I Burial Case File and VA Master Index Card; Correspondence, Reports, Telegrams, Applications and Other Papers relating to Burials of Service Personnel, Records of the Quartermaster General's Office, 1915-1935, Record Group 92; National Archives and Records Administration – St. Louis.
Tharpe, Mario. Fighting on Both Fronts: The Story of the 370th. Video file, 27:30. WTTW Chicago Public Radio. October 2017. schedule.wttw.com/episodes/429186/Fighting-On-Both-Fronts-The-Story-of-the-370th.
Virginia. Rockingham County. 1880 U.S. Census. Digital Images. ancestry.com.
Virginia. Rockingham County. 1900 U.S. Census. Digital Images. ancestry.com.