Technician Fourth Grade John Howitt Williamson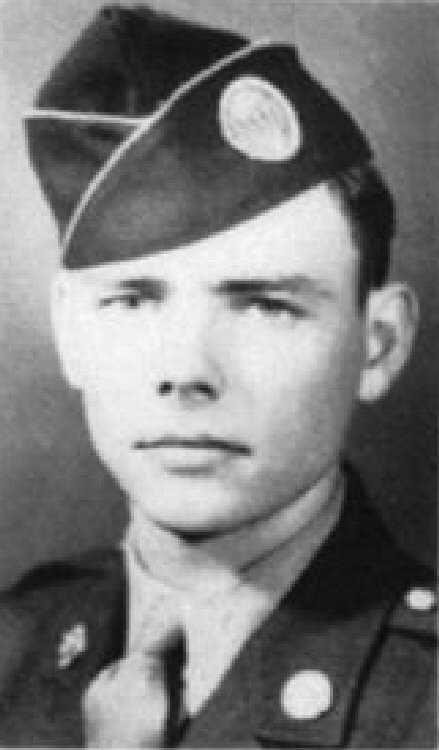 Unit:

82nd Airborne Division, 508th Parachute Infantry Regiment, 1st Battalion, Company C​

Service Number:

15323312

Date of Birth:

September 28, 1922

Entered the Military:

October 20, 1942

Date of Death:

June 6, 1944

Hometown:

Motherwell, Scotland and Youngstown

Place of Death:

near La Fière Bridge, Normandy, France

Award(s):

Purple Heart

Cemetery:

Plot C, Row 24, Grave 29.

Normandy American Cemetery, Colleville-sur-Mer, France
Contributed by Gabrielle Farrow
Mentored by Ms. Bridget Federspiel
Stivers School for the Arts
2013-2014
Early Life
John Howitt Williamson was born on September 28, 1922, in Motherwell, Scotland, to Joseph and Margaret Williamson. Joseph, an ironworker, was a veteran of World War I. In 1923, Joseph and Margaret took their children, Alexander, age 2, and John, age 11 months, to the United States via Canada. They sailed from Liverpool, England, and arrived at St. Albans, Vermont, on September 1, 1923, on the passenger ship Montalurier of the Canadian Pacific Line. The passenger manifest lists their final destination as Peoria, Illinois.
By 1930, the family settled in Youngstown, Ohio, in a rented home at 1053 Ridge Avenue. A third child, Jean, was born in 1926. Joseph worked as a crane operator at the steel mill.
John Howitt completed his draft registration card on June 30, 1942. He lists that he works at Standard Oil, and records indicate that he was a high school graduate.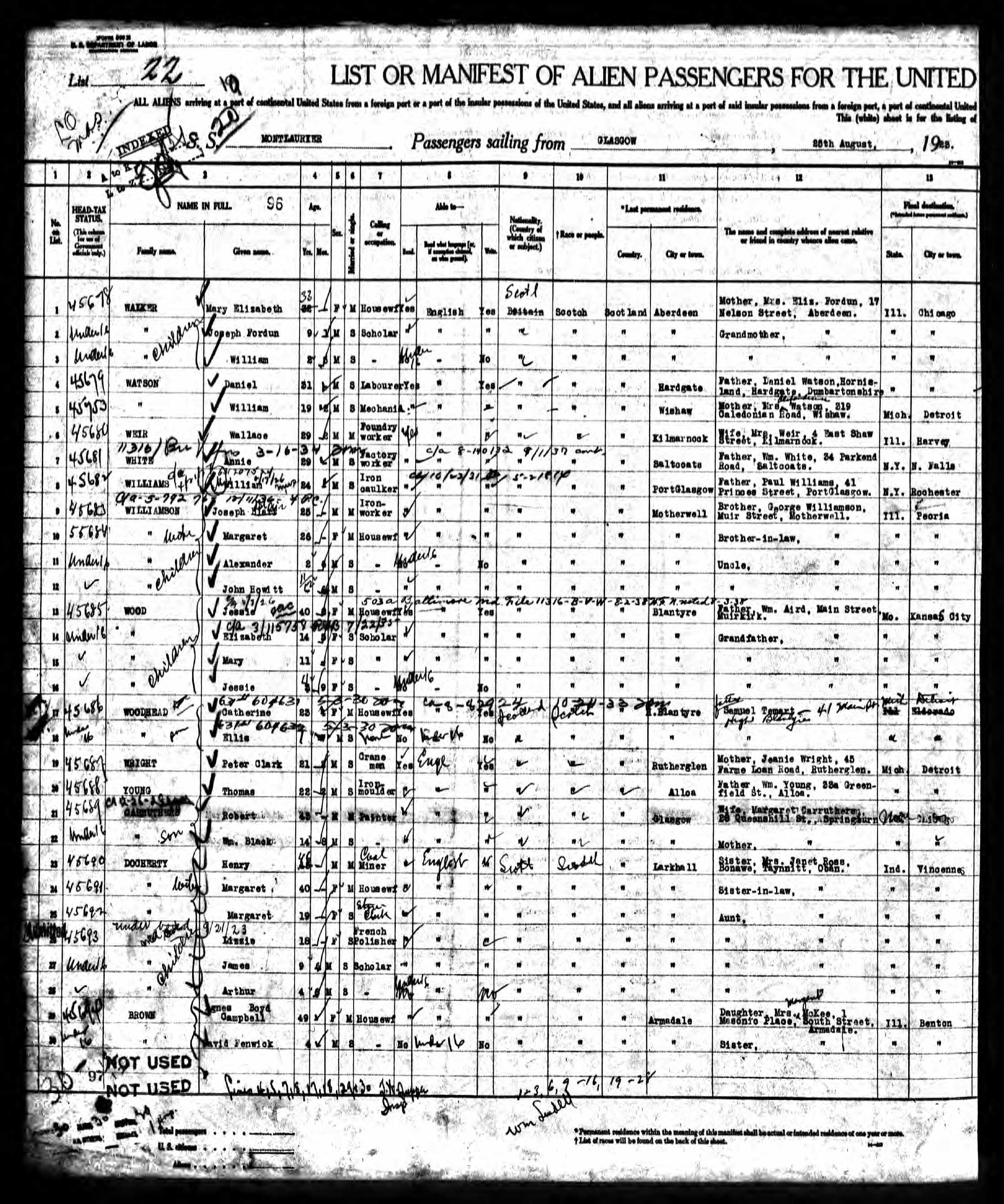 Homefront
World War ll was not only fought abroad. The people at home were fighting emotional battles. Many mothers and fathers were left without their children, many wives without husbands, and even children without fathers. However, this was a far less common occurrence because most of the men in the war were only teenagers or in their early twenties. These people were glued to their radios, listening to make sure that their boy had not been killed. Although many men were able to come home, there were plenty that did not have that luxury. The mothers who lost sons came to be known as Gold Star Mothers. This group came about by women hanging a banner with a gold star on it (pictured below in a World War II-era propaganda poster) in their window to symbolize that their son had been killed in the war.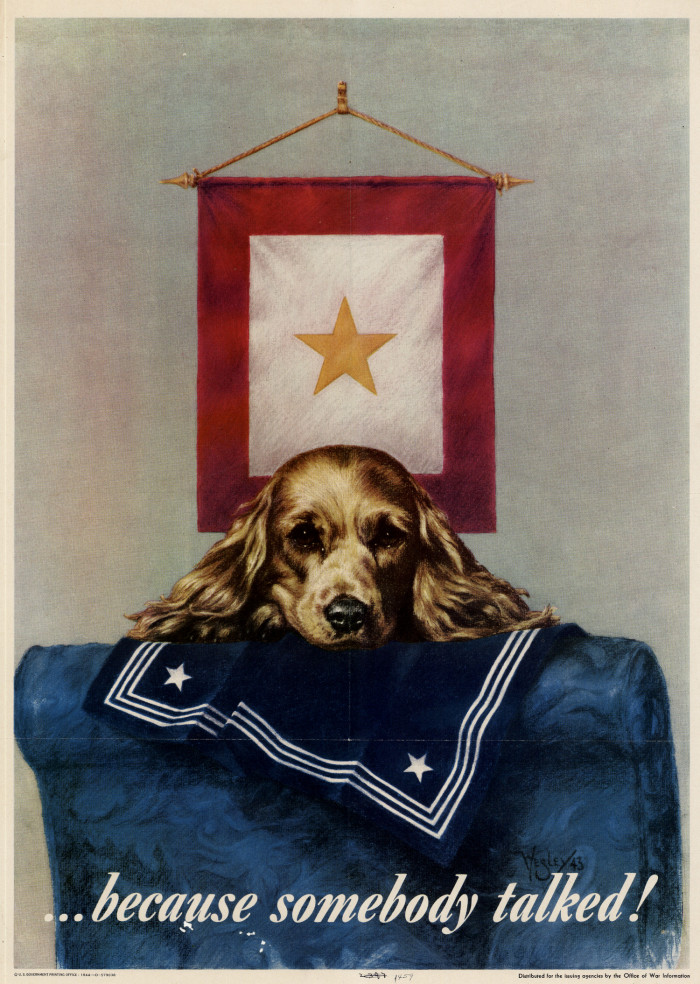 Military Experience
John Williamson enlisted in the U.S. Army on October 10, 1942, at Fort Hayes in Columbus, Ohio. He entered as a private and eventually worked his way up to be a technician fourth grade in a paratrooper unit.
Paratrooper training was one of the most challenging paths in the military, and they had to complete both regular basic training and advanced paratrooper training to prepare. Williamson earned his wings and a Good Conduct Medal from his jump training with the 508th Parachute Infantry Regiment of the 82nd Airborne Division. The 508th Parachute Infantry Regiment's shoulder insignia was a devil with a parachute. They called themselves the Red Devils.
For the D-Day invasion, the 82nd Airborne Division's job was to destroy the bridges that the Germans needed to re-supply. Williamson's unit was tasked to take La Fière Bridge over the Merderet River. This bridge was important because it led to Sainte-Mère-Église, one of the essential supply points. When the 82nd Airborne Division jumped, they were supposed to land in a caddy-corner field to the bridge. Many men missed their jump zones and had to find out where they were and how to get to the bridge. On D-Day, the field where the gliders should have landed was completely flooded. This flooding added an entirely new challenge.
The battle at La Fière was so iconic that the movie Saving Private Ryan based the fight scene in the city on the battle that took place there. This battle was not easy for the Allies because of the large number of men who missed their drop zones.
John Williamson was found dead and was buried in the temporary cemetery at Blosville in plot A, row 3, grave number 41, then moved to the Normandy American Cemetery in plot C, row 24, grave 29.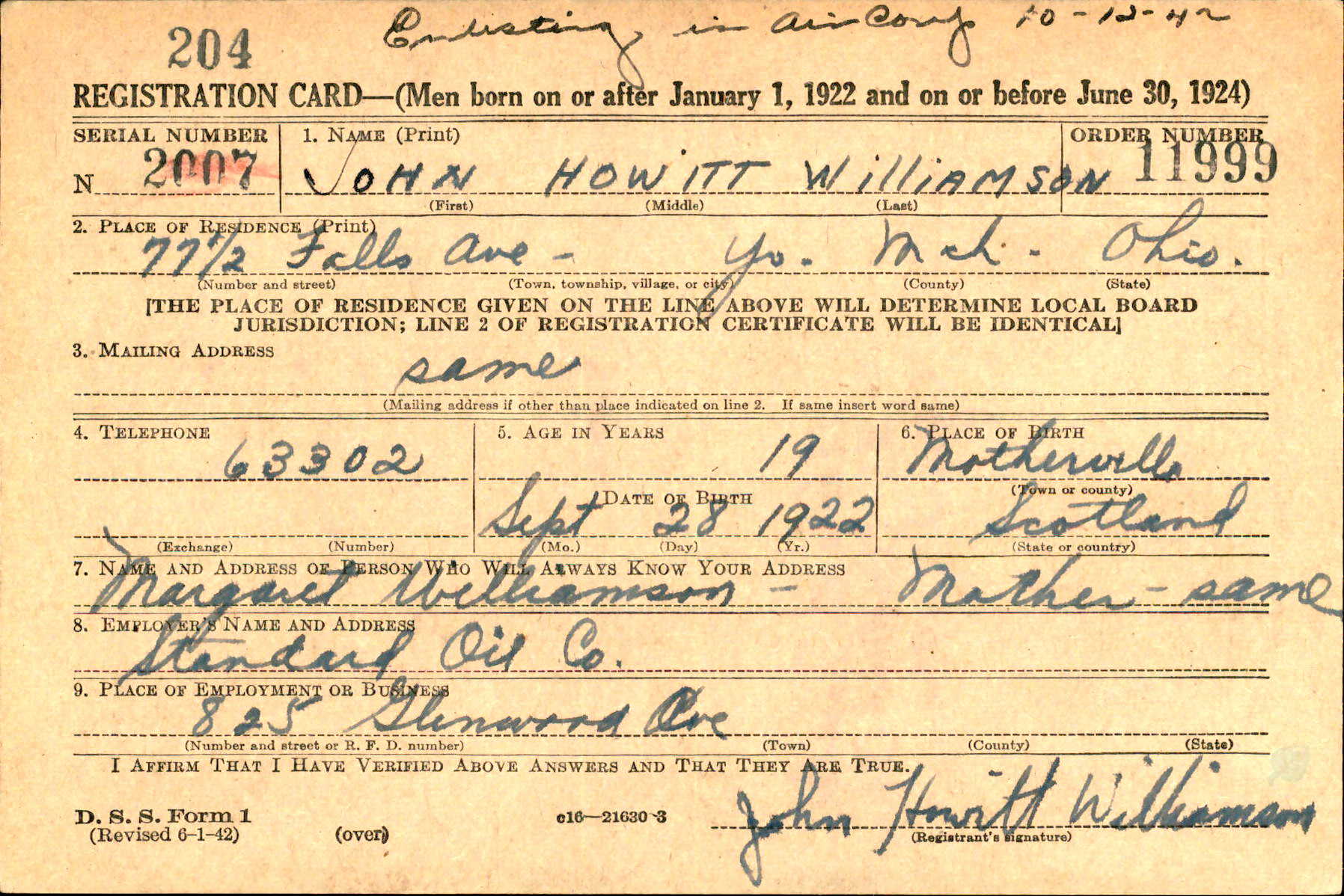 Eulogy
John Williamson was born in Scotland and raised in Youngstown, Ohio. Little did he know that he would fight for his country in the Second World War and die on one of the most important days in history.
Williamson enlisted in the U.S. Army and volunteered to be a paratrooper. He trained at Camp Mackall, North Carolina, and Fort Benning, Georgia, to become a part of the 82nd Airborne Division's 508th Parachute Infantry Regiment.
Williamson missed his drop zone and got lost. However, he now lies in this very grave where he can be appropriately honored for his service. He gave the ultimate sacrifice for our freedom. John was not the only hero in this war. These men all contributed to not just our liberty but to the freedom of entire countries.
I felt a personal connection with John because he had a few of the same interests as me. When I think about what he did for me, and all of these men did, I choked up. When I see veterans who invaded with these same men, telling stories of their buddies and how they died, I cannot help but be in awe. I will never know and will never understand what they went through to preserve our country's life. The amount of respect I have for these men is monumental. Keeping a country free takes much more than we all realize. Freedom is not free. People say that quite a lot, but I do not think the people who hear it are listening.
Freedom comes with a price. Look around you. These men were the price. They were made the currency of war and were exchanged accordingly. This is something we can never give back. These men are something we will never get back. We need to realize what they did for us with the few we have left because these men here cannot tell us their stories. They truly are Silent Heroes, and we are giving them something they weren't able to have – a voice. We are their voices. We are their representatives, and we can never forget that. John was indeed a silent hero-with no living relatives, no dependents, no living trail. I am his voice. I am John's advocate. We are here today to honor them, and we would not even be here if it weren't for them-men such as John, who will never be able to share with his grandchildren how he earned a good conduct medal, or how he hated the Germans or how bad the food was. John will never have that. John is lying here, and only he knows what he went through.
Veterans are dying every day, but John never got the chance to be a veteran. All men gave some, but these men gave all.
Reflection
Being a part of the 2014 Normandy Institute was the best educational experience of my life. I learned about the most critical operation in history and saw it up close and personal. I was able to stand where courageous men stood and died. Veterans have always had an extraordinary place in my heart. I have always loved hearing their stories, and this program allowed me to go to the places I had only ever talked about with these veterans. There is nothing that could come close to the personal value of this trip.
One of my favorite parts of the trip was delivering my eulogy. This was something that was very, very personal to me. After all of the research l had done on John and being where he was and seeing his grave. I felt like l had a personal connection with him. When l saw his headstone, l couldn't help but cry. I felt like l knew him in some way. When l was giving my eulogy, l could not contain my tears. How could l ever repay him? He died for my freedom. I feel very strongly that l am personally indebted to John. Giving his eulogy was one of the best experiences of my life. I felt like l was talking to him and that he could hear me. It didn't matter that l was crying because a message was sent that cannot be replaced. So many men died for our freedom, and too many people take it for granted. My and everyone else's eulogies were a step to showing people how these men fought for us.
Bibliography
Primary Sources
Heyman, Wesley. Because somebody talked! Poster. 1944. University of North Texas Digital Library (12337069). digital.library.unt.edu/ark:/67531/metadc288/.
John H. Williamson. World War II Army Enlistment Records, 1938-1946. ancestry.com.
John H. Williamson. World War II Draft Cards Young Men, 1940-1947. Digital images. ancestry.com.
John Howitt Williamson. Border Crossings from Canada to U.S., 1895-1960. Digital Images. ancestry.com.
Ohio. Mahoning County. 1930 U.S. Federal Census. Digital Images. ancestry.com.
Pvt. John H. Williamson. Photograph. c.1942-1944. 508pir.org/co_pix/co_c/co-c-w.htm.
Canadian Pacific S/S "Montlaurier." Postcard. 1927. Norway Heritage. www.norwayheritage.com/p_ship.asp?sh=mont5.
Secondary Sources
"508th Parachute Infantry Regiment." Family and Friends of the 508th Parachute Infantry Regiment Association. Accessed March 11, 2021. 508pir.org/index.htm.
"The 508th Parachute Infantry Regiment Unit History." The 82nd Airborne World War II. Accessed March 11, 2021. www.ww2-airborne.us/units/508/508.html.
"John H. Williamson." American Battle Monuments Commission. Accessed March 10, 2021. www.abmc.gov/decedent-search/williamson%3Djohn-3.
"S/S Montlaurier, Canadaian Pacific Line." Norway Heritage. Accessed March 11, 2021. www.norwayheritage.com/p_ship.asp?sh=mont5.
"Tec4 John Howitt Williamson." Find a Grave. Updated August 8, 2010. Accessed March 11, 2021. www.findagrave.com/memorial/56651507/john-howitt-williamson.
Editor's Note: Williamson's Army Enlistment Record lists his date of birth as 1925, but all other records indicate that he was born in 1922.