Shipfitter Third Class Joseph Vasko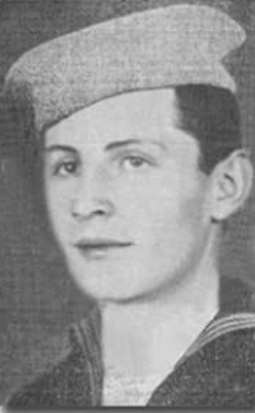 Unit:

LST-314

Service Number:

8181966

Date of Birth:

January 10, 1925

Entered the Military:

August 2, 1943

Date of Death:

June 9, 1944

Hometown:

Phoenixville, Pennsylvania

Place of Death:

English Channel, off the coast of Normandy, France

Award(s):

Purple Heart

Cemetery:

Tablets of the Missing.

Normandy American Cemetery, Colleville-sur-Mer, France
Contributed by Amadea Martino Smith
Mentored by Ms. Cynthia Crothers-Hyatt
Conestoga High School
2015-2016
Early Life
Joseph Vasko was born in Phoenixville, Pennsylvania on January 10, 1925. He attended Phoenixville High School (now the site of Phoenixville Hospital), and lived with his mother, Mary, his brother, John, and his sister, Pauline.
Vasko was born into an Eastern-European immigrant family, with parents from Slovenia, Czechoslovakia and Austria-Hungary. The family name of "Vasko," and its pronunciation, was most likely changed from the original "Wasko" when the family came to the United States.
Vasko worked for Coane & Pizor, most likely at the Colonial Theater – perhaps handing out movie tickets or selling popcorn. After graduating from Phoenixville High School in 1942, Vasko began working at the Boiler Engineering Supply Company, earning a weekly wage of $32.00 and fulfilling many duties: laying out beams and sheet metal, reading blueprints, marking metal for drill holes, rivet holes, and doors, marring beams for channels, ​and using a compass and dividers.
Joseph's father, Michael Vasko, worked at Phoenix Iron & Steel for many years. He was killed in 1937 when a crane fell on a worksite. This left Mary Vasko, a widow of three children at age 38, struggling to provide for her family during the Great Depression. Joseph and his brother, John, picked apples to make extra money. To heat their home, Mary Vasko sent her sons to the train tracks to collect the coal that fell off the trains.
Joseph Vasko lived at 315 Buchanan Street, Phoenixville, until he enlisted in the U.S. Navy and left for training in Illinois. His house was a short walk to the Colonial Theatre where he may have worked. Before moving to this house, the Vasko family lived in a smaller, more modest home on 31 Walnut Street, only a few blocks away.
The family was part of the Holy Archangel Byzantine Catholic Church in Mont Clare. When the congregation split shortly after Michael Vasko's death, the Vasko family went to the Holy Ghost Church. Unfortunately, Joseph's confirmation and baptismal records from both churches were lost.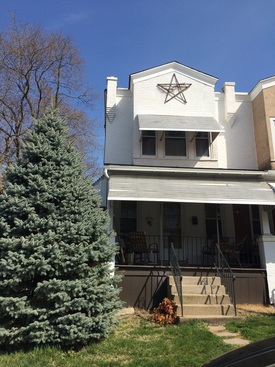 Homefront
Bordered by the Schuylkill River and approximately 32 miles northwest of Philadelphia, Phoenixville was founded in the 1700s. Until recently, the town has been blue collar, with industry that grew around the railroad, river, and canal systems.
During World War II, Phoenixville's Main Street was full of local markets and merchants, who advertised in the local paper, The Daily Republican. Jerry's Super Service Food Market ran a half page ad in 1943, featuring jumbo shrimp for 49 cents a pound and locally grown asparagus for 39 cents a bunch. The paper itself cost three cents. Other advertisers in the paper featured promotions for buying U.S. Savings Bonds and for gas ration stamps. There were regular air raid sector meetings in the borough as well as air observation posts around the area in anticipation for possible bombings.
The town of Phoenixville was a part of a wider ring of companies that worked within the Bethlehem Steel network, a key supplier for the ship yards in Camden and Philadelphia. During the 1940s it was a town of 12,282 people, many of whom were employed by Phoenix Iron & Steel.
Phoenix Iron Company (now Phoenix Iron & Steel) was a principal manufacturer that supplied the steel to construct bridges. The company employed 2,500 people during World War II.
The Valley Forge General Hospital was dedicated as an U.S. Army Post on September 26, 1944. By February 1945, German Prisoners of War (POWs) arrived and were assigned tasks at the hospital. At the end of the war, the hospital achieved recognition for its excellence and expertise in plastic surgery and eye surgery, becoming a place of rehabilitation for those blinded during the war.
Phoenixville Hospital now stands where the high school used to be. While Joseph Vasko attended Phoenixville High School, there were few clubs or activities: College Club, Spelling Club, Library Club, National Honor Society and Student Council. Phoenixville High School had football, girls and boys basketball, field hockey and track. It appears that Joseph's graduating class was around 150 students. The yearbook commemorated the 150th anniversary of the town and had a section in the back of local businesses who advertised – "Keene Radio Service" with a phone number of 522, and "Buy War Bonds." The only business that remains today is the Colonial Theater, a Phoenixville landmark.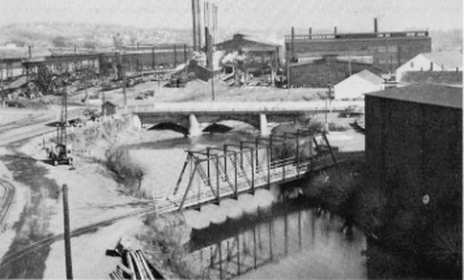 Military Experience
A young Joseph Vasko enlisted in the U.S. Navy on August 2, 1943, a year after graduating from high school, leaving his job at the Boiler Engineering Supply Company. Vasko traveled to the Great Lakes Naval Station in Illinois for training. On August 10, 1943, he earned a promotion to seaman second class and then seaman first class on February 1, 1944. On May 1, 1944, Vasko became a Shipfitter Third Class. He earned $78.00 a month for his service, with a two-year contract.
Vasko traveled on USS Tarazed (AF-13) to the Naval Operating Base in Oran, Algeria. Upon leaving the ship, he was transferred to USS Elizabeth C. Stanton. However, on his way to Bizerte, Tunisia, he reported to LST-314. LSTs, or Landing Ship Tanks, were some of the largest ships in World War II. They were newly created for the war to bring supplies – landing craft tanks (LCTs), construction and medical equipment, troops, artillery, and food to the beaches from Allied territory. Joseph's ship, LST-314, was commanded by Alvin H. Tutt. As a shipfitter third class, Vasko was stationed at the bottom of the ship. His job was to weld doors and fix leaks.
Before joining the amphibious invasion of Normandy, LST-314 was involved in the Sicilian Occupation (July 9-15, 1942) and the Salerno Landings (September 9-21, 1943).
​The LSTs could dock directly at the beach and easily load vehicles due to their ramp/elevator technology; however, they were vulnerable to naval attack. LST-314 successfully crossed the English Channel to Omaha Beach on June 6, 1944. While it was crossing on the morning of June 9, 1944, it was torpedoed by German E-boats. The ship exploded and sank in only 26 minutes. Of the 131 sailors aboard, 31 of them were killed or missing. Vasko, age 19, was one of them.
While HMS Beagle gathered the survivors, HMS Beagle retrieved the bodies and buried them at sea. Initially, Vasko was declared missing in action on June 29, 1944. On July 5, 1944, his mother was notified and the local Phoneixville newspaper, The Daily Republican, published a report of his status.
Although his body was found and buried at sea on June 11, 1944, he was not reported dead until July 12, 1944. His mother, Mary Vasko, was notified on August 5. On November 27, 1944, Mary was sent a letter explaining the shipment of her son's belongings – a rusted jackknife, metal, ring, and chain. She received a "death gratuity" of $10,000 and a Gold Star Lapel Button in memory of her son. Vasko received the Purple Heart posthumously, Navy Good Conduct Medal, and European-African-Middle Eastern Campaign Medal.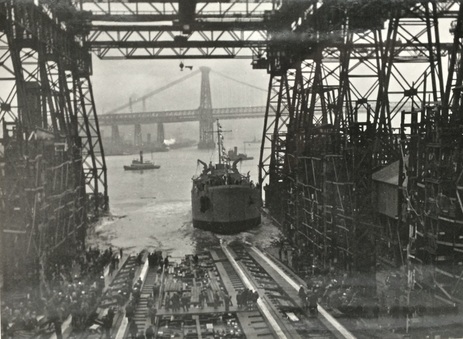 Eulogy
Joseph Vasko is memorialized on the Tablets of the Missing at Normandy American Cemetery in Colleville-sur-Mer, France.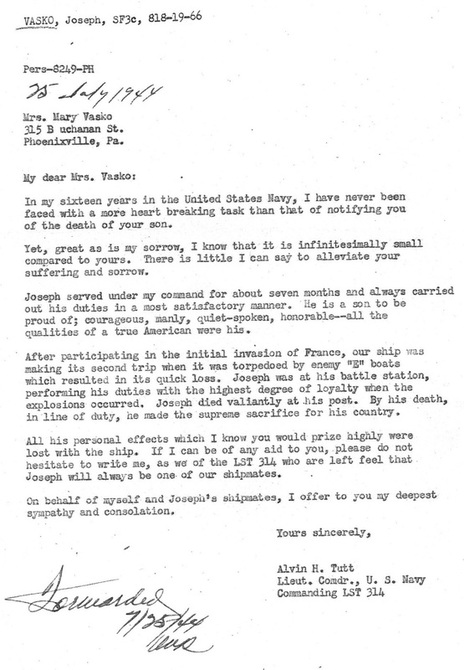 Reflection
As I gaze at the jar filled with pebbly, dark sand before me – the same sand that has been smoothed and washed of any trace of the chaos that took place a mere 70 years ago – I feel overwhelmed. I begin to reflect.
I started this journey with a naive curiosity. I felt excited to learn about World War II and sacrifice. I was intrigued by the contradictory history of relief and victory, and of pain and carnage. I had learned about America's great war efforts and establishment of hegemony, seen pictures of Rosie the Riveter and victory gardens, and heard snippets of Franklin D. Roosevelt's fireside chats and the cheering when the public learned of Overlord's success. But I knew that my perception of sacrifice was incomplete; I knew I did not understand how losing a son affected a family.
I knew, but I didn't feel.
I had no idea that reading the war testimonials of eyewitnesses, visiting a now peaceful church once stained by the blood of the fallen, or getting to know the story of my silent hero would send a torpedo through my mind and my understanding of sacrifice. Sacrifice: a word that quickly leaves the mouths of hundreds of people every minute, but stays with the families suffering from loss for eternity.
Joseph Vasko, Joe, will forever be in my memory. But will the loss of 48,231,700 people – both soldiers and civilians, friends and enemies – be remembered by future generations? I feel inspired to share the military history, the countless stories of the lost, and my expanded understanding of the sacrifices of World War II, especially in current times of turbulent diplomatic relations and looming environmental threats. While Joe Vasko and millions of other brave men were compelled to fight for democracy, it is my duty to remember and spread this essential history for the future.
Bibliography
Primary Sources
Casualty Report, USS LST 314, Record Group 24, National Archives at College Park, College Park, MD.
Deck Logs, USS LST 314, Office of Naval Records and Library, Record Group 24; National Archives at College Park, College Park, MD.
Joseph Vasko, Individual Deceased Personnel File. Department of the Army.
Joseph Vasko, Official Military Personnel File, National Archives and Records Administration – St. Louis.
"Joseph Vasko, Petty Officer, Is Missing." The Daily Republican, 1944.
Joseph Vasko. Phoenixville High School yearbook. 1942
Launching of the LST-314 at New York Navy Yard. Photograph. December 30, 1942. National Archives and Records Administration (32266).
"Mike Vasko Is Killed Under Heavy Crane." The Daily Republican, April 10, 1937.
Pennsylvania. Chester County. 1930 U.S. federal census. ancestry.com.
Pennsylvania. Chester County.1940 U.S. federal census. ancestry.com.
Phoenix Iron & Steel Co. Photograph. Historical Society of the Phoenixville Area. phoenixvillehistoricalsociety.org/.
Tutt, Alvin H. Interview with the Office of Naval Records and Library. July 24, 1944. Accessed May 10, 2020. www.ibiblio.org/hyperwar/USN/ships/logs/LST/lst314-Tutt.html.
USS LST 314, Office of Naval Records and Library, Record Group 38; National Archives at College Park, College Park, MD.
USS LST-314 and USS LST-374 loading supplies at Castletown, Portland, English in preparation for the Invasion of Normandy. Photograph. June 9, 1944. National Archives and Records Administration (C-745). www.navsource.org/archives/10/16/160314.htm.
USS LST-314 Unloading British Universal Carriers at Salerno, Italy. Photograph. September 8, 1943. Imperial War Museum (NA 6622). www.navsource.org/archives/10/16/160314.htm.
Valley Forge General Hospital. Photograph. 1947. Historical Society of the Phoenixville Area.
Vasko, Greg. Telephone interview. March 21, 2016.
War Diary, USS LST 314, December 1-31, 1943, Jan. 1-31, 1944, Office of Naval Records and Library, Record Group 38, National Archives at College Park, College Park, MD.
Secondary Sources
Ambrose, Stephen E. Band of Brothers. New York: Simon & Schuster Paperbacks, 1992.
"Joseph Vasko." American Battle Monuments Commission. Accessed May 10, 2020. www.abmc.gov/decedent-search/vasko%3Djoseph.
Morison, Samuel Eliot. The Invasion of France and Germany: 1944-1945. Boston: Little & Brown, 1984.
Morris, Galloway. "A History of the Valley Forge General Hospital." The Schuylkill Township News, 1998. schuylkilltwp.org/wp-content/uploads/HistoryArticles/1-The-Valley-Forge-General-Hospital.pdf.
"Phoenixville: A Tale of Two Histories." Historical Society of Phoenixville. Updated October 8, 2013. Accessed May 10, 2020. hsp.org/blogs/archival-adventures-in-small-repositories/phoenixville-a-tale-of-two-histories.
Piccolomini, Marion. World War II and Chester County, Pennsylvania. Harrisburg: The History Press, 2016.
Quillman, Catherine. "The Home Front In WWII: No Summer Soldiers Chester County's Farmers, Workers, Volunteers Fought And Sacrificed In Their Own Way." Philadelphia Inquirer, June 25, 1992.
Stokesbury, James L. A Short History of World War II. New York: Morrow, 1980.
"The Story of the LST 314." Updated October 29, 2013. Accessed May 10, 2020. www.youtube.com/watch?v=qy3HrOqeQ0w.
Terkel, Studs. The Good War. New York: New, 1984.
Wieviorka, Olivier. Normandy. Cambridge: Harvard University Press, 2008.