Sergeant Julius (Rusty) Adam Houck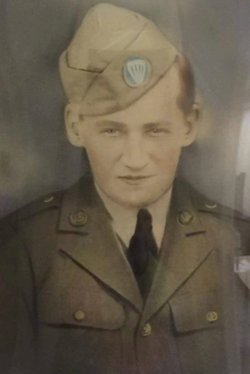 Unit:

101st Airborne Division, 506th Parachute Infantry Regiment, Company F

Service Number:

16100659

Date of Birth:

August 28, 1921

Entered the Military:

August 18, 1942

Date of Death:

June 6, 1944

Hometown:

Hammond, Indiana

Award(s):

Bronze Star, Purple Heart

Cemetery:

Plot F, Row 19, Grave 17.

Normandy American Cemetery, Colleville-sur-Mer, France
Contributed by David Huston
Mentored by Ms. Dawn Crone
Brownsburg Community High School
2012-2013
Early Life
Julius A. "Rusty" Houck was born on August 28, 1921, to Lawrence and Margaret Houck in Rice Lake, Wisconsin. Julius was the oldest of four boys. William, Ronnie, and Kenneth all looked up to and immensely respected their oldest brother. Julius—affectionately called Sonny by his family—had a great sense of humor, was an avid skier, an incredible athlete, an aggressive leader, and a fearless man.
Margaret Carufel Houck was a member of the Ojibway (Ojibbeway) Tribe, and the family is listed in the 1940 Indian Census.
Move to Hammond
Sometime between 1940 and 1942, his family moved to Hammond, Indiana, searching for work. Julius, a high school graduate, found a job as a clerk in an office. On August 18, 1942, just shy of his twenty-first birthday, Julius Houck joined the U.S. Army.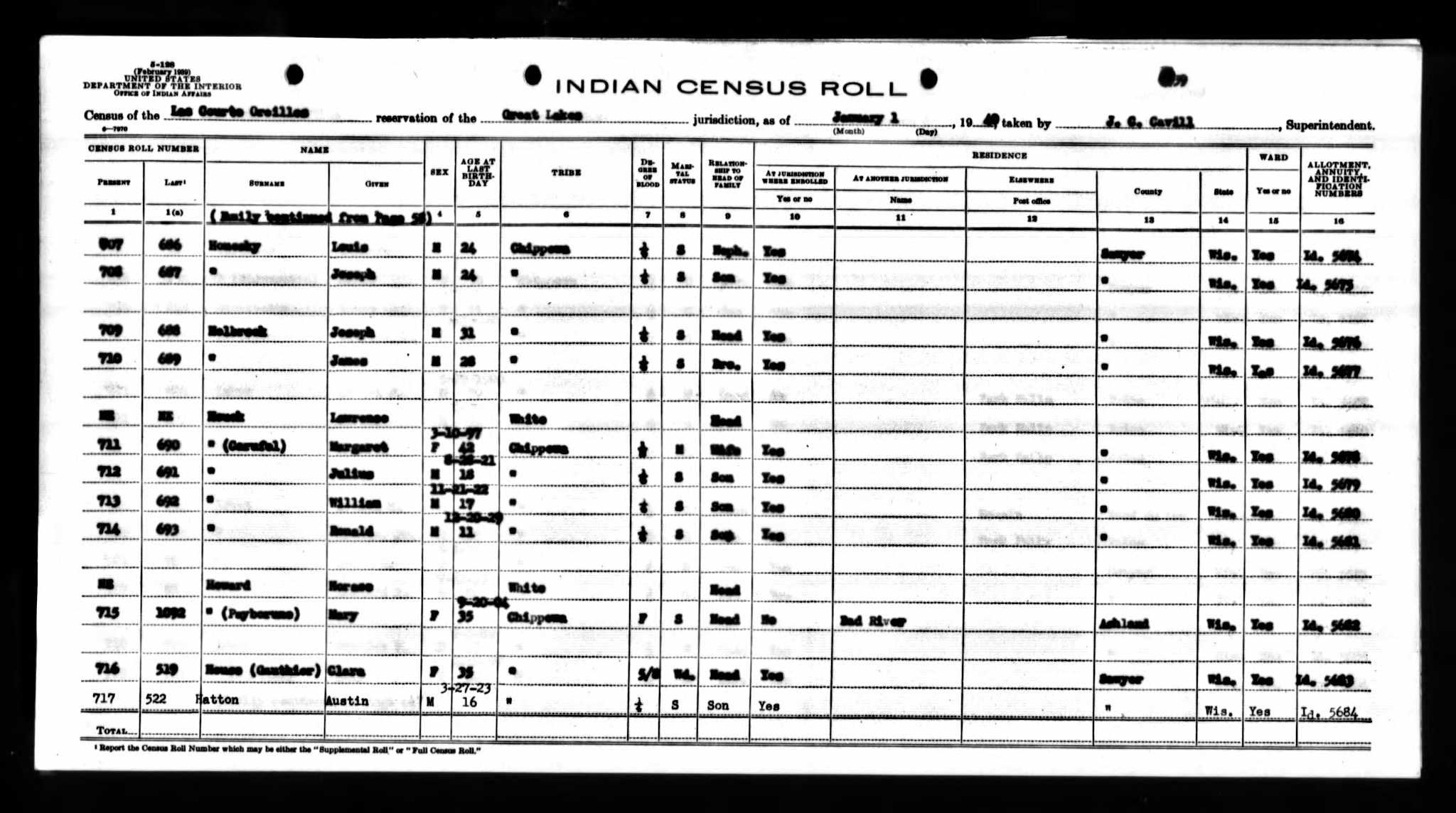 Homefront
Hammond, Indiana, is located along Lake Michigan, 29 miles from Chicago, Illinois. Jean Shepard grew up here and wrote In God We Trust, All Others Pay Cash. In 1983, his novel became made into the movie A Christmas Story. The setting of the film closely resembled post-war Hammond.
The first permanent residents of Hammond settled there in 1847. Because of its prime location, George H. Hammond established a meat packaging plant in 1869. This plant marked the beginning of industrialization in the area. In 1884, the land was incorporated into a city named after its most powerful resident, Hammond. By harvesting ice from Wolf Lake and shipping meat in refrigerated rail cars (pictured above), Hammond delivered fresh beef to the east coast. In 1901, the George H. Hammond Company was absorbed into the National Packing Company.
In 1893, the first Sears-Roebuck Catalogue was printed by the W.B. Conkey Printing House, the most modern printing house in America, in Hammond, Indiana.
In 1894, Octave Chanute designed and tested a bi-wing glider on the Michigan Dunes near Hammond, reaching 594 feet. Nine years later, he served as an adviser to the Wright Brothers and their experiments at Kitty Hawk.
A Powerhouse of Steel Production
Hammond continued to grow into the twentieth century and became a powerhouse of steel production to supply the American war machine.
Pullman Standard Car Company
During the war, the Pullman Standard Car Company received several government contracts and stopped making sleeping cars, and began manufacturing M-3 and M-4 Sherman tanks along with their 75mm rounds. Julius Houck worked as a clerk at Pullman before joining the U.S. Army.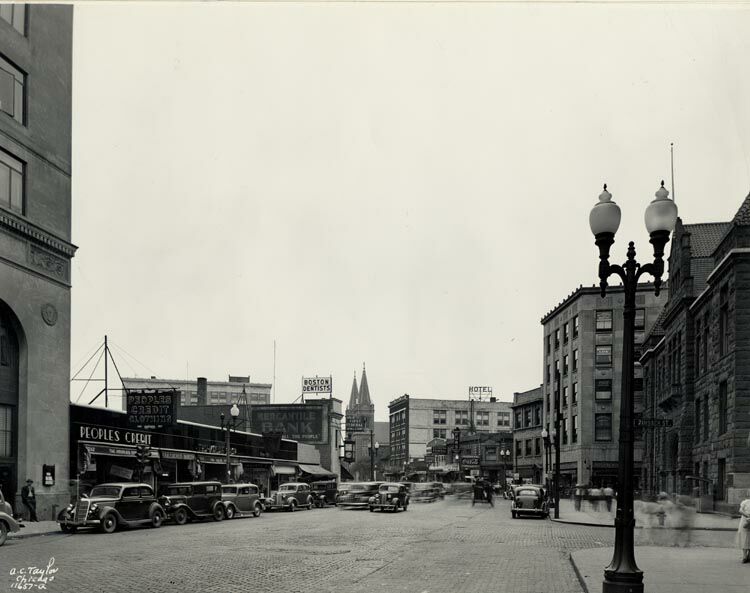 Military Experience
After electing to join the newly created 101st Airborne Division, Julius Houck was assigned to Company F of the 506th Parachute Infantry Regiment. Although Houck was a Native American, he kept his heritage a secret and registered as a Caucasian out of fear of harassment.
Training at Camp Toccoa
Houck was among the first to train at the newly created Camp Toccoa in 1942. This military facility in Georgia was designed to create an elite class of paratroopers from the ground up. The physical and disciplinary rigors of Camp Toccoa made the newly created 101st Airborne Division one of the most challenging outfits in the world. Houck was an extremely tough man, both physically and mentally. He endured extremely demanding training where the majority of candidates washed out. His athleticism and aggressive leadership abilities were quickly recognized, as he was quickly promoted to the rank of sergeant.
After training at Toccoa came to an end, the 101st Airborne Division men marched 115 miles from Camp Toccoa to Atlanta, Georgia, in just three December days, crushing a previous record held by the Japanese. After arriving in Atlanta, the men boarded a train for Fort Benning, Georgia. At Fort Benning, the men completed four days and one night jumps and became official paratroopers.
D-Day
As preparations for the invasion of Europe began, one major threat loomed above all else: even if the amphibious forces could land and take the Normandy beaches, they would be immediately pushed back by a massive reserve of German troops held in the interior. Such a defeat would have needlessly sacrificed the lives of thousands of men.
Paratroopers were dropped behind the coastal defenses to capture and defend the beaches' roads. If they succeeded, it would cut off reinforcements and supply lines to Germans defenders on the coast. The success of the assault was uncertain. All major Allied airborne assaults in previous battles ended poorly. The planes were vulnerable to both Allied and Axis flak. Paratroopers dropped into hostile territory. If the amphibious invasion proved unsuccessful, paratroopers would be stranded behind enemy lines with no avenue of escape.
At approximately 10:15 p.m. on June 5, 1944, Houck was one of 6,600 paratroopers of the 101st Airborne Division who departed from Upottery, England, in one of over 400 C-47's headed for the Normandy interior. Their mission: seize and control the causeways leading from the Utah and Omaha Beaches.
Shortly after 1:00 a.m. on June 6, 1944, Houck jumped into history. The 506th Parachute Infantry Regiment was supposed to land in Drop Zone C (between Hiesville and Sainte-Marie-du-Mont) and seize roads and bridges over the Douve River, disrupting the German ability to defend, resupply, and reinforce Utah Beach.
The drop encountered poor visibility, a lack of onboard navigators, radio silence, poorly marked drop zones, inexperienced pilots, and anti-aircraft fire. Most paratroopers landed miles away from their objectives. Houck landed north of Sainte-Marie-du-Mont rendezvous with other men, mostly from E Company, at the hamlet of Le Grand-Chemin early in the morning.
When Houck arrived, he learned that a small unit under the command of First Lieutenant Richard Winters set out to engage a well-entrenched German artillery battery consisting of four 105mm howitzers at Brécourt Manor, north of Sainte-Marie-du-Mont. The artillery battery was firing along Causeway No. 2 at Utah Beach, where the 22nd Infantry Regiment was landing. Commanded by Second Lieutenant Ronald C. Speirs, Houck arrived at Brécourt Manor to find that Winters and his men had already taken and destroyed the first three howitzers. Winters tasked Houck's group to take the fourth gun. Bill True described the events that followed:
"Len [Hicks] and Julius [Houck] crept up close enough to fire at the defending troops directly. The two Americans were lying in a depression, side by side, as they planned their next move. There was very little cover. Hicks was ready to fire his M-1, while Houck would throw a grenade. Len told Houck, 'Be careful, they may be tossing some back at us and we're pretty exposed here.' Hicks fired and the German soldier he'd aimed at went down. But Houck raised up to throw his grenade, completely exposing himself just at the time a burst of machine gun fire was heard. He was struck multiple times in the chest by the burp gun and went down instantly."
Len Hicks described it this way:
…we passed through the edge of one or maybe two small towns. Very little fire until we had passed the 2d or 3rd, right beside some barn-like buildings and a high hedge. The krauts really showed what an '88' could do. Some of the (2nd) Bn officers did some scouting of this situation, because this emplacement was not on aerial photos and neither was it on the sand table. Capt. Winters told me to take a detail down and clear it out, so we could go on to our objective. There were more E Co. troopers in this group, about 12 to 14. They were right by me when Capt. Winters was briefing them. I told Capt. Winters I would like to have some of that action. His reply, 'Would anyone else like to go?'I walked over and asked for volunteers. Sgt Julian Houck [sic] was the only one interested. [During the battle] we were laying very near each other, when he suggested he would throw a grenade over to #4 emplacement. I told him to be very careful-we did not have much cover, in case they wanted to throw some back. I'm sorry to say that 'Rusty' was killed instantly by a burst of burp gun fire. He was hit across the top part of the shoulders, all internal bleeding-the little amount of external blood could have been wiped-off with a cigarette paper. He did not suffer. I can say Thank God, 'Rusty' was one of the good ones. I do not know if it was Rusty's grenade or my shot that got that guy.
His fellow paratroopers captured and silenced the fourth and final gun. The 22nd Infantry Regiment quickly moved from their exposed positions on the beach. For his conspicuous bravery in the face of extreme danger and for saving countless American lives on Utah Beach, Sergeant Julius A. Houck was posthumously awarded the Bronze Star.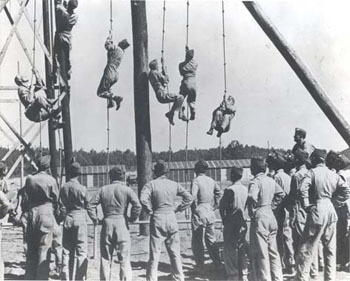 Eulogy
It has been said that "this will remain the land of the free, only so long as it remains the land of the brave." The truly brave are perhaps not those that by chance fall into dangerous situations and by luck or out of self-preservation overcome, but rather those that go head-on into dangerous situations appreciating what they can do for others, yet understanding the risks to themselves, and yet going in anyways. Sergeant Julius A. Houck was one of these men.
On the night of June 5, 1944, Sergeant Julius A. Houck boarded one of the hundreds of C-47's headed for Normandy, well behind enemy lines. Houck's company was assigned a particular section of ground to hold until amphibious reinforcements landing on Utah Beach could relieve them. But plans rarely survive the first contact with the enemy. Poor visibility, anti-aircraft fire, and jittery pilots contributed to the scattering of paratroopers all over Normandy. Despite being dropped in the wrong location, separated from his men, and having lost much of his gear, Houck quickly adapted and the next day was among a select few volunteers to be a part of an assault team to attack a well-fortified German artillery embankment defended by a force nearly three times their size at Brécourt Manor.
After arriving at Brecourt Manor, Sergeant Houck quickly rushed at the fourth and final gun, raised to throw a grenade (exposing himself in the process), and was subsequently cut down by a German machine gun. He died instantly.
In tribute to his Hoosier home, we lay the State of Indiana's flag at his gravestone. Sergeant Houck was a true Hoosier and a true American hero. And it is because of brave men like you that we stand here today, free men.
Sergeant Houck, we thank you for your ultimate sacrifice.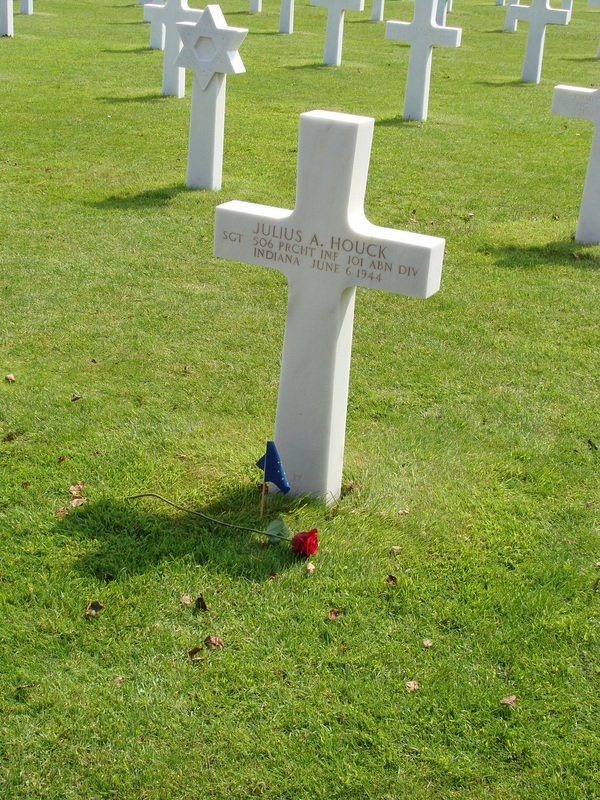 Bibliography
Primary Sources
Camp Toccoa – Rope Climb. Photograph. C. 1943. Dr. C.C. and Mabel L. Criss Library, University of Nebraska at Omaha. unodigitalhumanitiesprojects.omeka.net/exhibits/show/bandofbrotherseasycompany/formation-and-training.
Great Sioux Reservation. 1940 Indian Census. Digital Images. ancestry.com.
Houck Family Photographs. Courtesy of the Houck Family.
Julius A. Houck. Headstone and Interment Records for U.S. Military Cemeteries on Foreign Soil. Digital images. ancestry.com.
Julius A. Houck. World War II Army Enlistment Records, 1938-1946. ancestry.com.
Julius Adam Houck. World War II Draft Cards Young Men, 1940-1947. Digital images. ancestry.com.
Wisconsin. Sawyer County. 1930 U.S. Federal Census. Digital Images. ancestry.com.
Wisconsin. Sawyer County. 1940 U.S. Federal Census. Digital Images. ancestry.com.
Secondary Sources
"115-Mile March to Atlanta." 5016th Airborne Infantry Regiment. Updated April 6, 2013. Accessed January 24, 2021. old.506infantry.org/hiswwii/his2ndbnwwiiphoto37.html.
506th Parachute Infantry Regiment Unit History, The 101st Airborne, World War II. Accessed January 24, 2021.www.ww2-airborne.us/units/506/506.html.
Alexander, Larry. Biggest Brother. New York City: Penguin Group, 2006.
Ambrose, Stephen E. Band of Brothers. New York City: Simon & Schuster, 2004.
Anderson, Christopher J. "Dick Winters: Reflections from Major Winters of Easy Company." American History Magazine (August 2004). www.historynet.com/dick-winters-reflections-on-the-band-of-brothers-d-day-and-leadership.htm.
Bando, Mark. "War Stories." Accessed January 24, 2021. www.101airborneww2.com/warstoriesintro.html.
Beevor, Antony. D-Day. New York City: Penguin Group, 2009.
"Brecourt Manor Assault." Ivy House, Updated 2019. Accessed January 24, 2021. www.utahbeachnormandy.com/activities/d-day/brecourt-manor-assault/.
"Hammond High School Class of 1959." Accessed January 24, 2021. www.hhs59.com/.
Harrison, Gordon A. Cross Channel Attack. Washington, D.C: U.S Government Printing Office, 1951.
"Julius A. Houck." American Battle Monuments Commission. Accessed January 24, 2021. www.abmc.gov/decedent-search/houck%3Djulius.
Ruppenthal, Major Ronald G. Utah Beach to Cherbourg. Washington, D.C.: Government Printing Office, 1948. history.army.mil/BOOKS/WWII/utah/utah.htm.
"Sgt Julius A. "Rusty" Houck." Find a Grave. Updated August 8, 2010. Accessed January 24, 2021. www.findagrave.com/memorial/56645781/julius-a.-houck.
Snapp, Elaine. Email correspondence with the author. July 19, 2013.
True, William and Deryck Tufts True. The Cow Spoke French: The Story of Williams True, American Paratrooper in World War II. Bennington: Merriam Press, 2007. www.google.com/books/edition/The_Cow_Spoke_French/_BXj1YpHND0C?hl=en&gbpv=1&dq=The+Cow+Spoke+French:+The+Story+of+Williams+True&pg=PA17&printsec=frontcover.