Second Lieutenant Kathryn Lucille McCarthy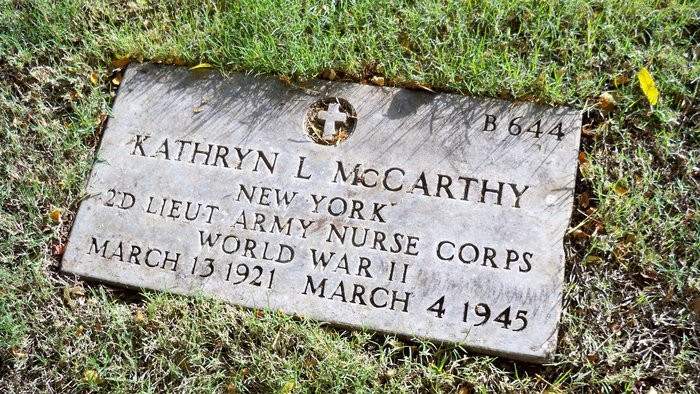 Unit:

172nd General Hospital, 803rd Medical Air Evacuation Squadron

Service Number:

N-789939

Date of Birth:

March 13, 1921

Entered the Military:

November 30, 1942

Date of Death:

March 4, 1945

Hometown:

Syracuse, New York

Place of Death:

Ledo, India

Cemetery:

Section B, Site 644.

National Memorial Cemetery of the Pacific, Honolulu, Hawai'i
Contributed by Naia Peery
Mentored by Ms. Alexandra (Lexi) Hartley
Lehman Alternative Community School
2020-2021
Early Life
Kathryn McCarthy grew up in Syracuse, New York. Born on March 13, 1921, she had two older sisters and two younger brothers: Marion, Elizabeth, Richard, and Thomas.
Her father, George McCarthy, worked as a cigar store manager while her mother, Frances, remained at home with their children on Bellevue Avenue. McCarthy attended Most Holy Rosary High School, a few minutes' walk from her house. After high school, she trained as a nurse at St. Joseph's Hospital School of Nursing. She became a staff member of the Visiting Nurses Association alongside her life-long friend and fellow Syracuse resident, Rita Erard.
Before her graduation on April 29, 1942, McCarthy lived on Fitch Street with her family and worked 15 hours a week as a student nurse. Their neighbor and family friend, Bill Kearney, recalled Second Lieutenant McCarthy being a "wonderful and joyful person."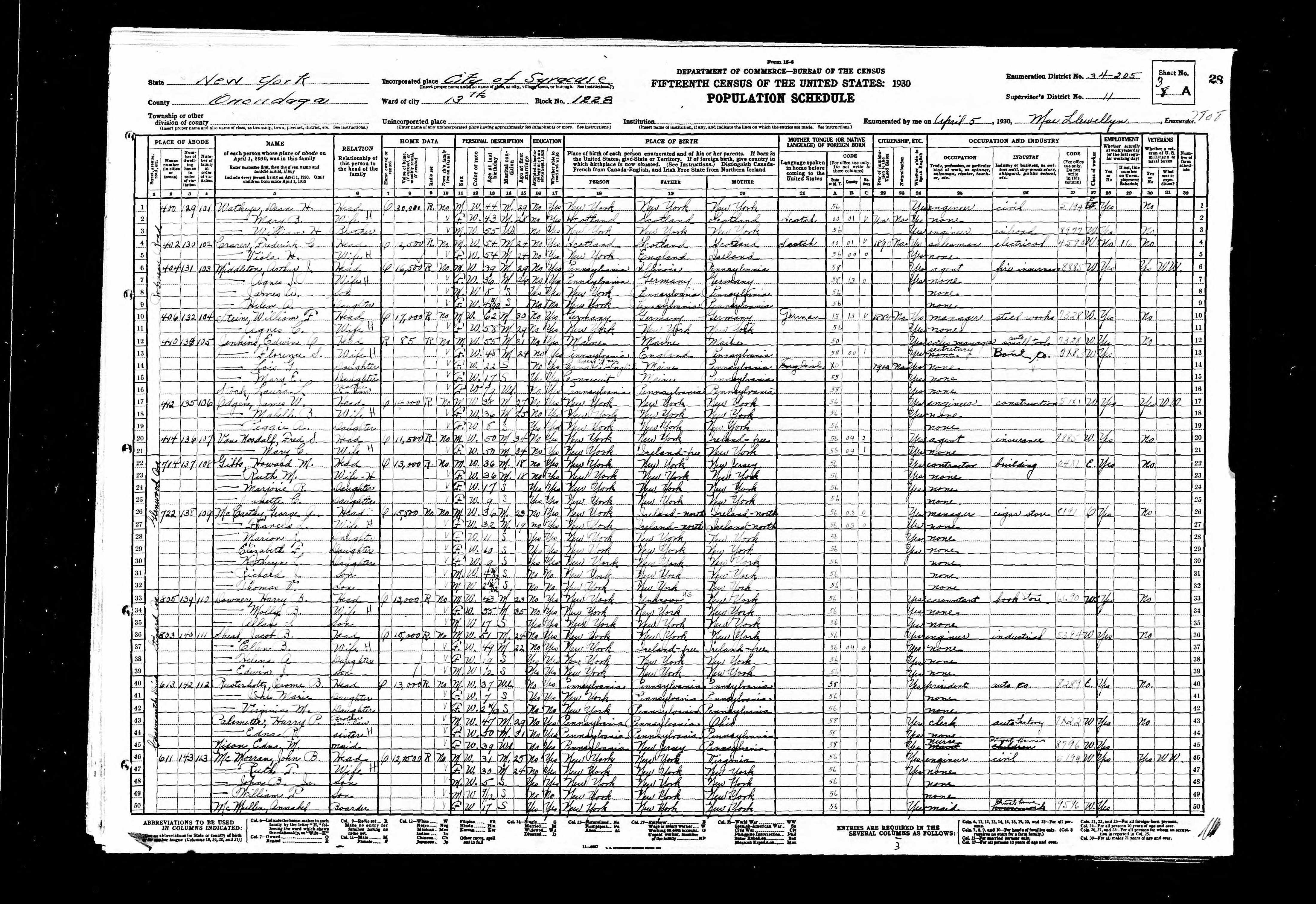 Homefront
Wartime Syracuse
World War II significantly impacted industries and communities in and around Syracuse, New York. Before the war, Syracuse factories only produced civilian products such as typewriters, washing machines, and porcelain dinnerware. This production changed after President Franklin D. Roosevelt called on American manufacturers to make war materials in the early 1940s. Many industries in Syracuse retooled to produce war goods, including the Onondaga Pottery Company, which secretly developed the M-5 anti-tank landmine and the M-7 pocket mine.
Over 25,000 men from Onondaga County enlisted in the U.S. Army, prompting a more substantial female presence in the factories. Additionally, the women of Syracuse made socks and bandages for soldiers while tending to their families. Helen Hewitt, a Syracuse resident, told the Herald-Journal that the war "was all anybody could talk about." A Herald-Journal editor remarked that "much of the equipment" used in the D-Day invasion was "made in Syracuse." He continued that D-Day was seen as a "day of sacrifice in hopes of creating a better world."
Training as a Nurse
In the early years of World War II, hospitals oversaw the training schools. This training was similar to an apprenticeship, emphasizing clinical work, and hands-on learning. Student nurses initially trained for three years, starting with a six-month-long educational course.
During this time, nurses worked long hours. The nurses trained from 5 a.m. to 9 p.m. with a rotating night shift. The head nurses always expected obedience, valuing both "strong moral character" and "physically strong young females." There was a significant shortage of trained nurses in the army at the start of the war. In 1943, Kathryn McCarthy aided the effort by joining the U.S. Army Nurse Corps.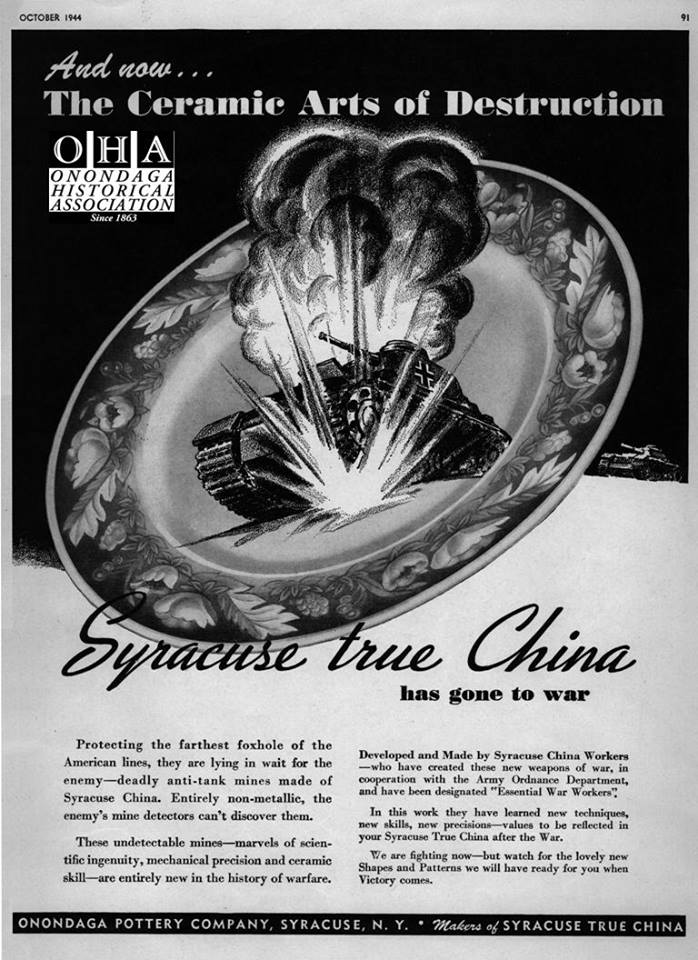 Military Experience
The Army Nurse Corps
Army nurses' roles shifted dramatically when World War II began. Before the attack on Pearl Harbor on December 7, 1941, the U.S. Army Nurse Corps employed fewer than 1,000 nurses. Due mainly to the American Red Cross and U.S. Army's recruitment efforts, this number multiplied. The nurses were in high demand. They faced unpredictable circumstances and long hours. Despite these pressures and challenges, they proved to be committed and hardworking. This dedication paid off as only four percent of American soldiers who received treatment or were evacuated died due to medical complications.
China-Burma-India Theater
Nicknamed the "Forgotten Theater," the China-Burma-India (CBI) Theater brought with it unusual and unpredictable circumstances. Civilians and military personnel alike sought treatment from the nurses serving in the CBI Theater. Famine and disease plagued residents taxed the nurses already limited medical supplies. Local cultural practices hindered attempts to control the disease.
Patients frequently insisted on providing their food, wandered the hospitals, and interacted with patients regardless of their state of health. Many also tied livestock to their bed frames, "awaiting the next meal." Large quantities of food in the hospitals led to rat infestations. Additionally, nurses faced gendered constraints as local patients were less willing to heed recommendations from women.
With the region's shortage of physicians, the nurses adapted to new roles. Nurses refined their diagnostic abilities and developed new treatments. Furthermore, they worked in unconventional locations, including jungles and mountain villages. These unfamiliar locations and the extreme weather in the monsoon season presented their own sets of challenges. U.S. Army nurses serving in the CBI Theater had to be flexible and adapt to many unique and less-than-ideal circumstances.
Air Evacuation
During Second Lieutenant McCarthy's time of service, the U.S. Army Medical Department developed a new system known as the chain of evacuation. The field hospital nurses evaluated the severity of a patient's condition and decided the best course of action. Following treatment and a short recovery period, ambulance drivers transported most patients to larger evacuation hospitals. Only the critically injured and those needing specialized medical care were evacuated by air to general hospitals. Flight nurses experienced heightened danger when engaging in medical evacuations as C-47 aircraft transported both patients and cargo. Given the aircraft's dual role, they did not bear the Red Cross symbol, which typically protected medics and nurses from enemy fire. In total, 17 flight nurses died while on duty during World War II.
McCarthy, and her lifelong friend Rita Erard, served at the 172nd General Hospital and as part of the 803rd Medical Air Evacuation Squadron. This squadron flew between the military base in Dinjan, India, and hospitals in Kunming, China, to aid the British troops who worked to liberate China.
On the journey back to northeastern India, they flew wounded soldiers over the Himalayan Mountains to medical facilities. This passage, called flying "over the Hump," was a hazardous part of their travels.
On the foggy night of March 3, 1945, the plane, carrying both Second Lieutenants McCarthy and Erard, crashed and burned on its flight back to Ledo, India. All of the 31 passengers aboard died in the crash. A pilot familiar with flying "over the Hump" described the incident as "the most infamous accident to occur during the war."
Second Lieutenant McCarthy's remains were recovered and, in 1949, transported for final burial at the National Memorial Cemetery of the Pacific in Honolulu, Hawai'i.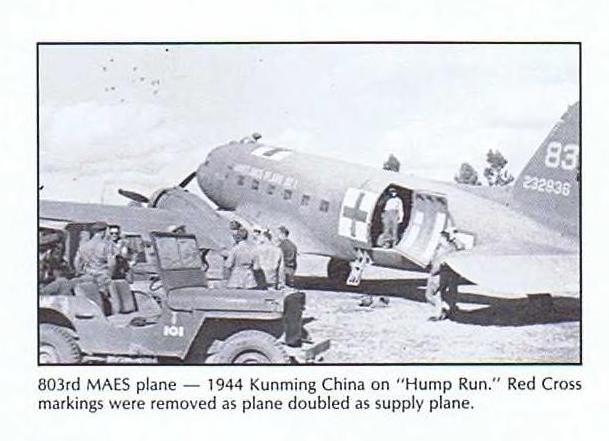 Eulogy
On the grim night of March 3, 1945, Second Lieutenant Kathryn McCarthy died when her plane crashed in Ledo, India, during her service in the Army Nurse Corps.
Enlisting at the age of 22, Second Lieutenant McCarthy chose to defy the gendered norms of her time to serve others — a boldness that we can continue to be inspired by in our own lives. The unexpected and dangerous conditions of aiding in medical air evacuations in the China-Burma-India Theater tested this resilience every day, and Second Lieutenant McCarthy continuously rose to the occasion. Today, her service is recognized by a memorial in the Courts of the Missing at the Honolulu Memorial at the National Memorial Cemetery of the Pacific in Honolulu, Hawai'i. In 1946, Second Lieutenant McCarthy was awarded the American Red Cross medal for her "highly meritorious service."
For her incredible bravery and ultimate sacrifice, it is an honor to remember Second Lieutenant McCarthy and the trail she blazed for future generations of young women.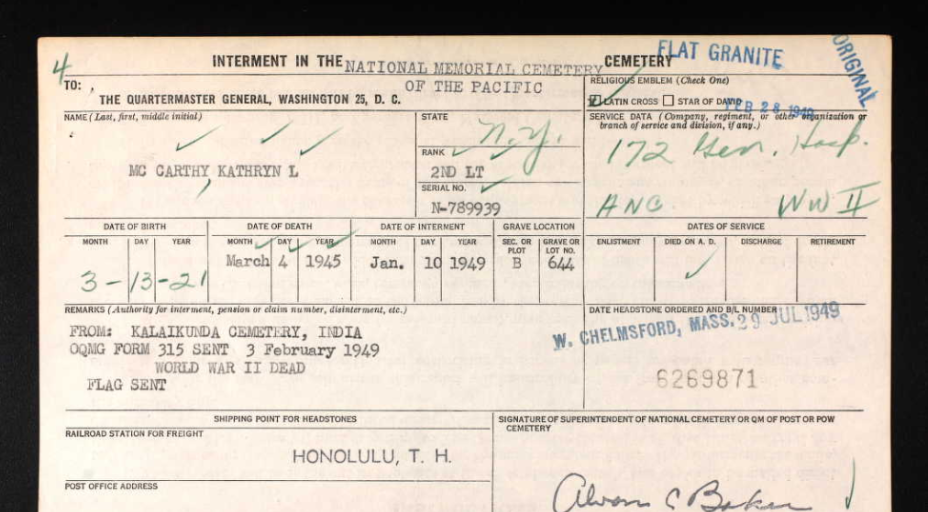 Reflection
Taking part in the Sacrifice for Freedom®: World War II in the Pacific institute challenged me to become a better learner and American. The knowledge, growth, and experiences I now carry will forever inform my future explorations of history.
Before this program, I could not fully grasp the human experience of the war and how many roles a single individual may have had to take on. Our readings provided general information that guided me during my research of Second Lieutenant McCarthy, helping to piece together her life story within a greater context. I now recognize the wealth of knowledge that the internet and libraries can provide, inspiring an even deeper love of research in me. While reading and researching independently can be incredibly valuable, I also discovered what can be gained in human connection when I reached out to a family friend of Second Lieutenant McCarthy's. Through this correlation, I learned enough to feel as though I personally knew her. This entire process has enlightened me to the beautifully unexpected nature of research — an appreciation that I will continue to nurture in my journey as a learner.
Researching a female in the U.S. Army Nurse Corps enlightened me to the gendered constraints women faced even amidst acts of selflessness during the war. Furthermore, the discomfort of serving in the China-Burma-India Theater was unbeknown to me previously. I now see that sacrifice was not only made when military personnel died — those in service sacrificed comfort, certainty, and familiarity every single day.
This program has completely altered my thinking around our military, the experience of the war, and Hawaiian culture and history. I now realize that readings in textbooks can only allow for so much emotion—being able to stand on the ground where thousands died on December 7, 1941, 80 years later, moved me in a way I did not anticipate. Looking out at the remains of the USS Arizona from the Pearl Harbor Memorial, noticing what must have been the last sight of many, bringing relevance to the history that I previously could not tap into. That moment, that view, the names—they reminded me of why we must honor this history by remembering those who sacrificed. I could not stop thinking about how every name on the memorial wall was a human life. This is easy to forget when simply reading a statistic in a textbook. Standing there, I felt the weight and significance of this program, wishing I could give voice to every one of the brave individuals who sacrificed for our country in World War II. While this is not a possibility, we take one step forward every year this institute takes place and, for that, I am grateful.
Video created and provided by Pacific Historic Parks
Bibliography
Primary Sources
"Forty to Be Graduated By Nursing School of St. Joseph's." Syracuse Herald-Journal, April 24, 1942. ancestry.com.
"Four Visiting Nurses Here Don Army Nurse Corps Garb." Syracuse Herald-Journal. ancestry.com.
Kathryn L. McCarthy. National Cemetery Interment Control Forms, 1928-1962. Digital Images. ancestry.com.
Kathryn L. McCarthy, Official Military Personnel File, Department of the Army, RG 319, National Archives and Records Administration – St. Louis.
Kathryn L. McCarthy. World War II and Korean Conflict Veterans Interred Overseas. ancestry.com.
Kearney, Bill. E-mail message with the author. January 26, 2020.
Missing Air Crew Report 15650 (Serial number 41-18554). Digital Images. Fold3.com.
New York. Onondaga County. 1930 U.S. Census. Digital Images. ancestry.com.
New York. Onondaga County. 1940 U.S. Census. Digital Images. ancestry.com.
"Posthumous Awards Given 3 in ANC." The Post Standard [Syracuse, New York], May 17, 1946: 8. www.familysearch.org/photos/artifacts/117805265?cid=mem_copy.
Sabine, Edward B. "Nurse Knows what Bonds Will Do: Crosses 8 Times in Hospital Ship." Syracuse Herald-Journal, June 24, 1945: 1. ancestry.com.
Secondary Sources
"2LT Kathryn Lucille McCarthy." Find a Grave. Updated March 3, 2000. Accessed December 6, 2020. www.findagrave.com/memorial/3784692/kathryn-lucille-mccarthy.
Bellafaire, Judith. The Army Nurse Corps: A Commemoration of World War II Service. Washington, D.C.: U.S. Army Center of Military History, 1993. hdl.handle.net/2027/uc1.31210023606856.
World War II Flight Nurses Association. The Story of Air Evacuation 1942-1989. Dallas: Taylor Publishing Company, 1989. archive.org/details/TheStoryOfAirEvacuation/page/n1/mode/2up.
Croyle, Jonathan. "1944: At the front or at home, the people of Syracuse did their duty on D-Day." Syracuse.com. Updated September 26, 2019. Accessed June 1, 2019. www.syracuse.com/life-and-culture/g66l-2019/06/de57c368c13664/1944-at-the-front-or-at-home-the-people-of-syracuse-did-their-duty-on-dday-.html.
"Kathryn L. McCarthy." National Cemetery Administration National Gravesite Locator. Accessed December 6, 2020. gravelocator.cem.va.gov/.
"Making a Difference: The U.S. Cadet Nurse Corps." National Women's History Museum. Updated April 18, 2019. Accessed April 19, 2019. www.womenshistory.org/articles/making-difference-us-cadet-nurse-corps.
Michaels, Davida. "Timeline: Early Nursing Education History." American Nursing History. Updated 2018. Accessed December 16, 2020. www.americannursinghistory.org/education.
"Rita F. Erard." American Battle Monuments Commission. Accessed December 6, 2020. www.abmc.gov/decedent-search/erard%3Drita.
Sarnecky, Mary. A History of the U.S. Army Nurse Corps. Philadelphia: University of Pennsylvania Press, 1999.
"Syracuse Gears Up for World War II as U.S. Declares War on Japan." Onondaga Historical Association. Accessed April 19, 2019. www.cnyhistory.org/2014/12/syracuse-world-war-ii/.