Private First Class Lawrence Kauhiaimokuakama Isaacs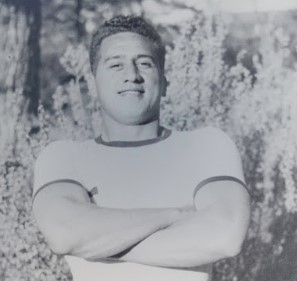 Unit:

7th Infantry Division, 32nd Infantry Regiment, Company G

Service Number:

39001048

Date of Birth:

March 13, 1917

Entered the Military:

January 26, 1941

Date of Death:

May 17, 1943

Hometown:

Honolulu, Hawaiʻi

Place of Death:

Attu, Aleutian Islands, Alaska

Award(s):

Purple Heart

Cemetery:

Plot D, Grave 223.

National Memorial Cemetery of the Pacific, Honolulu, Hawai'i
Contributed by Kaiwi Greaney
Mentored by Mrs. Sarah Razee
Kamehameha Schools Kapālama
2018-2019
Early Life
On March 13, 1917, Lawrence Kauhiaimokuakama Isaacs was born to William Kalanikauika'alaneo Isaacs and Margaret Maleka Papa'ikaniau Broad in the Territory of Hawaiʻi. His family were direct descendants of King Kamehameha the Great.
He grew up at 2015 Henry Street in the Nu'uanu area of Honolulu. The ninth of eleven children, he was raised in the Church of Jesus Christ of Latter-Day Saints. He lost his mother at the age of five. Isaacs attended Kalihiwaena School for eight years and finished his schooling at Farrington High School.
After graduating, Isaacs moved to San Francisco, California to work as a longshoreman. On January 26, 1941, he was conscripted into the U.S. Army.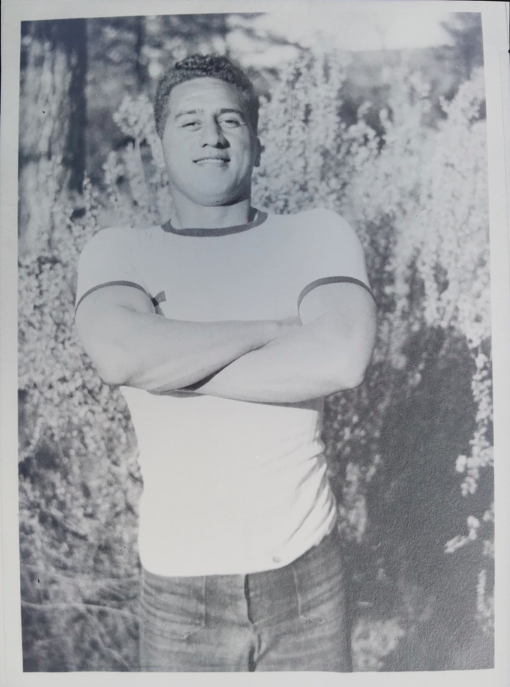 Homefront
After the United States entered World War II, the San Francisco Bay Area prepared for war. Their location around the Bay and the Pacific Ocean made it a perfect place to erect mounted guard posts and forts to protect the U.S. western borders from enemies in the Pacific Theatre.
San Francisco's shipbuilding industry exploded as the demand for warships grew. Men and women worked in these shipyards, built close to 1,400 ships for the Allied military needs, repaired vessels, and prepared other military equipment for shipment overseas.
Following Pearl Harbor, San Francisco's large Japanese population became alien-enemies of the state. In accordance with President Roosevelt's Executive Order 9066. Close to 100,000 Japanese Americans and Japanese immigrants were removed from their homes in the San Francisco area and confined to internment camps until 1945 when World War II ended.
Military Experience
Isaacs' previous experience in Junior Reserve Officers' Training Corps (JROTC) led to his promotion to corporal on August 20, 1941. While stationed at Fort Ord, California, he married Violet Lucy Cruz, a Californian woman, on April 7, 1942. The couple did not have children because they were only able to be together for a short while, as he left to the Aleutian Islands of Alaska in April 1943.
Isaacs saw combat on May 15, 1943. He participated in the Battle of Attu on the Aleutian Islands in Alaska as a member of the 7th Infantry Division, 32nd Infantry Regiment, Company G. Their mission required them to advance on Jarmin Pass and capture it from the Japanese troops stationed there.
The valley where Isaacs fought, later nicknamed Massacre Valley, saw extremely high casualties. At 6:30 in the morning, as Isaacs advanced up the right side of the pass, Japanese machine guns opened fire from above. Corporal Isaacs, with his head held high, advanced into the fire, but was shot in the stomach and fell to the ground. He stood back up and walked down to the small creek to the side and leaned against the bank, while looking back down the valley, and died without saying a word.
After the war his wife, Violet, married his older brother Henry John Isaacs in June 1944. She died in 1954 in San Francisco, California.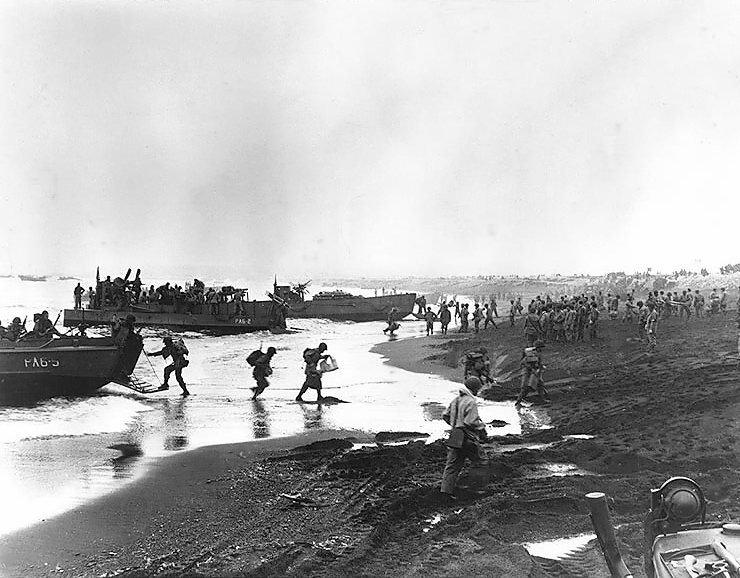 Eulogy
Corporal Isaacs was killed on May 15, 1943 on the island of Attu in the Aleutian Islands. This battle that he gave his life for would ultimately be won, which gave the United States control of the Northern Pacific frontier once again.
Though often forgotten, the Aleutian Islands campaign was crucial for the victory of the Allied Powers in World War II, and so many men, including Corporal Isaacs, made great sacrifices to reach this result.
Corporal Isaacs hopped islands for his country. In a similar way to his ancestor, King Kamehameha the Great. He was an often-overlooked Native Hawaiian in an often-overlooked battle of Attu, but that doesn't make his sacrifice any less important. He gave all that he had in the fight, and I thank him from the bottom of my heart for it. Mahalo nui loa, Lawrence Kauhiaimokuakama Isaacs.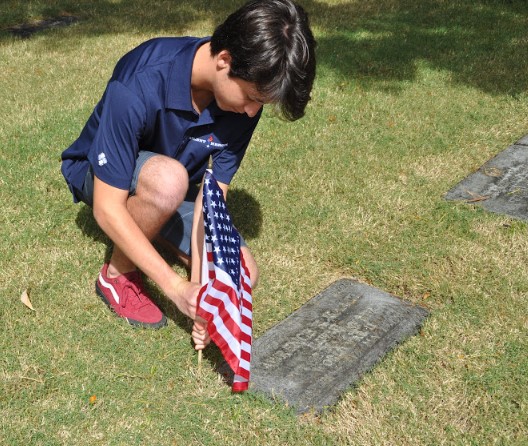 Reflection
In National History Day's Sacrifice for Freedom®: World War II in the Pacific program, I truly learned a lot not only about history, but also about myself, and the world I live in today. Being able to share the story of a fellow Hawaiian really meant a lot to me. I truly felt a connection with my Silent Hero as I learned more about his life. I got to meet so many different people from different parts of the country. and it was so interesting to come together with our similarities and differences and all just get along as teenagers who love history. The bonds that we formed in a short week will last far into the future. The bond that I have made to my Silent Hero will be one that will last forever. I will never forget the name of my Hawaiian soldier, Lawrence Kauhiaimokuakama Isaacs.
Bibliography
Primary Sources
Attu Invasion, Soldiers unloading LCPR and LCM type landing craft on the beach at Massacre Bay…. Photograph. May 12, 1943. Naval History and Heritage Command (80-G-508488). www.history.navy.mil/content/history/nhhc/our-collections/photography/numerical-list-of-images/nara-series/80-g/80-G-50000/80-G-50848.html.
Attu, Aleutian Island…Soldiers hurling their trench shells over a ridge into a Japanese position. Photograph. June 4, 1943. Library of Congress (2017872359). loc.gov/pictures/resource/fsa.8e01508/.
"Battle of Attu." Honolulu Advertiser, May 16, 1943. Newspapers.com (259712510).
Hawaii. 1920 U.S. Census. Digital Images. ancestry.com.
Hawaii. 1930 U.S. Census. Digital Images. ancestry.com.
Hawaii. 1940 U.S. Census. Digital Images. ancestry.com.
Lawrence Isaacs, Individual Deceased Personnel File, Department of the Army.
"L.K. Isaacs Dies Overseas." Honolulu Advertiser, June 6, 1943. Newspapers.com (259729971).
"Vital Statistics." Honolulu Star-Bulletin,May 11, 1917. Chronicling America.
Secondary Sources
Eulitt, Harry David. "Lawrence K. Isaacs, WWII Soldier, Aleutian Islands." FamilySearch.org.
Haile, John. Attu: The Forgotten Battle. Washington D.C.: U.S. Government Publishing Office, 2018.
Hammett, Dashiell, Robert Colodny, and Harry Fletcher. The Battle of the Aleutians: a Graphic History 1942-1943. Adak: Intelligence Section, 1943.
Huston, John, narrator. Report from the Aleutians. Netflix.
Lee, Lloyd L., ed. In Freedom's Cause: A Record of the Men of Hawaii who Died in the Second World War. Honolulu: University of Hawaii, 1949.
Mitchell, Bob, Nelson Drummond, and Sewell Tappan Tyng. The Capture of Attu: A World War II Battle as Told by the Men Who Fought There,. Morrisville: LULU Press, 2018.
"World War II in the San Francisco Bay Area: A National Register of Historic Places Travel Itinerary." National Park Service. Accessed August 10, 2019. www.nps.gov/nr/travel/wwiibayarea/intro.htm.