Captain Leonard Joseph McGee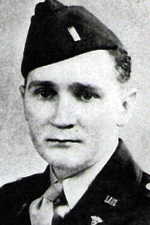 Unit:

194th Glider Infantry Regiment, 17th Airborne Division, Medical Department

Service Number:

O-511146

Date of Birth:

May 1, 1917

Entered the Military:

December 31, 1943

Date of Death:

March 24, 1945

Hometown:

Bristol, Pennsylvania

Place of Death:

north of Wesel, Germany

Award(s):

Purple Heart, Bronze Star

Cemetery:

Plot L, Row 20, Grave 18.

Netherlands American Cemetery, Margraten, Netherlands
Contributed by Claire Cao
Mentored by Mr. Brian Weaver
Central Bucks High School West
2019-2020
Early Life
Irish Immigrant Roots
From an early age, Leonard McGee demonstrated immense gratitude and optimism towards his country. He was the youngest child and only son of Bernard and Ellen McGee, two Irish immigrants who had sought economic prosperity in Bristol, Pennsylvania. As owners of a mom-and-pop grocery store, the McGees raised their children to live humbly, and Leonard was described by friends as "mild and gentle" in manner.
Growing up in an Irish-Catholic household, McGee often carried a rosary and was taught to uphold the religious value of service to others. While McGee's older sister, Ellen, became a nun, Bernard McGee had higher aspirations for his son: to achieve the American dream and serve society as a doctor.
Bernard McGee often expressed disdain about his son playing sports, ironically fearing that Leonard might hurt himself. Despite this, McGee became a sports newspaper editor at LaSalle College, where he frequently played football and baseball. He thrived in all aspects of life—even in the classroom, where he consistently achieved high marks in chemistry courses. McGee repeatedly demonstrated his future promise in the medical field.
Doctor McGee
McGee ultimately kept his promise to his father. After graduating cum laude from LaSalle College, he attended Jefferson Medical College. There he was a member of Phi Beta Kappa, the oldest academic honor society in the United States, and graduated with honors in 1943. At age 25, McGee became a surgeon-in-training at Nazareth Hospital in Philadelphia, Pennsylvania.
Whirlwind Romance
At Nazareth Hospital, McGee met Mabel Doyle, a Canadian operating room nurse. The two married seven months later in October 1943, a spontaneous decision made out of what many described as "true love." Their brief marriage was filled with both joy and tragedy. The couple enjoyed frequent dates to Broadway shows in New York City, but they also suffered two miscarriages. In April 1944, Mabel was pregnant again with a son. At this point, McGee had already been drafted into the U.S. Army and set to ship out that summer.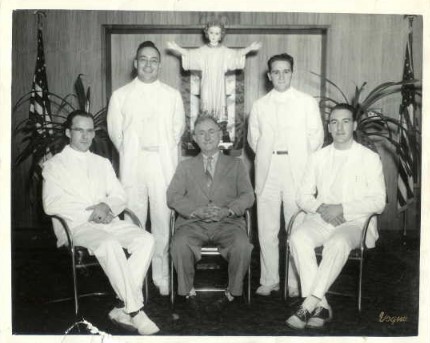 Homefront
Bristol Borough: The Arsenal of America
Due to its location along the Delaware River, Bristol Borough in Bucks County became the apex of shipping and aviation. In 1934, Fleetwings, Inc. opened a Bristol factory near the water in order to develop a line of amphibious planes. By 1944, Fleetwings employed over 6,300 people to fulfill military contracts for producing aircraft and aircraft components. The Kaiser-Fleetwings XBTK, a dive and torpedo bomber developed for the U.S. Navy, was its flagship product. Several industrial sites near Bristol, such as Rohm and Hass, also manufactured plexiglass and acrylic products to meet the needs of the U.S. Armed Forces. With men serving in all branches of the service, women took their place in industry. They worked the swing shift, laboring from mid-afternoon to midnight, making "Rosie the Riveter" a reality in Bristol.
Fulfilling its state's reputation as the "Arsenal of America," the Pennsylvania State University received the largest number of defense contracts during the war. The institution developed an underground tunnel for torpedo testing that continues to conduct research for the U.S. military today.
Changes in Civilian Lifestyles
Aside from rationing coupons for gas, food and clothing, the American Red Cross was very active. American citizens on the homefront led war bond rallies, established Civil Defense Units, and practiced blackout drills in workplaces and schools.
Military Experience
After being drafted on New Year's Eve 1943, McGee trained in North Carolina as a first lieutenant in the 194th Glider Infantry Regiment of the 17th Airborne Division. Within six months, the 17th Airborne endured the Knollwood Maneuver, a simulation of real air battles, as well as jumping off 76-meter-tall towers to mimic parachute landings.
Aiding in the Ardennes
Following the blunder at Operation Market Garden, the U.S. Army sent McGee and the 17th Airborne Division, nicknamed the "Thunder From Heaven," into action at the Battle of the Bulge in the winter of 1944.
Upon arriving in Bastogne, McGee set up an aid station for wounded soldiers in Mande-Saint-Étienne. His duties as a combat surgeon were both physically and psychologically exhausting. In letters to friends, McGee complained about his grueling work, from performing amputations without anesthesia to choosing which men he could save and which would be left to die. He wanted to help everyone he could; in fact, he allegedly urged his crewmates, "Don't just stand there! Do something!" As one of only four surgeons, McGee worked around the clock, only taking breaks when he felt close to physical exhaustion.
Although he was not required to fight, McGee even managed to capture two German soldiers when they surrendered to him during a mortar barrage. For this, he earned his Bronze Star and received a promotion to the rank of captain.
Operation Varsity
McGee and the 17th Airborne Division saw action again when they entered Operation Varsity, the Allied offensive over the Rhine River in Germany. On March 24, 1945, nearly 4,000 aircraft from the British 6th Airborne Division and the 17th U.S. Airborne Division took off from Châlons-en-Champagne, France to drop men behind German enemy lines. The mission was to capture key forests, bridges, and villages to deny the Germans artillery positions from which they could disrupt the advance of Allied ground troops. Intended to be the last airborne deployment of the war, the entire fleet stretched more than 200 miles in the sky and took over two hours to pass any given point.
McGee commanded a Waco glider, which successfully landed on Landing Zone N, just South of Hamminkeln, Germany, between the Diersfordter Wald and the Issel River. As he opened the door to lead his men off the glider, he was instantly shot in the arm. After bandaging his own wound, he led the way off the plane again, only to be cut down by a German sniper's bullet. At age 27, Captain McGee was killed in action.
For the remaining members of the 17th Airborne Division, active contact with the enemy ceased less than a month later on April 18, 1945.
Burial and Aftermath
Mabel McGee wrote daily letters to her husband, even on the day of his death. It was not until days later that she received a telegram notifying her that McGee had been "relieved from active duty."
McGee's records later revealed a shattered jaw, likely where the fatal bullet had struck. He was one of 1,111 Allied soldiers killed in action during Operation Varsity. His body was moved from a temporary cemetery into Allied territory in the neighboring Netherlands.
As a surgeon, McGee had gotten to know many of his comrades in the 17th Airborne Division when they came under his aid. They told Mabel stories of their encounters with her husband, as well as his courage and leadership.
Ultimately, Mabel never re-married. She raised their son Terrence on her own and often wore her husband's Army watch. Terrence "Terry" McGee grew up to cherish a life of freedom, which he attributed to his father's sacrifice. As the only son of someone who had died as a result of military service, he received a special exemption from the Vietnam draft. Years later, Terry was honored to accompany Mabel on a trip to the Netherlands American Cemetery, where the family was able to unite for the first time. Today, Captain McGee's headstone is frequently tended to by Wesley Haex, one of the many Dutch grave adopters who preserve the legacies of their liberators.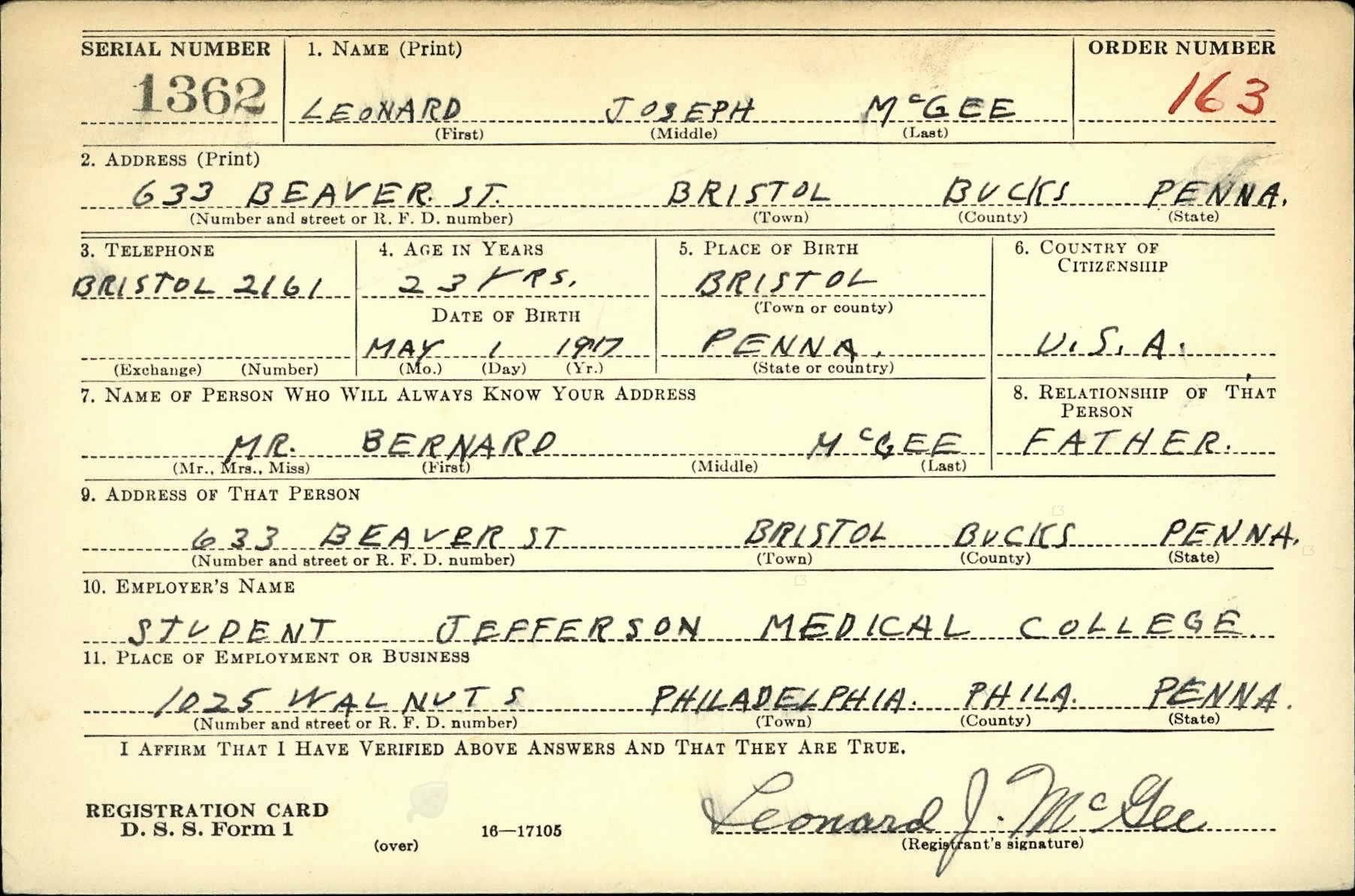 Eulogy
Leonard McGee came from a family with a history of self-sacrifice. His parents emigrated from Ireland to Bucks County, Pennsylvania, in search of the American dream for their children. Raised in an Irish household, McGee was taught to uphold the Catholic tradition of service to others. He fulfilled this value when he became a surgeon-in-training at Nazareth Hospital in 1943.
McGee's American Dream was cut short when he was drafted into the army on New Year's Eve of 1943. Yet he upheld his duty to serve others, and in summer 1944, the new Doctor McGee became Lieutenant McGee, a combat surgeon for the 17th Airborne.
During the Ardennes campaign, McGee brought his surgical expertise to an aid station in Bastogne. He remained steadfast in his obligation to act, only taking breaks from the operations when he could barely remain standing. When McGee was again called to action in Operation Varsity, he selflessly led his men off a glider, fully prepared to face the unknown if he could save a few lives, but was shot by a sniper. At age 27, Captain McGee made the ultimate sacrifice.
Two years before his death, at his medical school graduation, McGee had taken the Hippocratic Oath. In it, he pledged his commitment to the public good, stating, "If I fulfill this oath… may it be granted to me to… [be] honored with fame among all men for all time to come." Captain McGee may not have been honored widely, but he will forever be honored deeply by those here today.
We honor his sacrifice, which exempted his son Terry from the Vietnam draft— an eternal gift of freedom to the son he never met.
We honor his memory, as did his widow Mabel, who wore her wedding ring until her passing at age 94.
And we honor his legacy, a universally inspiring story of courage and patriotism. Today, a portrait of Captain McGee hangs in Nazareth Hospital. It reminds passersby of an American who set aside his dreams about what his country could give him, instead turning to what he could give back to his country.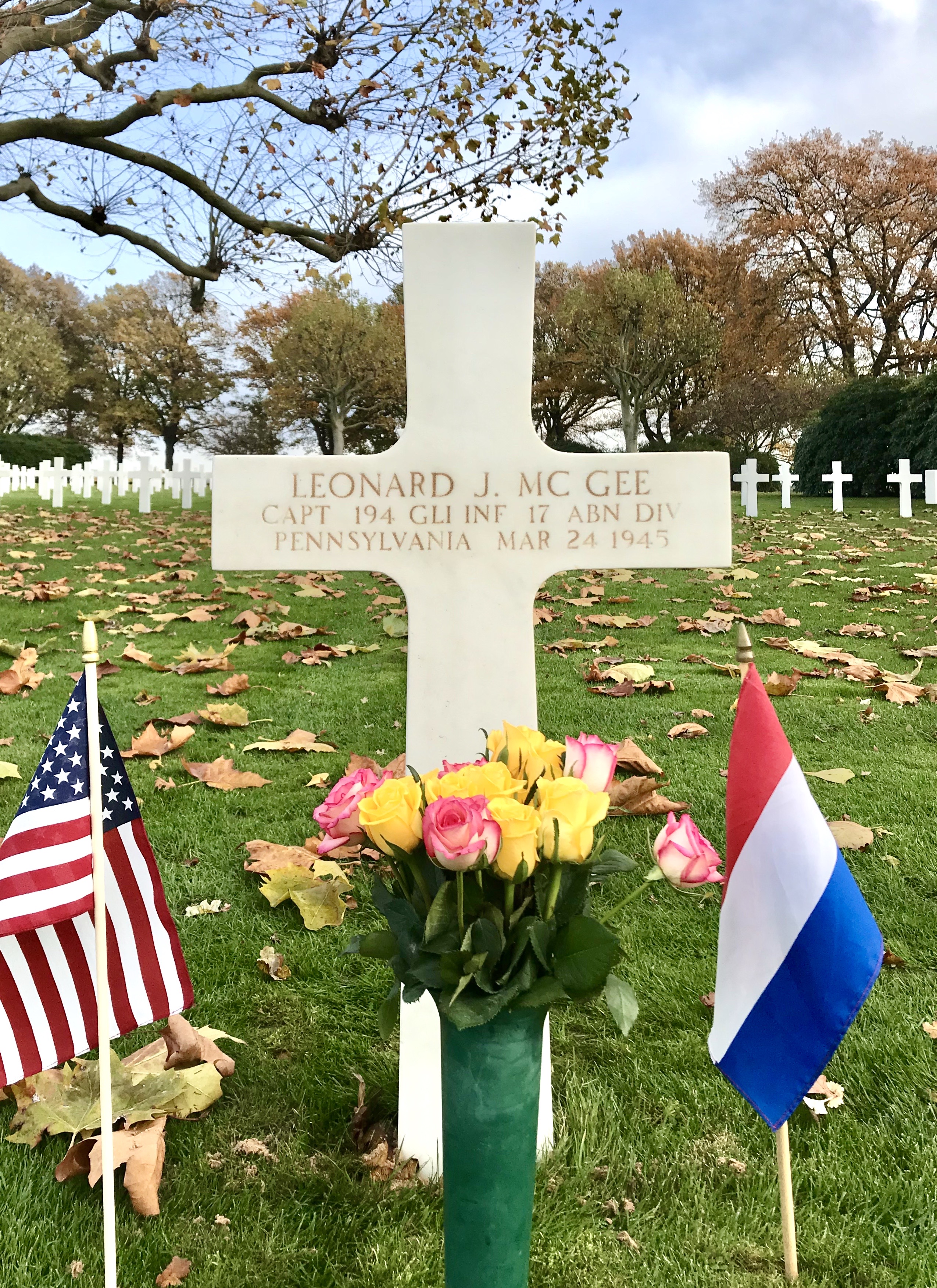 Reflection
I will always remember the dreamlike quality of the Netherlands American Cemetery: the mild breeze, spotless grass, pristine white headstones. It was a peaceful contrast to the adversity Captain McGee and his comrades had endured in defending liberty. Uncovering McGee's life and service was a fascinating exploration of storytelling, American values, and humanity. To tell his tale was truly a once-in-a-lifetime honor.
As Americans, we love to preach how "freedom is not free." Yet it was not until the Operation Liberty program that I thoroughly contemplated the magnitude of that statement. Researching the complexity of McGee's life before the war and then seeing the vastness of the cemetery made me realize there were individual stories, each as vivid and complex as McGee's, each with a grieving family, behind every headstone. It was chilling to see how a few years of human history transformed so many lives—so much so that I think we often forget to humanize them.
This program was one of the first times I saw freedom not as a vague ideal, but rather something very real. From touching the headstones to hearing the voices of McGee's child and grandchildren, I think studying a soldier from my hometown personalized a seemingly distant war. Getting to "know" my silent hero gave me a unique glimpse into the heartache and tragedy many American families like the McGees had endured.
Yet meeting the Dutch grave adopters also humanized the cause McGee fought for and the triumphs of his sacrifice. I have never known a life without freedom, so it was very foreign to see how grateful the Dutch people were for their liberators from seventy years ago. Their tremendous hospitality and care towards preserving the soldiers' legacies was a humbling spectacle. These were people who understood the true value of freedom because it had once been taken away from them. Seeing this confirmed that Captain McGee's efforts had not been in vain.
Although the sacrifices that shook one man, his family, and his legacy had minor significance in the overall war, it was the combined sacrifices of many men like McGee that form the foundation of our freedom today.
Bibliography
Primary Sources
"1943 Clinic Yearbook." Jefferson Medical College Yearbooks. 1943. Accessed January 15, 2020. jdc.jefferson.edu/jmc_yearbooks/51/.
Edelstein, Ludwig. The Hippocratic Oath: Text, Translation, and Interpretation. Baltimore: The Johns Hopkins Press, 1943. books.google.com/.
Haex, Wesley. Interview with the author. November 16, 2019.
Headstone Inscription and Interment Records for U.S. Military Cemeteries on Foreign Soil, 1942–1949. Series A1 43, Records of the American Battle Monuments Commission, 1918–ca. 1995, Record Group 117; National Archives at Washington, D.C.
Leonard Joseph McGee. World War II Draft Registration Cards, 1940. Digital Image. ancestry.com.
Leonard Joseph McGee. Photographs. Ancestry. Digital Images. ancestry.com.
McGee, Terrence. Telephone interview by the author. November 4, 2019.
Pennsylvania. Bucks County. 1920 U.S. Census. Digital Images. ancestry.com.
Pennsylvania. Bucks County. 1930 U.S. Census. Digital Images. ancestry.com.
Pennsylvania. World War II Veterans Compensation Applications, circa 1950s. Records of the Department of Military and Veterans Affairs, Record Group 19, Series 19.92 (877 cartons). Pennsylvania Historical and Museum Commission, Harrisburg, Pennsylvania.
Photograph Collection, Captain Leonard McGee. 1944-2008. Courtesy of Wesley Haex.
U.S. Army SGO Hospitalization File Listing 1945; Records of the Department of the Army (1942-1945), Record Group 610; National Archives at College Park, College Park, MD.
Secondary Sources
"17th Airborne Division." U.S. Army Center of Military History. Accessed January 8, 2020. history.army.mil/documents/ETO-OB/17ABD-ETO.htm.
"The Arsenal of America: Pennsylvania During the Second World War." Explore PA History. Accessed January 2, 2020. explorepahistory.com/story.php?storyId=1-9-19.
"Come Fly With Me To Bristol, Pa!" Historical Society of Pennsylvania. Last modified February 19, 2013. Accessed January 5, 2020. hsp.org/blogs/archival-adventures-in-small-repositories/come-fly-with-me-to-bristol-pa.
www.ouralliedheroes.nl/index.php?option=com_content&view=article&id=6&Itemid=9&lang=en.
"Leonard Joseph McGee." Honor States. Accessed January 5, 2020. www.honorstates.org/index.php?id=331165.
"Mrs. Mabel A. (Doyle) McGee, R.N." Bangor Daily News. April 3, 2011. bangordailynews.com/2011/04/03/obituaries/mrs-mabel-a-doyle-mcgee-r-n/.