Staff Sergeant Maurice Miller Williams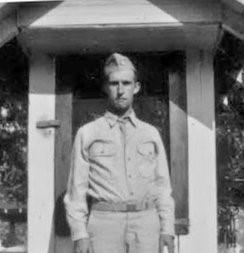 Unit:

29th Infantry Division, 116th Infantry Regiment, Company A

Service Number:

33043443

Date of Birth:

August 25, 1917

Entered the Military:

May 7, 1941

Date of Death:

June 6, 1944

Hometown:

Fairfax, Virginia

Place of Death:

Omaha Beach, Normandy, France

Award(s):

Purple Heart

Cemetery:

Plot I, Row 1, Grave 25.

Normandy American Cemetery, Colleville-sur-Mer, France
Contributed by Aditya Sapre
Mentored by Ms. Katherine Lorio
Westfield High School
2013-2014
Early Life
Maurice Williams was born on August 25, 1917, in Fairfax County, Virginia, to Howard Williams and Leah Cornell Williams. He was the youngest of 12 children. He lived in Fairfax City, more commonly known as Providence at the time. Unlike today, Fairfax used to be a relatively rural place, with the primary profession at the time being dairy farming. Maurice's father bought a farm in the area. Williams attended both Fairfax and Oakton High Schools, taking part in many activities from vocational clubs to baseball. He played as a pitcher on the Fairfax High School team, a hobby that would follow him to his posting in England.
Williams's family was quite interesting because of the lasting value of service imbued in the bloodline. Two of his brothers, Virgil and Allen, served in World War I alongside his father. His great-grandfather served in the Confederate Army during the American Civil War. Williams worked on the police force, earning $1,000.00 a year.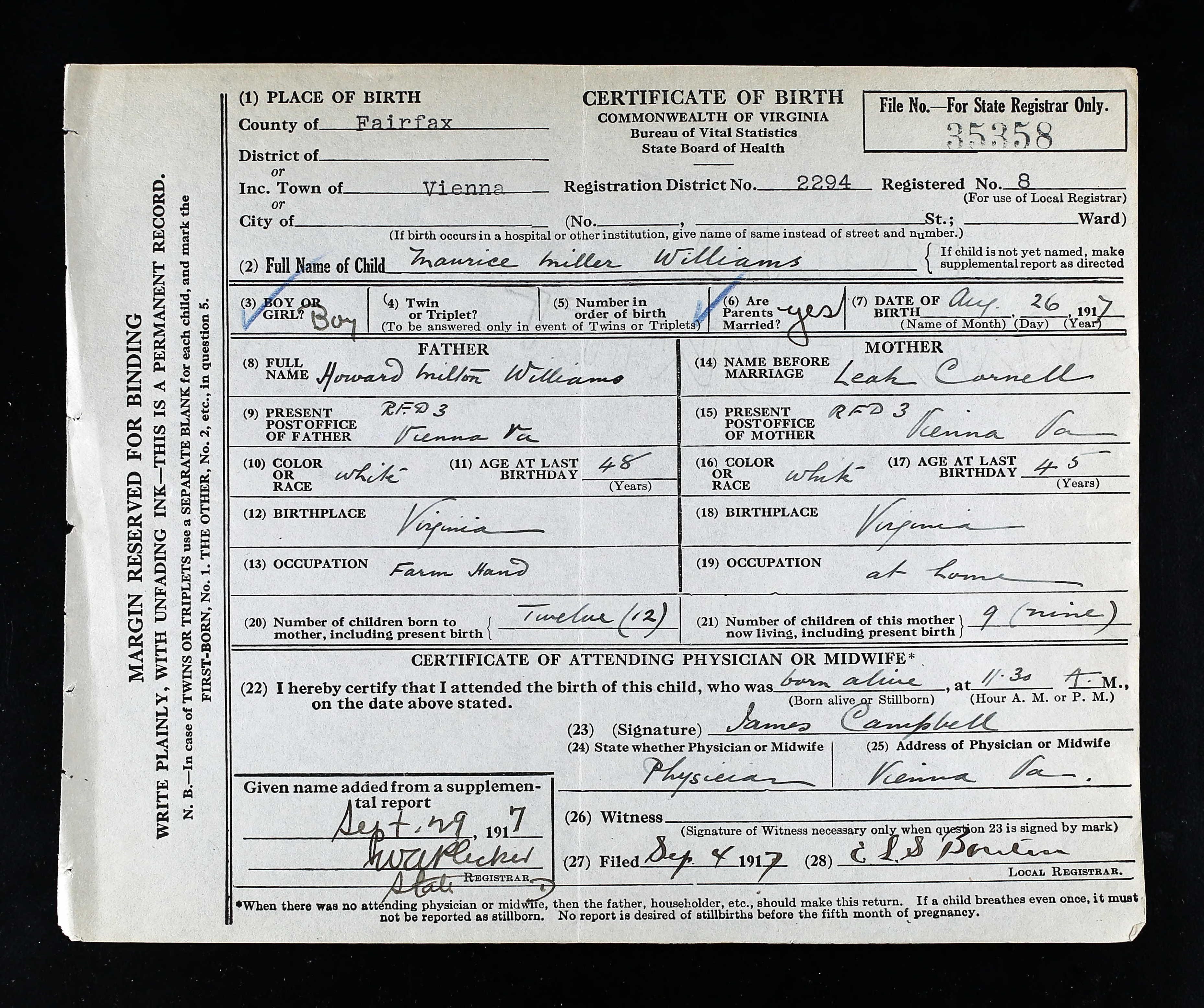 Military Experience
On May 7, 1941, at 24 years of age, Williams enlisted into the U.S. Army. Assigned to the 29th Infantry Division, 116th Infantry Regiment, Company A, he reported to Fort Meade, Maryland. He later trained at Camp Patrick Henry in Virginia Camp Blanding, Florida.
He pitched for the 116th Infantry Regiment's Yankees, winning the 1943 European Theater of Operations (ETO) World Series along with his teammates and fellow service members. In a time of unending war and chaos, Williams and his teammates brought smiles to faces that were blackened by dirt, gunpowder, and the horrors of war.
On June 6, 1944, the 29th Infantry Division was called upon to aid the world's largest amphibious invasion. Williams arrived near Normandy's beaches on the HMS Empire Javelin, along with many of those that we know as the Bedford Boys. As part of the first wave, he was crucial to establishing a foothold on Omaha Beach and capturing Vierville Draw. The western half of Omaha Beach was assigned to the 116th Infantry Regiment.
Vierville Draw was the westernmost of the five beach exits necessary to bring troops and equipment inland. With a hard-surface road, Vierville Draw was the best of the beach exits. The invasion plan was to attack these exits directly, hoping for a quick and easy capture with minimal casualties. An air attack from heavy bombers and a naval bombardment was supposed to leave any surviving German defenders dazed and confused.
In reality, the naval bombardment was short and mostly ineffective against German defenses, which were well-hidden and often positioned to rake the beach with little exposure from the seaside. The heavy bomber bombardment was even more disappointing. With low visibility in the early morning and with the bombers approaching directly across the beach instead of along it, the airmen released their bombs late for fear of killing the men coming to the beach in landing craft. The bombs fell on empty farmland far inland, leaving the beach defenses untouched. The landing craft was loaded and launched ten miles out due to concerns of German artillery. Low, early morning visibility hindered the men steering the landing craft ashore, which, combined with rough seas and strong currents, meant that many units landed in the wrong places. Rough seas also played havoc with two battalions of duplex drive tanks, tanks with canvas screens for flotation, and propellers for propulsion. With the duplex drive tanks mostly out of action, conventional Sherman tanks landed from landing craft were left to carry the load.
Of the 155 men who landed with Company A, 91 were killed that day, and all but 15 were wounded. Bedford, Virginia, was home to 19 of those killed, including two brothers, Raymond and Bedford Hoback. Captain Taylor Fellers of Bedford and every one of the men who came ashore from his boat was killed in action. Company A's survivors fell back to the surf, behind obstacles, or behind the tanks. Maurice Williams likely died in this chaos.
The 29th Infantry Division completed the mission with help from the 113th Engineer Battalion. The infantrymen climbed the bluffs to attack German forces from the rear while the engineers destroyed the concrete wall bocking the draw.
Amid all the chaos and artillery fire, Staff Sergeant Maurice M. Williams made the ultimate sacrifice on the beaches of Normandy.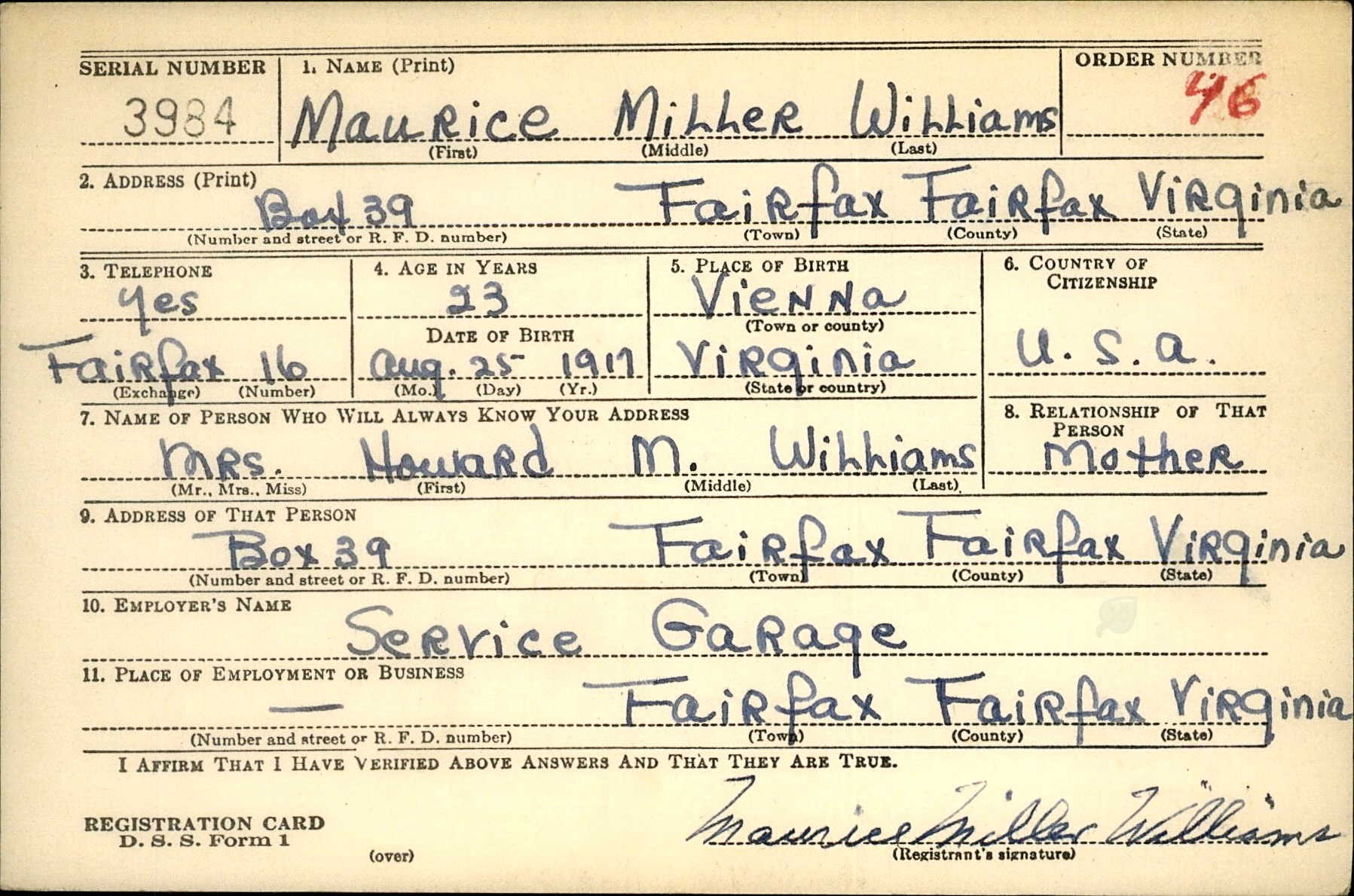 Eulogy
Staff Sergeant Maurice M. Williams is buried at Normandy American Cemetery in Colleville-sur-Mer, France.
Reflection
This summer, my teacher and I were chosen to study D-Day and go on the trip of a lifetime. We were selected through an application process by National History Day to attend the Normandy Institute. In early January, we began this journey when we picked a Silent Hero to research and commemorated his life and service at Normandy American Cemetery in Colleville-sur-Mer, France. After months of research and reading on D-Day and World War II as a whole, the institute began on June 21, 2014. This entire two-week experience was phenomenal; I have learned so much that I never thought I would understand. This institute showed me that it is due to those before us who made the ultimate sacrifices that we enjoy our freedoms and rights today.
Bibliography
Primary Sources
Maurice M. Williams. Headstone and Interment Records for U.S. Military Cemeteries on Foreign Soil, 1942-1949. Digital images. ancestry.com.
Maurice Miller Williams. Virginia, Birth Records, 1912-2015, Delayed Birth Records, 1721-1911. Digital images. ancestry.com.
Maurice Miller Williams. World War II Army Enlistment Records, 1938-1946. ancestry.com.
Maurice Miller Williams. World War II Draft Cards Young Men, 1940-1947. Digital images. ancestry.com.
Virginia. Fairfax County. 1920 U.S. Federal Census. Digital images. ancestry.com.
Virginia. Fairfax County. 1930 U.S. Federal Census. Digital images. ancestry.com.
Virginia. Fairfax County. 1940 U.S. Federal Census. Digital images. ancestry.com.
Secondary Sources
Kershaw, Alex. The Beford Boys. New York: Da Capo Press, 2003.
"Maurice M. Williams." American Battle Monuments Commission. Accessed March 10, 2021. www.abmc.gov/decedent-search/williams%3Dmaurice-0.
"SSgt Maurice M. Williams." Find a Grave. Updated August 8, 2010. Accessed March 10, 2021. www.findagrave.com/memorial/56651497/maurice-m-williams.
Editor's Note: Williams' birth certificate lists his date of birth as August 26, but military records list it as August 25.