Private First Class Pedro Rodón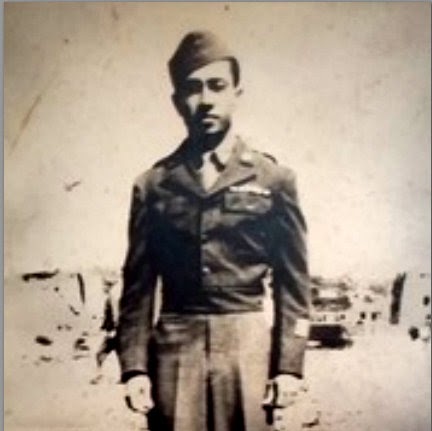 Unit:

505th Port Battalion, 279th Port Company

Service Number:

32886210

Date of Birth:

November 30, 1920

Entered the Military:

April 9, 1943

Date of Death:

September 29, 1945

Hometown:

Playa Ponce, Puerto Rico

Place of Death:

Le Havre, France

Cemetery:

Plot A, Row 22, Grave 44.

Normandy American Cemetery, Colleville-sur-Mer, France
Contributed by Charlyne Cuyar
Mentored by Yanira Borges
Antilles High School
2012-2013
Early Life
Pedro Rodón's early life and family experiences were a puzzle. Information about his birth origins is limited. Enrique Rodón and Aurelia Pérez, his parents, bore three children: Julio, Juana, and Pedro Rodón. Pedro's sister was born in 1916 in El Bonito, Dominican Republic. His siblings resided in #23 Benito González Street, Santo Domingo. His draft registration card indicates he was born February 2, 1922, in Playa Ponce, Puerto Rico.
In his late teenage years, Pedro left his family and moved to New York City, most likely searching for better opportunities. He worked at the Hotel New Yorker when he completed his draft registration card on January 22, 1943. He was drafted on April 9, 1943.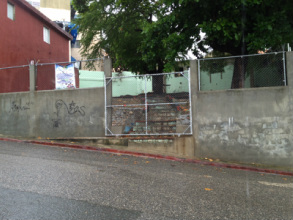 Homefront
New York City
The war effort and military preparations consumed New York City during World War II. From 1892 to 1954, immigrants entered the United States through Ellis Island, just off Manhattan. In the 1940s, however, Ellis Island served as a site to process immigrants and an internment camp that held German, Italian, and Japanese American citizens naturalized citizens, and foreign nationals.
As early as 1940, city officials feared German air attacks in New York. In June 1940, the mayor of New York asked for 28,000 trained volunteers to manually turn off the city lights in a blackout event. Before his plea, members of an auxiliary fire force had started training, and volunteer spotters were canvassed.
By the late 1940s, New York City became the largest manufacturing center in the world. The city also became the nation's largest wholesaling center, the world's biggest port, and the world's financial capital. It was home to the major corporations that now dominate life around the world. As E.B. White said, "New York is not a state capital or a national capital, but it is by way of becoming the capital of the world."
Following the economic boom was an exciting cultural boom. New figures and trends began reshaping the city's arts and entertainment. At Carnegie Hall, a young conductor and composer named Leonard Bernstein and the New York Philharmonic dazzled audiences with daring classical repertory interpretations. His music revolutionized Broadway musicals in a new show, On the Town (1944).
Uptown, a different music genre developed in the nightclubs of Harlem. Musicians Charlie Parker and Thelonious Monk forged a new style of jazz called "Be-bop." Music revolutionized New York's culture. The war brought dozens of critical modern artists across the Atlantic in New York, including Marcel Duchamp, Fernand Leger, Wassily Kandinsky, and Piet Mondrian.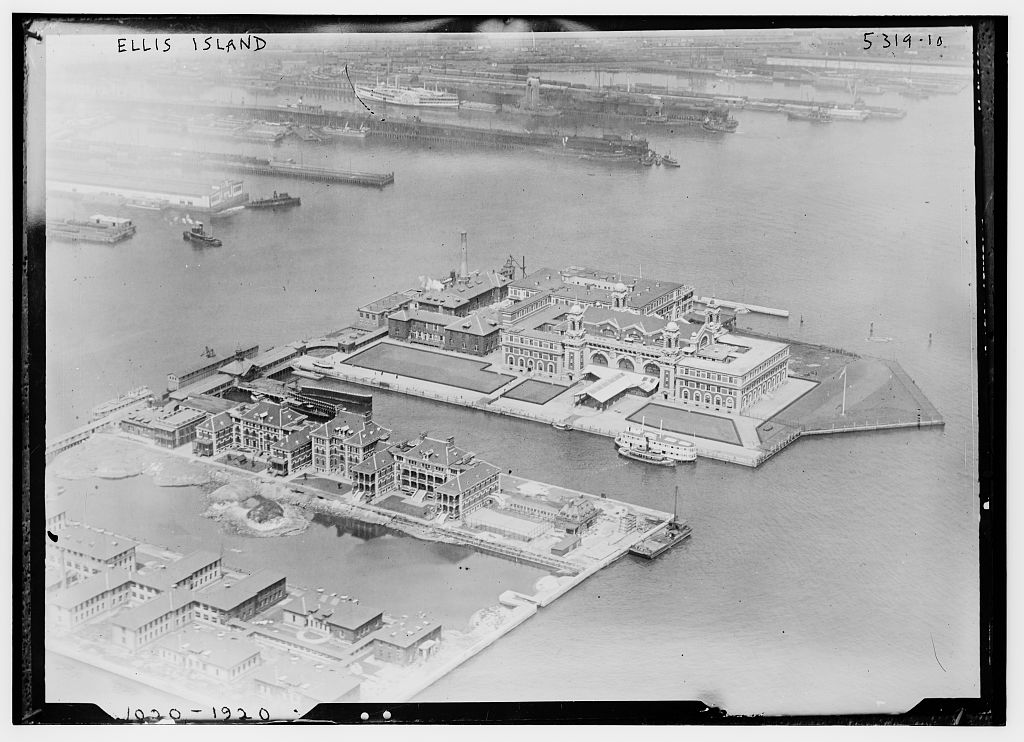 Military Experience
D-Day Mission
Pedro Rodón was drafted into the U.S. Army on April 9, 1943, and assigned to the 279th Port Company of the 505th Port Battalion. This Company was eventually reassigned to the 519th Port Battalion in May 1944 but returned to the 505th Battalion in November 1944.
The 279th Port Company trained as longshoremen, loading and unloading ships, at Camp Myles Standish in Boston, Massachusetts. After training in Boston, they departed New York City for Scotland on October 2, 1943.
In Swansea, Scotland, he met 16-year-old Barbara Donne. She was shopping for groceries, and Rodón offered to help carry her bags. She refused his help, but she agreed to meet him for a movie. A year-long courtship followed. With Barbara's parents' approval, they married in Guildhall.
They trained in Scotland until early June when they boarded transport ships in Wales and were informed to head to Utah Beach. The 519th Port Battalion unloaded ships and transported supplies onto the beach after the Allied forces had secured it. The living conditions of these longshoremen and other soldiers were challenging. Seven weeks after their arrival, the port companies moved supplies under continuous threat from the German attack. By the end of July, these raids subsided. Battalion casualties occurred mostly during the first weeks after the landings. At the end of a day's work, the men came home to their foxholes. Sleeping in these foxholes provided protection, although they were extremely uncomfortable.
From June to November 1944, 726,014 tons of supplies landed on Utah Beach. In March 1945, the 279th Port Company detached from the 519th Port Battalion and was reassigned to the 505th Port Battalion in Le Havre, France.
In April 1945, Rodón was granted leave and visited Barbara in Scotland. He met their child, seven-week-old Peter Clive Rodón, and the young family began to make plans to relocate to America.
Rodón returned to Le Havre. On September 29, 1945, he turned down a trip to see Paris on a day off, electing for a day at the beach. There he accidentally stepped on a landmine and was killed.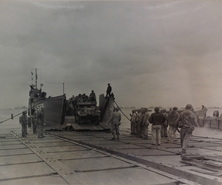 Eulogy
"We gave you our lives, now give us our voice." Telling the tale of a fallen soldier enables us to appreciate the supreme sacrifice of such brave men. Their voice, now silenced by death, seeks liberation, and every fallen soul is just as worthy of that voice.
A man rising from a distant land stumbles upon a new frontier. Beneath the ground that was once bathed in the blood of countless men lies an individual that leads a life of freedom; freedom from constant fear and anxiety; freedom from sleepless nights and endless trauma; and freedom from sorrow. Rejoicing in everlasting contentment lays this courageous individual.
This man, who embodies the essence of sacrifice and courage, was named Pedro Rodón. This soldier, who significantly contributed to his country, could not truly benefit from his relatively short span of life. Pedro died when he accidentally stepped on a land mine at Le Havre on September 29, 1945. By completely giving himself through duty, loyalty, and honor, Pedro sacrificed the family he had formed in Wales along with his life. His death, however, was not in vain. Pedro left a legacy through his only son, Peter Clive Rodón, his future wife Margaret Rodón, and their children. His widow, Barbara Rodón, suffered greatly from his loss but continues to remember him today. It is regrettable to think that this man who sacrificed his life for freedom could not fulfill his dreams.
As he has become part of us, we have also become part of him. Before us, the man is present in spirit and symbolizes the true meaning of a hero who risked his life for a cause. As President Harry Truman stated, "Our debt to the heroic men…in the service of our country can never be repaid." Along with other comrades, Pedro earned the undying gratitude of America. The soldier that once laid amid darkness and ashes has already risen to the heavens. Sleep on, dear Pedro, and rest, for God, knows what is best for all of His children.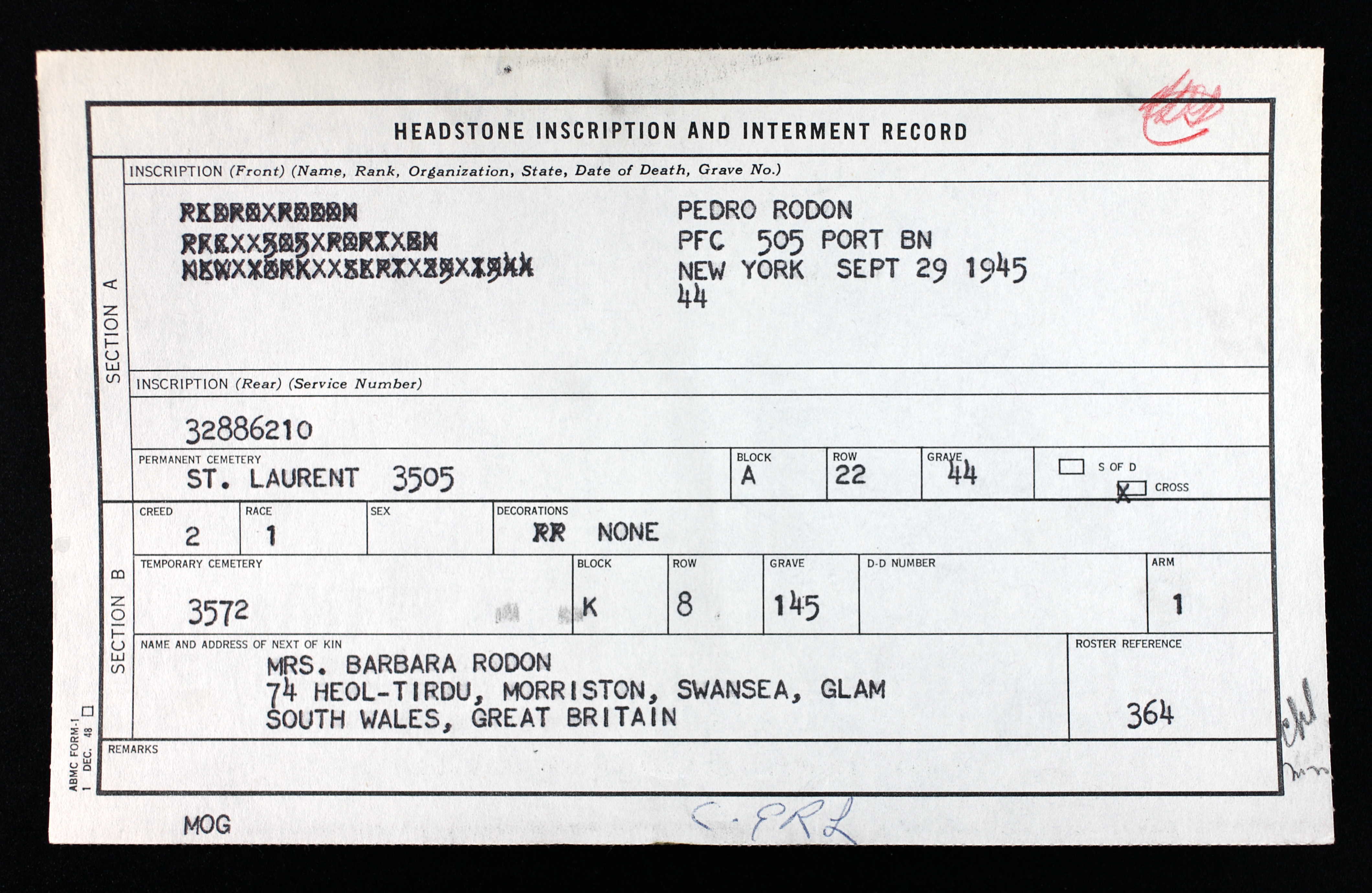 Reflection
 From the beginning, I had always held a fascination for history. However, this interest seems minuscule (now) to the great appreciation I have developed for history. Traveling from Washington, D.C. to France was a truly fantastic experience. Throughout the days the Normandy Institute was carried out, I was able to see where history took place and be a part of the past.
Strolling along the very shores of Omaha and Utah Beaches, vital sites for the D-Day Invasion, one can somewhat picture what it would have been like in 1944. History revives itself. One can imagine footprints along the beach that suddenly stop, replacing these would be bodies of adolescent boys around my age, fighting for their homeland. God Bless them. This moment was one of the most emotional aspects of the institute, coping with a reality that happened a few decades ago. It was unbelievably real. The invasion and the outcome was a horrible truth that ultimately won us the war against the Axis Powers.
Even though the war is over, we seem to have forgotten what has happened. What about the men who risked their lives in honor of their nation's prosperity? They cannot and shall never be forgotten, at least not to the friends I made in this institute or me. The students, including myself, and teachers who had the opportunity to participate, gave the deceased men who fought for our country a voice. We honored those fallen soldiers and acknowledged their immense sacrifice for freedom. As a part of this institute, the students and teachers are given the opportunity to visit the Normandy American Cemetery. That was one of the most emotional experiences in my entire life.
I am not usually a sentimental person, but I could not control my emotions when I arrived at my soldier's tomb. It all seemed too real. However, I gave a special tribute to Private First Class, Pedro Rodón, and I felt and continue to feel blessed for having the opportunity to thank this World War II soldier personally. Throughout the cemetery, a quote echoed in my head, "We gave you our lives, now give us our voice," and that is what we did.
Bibliography
Primary Sources
Acosta, Raymond. Phone interview with author. June 5, 2013.
Alberts, Hana R. "Remembering New York City During World War II, in Photos." Curbed New York. Updated July 12, 2013. Accessed September 3, 2013. ny.curbed.com/archives/2013/07/12/remembering_new_york_city_during_world_war_ii_in_photos.php.
[American troops "dug in" in Normandy.] Photograph. National Archives and Records Administration (111-SC-285226).
Bain News Service, publisher. Ellis Island. Photograph. Circa 1915-1920. Library of Congress (2014711712). www.loc.gov/item/2014711712/. 
Collins, Marjory. New York, New York. Times Square during the wartime dimout at night. Photograph. September 1942. Library of Congress (2017837989). www.loc.gov/pictures/item/2017837989/. 
Pedro Rodon. Headstone and Interment Records for U.S. Military Cemeteries on Foreign Soil. Digital Images. ancestry.com.
Pedro Rodon. World War II Army Enlistment Records, 1938-1946. ancestry.com.
Pedro Rodon. World War II Draft Cards Young Men, 1940-1947. Digital Images. ancestry.com.
Pontoon Causeway at Utah Beach. Photograph. 1944. National Archives and Records Administration (111-SC-285126).
Rodón Family Photographs. 1944-1945 Courtesy of Barbara Rodón.
Rodón Family Home and Street, Santo Domingo, Dominican Republic. 2013. Courtesy of Loraine Colón.
Rodón, Margaret. Email interview with author. May 29, 2013.
Rodón, Wanda. Phone interview with author. June 17, 2013.
Secondary Sources
Ayala, César J., and José L. Bolívar. Battleship Vieques: Puerto Rico from World War II to the Korean War. Princeton: Markus Wiener Publishers, 2011.
"Brief history of the 505th Port Battalion." Longshore Soldiers. Updated July 2, 2010. Accessed February 15, 2021. www.longshoresoldiers.com/search/label/505th%20Port%20Battalion.
Brozyna, Andrew J. Longshore Soldiers: Homefront, England, Normandy, Antwerp : Life in a World War II Port Battalion. Longmont.: Apidae Press, 2010.
"G.I. Pedro Rodón: from the Dominican Republic via New York and Swansea to Normandy." Accessed February 15, 2021. sites.google.com/site/ahistoryofmumbles/pedro-rodon-from-the-dominican-republic-new-york-swansea-to-normandy.
"Longshore Soldiers: 279th Port Company Roster WWII." Longshore Soldiers. Accessed June 6, 2013. www.519thportbn.com/2010/02/279th-port-company-roster.html.
"New York After WWII." PBS. Accessed September 3, 2013. www.pbs.org/wgbh/americanexperience/features/general-article/newyork-postwar/.
"The Normandy Invasion: The Assault Force." U.S. Army Center of Military History. Accessed May 31, 2013. www.history.army.mil/html/reference/Normandy/asltforce.html.
"Pedro Rodon." American Battle Monuments Commission. Accessed February 15, 2021. www.abmc.gov/decedent-search/rodon%3Dpedro.
"Raymond L. Acosta (1982-2010)." United States District Court for the District of Puerto Rico. Accessed February 15, 2021. www.prd.uscourts.gov/?q=node/209.
Thomas, Geraint. "Barbara Still Recalls Waving Off Her Hero." South Wales Evening Post [Swansea, Scotland], November 10, 2012: 23.