Private First Class Philip J. O'Connell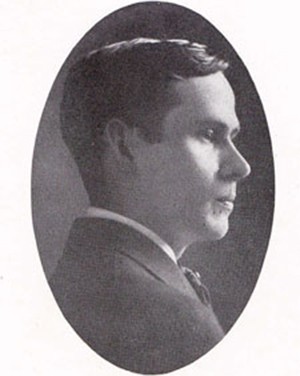 Unit:

4th Division, 39th Infantry Regiment, Medical Division

Date of Birth:

May 25, 1887

Entered the Military:

August 25, 1917

Date of Death:

July 1, 1918

Hometown:

Lawrence, Massachusetts

Place of Death:

Forêt de Fère, France

Cemetery:

Plot B, Row 13, Grave 3.

Oise-Aisne American Cemetery, Seringes-et-Nesles, France
Contributed by Mr. Brian Sheehy
North Andover High School
2018-2019
Early Life
On June 25, 1877, Philip O'Connell was born to parents John and Margaret O'Connell. Along with his sister Ellen, he was raised on Bailey Street in Lawrence, Massachusetts. An avid reader, he attended the Packard School in Lawrence before graduating from Lawrence High School in 1904.
While in high school, O'Connell was an outstanding student. He won the Perkins Prize for excellence in English composition for three years. He continued his academic career at Boston College. There he excelled at philosophy, languages, and English. He earned the highest average in his graduating class. He began writing for newspapers, holding jobs with the Lawrence Telegram, Worcester Telegram, Lynn Item, and various other papers.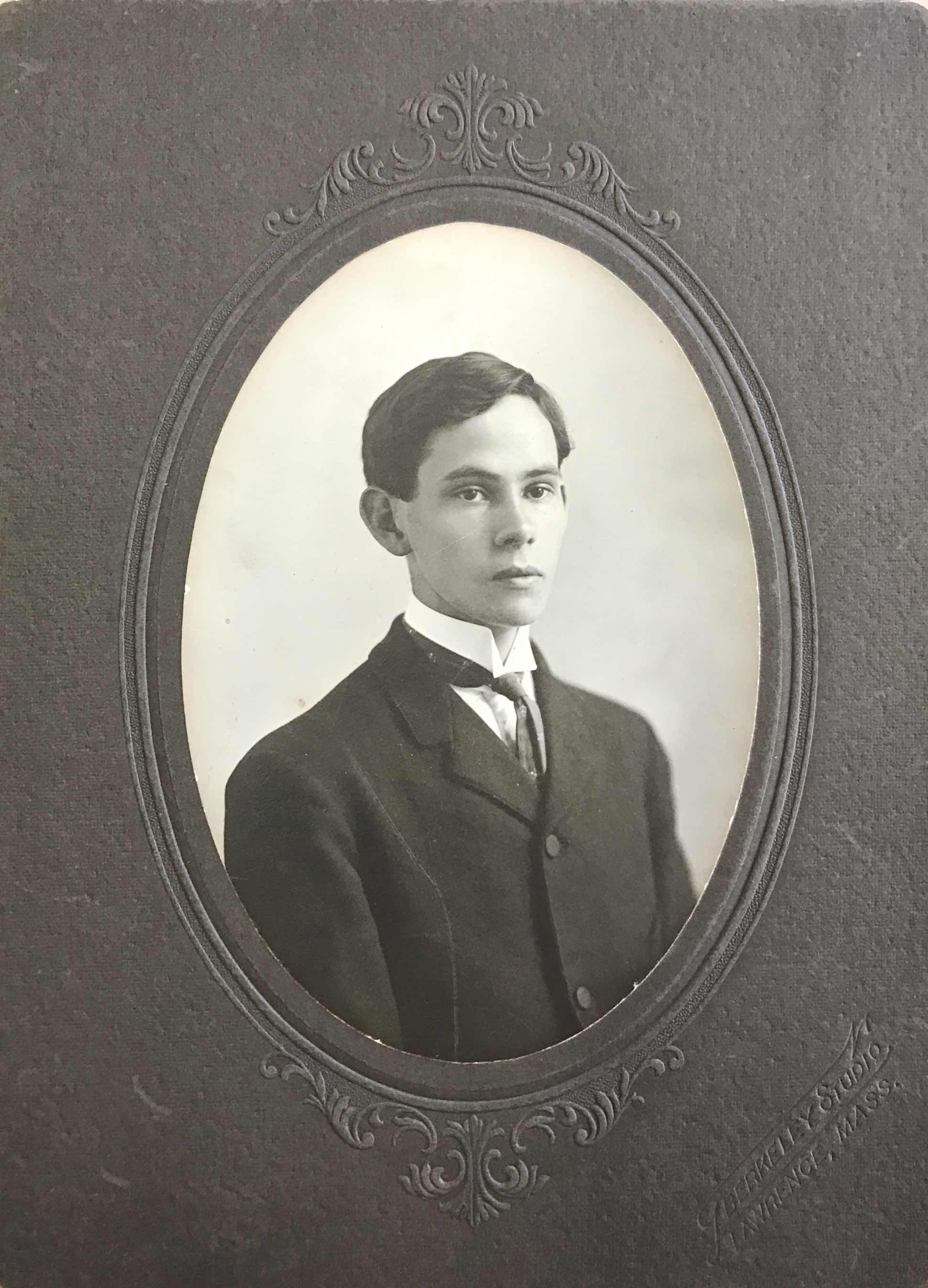 Military Experience
O'Connell registered for the draft June 5, 1917, in Lawrence, Massachusetts. On his draft card he registered as single and unemployed. By September 25, 1917, when he and fellow reporter John McNulty joined, O'Connell worked for the Lawrence Telegram. The local recruiting office sent the pair to Syracuse, New York, where they remained for one month. O'Connell became a private in the 39th United States Infantry's Medical Corps. According to his best friend, Francis Hogan, "he welcomed the strict discipline but healthy rigor of the army as a necessary means to rebuild not only his physique but his morale. He selected the medical department of the army [sic]; here, too he betrayed his feelings. He wished to help his own more than to hurt his enemies."
O'Connell transferred to Camp Greene, North Carolina. He kept a diary of his service beginning at Camp Greene on January 1, 1918. The winter months were brutal. He lamented about the persistent rain and ensuing mud that encircled the camp and the surrounding community. O'Connell served as a dentist at Camp Greene. Many of his diary entries described the work of pulling his fellow soldiers' teeth. When O'Connell's superior officers recommended him for promotion, he spurned any suggestion of moving up the chain of command, as it would take him away from the work he loved.
On April 26, 1918, the 39th Infantry Regiment packed their bags and headed north to Camp Mills, located on Long Island, New York. On May 1, 1918, O'Connell mentioned aeroplanes in his diary for the first time. He wrote that "Anytime we look up during the day we see at least six aeroplanes in the sky, doing all sorts of stunts, and the hum of the motors keeps up all day long." He referenced to aeroplanes doing maneuvers and participating in dog fights several more times in his diary. He seemed to be fascinated by these new machines.
On May 10, 1918, O'Connell and members of the 1st and 2nd Battalions of the 39th Infantry Regiment boarded the Dante Alegheiri docked in Jersey City, New Jersey and set sail for Europe. On May 23, after fairly smooth sailing, the ship arrived at Brest, France.
The units rested for two days and set off for Calais, France. On May 28, the 39th Infantry Regiment arrived at Calais, where the full scope of the destruction of war was evident. On June 4, O'Connell wrote,
"I wish I could write all the things I would like to, about what we've seen and gone through so far, but that is impossible…We are billeted at farm houses along the road, places that bring to my memory those Williamson motor stories of France. It's all strange yet strangely familiar- the same feeling you have when you see somebody whose picture you have seen before. It makes the blood boil to think that lands like these have been destroyed by the Germans."
While in Calais the 39th Infantry Regiment began training with British forces. They trained at Doudeauville before moving to Acy-en- Multien, France. In his diary O'Connell discussed long hikes, the threat of German bombing, and the ever present lack of tobacco and craving for a Fatima cigarette. On July 15, the regiment moved to Thury-en-Valois where they continued to train with French soldiers.
On July 27, 1918, O'Connell noted in his diary that he received five letters and six newspapers from home. In the entry he recorded watching a dogfight in which he witnessed a "Boche machine hurtling in a blazing arc to the ground." On July 27 O'Connell wrote, "As I'm writing now I can hear our band playing some distance away at another battalion. It makes me think of Canobie Lake- the setting is sylvan here too. But as much as I like the lake I wouldn't swap places for anything. I'll write often but try not to worry if there are long lapses between letters." On July 29, 1918 the 39th Infantry Regiment received orders to move forward until they reached Forêt de Fère, where the men stayed for several days in a defensive position, digging trenches at night and laying low in the daytime.
Around 8:00 p.m. on August 1, 1918, the regiment was being rearranged in Forêt de Fère. A German bombing plane glided quietly over the 1st Battalion dropping bombs on the soldiers. Upon hearing the first bomb, O'Connell rushed to help the victims of the attack. However, the German plane continued its attack and dropped several more bombs, killing O'Connell. This bombing attack killed 26 members of the regiment and wounded over 70.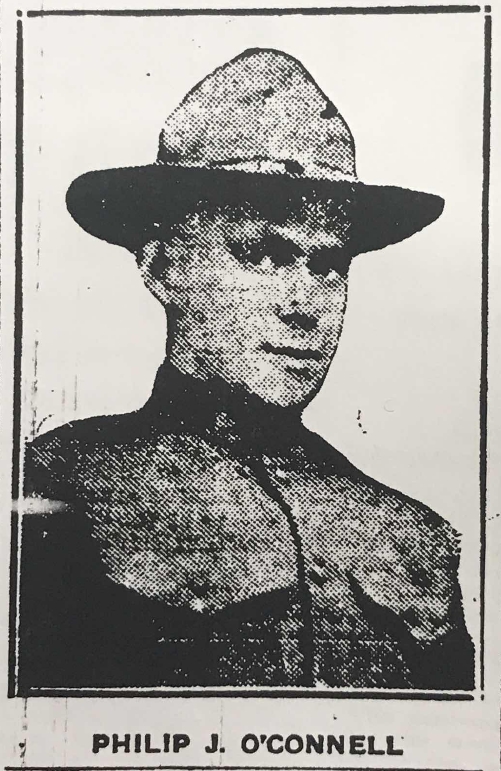 Eulogy
On August 2, 1918, O'Connell and other members of the regiment killed in the bombing were laid to rest together. Their graves were marked with small crosses on a plot of land by the roadside near Forêt de Fère in France.
In July 1920, O'Connell's remains were moved to the Oise-Aisne American Cemetery, Seringes-et- Nesles, France and reburied in plot three, section H, grave 152. On February 1, 1928, Philip's body was moved for the final time to plot B, row 13, grave 30.
O'Connell was survived by his sister Ellen. She published his diary so that all could read his wartime experiences. On December 20, 1918, the Lawrence Telegram published two full pages on Private O'Connell. The article included numerous entries from his diary and a touching eulogy from his childhood friend, Francis Hogan. In it Hogan stated, "Were I he and lay cold beneath the battlefields of France a martyr to the faith and loyalty of true Americanism and he were given this chance, then you my dear reader would marvel how such an ordinary man could suddenly rise to the pedestal of excellence."
In October 1924 the Veterans of Foreign Wars (VFW) in Lawrence, Massachusetts motioned to dedicate several bridges, squares, and parks to local citizens who had given their lives during the Great War. On April 13, 1925, the Lawrence City Council approved the dedication of 14 locations across the town.
On April 20, 1925, better known as Patriot's Day, there was a parade, speeches, and a large ceremony to dedicate all 14 locations. The ceremony was highlighted by the words of Rabbi Hyman Solomon, who stated, "the courage of those hardy souls who were willing to offer their lives in defense of liberty and in defiance of autocracy, is an inspiration that moves us even today."
The next day the Lawrence Evening Tribune quoted former District Attorney Michael Sullivan, "in dedicating new squares and parks the city was perpetuating the memory of her sons who had made the supreme sacrifice." He said that "all assembled could render but little comfort to the sorrowing [sic] families, but that there was no better way for their boys to die, than in the service of the country that had given them birth. He said that the comrades of this late World War would be remembered in the future, just as the men of the Revolution are honored on April 19."
Today the South Lawrence Common is called O'Connell Park in Philip J. O'Connell's memory.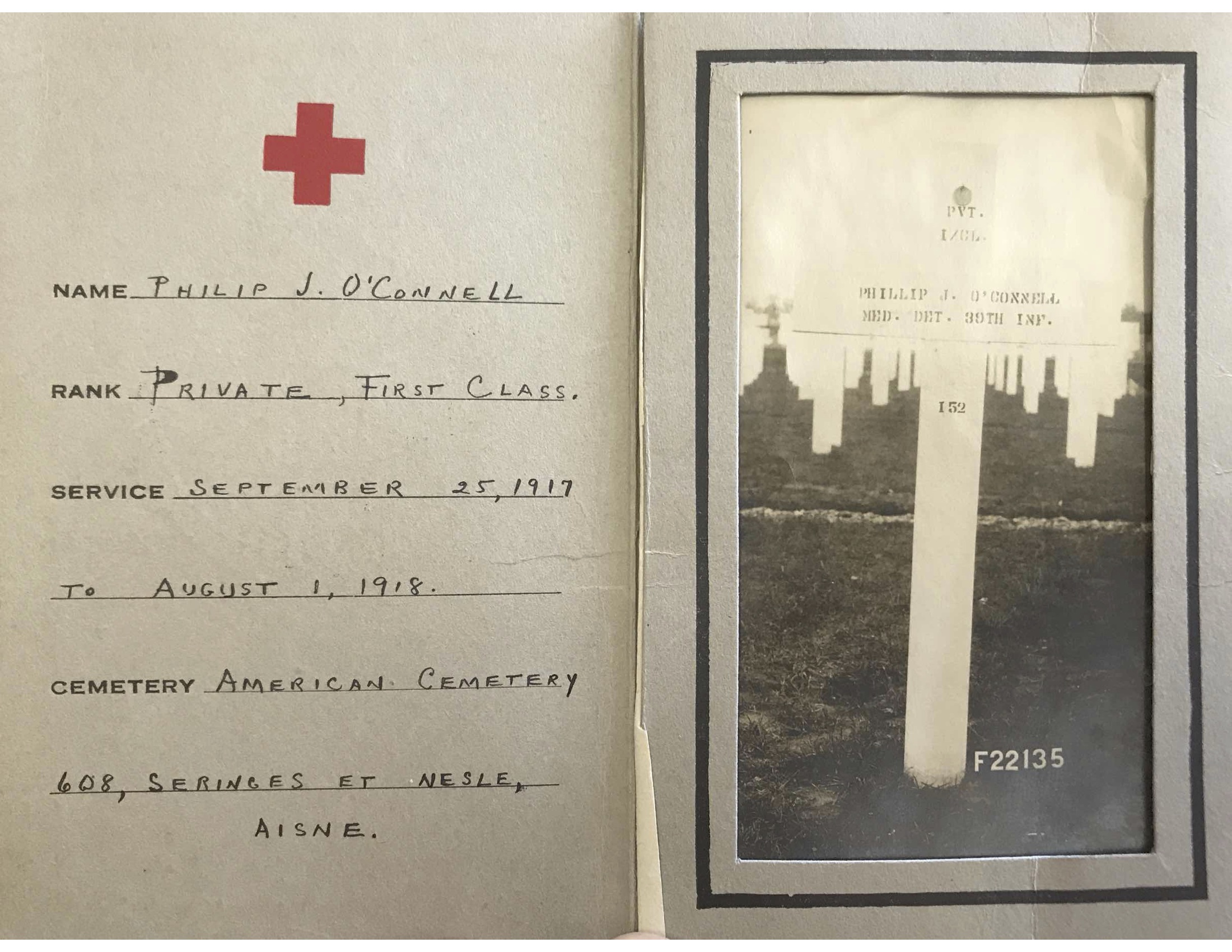 Reflection
Bibliography
4th Division; Records of Combat Divisions, 1917-1919, Records of the American Expeditionary Forces (World War I), Record Group 120 (Box 29); National Archives at College Park, College Park, MD.
4th Division; Records of Combat Divisions, 1917-1919, Records of the American Expeditionary Forces (World War I), Record Group 120 (Boxes 31-32); National Archives at College Park, College Park, MD.
"City Squares Dedicated To Memory of Honored War Dead." Lawrence Evening Tribune, April 21, 1925.
"City to Dedicate Squares for Vets." Lawrence Telegram, April 14, 1925.
"City to Dedicate Squares for Vets." Lawrence Telegram, April 16, 1925.
Cole, Richard Barrett, and Barnard Eberlin. The History of the 39th Infantry During the World War. New York: J. D. McGuire, 1919. archive.org/details/historyof39thusi00colerich/page/n5.
Fink, Susan. "Philip O'Connell, Lawrence WW1P." YouTube. August 15, 2018. www.youtube.com/watch?v=TLQZsbtghDo.
"He Did His Hitch At the Front and Then Went West." Lawrence Telegram, December 20, 1918.
Keating, John S. Boston College in the World War, 1917-1918. Chestnut Hill: Boston College, 1924.
Massachusetts. Essex County. 1910 U.S. Census. Digital Images. www.ancestry.com/.
Mitchell, Miriam Grace and Edward Spaulding Perzel. Echo of the Bugle Call: Charlotte's Role in World War I. Charlotte: Dowd House Preservation Committee, 1979. www.cmstory.org/exhibits/doughboys-camp-greene-mecklenburg-county-nc-1917-1918-life-camp-green/title-page-and.
"No Official Report on O'Connell's Death." Lawrence Evening Tribune, September 11, 1918.
O'Connell, Philip. U.S. Army Transportation Service Passenger Lists, 1910-1939. Digital Images. www.ancestry.com/.
O'Connell, Philip. U.S. World War I Draft Registration Cards, 1917-1918. Digital Images. www.ancestry.com/.
O'Connell, Philip. World War I Diary. Mary Hogan Bequest. Lawrence History Center, Lawrence, Massachusetts.
Philip J. O'Connell World War I Burial Case File and Deceased Veterans Claim File (XC-39,584); Correspondence, Reports, Telegrams, Applications and Other Papers relating to Burials of Service Personnel, Records of the Quartermaster General's Office, 1915-1935, Record Group 92; National Archives and Records Administration – St. Louis.