Captain Philip Overton Mills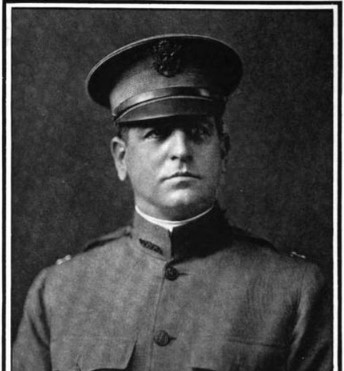 Unit:

77th Division, 308th Infantry Regiment, Company G

Date of Birth:

December 10, 1882

Entered the Military:

April 30, 1917

Date of Death:

July 26, 1918

Hometown:

Concord, New York

Place of Death:

on the Lorraine front, France

Cemetery:

Plot H, Row 24, Grave 21.

Meuse-Argonne American Cemetery, Romagne-Sous-Montfaucon, France
Contributed by Ms. Pualeilani Fernandez
Hilo Intermediate School
2018–2019
Early Life
Philip Overton Mills was the son of Brigadier General Samuel Myers Mills, Chief of the Artillery of the U.S. Army from 1905 to 1906, and Annie Maison Mills. Both parents were from Pennsylvania. Mills was born at Fortress Monroe, Virginia on December 10, 1882. He had two brothers, Paul Denckla and Samuel Frederic.
Mills attended St. Paul's School in Concord, New Hampshire where he held high standings in both academics and athletics. When the U.S. Army deployed his father to Hawaiʻi, he traveled with his parents and his brother, Samuel. They sailed from San Francisco to Honolulu on board the S.S. Nippon Maru. Upon arrival in Hawaiʻi, Mills attended Oahu College (now known as Punahou School) in 1899. Following graduation from high school, Mills spent four years at Harvard University in Cambridge, Massachusetts. During his time at Harvard, Mills participated in sports and clubs, played varsity football and served as secretary of his class. Mills was well known and well liked by his classmates. On June 28, 1905, he received his undergraduate degree.
After college, Mills worked as part of a financial firm, Mills Brothers & Co., New York Stock Exchange Brokers. His brother Samuel also worked for the company. According to De Wolfe Howe's book, Memoirs of the Harvard Dead in the War Against Germany, Mills worked in the banking business, served in the real estate office of Pease and Elliman, and acted as secretary and director for the Picture Playhouse Film Company in New York City.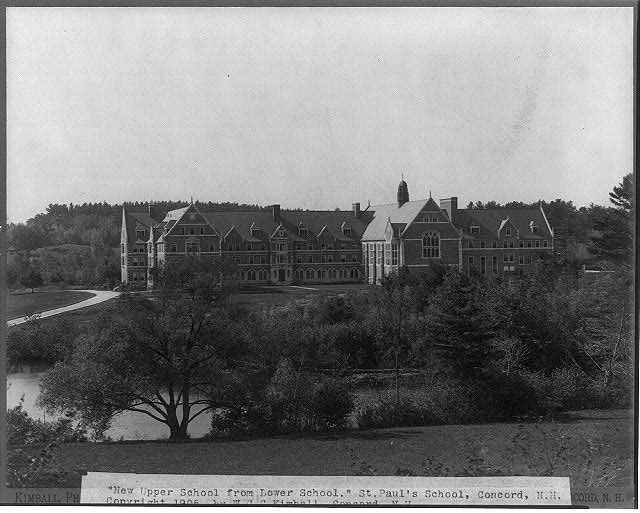 Military Experience
Before the United States entered the war, Mills began a journey to aid and help others. He volunteered as an ambulance driver. He drove for the American Motor Ambulance Corps in France. The Ambulance Corps was a branch of the French Army. His division was under the command of Richard Norton and subject to the orders of the French government.
While overseas, Mills's letters were published in newspapers across the United States. In one letter, Mills stated that his ambulance unit followed its assigned military division. They carried the wounded from the field dressing stations back to the hospital. When the division went to the front line, the volunteers followed with brancardiers, or stretcher bearers.
During his time as an ambulance driver, Mills wrote,
"The work is interesting and has a good element of chance, but it is not filled with nights and days of daring deeds, but good, solid, helpful effort where it does count. And, of course, our close association with all the business of war has a never ending thrill, for we are a little part of the great game."
After Mills returned home from France, he entered the Plattsburg Training Camp, and received a commission of captain. These camps offered basic military training, primarily to men of higher social classes, to prepare them to be leaders, without the obligation of further service, in case the U.S. became involved in the war. Mills trained at Camp Upton, near Yaphank, on Long Island, New York. Following this training he joined the 77th Division, 208th Infantry Regiment, Company C.
One well noted event printed in the newspaper described Mills' generosity and affection for his men. At Camp Upton, after the social season, Mills quietly planned a special event to celebrate the men's "spirit of loyalty." Mills gave them a treat—a Christmas dinner with all the trimmings! He complimented the men on their "spirit and efficiency" and the event showed that the soldiers mattered to him.
Mills and his regiment sailed to France around April 1918. On July 26, 1918, during rifle practice in the Baccarat sector, an unexpected accident happened. The men had been practicing with grenades all day. Mills, the instructor, demonstrated how to use the grenade to the men. In the middle of the training, the grenade Mills was holding exploded.
It struck Mills in the head, severely wounding him.He was immediately taken to the hospital, but never recovered. One private described him as a "very good man" who had "one of the best trained companies in the division." Another private described him as a "fine man" and "the company thought the world of him." Following his death, Mills was buried with full military honors.

Eulogy
Since Philip Overton Mills was never married and without any offspring, his brother, Captain Paul Denckla, Air Service, and his sister-in-law, Mrs. Paul D. Mills, decided that his remains should be buried overseas. Mills was interred at Meuse-Argonne American Cemetery in Romagne-sous-Montfaucon, France.
In 1919, when the news of his death reached Hawaiʻi, the students of Punahou Junior Academy (formerly Oahu College) held a memorial service that honored those killed in service. Six white stars on the Punahou service flag represented those who died, including Mills.
As a graduate of Harvard University, Mills's name is carved in stone on the walls of the Memorial Room in the Memorial Church commemorating those that died in World War I. The inscription on the top of the wall reads:
While a bright future beckoned they freely gave their lives and fondest hopes for us and our allies that we might learn from them courage in peace to spend our lives making a better world for others
Philip Overton Mills is also honored on memorials in Concord, New Hampshire, Wayne, Pennsylvania, and New York City. Mills spent some time in Hawaiʻi and thus his name is on the War Memorial Natatorium in Waikiki, Hawaiʻi, which pays tribute to those that died in the service of the U.S. and British forces during the Great War.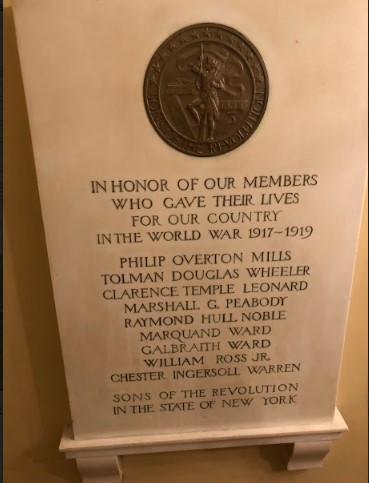 Reflection
Bibliography
77th Division; Records of the American Expeditionary Forces (World War I), Records of Combat Divisions, 1918–1919, Record Group 120 (Boxes 36–37); National Archives at College Park, College Park, MD.
308th Infantry; Records of U.S. Regular Army Mobile Units, Record Group 391 (Box 3079); National Archives at College Park, College Park, MD.
Infantry Regiments (307th–308th Regiments); World War I Strength Returns, Records of the Adjutant General's Office, Record Group 407 (Box 79); National Archives at College Park, College Park, MD.
Alexander, William De Witt. Oahu College; List of Trustees, Presidents, Instructors, Matrons, Librarians, Superintendents of Grounds, and Students 1841–1906. Historical Sketch of Oahu College. Honolulu: Hawaiian Gazette Co. Ltd, 1907. babel.hathitrust.org/cgi/pt?id=hvd.hn77js.
"Canfield in Failure." The Washington Post, August 23, 1907. Newspapers.com (28982466).
Campbell & Bachrach Studios. Panoramic view of Camp Upon, Long Island, N.Y. Photograph. c. 1919. Library of Congress (2007664143). Image. www.loc.gov/item/2007664143/.
"Captain Mills' Company Has Belated Xmas Dinner." The Brooklyn Daily Eagle, January 19, 1918. Newspapers.com (55298849).
Eliot, Norton and Philip Overton Mills. "American Ambulance Calls for Volunteers." Boston Post, September 13, 1916. Newspapers.com (74641904).
Howe, M. A. De Wolfe. Memoirs of the Harvard Dead in the War Against Germany, Vol. 3. Cambridge: Harvard University Press, 1922.books.google.com/books?id=nG4vAQAAIAAJ&pg=PA574&lpg=PA574&dq=Philip+Overton+Mills&source=bl&ots=u4VCql4d7t&sig=EZfXzmRUHqzlH_Fv0Rd8EJr2CMI&hl=en&sa=X&ved=2ahUKEwj-t9yU1c3fAhWPHjQIHYm3AZUQ6AEwAXoECAkQAQ#v=onepage&q=Philip%20Overton%20Mills&f=false.
Ireland, Brian. The US Military in Hawaii: Colonialism, Memory and Resistance. London: Palgrave Macmillan, 2011.
Kimball, W. C. G. [St. Paul's School, Concord, N.H.]: New upper school from lower school. Photograph. 1905. Library of Congress (2005688988). Image. www.loc.gov/item/2005688988/.
Kuykendall, Ralph S. The United States and its Territories, 1870–1925: The Age of Imperialism. Ann Arbor: University of Michigan, 2005.
Mills, Philip O. "American Ambulance Driver Brands Tales of Brave Deeds 'Rot.'" The Star Tribune, December 3, 1916. Newspapers.com (181430379).
Ibid. "Dodging Death With The Ambulance Men." The Buffalo Commercial, September 30, 1916. Newspapers.com (312982813).
Ibid. "Honolulu Boy Writes of Horrors of Western Battle Fields of War." The Honolulu Advertiser, May 9, 1917. Newspapers.com (259164876).
"Philip Overton Mills." American Battle Monuments Commission. Accessed February 9, 2019. www.abmc.gov/node/339379.
Philip Overton Mills World War I Burial Case File; Correspondence, Reports, Telegrams, Applications and Other Papers relating to Burials of Service Personnel, Records of the Quartermaster General's Office, 1915-1935, Record Group 92; National Archives and Records Administration – St. Louis.
"Punahou To Honor Its Soldier Dead." The Honolulu Advertiser, March 16, 1919. Newspapers.com (268249823).
Ship Manifests, December 27, 1898 Outward–July 28, 1899. Hawaiʻi State Archives, Honolulu, Hawaiʻi.
War Diaries (308th Infantry); Records of the American Expeditionary Forces (World War I), Record Group 120 (Box 2836); National Archives at College Park, College Park, MD.
White, Sergeant C. H. French at automatic rifle practice with American soldiers….near Menil, France. Photograph. June 18, 1918. National Archives and Records Administration (111-SC-16752-ac). Image.