Sergeant Pierre Louis Jubault Robinson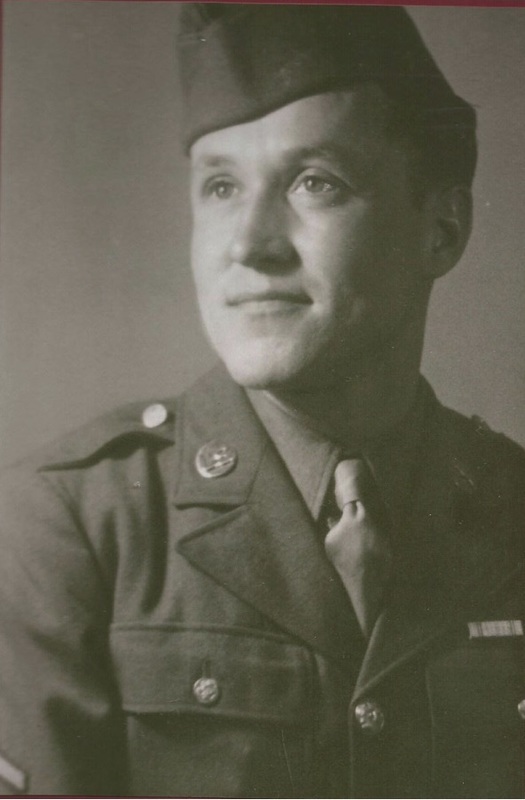 Unit:

29th Infantry Division, 115th Infantry Regiment, 3rd Battalion, Company I

Service Number:

33038300

Date of Birth:

August 19, 1913

Entered the Military:

May 2, 1941

Date of Death:

June 7, 1944

Hometown:

Meadville, Pennsylvania

Place of Death:

Vacqueville, France

Award(s):

Purple Heart

Cemetery:

Plot H, Row 16, Grave 13.

Normandy American Cemetery, Colleville-sur-Mer, France
Contributed by Joshua Slayton
Mentored by Mr. John Werkmeister
Cambridge Springs Junior/Senior High School
2014-2015
Early Life
Life In France
Pierre Marie Louis Jubault was born August 18, 1913 in Nantes, France, to parents Pierre Marie Jubault and Blanche Aimée Augustine Delalande. About three years after Pierre's birth, his father, a captain in the French army during World War I, was killed in action on July 5, 1916. Blanche remarried John Miles Robinson, a Pennsylvania soldier who had come to France in 1917, on August 23, 1919.
A week after their marriage, the family left France and permanently settled in Meadville, Pennsylvania in 1923. Pierre would never again visit his native country until the tragic days of early June 1944, when he and thousands of other courageous heroes would sacrifice their lives for freedom.
Life in the United States
For most of his life, Pierre lived in Meadville, a small town in northwestern Pennsylvania. He attended two years of high school before beginning work at Talon, Inc., a major zipper manufacturing company headquartered in Meadville.
Just a few years later, war was breaking out in Europe. In May 1941, when the United States was still neutral, Pierre had enlisted in the U.S. Army. He served to defend the freedom of both his native and adoptive countries.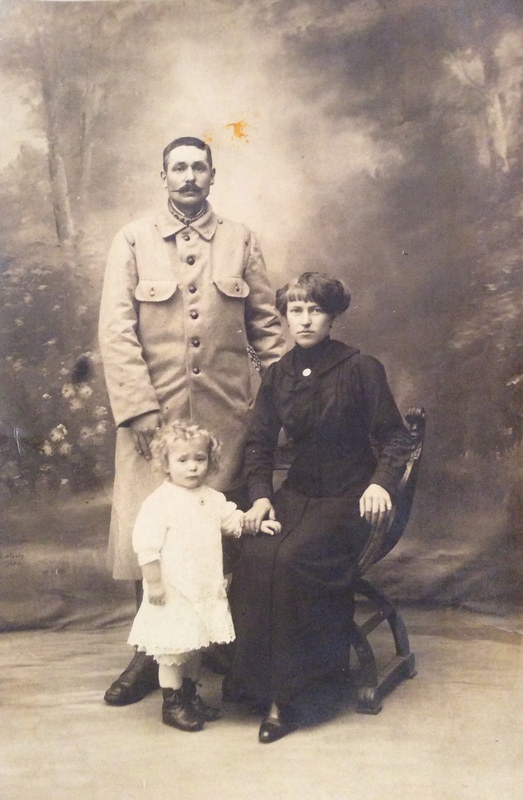 Homefront
Meadville is a small town located in northwestern Pennsylvania. During World War II, Pennsylvania saw a boom in its industrial workforce, as many people, including farmers, left their previous work to join the defense industry for higher wages. Companies such as Talon, Inc. and Erie Railroad were major employers at the time. As more farmers joined the defense industry, a farm labor shortage struck the rural regions of Pennsylvania.
Residents of Meadville fervently supported the American war effort as defense saving stamps for war bonds were quite popular locally. In addition, blood drives were common in Meadville and throughout Pennsylvania during the war.
Major employers such as Talon, a zipper manufacturing company, also converted their production to aid in the war effort. At one point, over 1,000 Talon employees, including Pierre, were serving in World War II, and to celebrate and honor the service of these local heroes, Talon created a re-employment program for the heroes who returned home.
Although the war had an impact on the atmosphere in Meadville, it did not prevent local residents from finding different forms of entertainment to pass the time. Watching baseball was a major pastime in Meadville. The town had its very own semi-professional baseball team.
Films, musicals, and shows were rather popular as well. In May 1941, Park Theater in Meadville was showing the movie The Great Dictator. Musicals such as Ziegfeld Girl and There's Magic in Music were also playing at the time. School performances, including Meadville High School's very own spring concert, were quite common and often drew in large audiences. Throughout the war, Crawford County and Meadville churches "heartily welcomed" local residents, and attending church soon became a major part of life in the local area.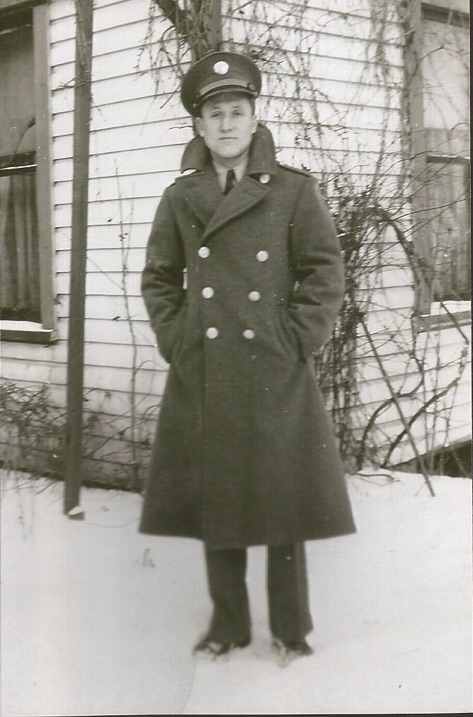 Military Experience
Robinson enlisted in the U.S Army on May 2, 1941 in Pittsburgh, Pennsylvania. By the D-Day invasion of Normandy in June 1944, Pierre was the sergeant of Company I, 3rd Battalion, 115th Infantry Regiment, 29th Infantry Division.
Leading up to the invasion, the 29th Infantry Division trained at a number of forts throughout the United States, the first of which being Fort Meade in Maryland. In late September and early October 1942, the 29th Infantry Division left for Europe aboard the Queen Mary and Queen Elizabeth to begin training for the amphibious invasion of Normandy, France across the English Channel. The military division landed in Scotland for training and soon moved to southern England for additional preparation.
On June 6, 1944, the 115th Infantry Regiment landed on the Dog Red sector of Omaha Beach at approximately 10:25 a.m. Pierre survived the initial landing, but on the morning of June 7, Robinson's battalion received orders to patrol the area near Louvières. They faced heavy opposition and Pierre was killed by a rifleman as he was walking around a corner, somewhere between Vacqueville and Saint-Laurent-sur-Mer.
Pierre made the ultimate sacrifice on June 7, 1944 in Normandy, France. His parents, though proud of their son, would be devastated by his death. Three years later, in December of 1947, Blanche would die of what John considered to be a broken heart.
Though John never truly recovered from the death of his son and certainly never forgot the life he had spent with him, he once reflected on his relationship with Pierre, "I couldn't have had a better son, if I had one of my own."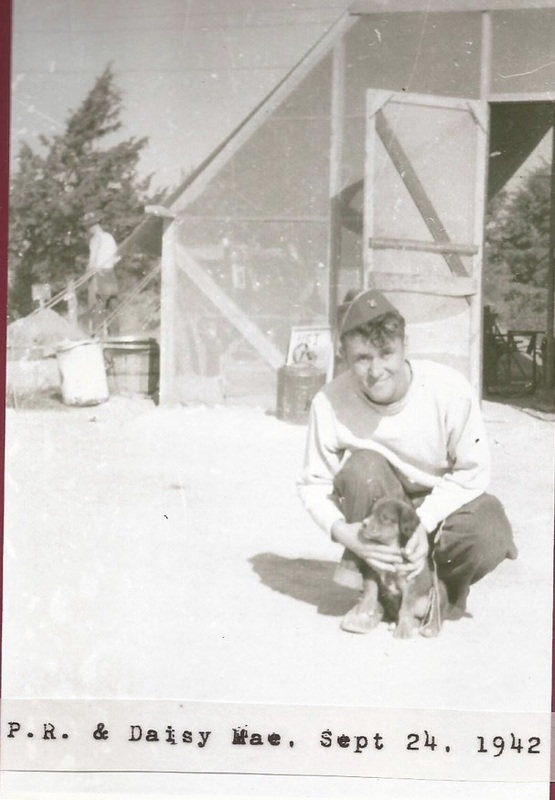 Eulogy
Pierre Louis Robinson was once only a name to me, but has since become much more. Pierre was a son, a friend, and above all, a citizen whose dedication to service has given us the opportunity to enjoy the principles of freedom that exist today.
Pierre was born on August 18, 1913, to parents Pierre Marie Jubault and Blanche Delalande in France as World War I broke out in Europe. At the early age of two, Pierre experienced the loss of war when his father, a captain in the French Army, was killed in action.
In August 1919, Blanche remarried an American soldier, John Robinson, who had come to France during World War I in an engineer division. Alongside John, Blanche and Pierre immigrated to the United States, permanently settling in Meadville, Pennsylvania. By summer 1940, Pierre's native country was under German occupation, which not only threatened his first home, but also the ideals of the great nation that had adopted him.
On June 6, 1944, at approximately 10:25 a.m., the 115th Infantry Regiment landed on Dog Red Beach. Pierre survived the initial landing, but was killed on the morning of June 7 in Vacqueville.
Sergeant Robinson's sacrifice is special as he was motivated to fight to protect the freedom of both the nation in which he was born and that which he knew as home. Pierre Louis Robinson, your sacrifice will never be forgotten and your legacy will live on.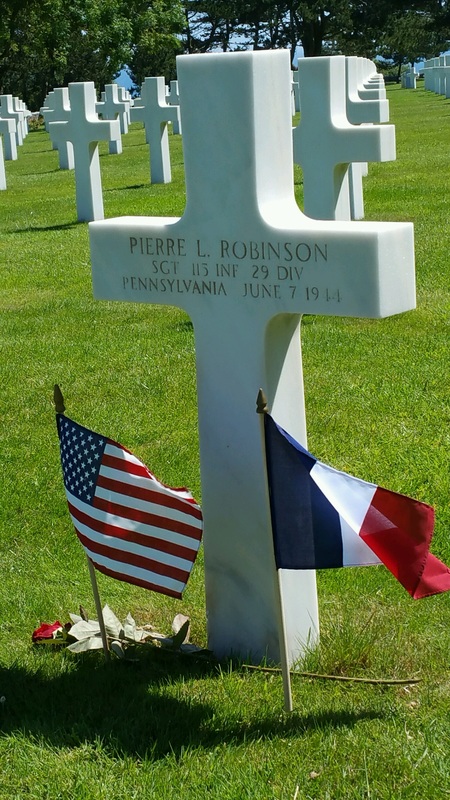 Reflection
Words cannot even begin to describe the impact that this institute has had on me. I began this journey knowing that this would be a great opportunity for me to experience history firsthand. However, it has proven to be much more than that.
In school, you can read about any historical topic and think that there is nothing more to learn. Through this experience, however, I gained a completely new perspective. I realized that there is so much history beyond what you may read about in a textbook. History is made by the individual, the average soldier who sacrificed his life for the greater cause.
Leading up to the trip, we were each given a set of texts that we were to read and use to respond to weekly posting topics. These readings gave us an excellent understanding of the sites and history that we would see and experience in Normandy, France.
I really enjoyed traveling to the various locations throughout Washington, D.C. and Normandy. Some of the most notable for me were the Arlington National Cemetery and the World War II Memorial in Washington, D.C. and Omaha Beach, Pointe du Hoc, and the Normandy American Cemetery. To make the experience even more life-changing, I was surrounded by such an academically motivated and inspiring group of people whom I will remember forever.
Alongside the weekly reading assignments, we chose a Silent Hero who fought in Normandy and made the ultimate sacrifice for freedom. Being able to bring Pierre's story and memory back to life was, without a doubt, the most inspirational part of this entire journey. I learned so much, not only about Pierre, but also about the true meaning of sacrifice and the idea of what it means to be a hero. I did not realize this until I was actually at the Normandy American Cemetery in Colleville-sur-Mer, standing before his grave.
Being able to honor his sacrifice in the presence of his family was one of the best moments of my life. It really meant a lot to me to have them there and I am truly blessed to have had their support. Once again, I am so appreciative that I was given this opportunity and this is an experience that I will cherish forever.
Bibliography
"115th Regiment-After Action Report-June 1944." 29th Infantry Division Historical Society. Accessed August 28, 2015. www.29infantrydivision.org/WWII-Documents/29th_Division-115th_Regiment-After_Action_report-44-June.html.
Commonwealth of Pennsylvania, Department of Health, and Bureau of Vital Statistics. "Certificate of Death." Digital Image. ancestry.com.
"Death of Mrs. Blanche Robinson." Meadville Tribune, December 22, 1947.
"Gabriel Latsko Taken Prisoner; Spencer Injured (Casualty Reports of 5 Other Local Men Verified by Associated Press.)." Meadville Tribune, October 30, 1944.
Grodoit-Artur, Gilles. "Robinson, Pierre." Crawford County PAGenWeb. Accessed August 28, 2015. crawford.historicpa.net/content/military/1666/pierre-robinson.
Grosdoit-Artur, Gilles. E-mail interview. 2015.
"Landing Table-Omaha Beach." American D-Day. Accessed August 28, 2015. www.americandday.org/Landing_Table/Omaha_Beach_Q+30.html.
"Local Serviceman Missing in Combat near Old Home." Meadville Tribune, July 24, 1944
"Local Woman's Idea Considered by US Treasury." Meadville Tribune, June 2, 1945.
Meadville Tribune, April 30, 1941.
Meadville Tribune, May 2, 1941.
Meadville Tribune, May 3, 1941.
Meadville Tribune, June 6, 1944.
Meadville Tribune, June 7, 1944.
Meadville Tribune, June 26, 1944.
Meadville Tribune, June 27, 1944.
"Missing Soldier Reported Killed in Native Land." Meadville Tribune, July 29, 1944.
Perrigault, Coralie. E-mail interview. 2015 – 2017.
Shumaker, Judy, Rebecca Anthony, and family. Personal interview. February 2015.
"Taloneers' Contributions to War Effort on Display." Meadville Tribune, July 1944.
"Talon Jobs Now Available." Meadville Tribune, July 22, 1944.
Historical Marker at the Cemetery of the 29th Inf Div, Normandy. Photograph. April 1945. National Archives and Records Administration (68537). Image.
U.S. Army. "115th Infantry Regiment Journal." June 7, 1944. PDF file. www.americandday.org.
– – -. "Company Morning Report." June 7, 1944. PDF file. www.americandday.org.
– – -. "Headstone Inscription and Interment Record." N.d. Digital file.
Secondary Sources
Binkoski, Joseph, and Arthur Plaut. The 115th Infantry Regiment in World War II. Nashville: Battery, 1988.
Curt Teich & Co. Talon, Inc., Meadville, Pa. Accessed August 28, 2015. www.cardcow.com/371827/talon-inc-meadville-pennsylvania/.
Disconnected by War, Family Reunites through Student History Project. PBS Newshour. July 29, 2015. www.pbs.org/newshour/bb/disconnected-war-family-reunites-student-history-project/.
Historical Division of the War Department. Omaha Beachhead. Map. Print.
"History of the 29th Infantry Division." International World History Project. Accessed August 28, 2015. history-world.org/history_of_the_29th_infantry_div.htm.
Kershaw, Alex. The Bedford Boys: One American Town's Ultimate D-Day Sacrifice. Cambridge: Da Capo, 2003.
"Partie À Remplir Par Le Corps: Jubault, Pierre Marie." Mémoire des Hommes. Accessed August 28, 2015. www.memoiredeshommes.sga.defense.gouv.fr.
"Pierre Robinson." American Battle Monuments Commission. Accessed August 28, 2015. abmc.gov/node/413103.