Private First Class Private First Class Edward B. Van Zile, Jr.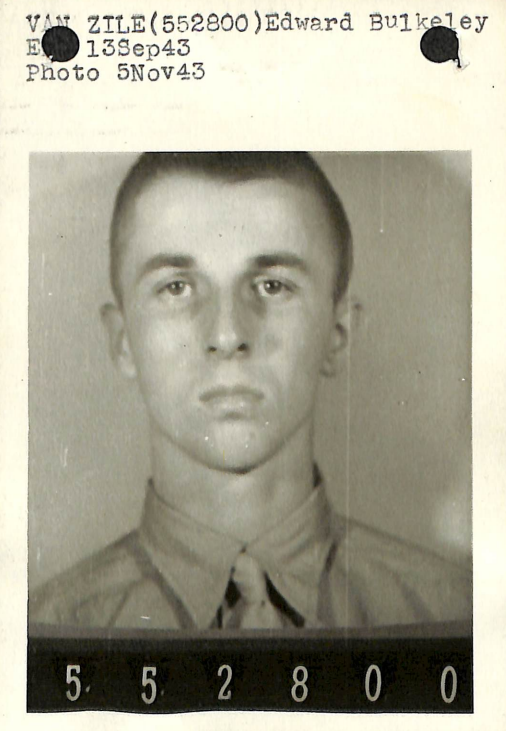 Unit:

4th Marine Division, 14th Marine Regiment, Third Battalion, Battery G

Service Number:

552800

Date of Birth:

October 16, 1925

Entered the Military:

October 19, 1943

Date of Death:

February 24, 1945

Hometown:

Montclair, New Jersey, and Chesham, New Hampshire

Place of Death:

Iwo Jima, Japan

Award(s):

Bronze Star, Purple Heart, Presidential Unit Citation
Contributed by Brayden Gardner
Mentored by Mr. Chris Soule
Gilford High School
2022/2023
Early Life
Edward Bulkeley Van Zile, Jr. was born on October 16, 1925, in Montclair, New Jersey, to Edward B. and Dorothy Van Zile. He was the grandson of the famous author Edward Sims Van Zile, second great grandson of the first president of the National League of Professional Baseball Clubs and politician, Morgan Bulkeley, as well as the third great-grandson of the founder of Aetna Life Insurance Company, Eliphalet Adams Bulkeley.
His family eventually moved to Chesham, New Hampshire. He grew up with his younger brother, Neil, and two older half sisters, Maragaret Nutt and Dorothey Nutt. Not much is known about the specifics of this time in his life. He lived on a farm in Chesham with his parents and likely helped them there alongside his brother. From letters left behind, he seems to have been well liked among friends and was given the nickname Teddy or Ted. He attended elementary school in Dublin, New Hampshire and high school in Deerfield, Massachusetts for three years before leaving to enlist in the military.
Edward enlisted in the U.S. Marine Corps in 1943 with parental permission entering into service three days after he turned 18. He signed up for the duration of the war plus six months. Because he enlisted at such a young age, Edward had no spouse or children, leaving his parents, brother, and friends as he began service for his country. Like many places around the country at the time, his family town worked hard to fill in for him and others who left for service in the war.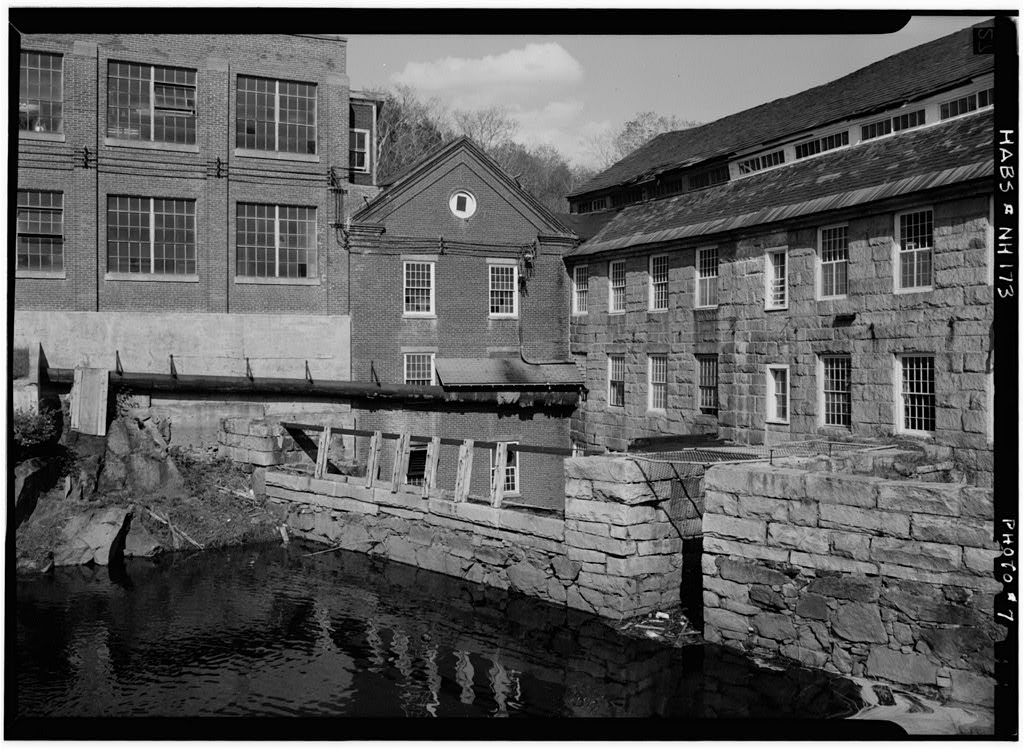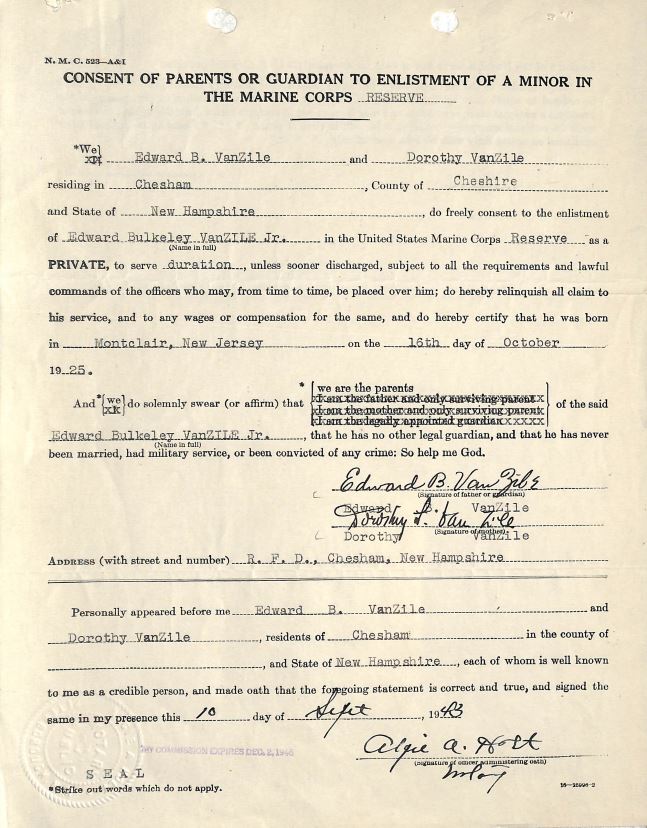 Homefront
Chesham was a part of the larger Harrisville area, a very small, rural part of New Hampshire. The town focused heavily on its textile industries, scenery, and history. Even today the town prides itself on upkeeping its historic look. Factories in the town produced materials such as wool cloth and textiles. These materials were in high demand during the war. The town struggled to fill in for the absences of those who had left for service. For example, in the 1944 Annual Report for the town, there was a notice encouraging people to help others due to the town's "manpower" being the "lowest of any year." Private Van Zile helped his family even while he was out fighting in the war. When signed up he sent 100% of his pay to his mother at home.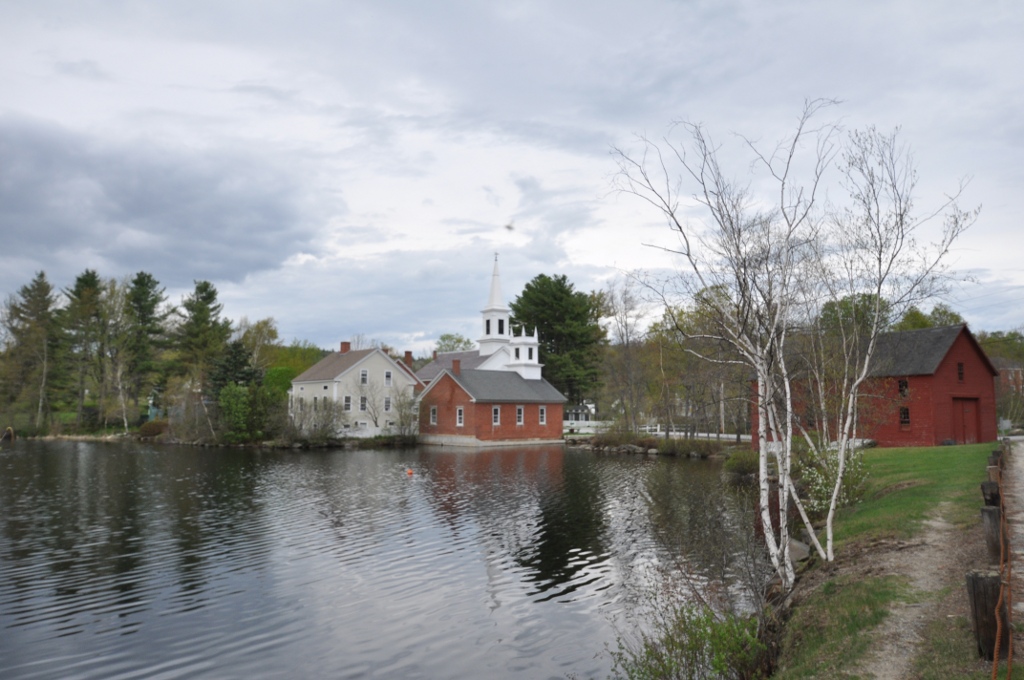 Military Experience
In October 1943, Private Van Zile became a part of 4th Marine Division's 14th Regiment shortly after it was first activated. According to a letter by one of his friends, "Teddy" had become "very popular" in the battalion very soon after joining. The regiment trained in North Carolina briefly before continuing to California where they completed training and deployed. On December 16, 1943, Private Van Zile was also promoted to private first class. On January 1, his unit left California and, after a brief rendezvous in Hawaiʻi , arrived in the Marshall Island chain.
Here in early February 1944, Private Van Zile and his unit participated in the Battle of Kwajalein and the Battle of Roi-Namur. The capture of the Marshall Island chain would give Allies an anchor for their "island hopping" strategy that would be used throughout the rest of World War II in the Pacific. The 4th Marines Division directed their efforts on Roi-Namur with the 14th Marines specifically focused on capturing the Namur area.
After Private Van Zile's unit helped secure victory, they briefly returned to Maui, Hawaiʻi, and then left on May 12, 1944 on the USS Leonard Wood to participate in the Battle of Saipan. Saipan was the United States's first win in an area Japan controlled before their expansion campaign. The 4th Marines departed on July 23, 1944.
Throughout 1944, the 14th Marines also fought in the Battle of Tinian where they used the element of surprise and kept Marine casualties to a minimum. The 4th Marine Division secured victory for the United States at both of these battles as well, which allowed the country to make slow progress in the Pacific Campaign. These victories gave the United States access to bases, airfields, resources, and new defensive lines.
Private Van Zile, along with the rest of the 4th Marine's Division, were right in the middle of these massive and highly critical military operations. In February 1945, the 4th Marine Division landed at Iwo Jima, one of the most brutal fights of World War II. Private First Class Edward Van Zile was killed in action in the midst of this ferocious battle. He was awarded the Purple Heart and a Bronze Star for this sacrifice and temporarily buried in Iwo Jima before being permanently interred in the National Memorial Cemetery of the Pacific in 1952.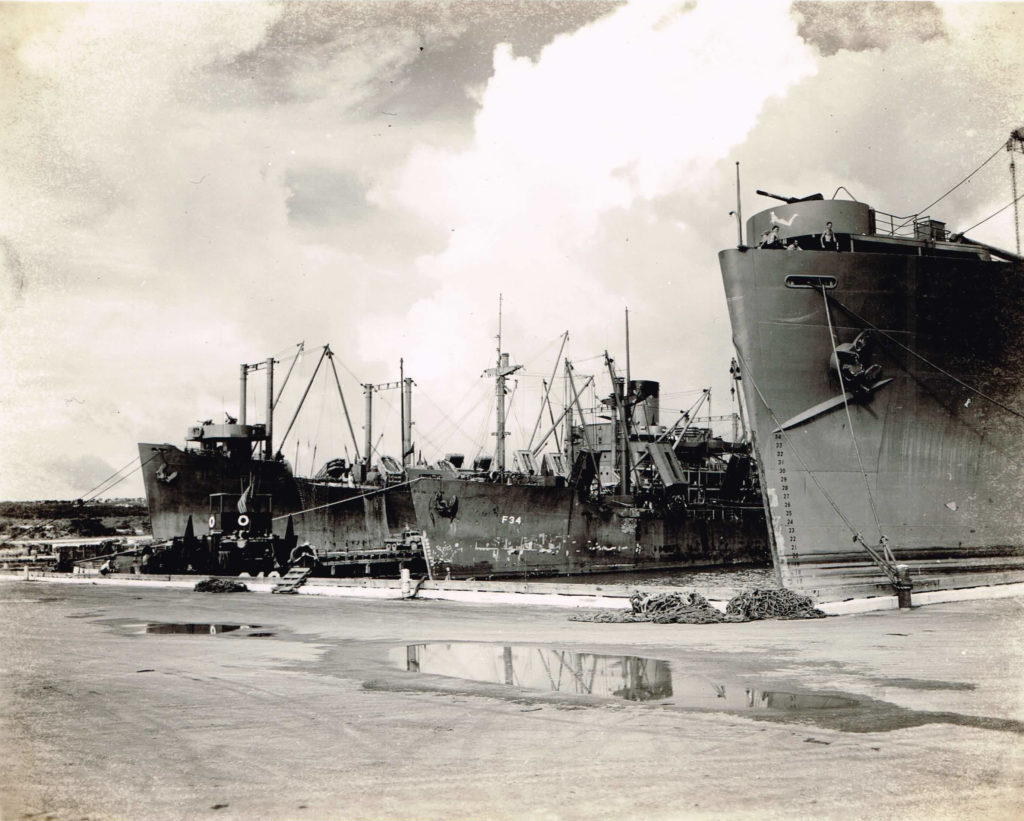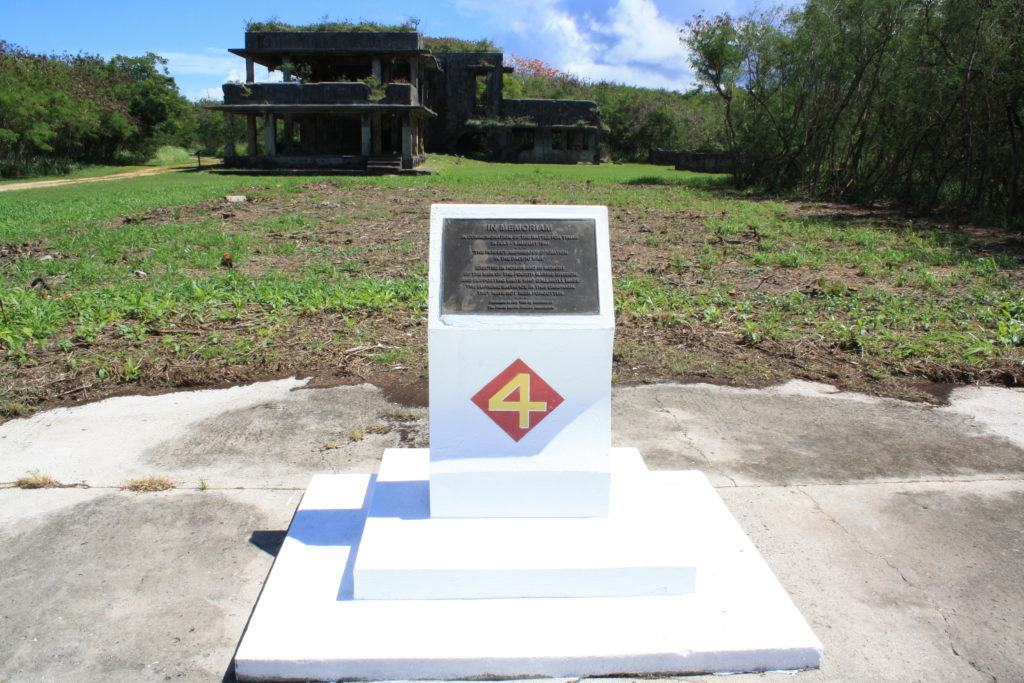 Eulogy
In February 1945, the 14th Marines found themselves on a new battlefield: the volcanic island of Iwo Jima. Yet another necessary target due to its strategic importance, as it had an airfield that would help enable strikes against new, important Japanese positions. The invasion began on February 19 and lasted until March 26. During this battle, Private Van Zile volunteered to cross thousands of yards of exposed beach to secure ammunition for the battery on the beach. It is unknown at what point in the day it occurred, but on February 24, Private Van Zile was killed in action due to a wound caused by shrapnel.
Iwo Jima is famous for the ferocity of the fighting there. Less than a week after the assault started, the 4th Marine Division entered the strongly defended area on the island, which many of the Marines called the "Meatgrinder." Private Van Zile was joined in death by over 6,000 brothers in arms who fought for their nation's victory on this small island.
World War II caused the movement of millions of people and soldiers worldwide. Like many soldiers, Private Van Zile ran towards the conflict. Private Van Zile left his family and home behind like so many other people on both sides of the war, giving his life in an act of love and service for his country and the freedom of other countries too.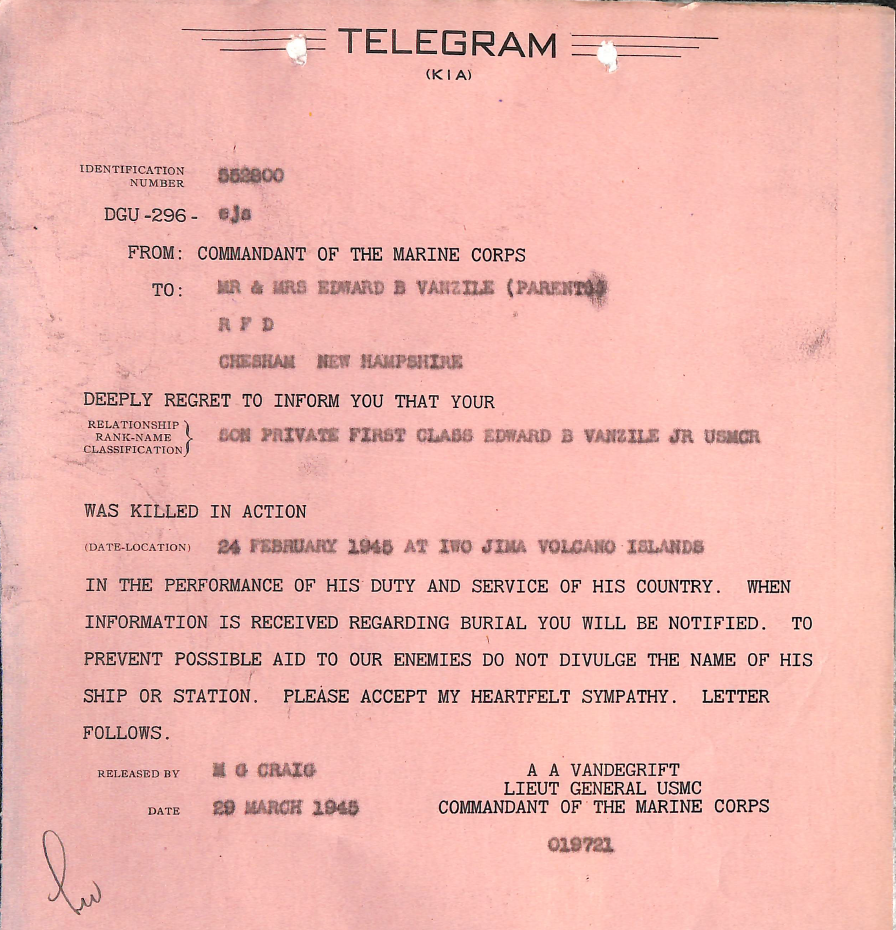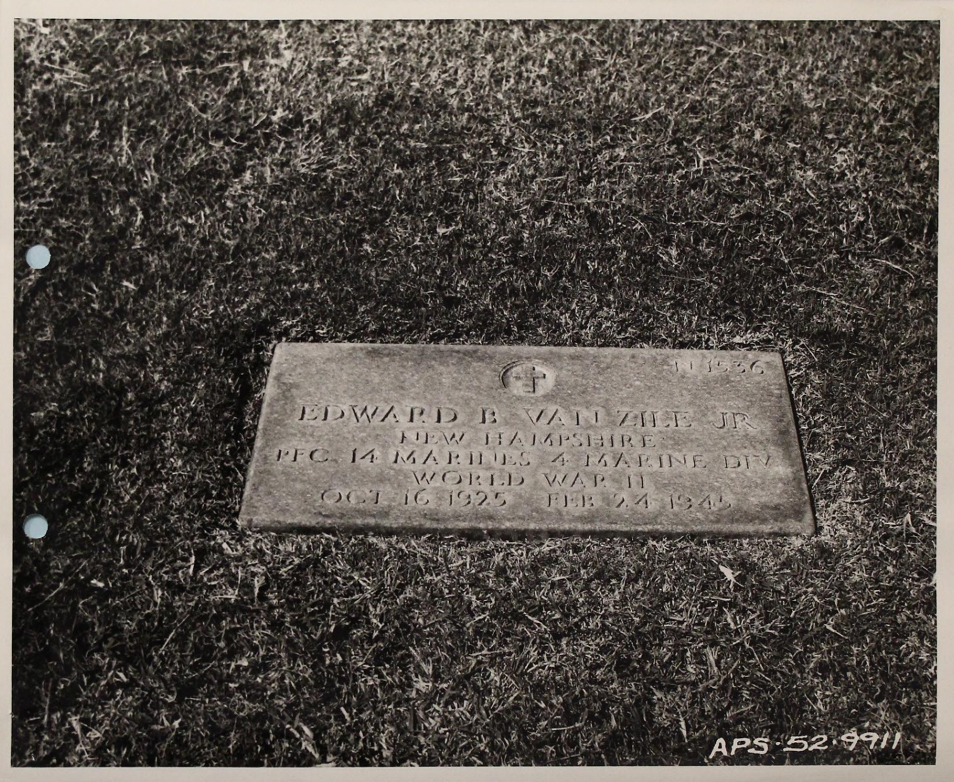 Reflection
Throughout my experience with the Sacrifice for Freedom®: World War II in the Pacific Student and Teacher Institute program for over half a year I picked up many skills that I'll be using in my future. First and foremost is the research skills I've learned throughout the program. This is undoubtedly the largest research project I have ever done, not to mention it is undeniably the most important one given the subject matter.  Due to this, I had to discover more research methods than before in my time as a student. I learned how to dig deeper to find the best sources. Not all I gained from this experience was skill-related, however, as there were also some deeper and more experiential aspects that I have taken from the Sacrifice for Freedom® program. I was given the opportunity to meet an incredibly diverse group of people, all with different backgrounds and knowledge on various topics. Meeting and talking to all of these people helped me gain a deeper understanding of history and how this era affected this part of the world. I deeply value having had the ability to do this program as it gave me a direct insight into a piece of the world's history. I've already told friends and family about my experiences and those I heard from others. Overall, the Sacrifice for Freedom®: World War II in the Pacific Student and Teacher Institute program has both deepened my abilities in research as well as my knowledge of the history and culture of the Pacific.
Bibliography
Edward B. Van Zile, Jr. National Cemetery Interment Control Forms, 1928-1962. Digital images. https://ancestry.com.
Edward B. Van Zile, Jr. World War II Navy, Marine Corps, and Coast Guard Casualties, 1941-1945. Digital images. https://ancestry.com.
Edward B. Van Zile Jr., Individual Deceased Personnel File, Department of the Army.
Edward B. Van Zile Jr., Official Military Personnel File, Department of the Navy. U.S. Marine Corps, Record of the U.S. Marine Corps, RG 127, National Archives and Records Administration – St. Louis.
"Edward Van Zile Dies, Kin of Morgan Bulkeley." Hartford Courant [Hartford, Connecticut], May 1, 1964. Newspapers.com (370689694).
Groeschi, George Anton. US Naval Ships Docked at Saipan. Photograph. 1945. Wikimedia Commons. https://commons.wikimedia.org/wiki/File:Battle_of_Saipan_-_US_Navy_docked_GAG03.jpg.
New Hampshire. Cheshire County. 1930 U.S. Census. Digital images. https://ancestry.com.
New York. Queens County. 1940 U.S. Census. Digital images. https://ancestry.com.
New York. Borough of Manhattan. 1930 U.S. Census. Digital images. https://ancestry.com.
Town of Harrisville. Annual Reports of the Town Officers of Harrisville, N.H. for the Year Ending December 31, 1944. Harrisville, New Hampshire: Sentinel Printing Company, 1945. https://scholars.unh.edu/cgi/viewcontent.cgi?article=1007&context=harrisville_nh_reports.
View of a pond and mill village in Harrisville, New Hampshire. Photograph. 2013. Wikimedia Commons. https://commons.wikimedia.org/wiki/File:HarrisvilleNH_PondAndVillage.jpg.
Secondary Sources
"Author, Editor Dies." The Birmingham News [Birmingham, Alabama], May 30, 1931. Newspapers.com (57756952).
"A Wedding in Hartford." The Morning Journal-Courier [New Haven, Connecticut], November 27, 1886. Newspapers.com (466128911).
Brown, Ronald J. A Brief History of the 14th Marines. Washington D.C.: History and Museum Division Headquarters, 1990. https://www.marines.mil/portals/1/Publications/A%20Brief%20History%20of%20the%2014th%20Marines%20%20PCN%2019000310800.pdf.
"Harrisville Historic District." New Hampshire: National Historic Landmarks. Facts On File, American History Database. online.infobase.com/
"Harrisville, New Hampshire." Town of Harrisville. Last modified 2020. Accessed April 16, 2023. https://harrisvillenh.org/.
Harwood, Richard. A Close Encounter: The Marine Landing on Tinian. Washington, D.C.: Marine Corps Historical Center, 1994.
"Morgan Bulkeley." National Baseball Hall of Fame. Accessed September 30, 2023. https://baseballhall.org/hall-of-famers/bulkeley-morgan#about.
"PFC Edward B. Van Zile Jr." Find a Grave. Updated March 3, 2000. Accessed August 23, 2023. https://www.findagrave.com/memorial/3795387/edward-b-van_zile.
"Tinian." Marine Corps University. Last modified March 5, 1969. Accessed 21 August 2023. https://www.usmcu.edu/Research/Marine-Corps-History-Division/Brief-Histories/Marines-in-World-War-II/Tinian/. Ramierez, Daniel. Punchbowl Mural – Roi-Namur & Kwajalein Island. Photograph. October 6, 2012. Wikimedia Commons. https://commons.wikimedia.org/wiki/File:Punchbowl_Mural_-_Roi-Namur_%26_Kwajalein_Island_%288214967157%29.jpg.